Heavenly gingerbread with applesauce has a gorgeous crumb, made better for you with Mott's® Applesauce instead of butter or oil. Grab a cup of coffee and indulge – with a quick bread you can feel good about!
This is a sponsored post on behalf of Mott's® Applesauce. All opinions are my own.
You guys, how have we made it together this long on MBA without someone asking me to post a traditional Gingerbread recipe?!
I'm of the opinion that gingerbread – true gingerbread, should be served warm. Piping hot, even. With a giant dollop of whipped cream, and maybe some salted caramel sauce drizzled on top because I'm ridiculous. But you know this. It's why you love me, right?
Here's the thing – when you swap in Mott's® Applesauce for oil or butter in your favorite recipe, you leave room for the extra indulgence that a drizzle of salted caramel might provide.
It had been years since I'd had a deeply rich, molasses-heavy gingerbread. The other day, I walked past a display of seasonal breads at the grocery store, and I knew I could do better than that sad table of dry and unworthy-of-my-holiday-table quick breads.
This – this, friends, is better. Made lighter with the addition of Mott's® Applesauce, the texture of these sweet little quick bread desserts is perfection. They're made elegant by simply using a biscuit cutter to create rounds. Gingerbread with Mott's® Applesauce is the way forward.
Add a dollop of freshly whipped cream, that ribbon of salted caramel I talked about earlier, and don't forget the adorable little gingerbread man! He is absolutely necessary to make this picture perfect dessert complete.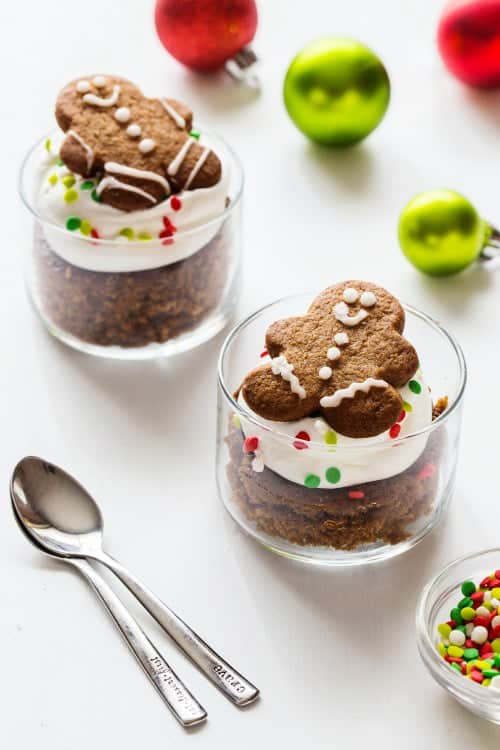 Desserts like these aren't hard to make, especially when you keep a big jar of Mott's® Applesauce on hand for baking with. It's quickly becoming a must-have item in my pantry, for making delicious, better-for-you treats that everyone loves.
There are lots of ways to bring a healthy twist to traditional family recipes. Mott's® has started a fantastic Bake It Better with Mott's® Pinterest board with all sorts of easy and approachable recipes for the holidays that are made better for you by subbing applesauce for butter or oil, plus plenty of baking tips and tricks. Make sure you check it out, there are so many great ideas!
So go ahead, make this moist, spicy gingerbread for your family this holiday. The only thing missing is a cup of really good coffee.
Giveaway Information: My Baking Addiction's "Winter Holiday Giveaway" starts on Wednesday, December 3 at 9:00 p.m. EST and ends on Sunday, December 7 at 12:00 a.m. (EST), and is open to all My Baking Addiction readers, subscribers, and/or fans 18 years old and older in the continental U.S. No purchase required. One winner will be chosen randomly and announced soon after the ending date. You must leave your contact information to collect your prize. If a winner does not respond within 3 days, a new winner will be chosen. Allow 3-6 weeks for giveaway fulfillment.
Disclosure: This post is sponsored by Mott's® Applesauce; however, the views and opinions expressed on My Baking Addiction are my own, and based upon my experiences with Mott's® Applesauce products. Thank you for supporting Mott's® Applesauce and the brands that continue to make My Baking Addiction possible.