Mini Pumpkin Pecan Gingersnap Cheesecakes are topped with homemade salted caramel sauce and whipped cream create one of the most delicious cheesecakes you'll ever eat.
As far as I'm concerned, it's the most wonderful time of year. The air is crisp, there's the smell of bonfires in the evening, and I've got the opportunity to make pumpkin and apple everything to my heart's content.
I've been dreaming of mornings filled with Pumpkin Cream Cheese Muffins and Apple Pie Muffins, and trying to think of other ways to amp up my autumnal flavor addiction.
That's where the idea for these Mini Pumpkin Pecan Gingersnap Cheesecakes with Salted Caramel Sauce came from. Sure, I've got mornings covered. But a girl needs dessert. Especially when she's spending long days dreaming up new recipes for your Thanksgiving and Christmas tables.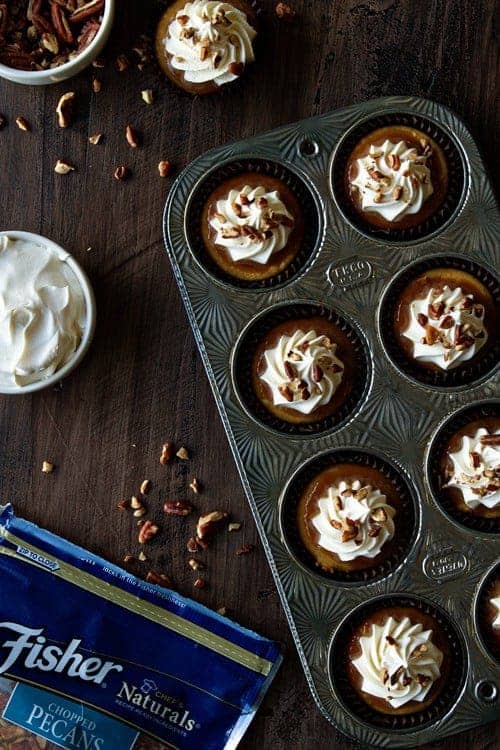 Pecans are one of my favorite nuts. There's just something about them, especially when toasted, that makes me happy. When you combine Fisher's Pecans with spicy gingersnaps – talk about a delicious cheesecake base – seriously, I may have taken a few bites of just the crumbs!
I especially love using Fisher Nuts because they're preservative free. Nothing in the bag but the nuts as they came off the tree. That's something this dessert lover can get behind.
Creamy cheesecake is one of my most favorite things, I've made no secret of that over the years here on MBA. But I wait all year for pumpkin cheesecake. Those two creamy textures, swirled together with pumpkin pie spice and even more pecans = pure heaven.
Then I just got ridiculous and covered each mini pumpkin cheesecake in salted caramel sauce, whipped cream and more Fisher's Pecans. Because that's how I roll.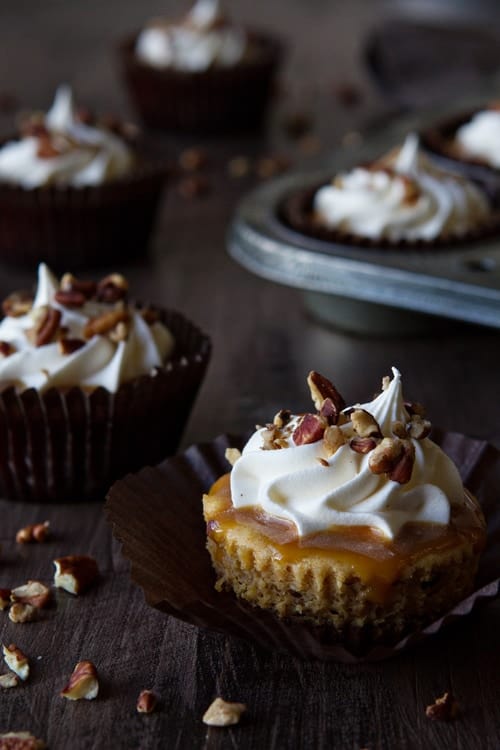 Another reason for cheesecake? Celebrating another year of Fisher Nuts My Fresh Twist Recipe Contest. From now until October 21st, recipes submitted to the My Fresh Twist website will be featured there.
Submit recipes that use pecans, walnuts, or almonds – they'll be judged on originality, integration of nuts, taste, and appearance.
Fisher Nut fans and your family and friends will be able to vote for your recipe! Voting takes place October 22nd through November 4th. Chef Alex Guarnaschelli and a panel of judges will choose the grand prize winner from the finalists.
There are tons of prizes, including a trip to NYC to meet Chef Guarnaschelli! I can't wait to see what you guys come up with.
Disclosure: This is a sponsored post written by My Baking Addiction on behalf of Fisher Nuts. The views and opinions expressed on My Baking Addiction are purely my own.