One of the most amazing things about blogging is the incredible friendships that you build along the way. And today, a group of bloggers have come together to celebrate one those incredible friends – Amber of Bluebonnets & Brownies. Since we're all strewn across the country, we decided to throw Amber a baby shower – blogger style!
I first met Amber over 3 years ago on Twitter – she put her computer whiz skills to work by helping me create custom table markers for an event I was assisting with. I quickly realized that Amber and I were basically separated at birth. Meeting in person at BlogHer Food in San Francisco pretty much sealed the deal.
Amber is kind, witty, hilarious and incredibly real – her husband, James, The Brit – is the icing on the cake. There is no doubt in my that they are going to be the best parents on the planet. Seriously, Evan is one lucky baby!
To celebrate Baby Evan, I made a cake – Texas style. I've never baked Texas Sheet Cake before, but it sounded like a winner. And the enormous size makes it perfect for any type of party – including Texas themed baby showers!
Amber and James I don't think words could ever express how happy and excited I am for both of you. I cannot wait to meet to your little guy this Fall.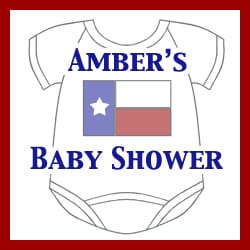 Keep the Celebration Going!
Sugarcrafter | Breakfast Tostadas
My Kitchen Addiction | Baby Texan Cookies
My Baking Addiction | Texas Sheet Cake
Simple Bites | Grilled Shrimp Tacos with Charred Corn Salsa
Stetted | Queso Mac
Food for My Family | Texas Pepper Barbecue Sauce
Dessert For Two | Frito Chocolate Chip Cookies
Confessions of a Cookbook Queen | Coconut Tres Leches Layer Cake
TidyMom | Pizza Bread Sticks
Miss in the Kitchen | Blackberry Milkshakes
Art of Gluten Free Baking | Peach-Pecan Pie, Gluten-Free
Bon Appetit Hon | Cheddar Ranch Crackers
Food Babbles | Southern Pecan Pie
Jelly Toast | Peach Iced Tea
Sweet Adventures of Sugarbelle | Decorated Elephant Cookies
i am baker | Texas Brownie Cake The Kitchen Trials | Coca-Cola Cake
Cookies & Cups | Sticky Toffee Pudding Cookies
A Farmgirl's Dabbles | Peanut Butter Bonbons the Size of Texas
Steph Chows | Fiesta Dip
Texas Sheet Cake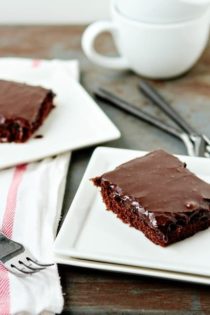 Ingredients:
For the Cake
2 cups all-purpose flour
2 cups sugar
1/4 teaspoon salt
2 sticks unsalted butter
4 heaping tablespoons unsweetened cocoa powder
1 cup boiling water
1/2 cup buttermilk
2 large eggs, beaten
1 teaspoon baking soda
1 teaspoon pure vanilla extract
For the Frosting
1 3/4 sticks unsalted butter
4 heaping tablespoons unsweetened cocoa powder
6 tablespoons milk
1 teaspoon pure vanilla extract
1 pound (minus 1/2 cup) confectioners' sugar
Directions:
Preheat oven to 350 degrees F. Spray an 18×13 sheet cake pan with nonstick cooking spray.
In a large mixing bowl, combine flour, sugar, and salt.
In a medium saucepan over low heat, melt butter. Once the butter is melted, whisk in cocoa powder until thoroughly combined. Add boiling water and turn up the heat to medium. Allow mixture to boil for 30 seconds and immediately turn off the heat. Pour the cocoa/butter mixture over flour mixture, and stir lightly to cool.
In a medium bowl, whisk together the buttermilk, eggs, baking soda, and vanilla. Stir buttermilk mixture into chocolate mixture. Pour into prepared sheet cake pan. Bake in preheated oven for 20 minutes.
While cake is baking, make the frosting. In a medium saucepan over low heat, melt butter. Once the butter is melted, whisk in cocoa powder until thoroughly combined. Add milk, vanilla, and powdered sugar whisking until all ingredients are fully incorporated. Pour over warm cake using an offset spatula to spread the frosting all over the cake.
Follow Jamie on Instagram. We love to see what you're baking from MBA! Be sure to tag @jamiemba and use the hashtag #mbarecipes!