About two weeks ago my younger brother, Jared sent me a text me stating he had pink eye. I'm quite the germophobe, so I was immediately curious how he contracted it; he had no clue. Once I found out about his funky eye, I decided that I would make him a big, decadent, chocolate, layer cake…with chocolate stout. Jared often complains that he doesn't get enough "play" on My Baking Addiction, so this Chocolate Stout Cake post is devoted to him and his unfortunate encounter with pink eye. His cake also kicks off an entire week of recipes featuring Stout beer as the star ingredient.
Although I have expressed my dislike for alcohol in general, I am always compelled to purchase alcoholic libations that pique my interest for use in recipes. One of those random purchases included a couple of bottles of chocolate stout beer that I knew would lend itself quite well to a chocolatey cake, and thus this Chocolate Stout Cake was born.
After posting the photo of this Chocolate Stout Cake on the My Baking Addiction Facebook page, it affectionately became known as the Pink Eye Cake, which is all kinds of hilarious and repulsive at the same time.
If you take one look at Jared, there is truly no doubt we are related, but if you get to know him for longer than five minutes, our personalities become even more similar than our physical characteristics. For starters, we are both kind of social introverts and definitely prefer a small circle of friends as opposed to being the life of the social scenes. Neither of us particularly enjoys alcohol, but we both have a serious issue with candy and sleeping in. We both use excessive sarcasm and choice words to get our points across and we are amazingly calm until you push the wrong button. Of course our parallel personalities make for some undoubtedly hilarious conversations and I truly couldn't ask for better brother or friend.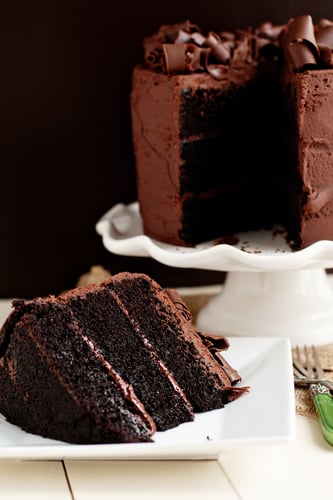 Chocolate Stout Cake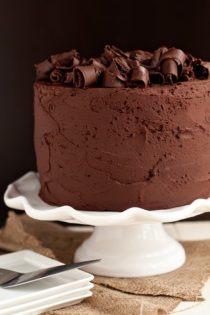 Ingredients:
For the Cake
1 ½ cups Chocolate Stout (you can also use regular stout, like Guinness)
½ cup strong black coffee
2 cups (4 sticks) unsalted butter
1 1/2 cups unsweetened cocoa powder (preferably *Dutch-process)
4 cups all purpose flour
4 cups sugar
1 tablespoon baking soda
1 1/2 teaspoons kosher salt
4 large eggs
1 tablespoon pure vanilla extract
1 1/3 cups sour cream
For the Icing
2 cups heavy whipping cream
1 pound semisweet chocolate, chopped
Directions:
For the Cake
1. Preheat oven to 350°F. Butter three 8-inch round cake pans with 2-inch-high sides and line with parchment paper. Butter paper.
2. In heavy large saucepan over medium heat, bring stout, coffee and butter to a simmer. Add cocoa powder and whisk until mixture is smooth. Cool slightly.
3. Whisk flour, sugar, baking soda, and salt in large bowl to blend. In large bowl, use an electric mixer to beat eggs, vanilla and sour cream in another large bowl to blend.
4. Add stout-chocolate mixture to the egg mixture and beat until just combined, taking care the stout mixture is cool enough that it will not cook the eggs. Add flour mixture and beat on low speed until just combined. Divide batter equally among prepared pans. Bake cakes until tester inserted into center of cakes comes out clean, about 35 minutes. Transfer cakes to rack; cool 10 minutes. Turn cakes out onto rack and cool completely.
For the icing
1. Bring cream to simmer in heavy medium saucepan. Remove from heat. Add chopped chocolate and whisk until melted and smooth. Refrigerate until icing is spreadable, stirring frequently, about 2 hours.
2. Place 1 cake layer on plate. Spread 2/3 cup icing over. Top with second cake layer. Spread 2/3 cup icing over. Top with third cake layer. Spread remaining icing over top and sides of cake. Top with chocolate curls.
Notes:
- Cake is best served the day it is made, but will keep refrigerated in a sealed container for up to two days. Bring cake to room temperature for about an hour before you plan to serve.
- If you cannot find Dutch-process cocoa powder, I recommend using Hershey's Special Dark Cocoa Powder
- The cakes was topped using homemade chocolate curls, you can find the recipe and tutorial here.
- Adapted from Epicurious.com
All images and text ©
Follow Jamie on Instagram. We love to see what you're baking from MBA! Be sure to tag @jamiemba and use the hashtag #mbarecipes!