There is something about red velvet cake that intrigues me. I mean who would have ever thought adding red dye to a basic cake recipe would turn into something so incredibly iconic. I remember watching Steel Magnolias as a kid and being mildly repulsed by red velvet armadillo cake. In fact, I think it was that scene that turned me off to red velvet until adulthood. In my mind, eating red velvet cake was equivalent to eating an armadillo.
Fast forward twenty years and you'll still find me repulsed by that atrocious armadillo creation, but not by red velvet cake, especially when it's in the form of cupcakes that are slathered in decadent cream cheese frosting.
This recipe was introduced to me over two year ago by Em, of the blog, The Repressed Pastry Chef, and it has remained my go to red velvet recipe. Not only is this cake recipe delicious, it's also perfect for Valentine's Day. There is really nothing more lovely than that rich dark red color topped with bright white cream cheese frosting and flecked with adorable open heart sprinkles.
The other fab thing about this recipe is that it only makes 12 cupcakes, so if you're indulging a small crew, you're not required to do any measurement scaling. This is always a plus in my book. If you are looking for a delicious and adorable way to surprise your sweetie, you've definitely stumbled upon the right recipe!
Red Velvet Cupcakes with Cream Cheese Frosting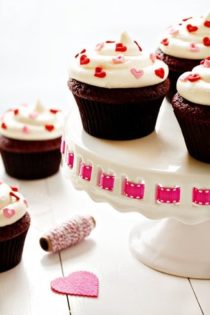 Ingredients:
For the Cupcakes
1 cup cake flour
1/4 cup unsweetened cocoa powder
1/2 teaspoon kosher salt
2/3 cup vegetable oil
3/4 granulated sugar
1 egg
1 teaspoon pure vanilla extract
2 tablespoons red food coloring
1/2 cup buttermilk
1/2 teaspoon baking soda
3/4 teaspoon white vinegar
For the Cream Cheese Frosting
8 ounces cream cheese, softened to room temperature
2 tablespoons vegetable shortening
3 tablespoons butter, softened to room temperature
1 pound confectioners' sugar (about 3 ¾ cups), sifted
2 teaspoons clear vanilla extract*
Directions:
For the Cupcakes
1. Preheat oven to 350 degrees. Line 12 cupcake wells with paper liners or spray pan with spray with nonstick cooking spray.
2. Sift together cake flour, cocoa powder and salt.
3. In the bowl of a stand mixer fitted with the whisk attachment, combine oil and sugar until well-blended. Add egg and mix until combined.
4. Turn your mixer down to the lowest speed add vanilla then slowly add in the food coloring. Note:If you are using liquid food coloring, it will take about 2 tablespoons of coloring to get a dark red shade. I used about 1 tablespoon of gel dye to achieve the shade in the photographs. Add the dye slowly and color according to your preference.
5. Add flour mixture alternately with buttermilk in two batches; scrape down the side of the bowl. Continue mixing until just combined, taking care not to over mix.
6. Place baking soda in a small dish, stir in vinegar and add to batter with machine running. Beat for about 10 seconds.
7. Using a medium scoop (about 3 tablespoons), divide batter among between the 12 wells, filling each well about 2/3 full of batter. Bake for 20-24 minutes or until a toothpick inserted comes out clean. Be careful not to over bake.
For the Cream Cheese Frosting
1. In a the bowl of a stand mixer fitted with the paddle attachment, cream together, cream cheese, shortening, and butter until well combined.
2. With the mixer of low, gradually add the confectioners' sugar until thoroughly incorporated and smooth. Add vanilla and mix to combine.
Notes:
– This cupcake recipe has been scaled down from the original recipe by The New York Times. Follow the link provided to view the full recipe.
– Clear vanilla extract was used in the cream cheese frosting recipe to maintain a bright white color. Feel free to substitute pure vanilla extract in its place.
– Brown liners were purchased at Bake It Pretty.
– I used the large round tip from Bake it Pretty to frost the cupcakes. You can view my piping video tutorial within this post.
– The sprinkles are made by Wilton.
All images and text ©
Follow Jamie on Instagram. We love to see what you're baking from MBA! Be sure to tag @jamiemba and use the hashtag #mbarecipes!