Easy Strawberry Cupcakes use my favorite method for doctoring cake mix to make cupcakes that are bursting with strawberry flavor. Top them with strawberry buttercream for double the sweetness!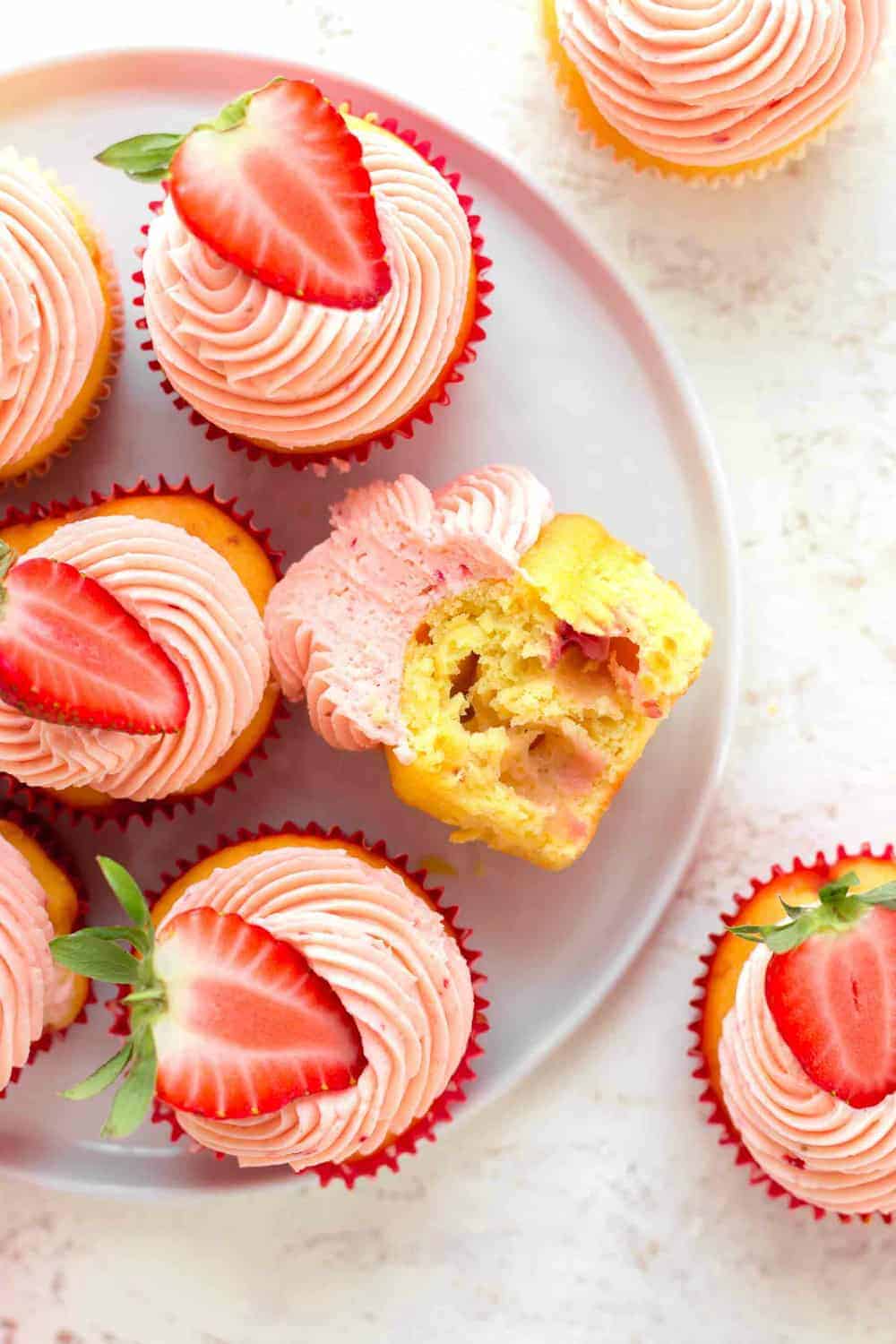 You guys, it's been quite the start of a week.
I know I shouldn't complain at all because we just got home from an amazing vacation in Boca Grande, Florida, but I seriously feel like I'm suffering from a vacation hangover.
I'm so freaking tired, I have pretty much zero motivation to cook, bake, or even work.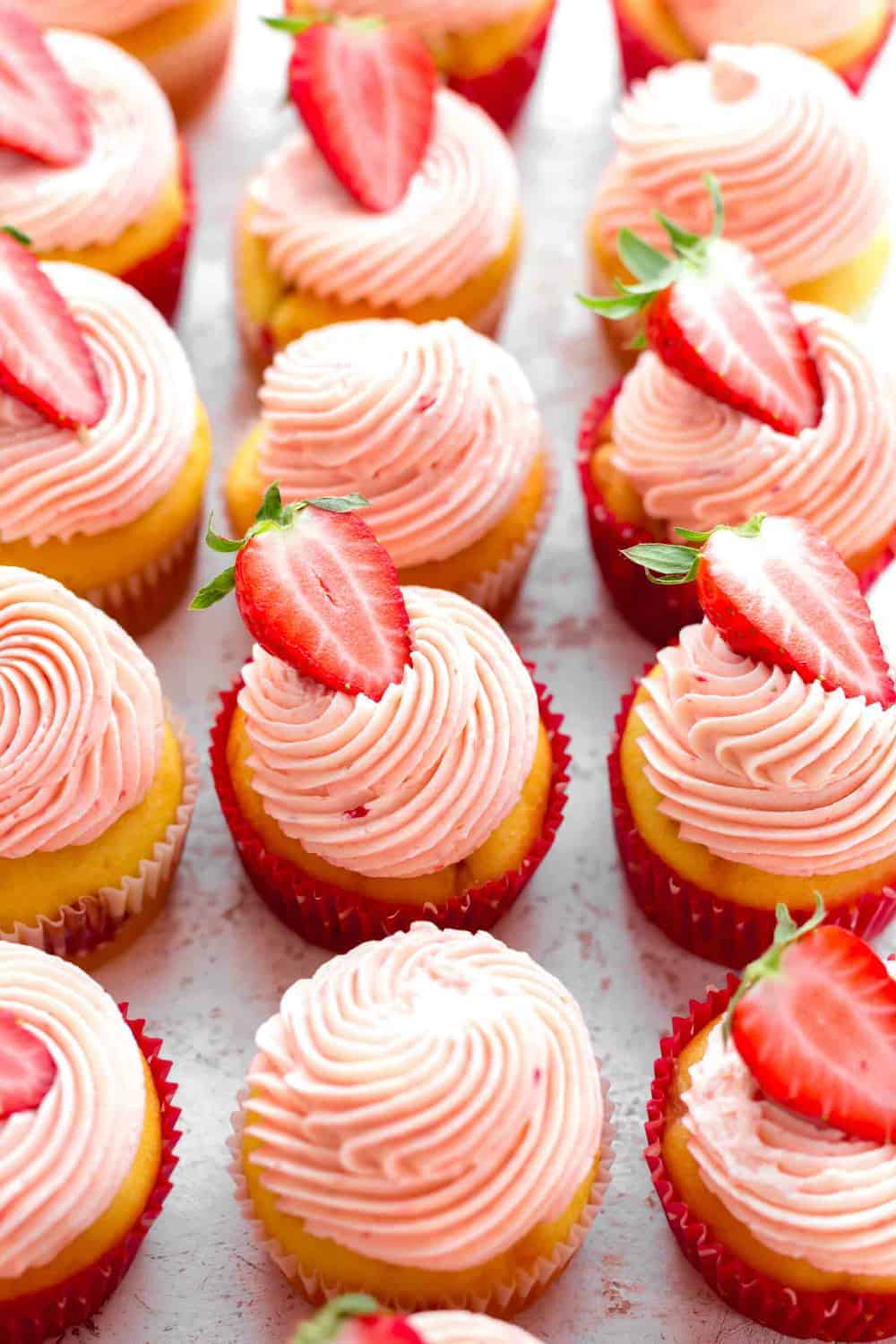 Napping. That's pretty much what I have motivation for right now.
I blame it all on Ohio's weather – rain, clouds and just all around blah-ness. Which is pretty much the complete opposite of the glorious weather we just experienced for two weeks.
If I'm being real, I haven't even unpacked my suitcase. I kinda keep telling myself there's realllllly no point because it's 40 degrees in Ohio right now, so it's not like a beach wardrobe is a necessity.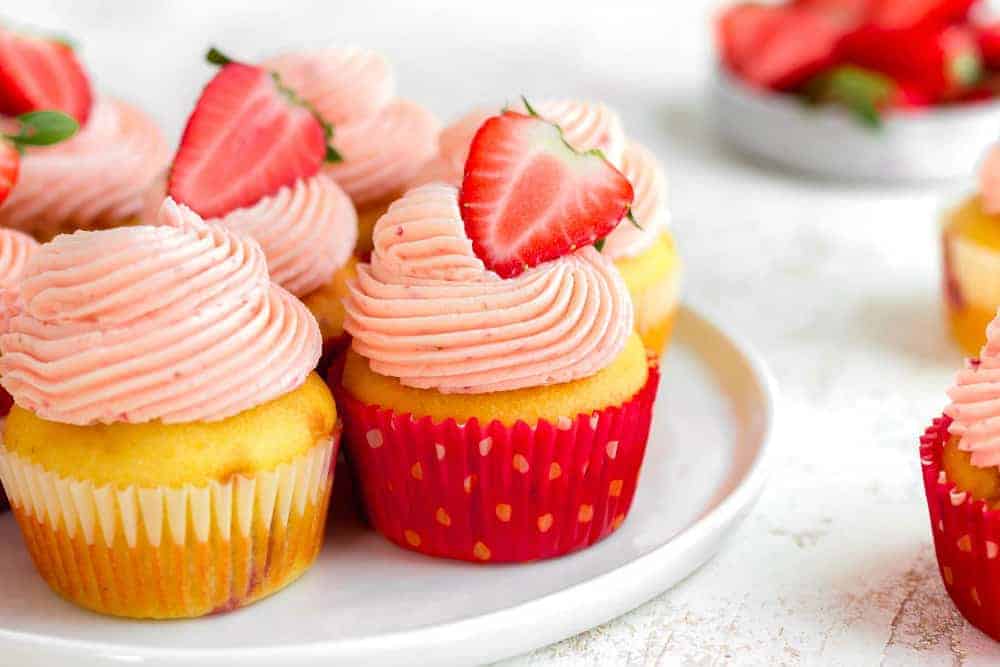 However, instead of napping, or binge watching something on Netflix, I'm trying to get our lives back into a routine.
Even my sweet babe is having a hard time getting back into the swing of things and has consistently begged me for just 5 more minutes every morning I've gotten her up for school.
Basically we're all struggling around here.
When we are all on the struggle bus like this, I like to reach into my arsenal of easy recipes. Sometimes just the act of baking, even if it's something simple like Easy Strawberry Cupcakes, can kick my butt back into gear.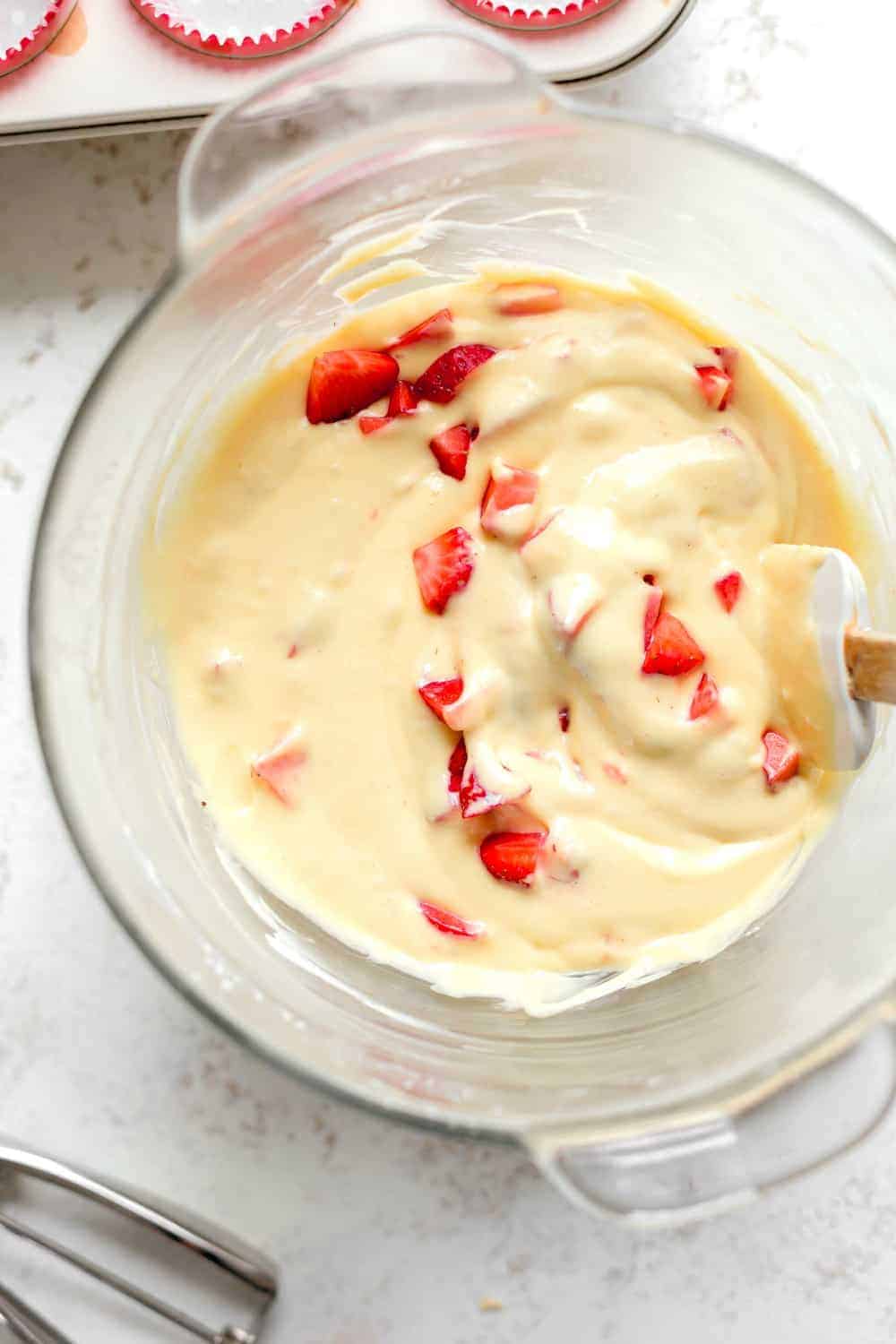 MAKING STRAWBERRY CUPCAKES WITH CAKE MIX
You guys love my Doctored Cake Mix. I get a ton of questions from readers curious if they can adapt the recipe with different flavor combinations.
Of course you can! This is one of my all-time favorite tricks.
I am all about berry recipes this time of year, so turning a simple vanilla cake mix into Easy Strawberry Cupcakes is a must.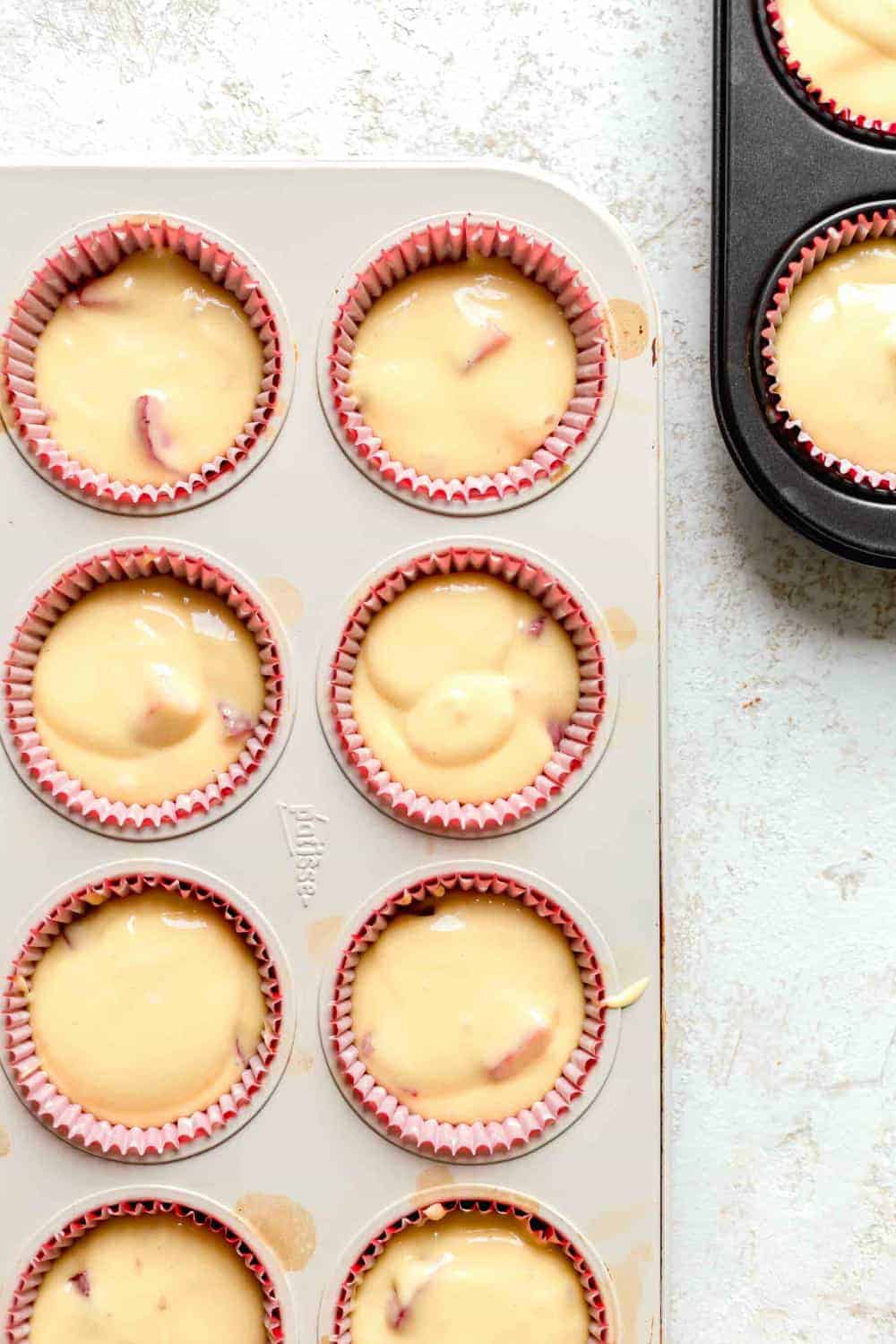 Boxed vanilla cake mix combines with Greek strawberry yogurt and fresh strawberries to create simple, moist cupcakes that are bursting with strawberry flavor.
The diced fresh strawberries in the batter are what really make Easy Strawberry Cupcakes out-of-this-world good. They add extra flavor and texture to these cupcakes.
Add on a swirl of strawberry buttercream and you've got one stellar cupcake with minimal fuss.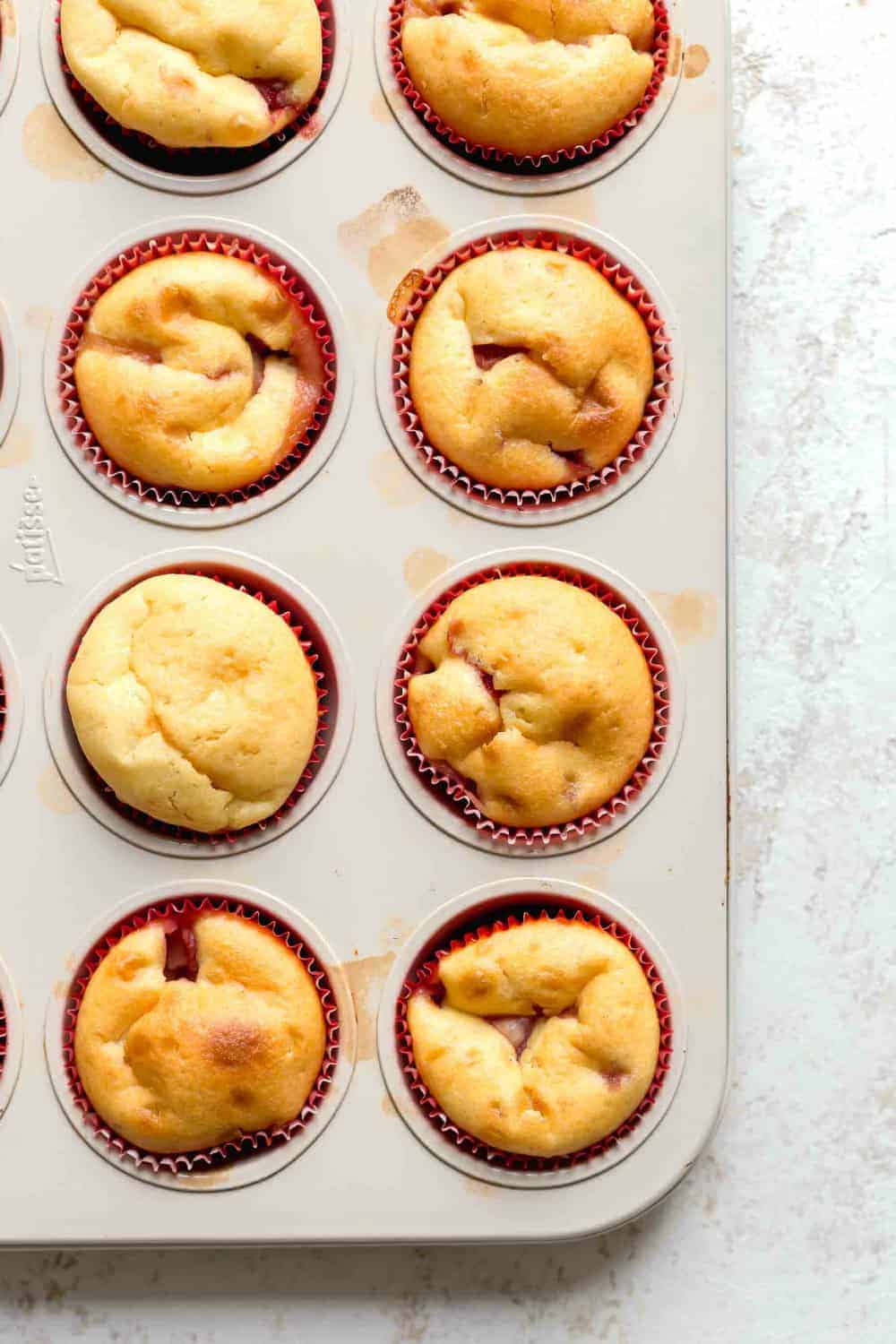 STRAWBERRY BUTTERCREAM FROSTING
Of course you can top your Easy Strawberry Cupcakes with any flavor of homemade buttercream frosting that you like. (Lemon frosting would be delish!)
But me? I love to double the strawberry flavor with strawberry buttercream frosting.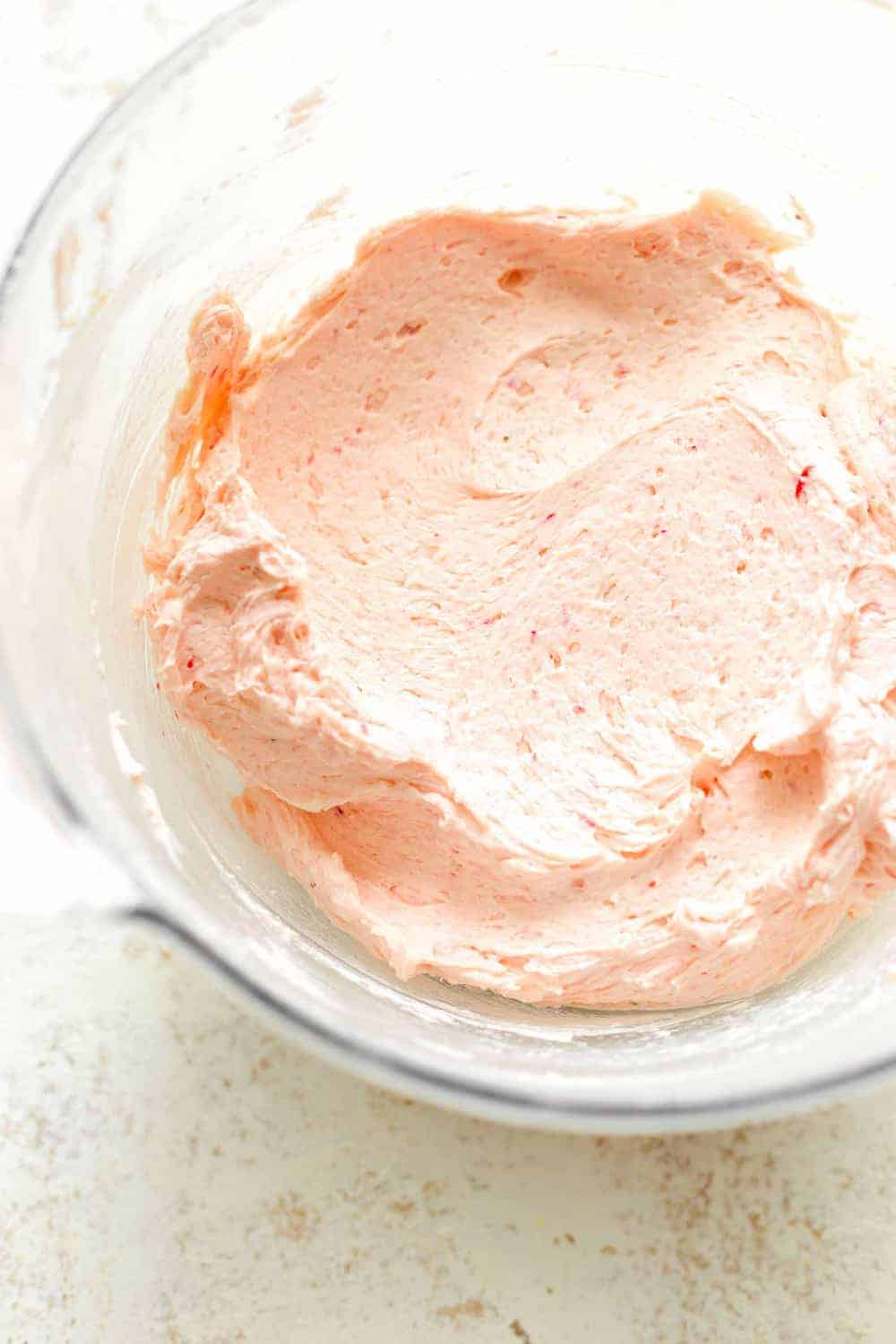 To make buttercream bursting with flavor and tinged a natural light pink, I simply swapped the milk I would normally use in my buttercream for fresh strawberry puree.
You can add a drop or two of food coloring if you'd like an even bolder pink color, but I personally like seeing the darker flecks of strawberry in the light pink frosting.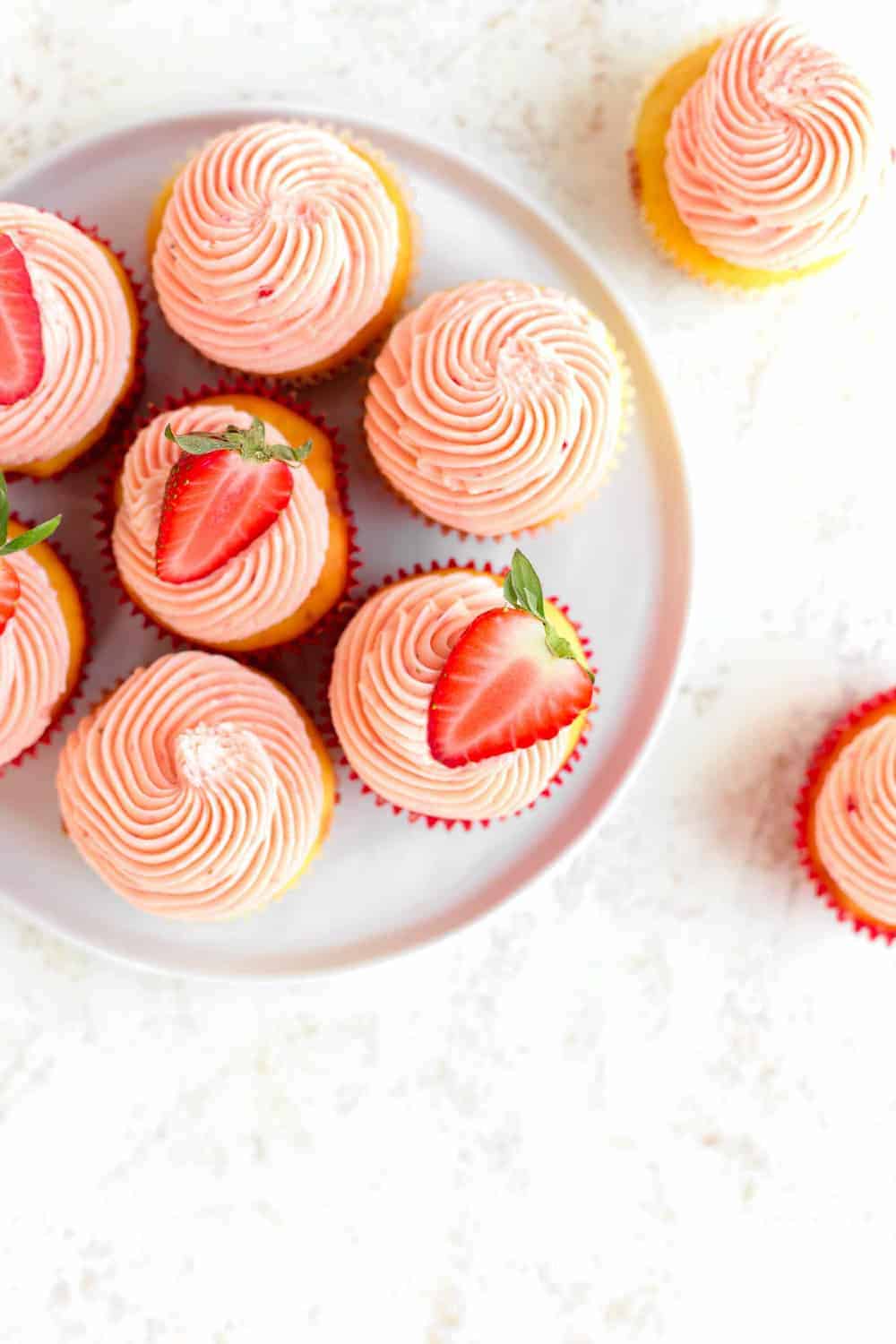 MORE EASY CUPCAKE FLAVORS
If strawberries aren't your thing, that's ok. You can use the method for these Easy Strawberry Cupcakes to make other fruity cupcake flavors.
The world is your oyster here, folks!
Try it with peach Greek yogurt and fresh peaches, or blueberry yogurt and fresh blueberries. I'd love to hear the combinations you come up with, and how they worked for you.