Funfetti Cookies are colorful cookies that kids and adults will love! Roll these easy cake mix cookies in nonpareils for an extra pop of color and texture.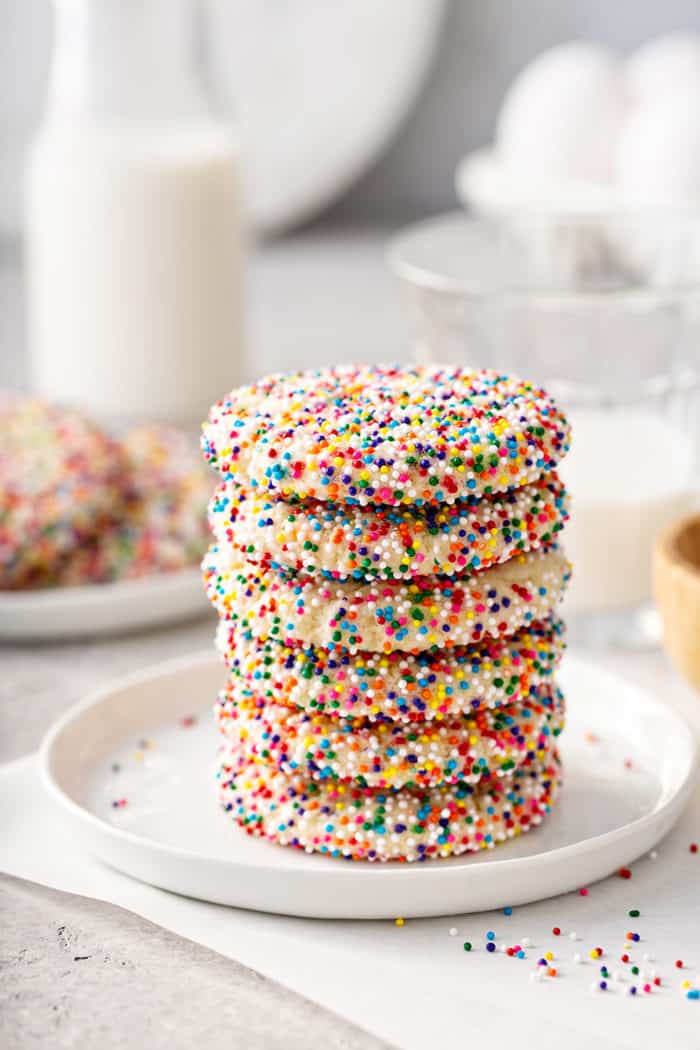 I don't know about you, but I live with a couple of cookie monsters.
Eric is a store-bought cookie lover. Open up our pantry and you'll find Oreos, Thin Mints and his fave – Pepperidge Farm Dark Chocolate Chunk, but my girl likes to whip up AND eat all sorts of cookies with me in the kitchen.
When the baking mood strikes, I love simple, fun and delicious recipes like these easy Funfetti Cookies made with a box of cake mix.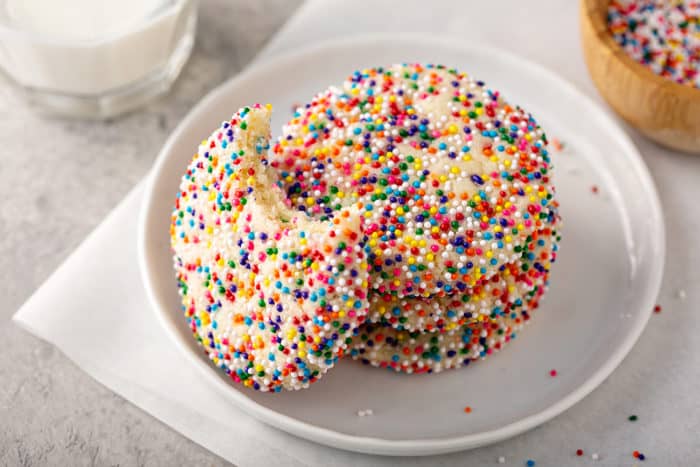 EASY FUNFETTI COOKIES WITH CAKE MIX
There's something about funfetti that I really love.
I know I'm a fully grown, married adult with a school-aged child. But I don't think it'll matter how old I get: I'll still love funfetti cake.
Whether it's Homemade Funfetti Cupcakes, Birthday Cake Pancakes, or these cute Funfetti Cookies, I'm all in.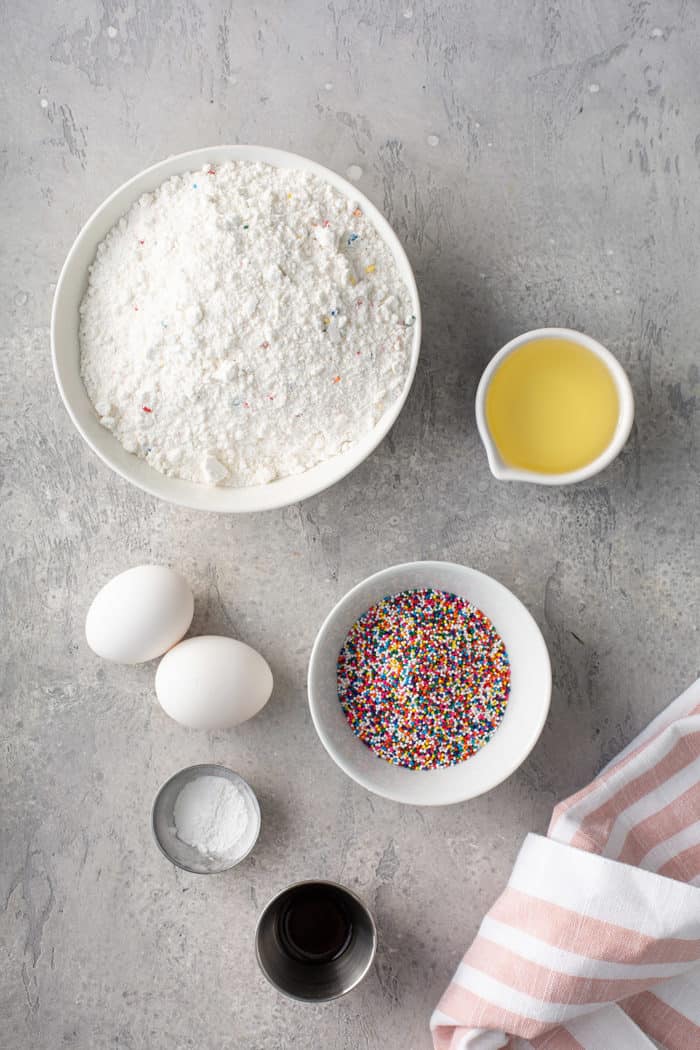 I think as much as anything, I love the nostalgia of rainbow sprinkles and that classic "birthday cake" flavor. And now that I have a daughter who is ALL about rainbows and (of course) sprinkles, there are even more sweet memories.
Like baking these cookies with my girl. Since these cookies are made with a funfetti cake mix, they're really easy to make. They're pretty much the perfect afternoon activity with kids of all ages.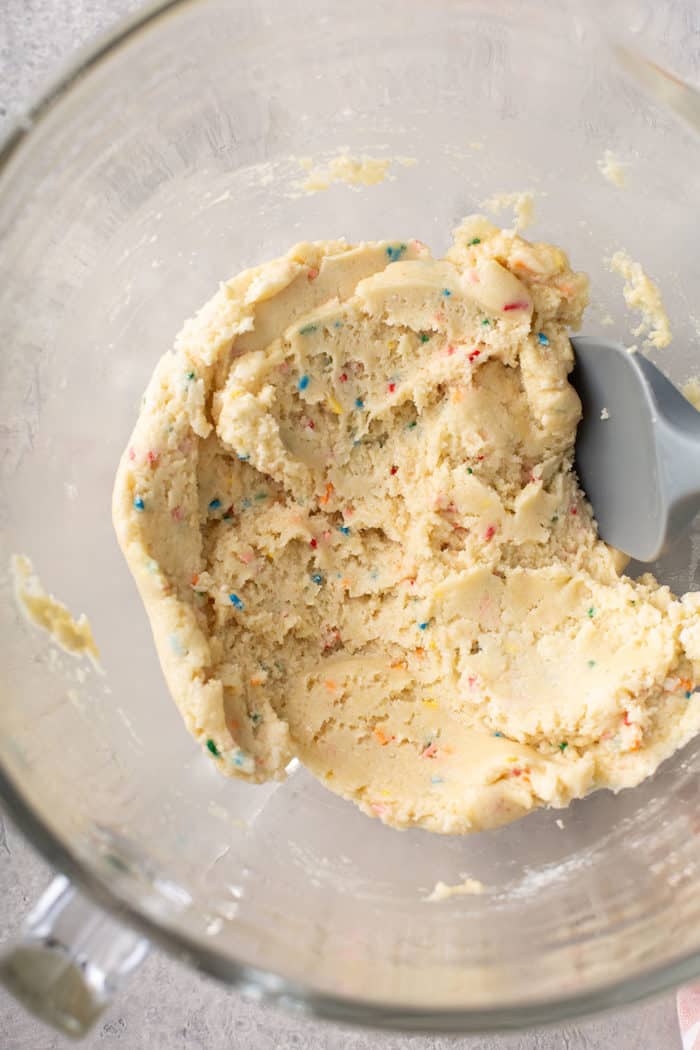 And since Elle is all in on rainbow everything, I decided to up the "fun" in these Funfetti Cookies and roll the dough in rainbow nonpareils before baking them.
I'll tell ya, that was a good idea, ok?
These cookies are soft and chewy, with all of that classic birthday cake flavor and sprinkles inside, plus some extra crunch and color from the nonpareils on the outside. Not to mention that they're as cute as can be! Perfect for a random Tuesday afternoon or a special birthday party.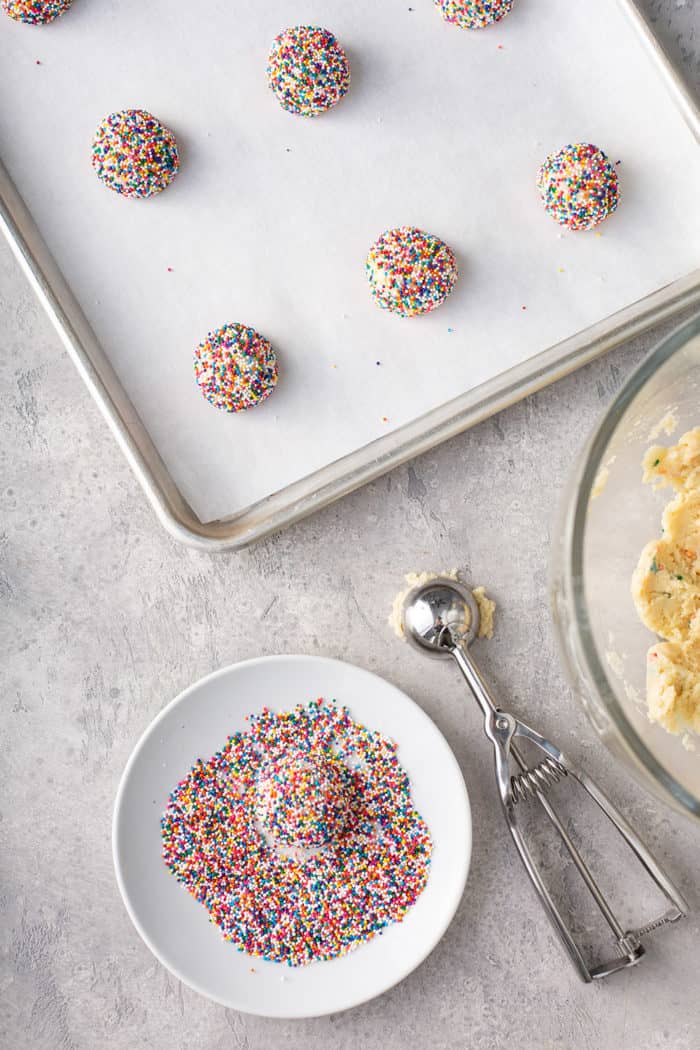 HOW TO MAKE FUNFETTI COOKIES
You'll only need a few ingredients to make these cookies:
Funfetti cake mix
Baking powder
Eggs
Vegetable oil
Vanilla extract
Rainbow nonpareils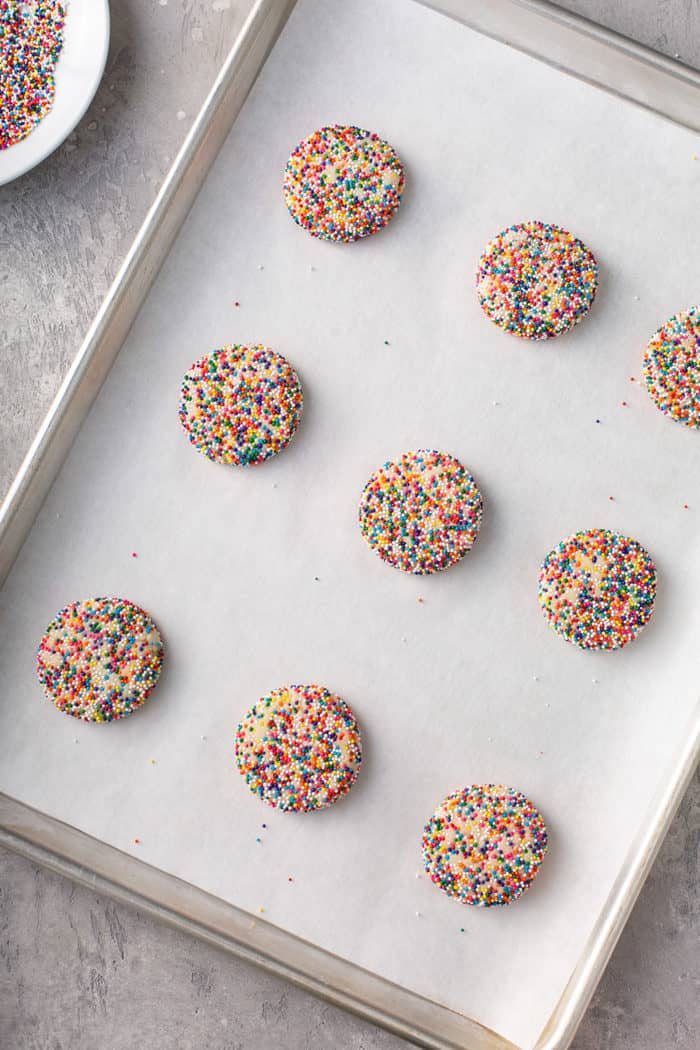 You might even already have all of these ingredients in your pantry, especially if you like to keep cake mixes and decorating supplies on hand.
Start by whisk together the cake mix and baking powder. Use an electric mixer to mix in the eggs one at a time, followed by the oil and vanilla extract.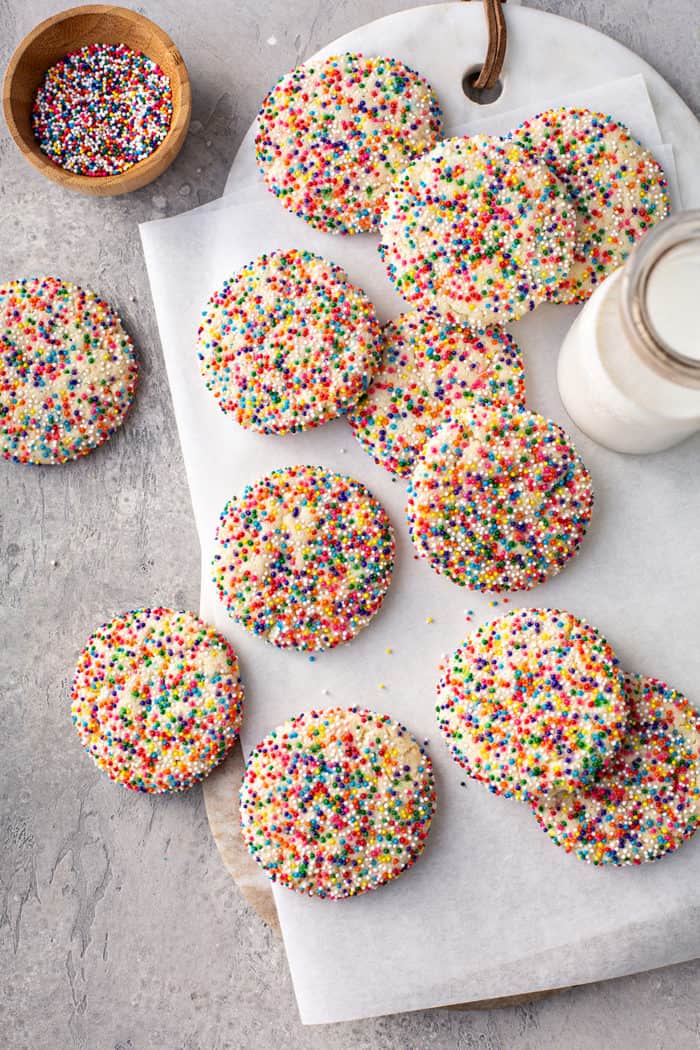 Roll the dough into 1-inch balls. Roll each dough ball into the nonpareils and place them on a parchment-lined baking sheet.
I rolled mine in rainbow nonpareils, but you could choose any colors you wanted. Red, green, and white for Christmas; red, white, and blue for July 4th; black and orange for Halloween; pink and blue for a baby shower…you get the idea!
Before baking, use the bottom of a jar or glass to press each cookie down to ¼-inch thick. Bake for 7-8 minutes. Let the cookies cool on the baking sheet before placing them on a wire rack to cool completely.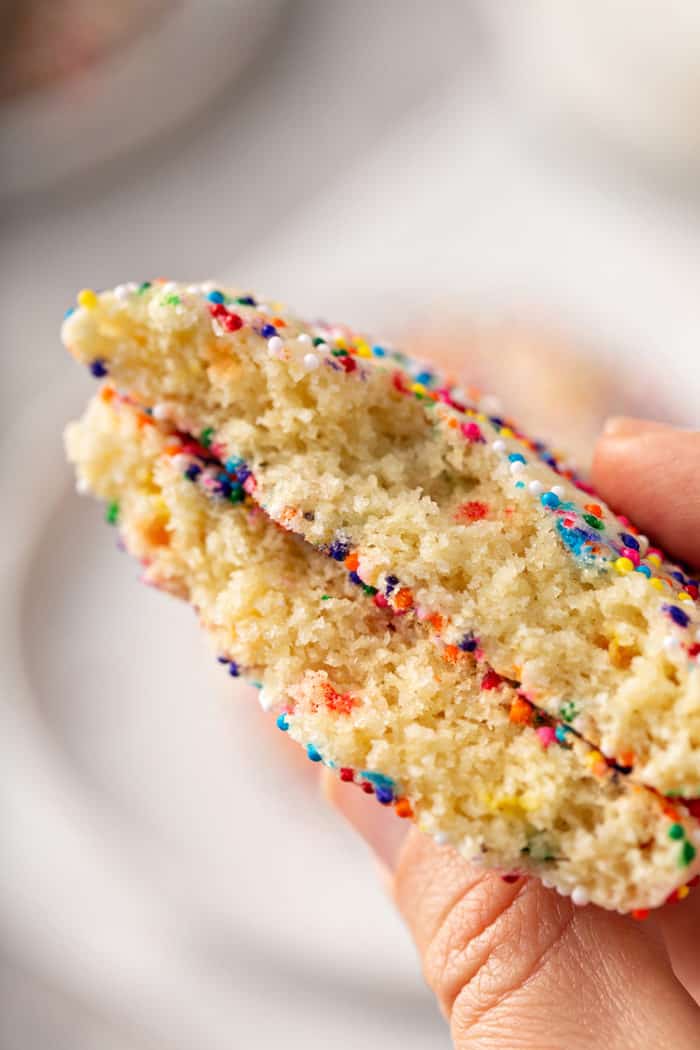 MORE EASY CAKE MIX RECIPES
Look, cake mixes really do make life a little easier every now and then. If you like to keep cake mix on hand for quick and easy desserts, make sure to check out these other 6 recipes that all use cake mix as a base.