Super easy cake mix cookies are given a festive Easter twist with the addition pastel buttercream and sprinkles.
It was 75 degrees and sunny this weekend, which was so amazing! We flung open the windows, did a little more spring cleaning, and took a much needed trip to Trader Joe's and World Market. Which basically means we re-cluttered the pantry after cleaning it out. I'm a sucker for Trader Joe's – I just can't help myself.
Last week, I cleaned out my baking drawers in an effort to consolidate a gazillion bags of chocolate chips, nuts, marshmallows and confectioners' sugar. If you've read My Baking Addiction for any period of time, you know that I'm a self-professed hoarder of baking ingredients. And this time, my stash was out. of. control. I picked up a set of OXO containers from Amazon and got to work. I also pledged to use up a few of the boxed cake mixes that I bought on sale a few months ago.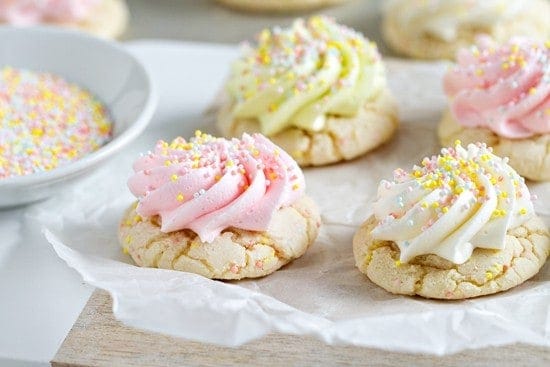 I get questions about cake mix recipes all the time. And although I know they're not everyone's cup of tea, I like to play around with them on occasion. And since one of my favorite chocolate cake recipes is a doctored up cake mix, I always have a couple on hand.
This time, instead of making a cake or cupcakes, I decided to bake cookies and give them a little festive Easter flair with the addition of pastel buttercream and sprinkles.
Sprinkles were definitely an issue in the Great Pantry Clean-Out of 2014. Eric definitely raised an eyebrow at the sheer number of containers with brightly hued sprinkles inside. Tell me I'm not the only one that gets drawn like a magnet to every seasonal container of sprinkles you find?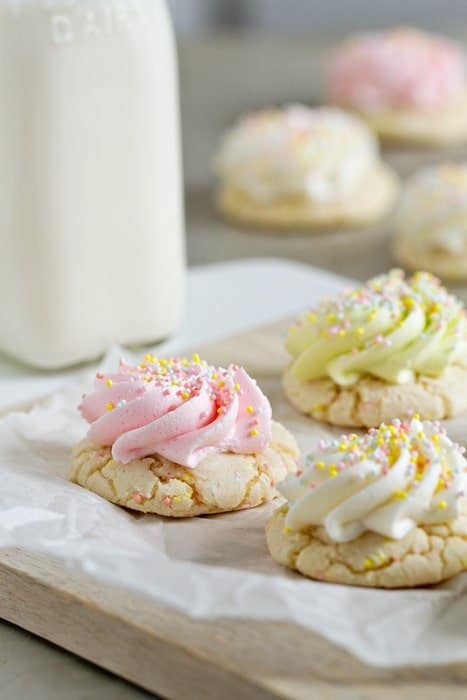 These cookies are perfect for a spring birthday party, the Easter dessert table, or even a baby shower treat. They're a great recipe to keep in your back pocket. Forgot the work potluck? No problema. Kid just told you there's a bake sale at school tomorrow? Handle it with ease.
I love the buttercream on top – after all, who can resist a sugar cookie with frosting and sprinkles? Certainly not this girl. And it makes these cake mix cookies look totally professional and like they took you all the hours in the world. Hooray for that!
Did you have glorious weather this weekend too? I really hope so!
Cake Mix Cookies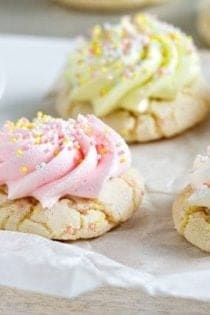 Ingredients:
1 box French Vanilla Cake Mix (I used Duncan Hines)
1 teaspoon baking powder
2 large eggs, lightly beaten
1/3 cup vegetable oil
1 teaspoon pure vanilla extract
1/4 cup sprinkles or nonpareils
For the Buttercream
2 sticks unsalted butter, softened
3 1/4 cups confectioners' sugar, sifted
1 1/2 teaspoons clear vanilla extract (this helps maintain the bright white color)
2-3 tablespoons heavy cream or milk
Optional
sprinkles or nonpareils for topping
Directions:
Preheat oven to 350° F. Line a baking sheet with parchment paper or a nonstick baking mat.
In a large bowl whisk together cake mix and baking powder. Using an electric mixer, beat in eggs one at a time, oil and vanilla. Mix until well combined. If desired, stir in sprinkles until thoroughly distributed into the batter.
Shape dough into 1-inch balls; place dough balls 2 inches apart on prepared cookie sheets. With bottom of glass dipped in flour, flatten to 1/4-inch thickness.
Bake in preheated oven for 7-8 minutes. Allow cookies to cool on cookie sheet before removing to a wire rack to cool completely.
For the Buttercream:
In the bowl of a stand mixer fitted with the paddle attachment, or in a large mixing bowl with an electric mixer, cream butter on medium-high speed for about 6 minutes. With the mixer on low speed, slowly add in confectioners' sugar, and continue beating until well blended.
Add in vanilla, and 2 tablespoons of heavy cream or milk. Blend on low speed until moistened.
Add an additional 1 to 3 tablespoons of heavy cream or milk until you reach the desired consistency. Beat at high speed until frosting is smooth and fluffy; about 5 more minutes.
Pipe frosting onto cooled cookies and top with festive sprinkles.
Notes:
Store cookies in an airtight container within the refrigerator for up to 3 days.
All images and text ©
Follow Jamie on Instagram. We love to see what you're baking from MBA! Be sure to tag @jamiemba and use the hashtag #mbarecipes!
*Product links are from My Baking Addiction's Amazon affiliate account.