I am not a beer fan; honestly, I am not really an alcohol fan in general, but I particularly loathe beer. I get loopy when I drink, yep loopy and sick, so it's just better for everyone that I stay far away from the stuff!
Although I do not like to drink beer, I do like to cook with it, especially when it's Guinness. There is something about this dark, thick stout beer that enhances some dishes and really imparts a fabulous flavor. Up until recently, I have only used Guinness in savory dishes, so when I came across a recipe for Guinness cupcakes, I was all over it!
I had faith that these would just have a hint of Guinness and be heavy on the chocolate flavor due to all the cocoa powder. This recipe is very easy to whip together and although the batter reeks of Guinness, the finished product is a moist, light cupcake full of chocolaty goodness. I topped these with a nice dollop of vanilla bean frosting and a quick sprinkling of chocolate jimmies. Brian rated these an A and my co-worker Adam said, "This may be the best thing I have ever put in my mouth." Now if that statement doesn't make you want to rush into your kitchen and make these, I don't know what will.
Thanks for checking out my newest post. In case you didn't know, I have 2 giveaways running right now, one for a fabulous apron and one for a entire set of Wilton UltraGold Bakeware! Check them out and enter!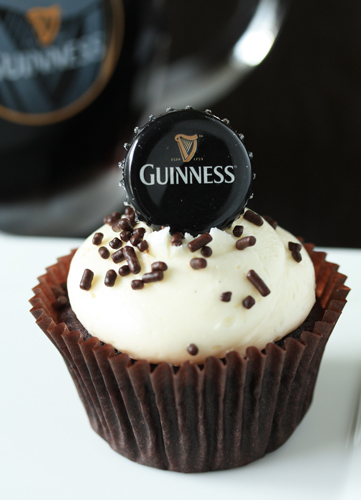 Guinness Cupcakes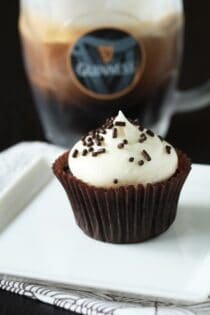 Ingredients:
For the Cupcakes
1 (12-ounce) bottle Guinness Stout
1/2 cup milk
1/2 cup vegetable oil
1 tablespoon pure vanilla extract
3 large eggs
3/4 cup sour cream
3/4 cup unsweetened cocoa (I used Scharffen Berger Cocoa)
2 cups sugar
2 1/2 cups all-purpose flour
1 1/2 teaspoons baking soda
For the Vanilla Bean Buttercream
1 stick salted butter – room temperature
1 stick unsalted butter – room temperature
1/2 cup shortening
1 tablespoon Clear Vanilla extract
1 1/2 pounds confectioner's sugar (powdered sugar, 10x)
4 tablespoons very cold milk
Directions:
For the Cupcakes
1. Preheat the oven to 350°F.
2. In a large mixing bowl, combine the Guinness, milk, vegetable oil, and vanilla. Beat in the eggs, one at a time. Mix in the sour cream.
3. In a large mixing bowl, whisk together the cocoa, sugar, flour, and baking soda. Gradually mix the dry ingredients into the wet Guinness mixture.
4. Butter 24 muffin tins and divide the batter among the muffin tins.
5. Bake 25 minutes, until risen and set in the middle but still soft and tender. Cool before turning out of the tins.
For the Vanilla Bean Buttercream
1. Cream the butter and shortening in the bowl of an electric or stand mixer.
2. Add the clear vanilla extract and combine well. Begin adding in the sugar and mixing thoroughly after each addition.
3. After all of the sugar has been added and mixed thoroughly, begin adding the very cold milk one tablespoon at a time, combining very well after each addition (mixer on medium-high to high speed) until you reach the desired consistency.
adapted from Dave Lieberman on Chow.com
All images and text ©
Follow Jamie on Instagram. We love to see what you're baking from MBA! Be sure to tag @jamiemba and use the hashtag #mbarecipes!
[pinit]