Bunny Butt Cupcakes are the perfect dessert for your Easter brunch. They're light, fluffy and totally adorable.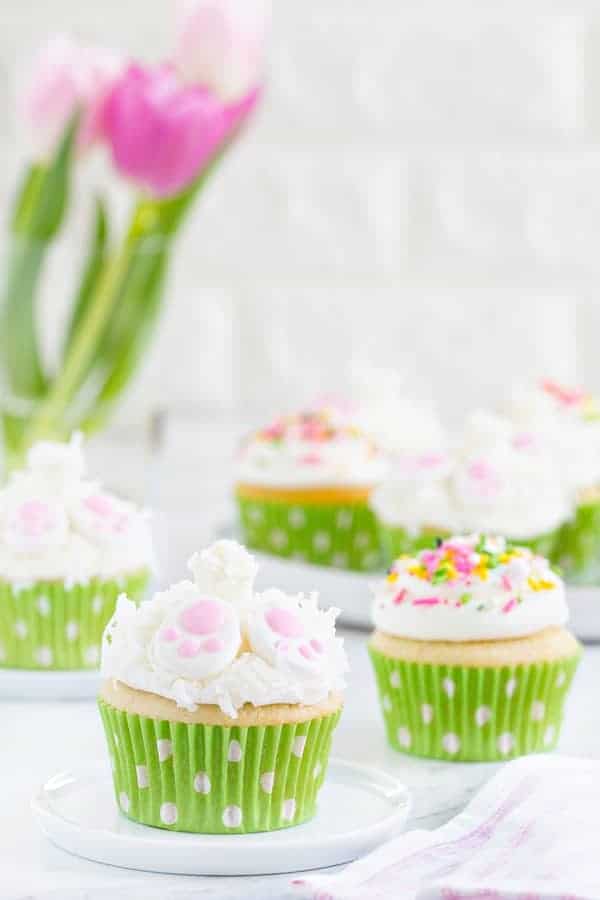 This post is sponsored by Campfire® Marshmallows. Thank you for continuing to support the brands that make My Baking Addiction possible.
Elle is pretty smitten with just about any animal, even things that I find downright frightening, like snakes and lizards.
In fact, I think the only thing she's ever been repulsed by were hissing cockroaches that we happened upon at our local nature preserve.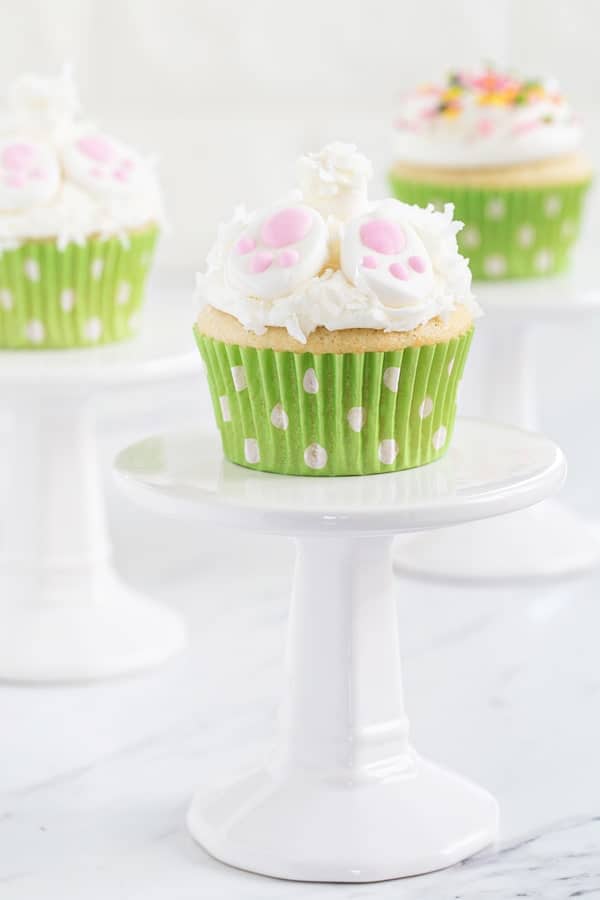 Due to her love of animals, my mom adopted a bunny for her. A real, live, breathing, pooping, bunny. She named it Pinky.
Thankfully, Pinky resides in a custom-built bunny condo at my mom's house, not at home. Since we already have a small zoo consisting of two dogs and two cats, I'm very grateful Pinky lives at Gigi's house.
And if I'm being honest, I just don't want to be responsible for cleaning up after or feeding another living thing – especially a red-eyed bunny.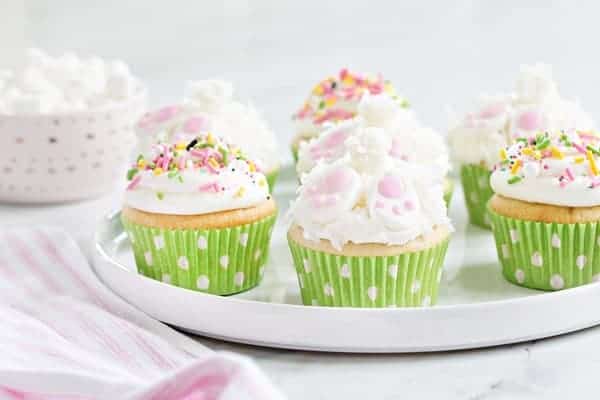 Even though I am not a super-fan of bunnies, Elle just adores Pinky and all things bunny related. So when we came across these adorable bunny feet decorations at Target, I knew a batch of Bunny Butt Cupcakes were in our future.
If you happened upon my recipe for Easter Bunny Cinnamon Rolls, you may remember that Elle insisted those cute, little bunny faces had "fur," so we added a sprinkling of coconut. And we've done the same thing here with these Bunny Butt Cupcakes.
I started with my absolute favorite recipe for Vanilla Bean Cupcakes – if you haven't tried this cupcake recipe, you really should, in my opinion, it's pretty much perfect!
I then added a swirl of simple vanilla buttercream and dipped the cupcakes into shredded coconut. Then came the cute decorations.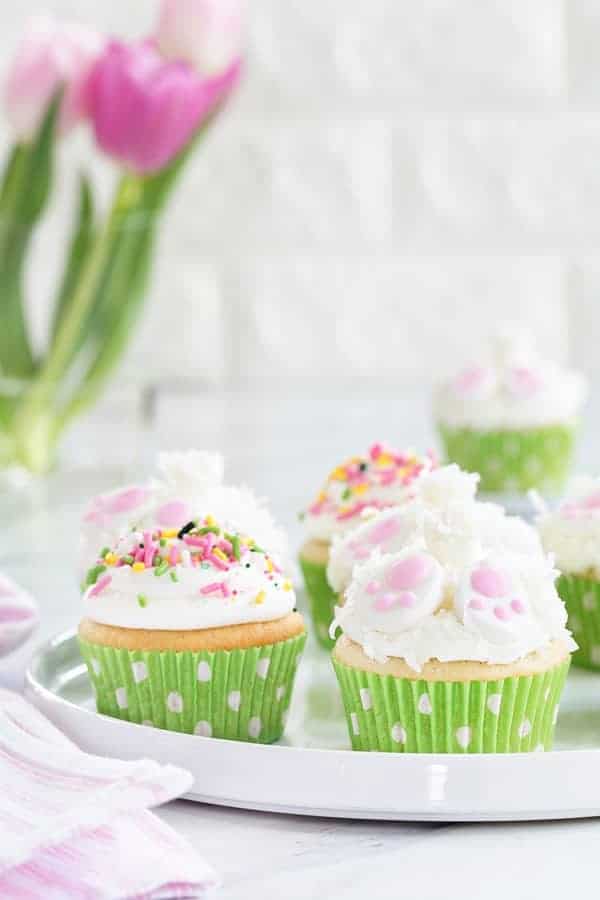 I dipped sweet, fluffy, Campfire® Mini Marshmallows into a bit of melted vanilla candy melts and rolled those in coconut as well.
A little dab of buttercream helped adhere the cute bunny tails and bunny feet to the cupcakes to create the most adorable Bunny Butt Cupcakes I've ever seen.
Elle was seriously in love with them and would have eaten no less than 3 in one sitting if I had let her. She was particularly fond of the the marshmallow bunny tails and candy bunny feet.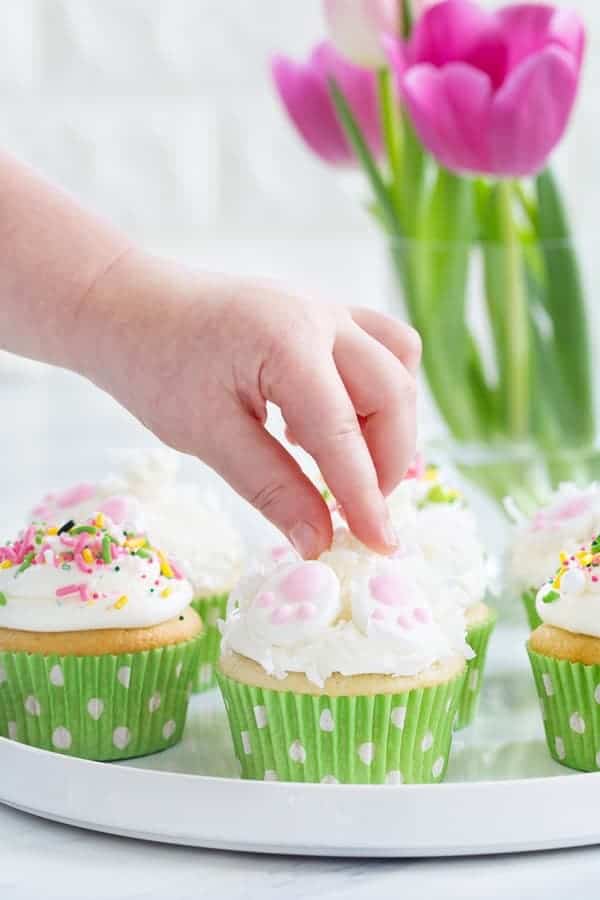 If you're feeling extra crafty, you can even make your own bunny feet by piping white and pink candy melts into bunny feet shapes on parchment paper. I decided to take the simple route and if I'm being honest, I kind of like the store-bought bunny feet better than homemade.
Let's be real, I like continuity, and I'm pretty sure my hand-piped bunny feet would like just about anything other than adorable bunny feet.
These light and fluffy Bunny Butt Cupcakes will make the most adorable dessert for your Easter table. Just try not to eat three in one sitting.
For more delicious marshmallow inspired treats, be sure to check out this Pineapple Fluff and these Berry Cereal Treats, both are perfect for spring!