Bunny Butt Cupcakes
Bunny Butt Cupcakes are the perfect dessert for your Easter brunch. They're light, fluffy and totally adorable.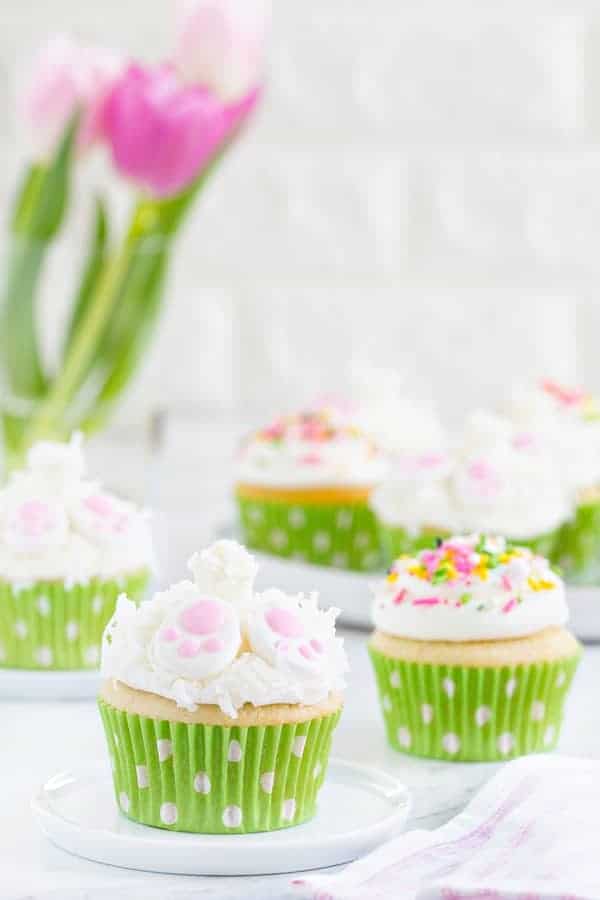 This post is sponsored by Campfire® Marshmallows. Thank you for continuing to support the brands that make My Baking Addiction possible.
Elle is pretty smitten with just about any animal, even things that I find downright frightening, like snakes and lizards.
In fact, I think the only thing she's ever been repulsed by were hissing cockroaches that we happened upon at our local nature preserve.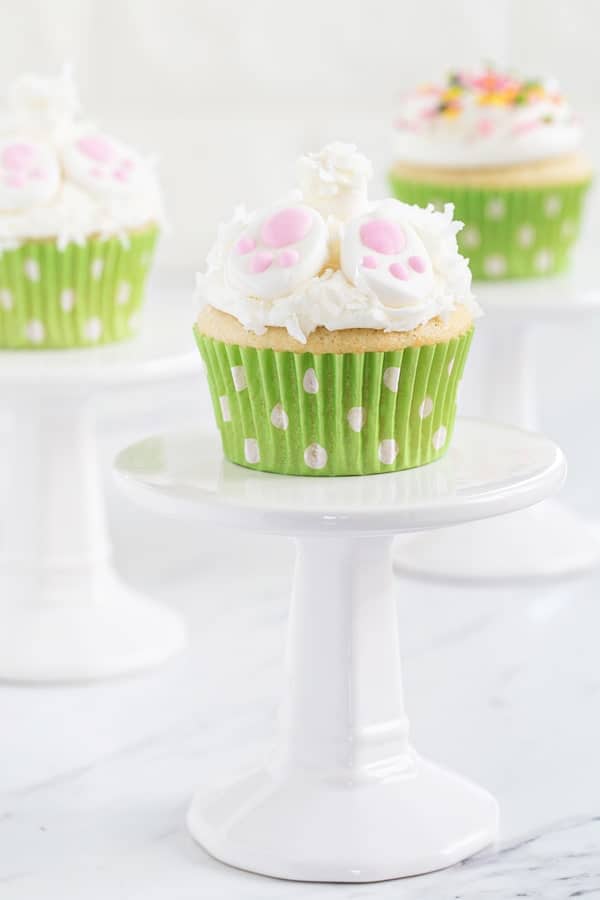 Due to her love of animals, my mom adopted a bunny for her. A real, live, breathing, pooping, bunny. She named it Pinky.
Thankfully, Pinky resides in a custom-built bunny condo at my mom's house, not at home. Since we already have a small zoo consisting of two dogs and two cats, I'm very grateful Pinky lives at Gigi's house.
And if I'm being honest, I just don't want to be responsible for cleaning up after or feeding another living thing – especially a red-eyed bunny.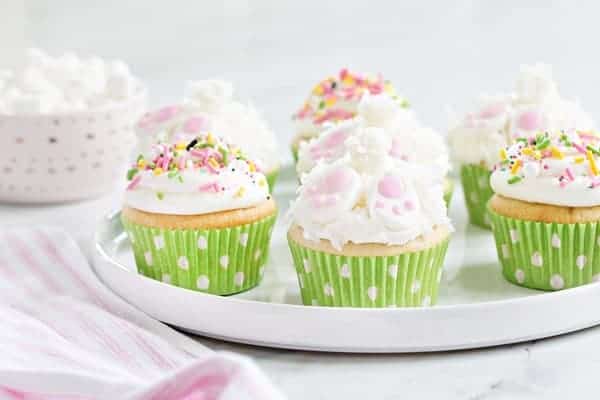 Even though I am not a super-fan of bunnies, Elle just adores Pinky and all things bunny related. So when we came across these adorable bunny feet decorations at Target, I knew a batch of Bunny Butt Cupcakes were in our future.
If you happened upon my recipe for Easter Bunny Cinnamon Rolls, you may remember that Elle insisted those cute, little bunny faces had "fur," so we added a sprinkling of coconut. And we've done the same thing here with these Bunny Butt Cupcakes.
I started with my absolute favorite recipe for Vanilla Bean Cupcakes – if you haven't tried this cupcake recipe, you really should, in my opinion, it's pretty much perfect!
I then added a swirl of simple vanilla buttercream and dipped the cupcakes into shredded coconut. Then came the cute decorations.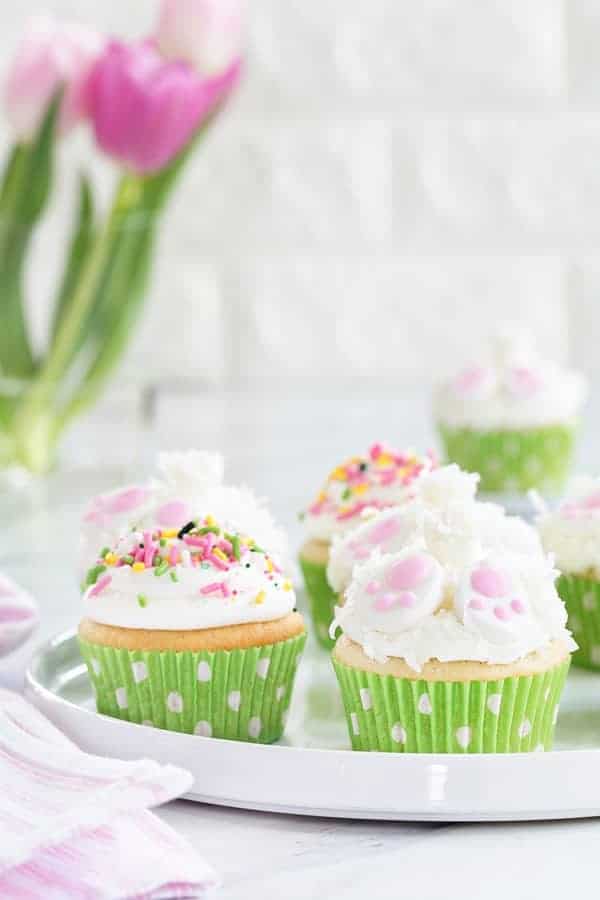 I dipped sweet, fluffy, Campfire® Mini Marshmallows into a bit of melted vanilla candy melts and rolled those in coconut as well.
A little dab of buttercream helped adhere the cute bunny tails and bunny feet to the cupcakes to create the most adorable Bunny Butt Cupcakes I've ever seen.
Elle was seriously in love with them and would have eaten no less than 3 in one sitting if I had let her. She was particularly fond of the the marshmallow bunny tails and candy bunny feet.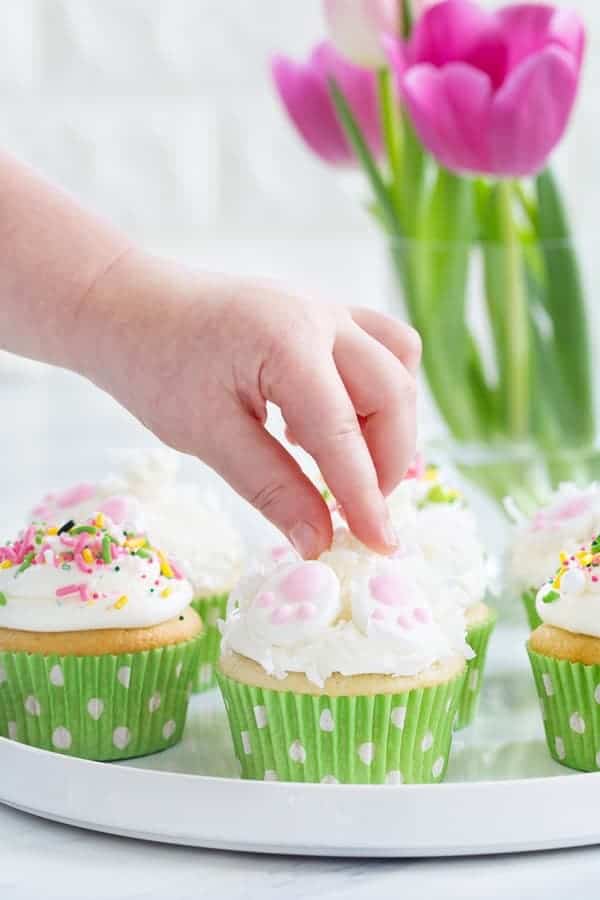 If you're feeling extra crafty, you can even make your own bunny feet by piping white and pink candy melts into bunny feet shapes on parchment paper. I decided to take the simple route and if I'm being honest, I kind of like the store-bought bunny feet better than homemade.
Let's be real, I like continuity, and I'm pretty sure my hand-piped bunny feet would like just about anything other than adorable bunny feet.
These light and fluffy Bunny Butt Cupcakes will make the most adorable dessert for your Easter table. Just try not to eat three in one sitting.
For more delicious marshmallow inspired treats, be sure to check out this Pineapple Fluff and these Berry Cereal Treats, both are perfect for spring!
Bunny Butt Cupcakes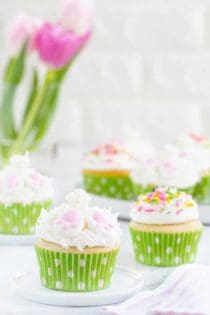 Ingredients:
For the Cupcakes
2 1/4 cups cake flour
1 tablespoon baking powder
1/2 teaspoon salt
1 1/4 cups whole milk, room temperature
4 large egg whites, room temperature
1 stick (8 tablespoons) unsalted butter, at room temperature
1 1/2 cups sugar
seeds scraped from one vanilla bean
2 teaspoons pure vanilla extract
For the Buttercream
3 sticks unsalted butter, softened
1 ½ pounds (24 ounces) powdered sugar, sifted
2 teaspoons clear vanilla extract (this helps maintain the bright white color)
2-3 tablespoons heavy cream or milk
For the Bunny Butt Cupcakes Decorations
1 cup shredded sweetened coconut
8 vanilla candy melt wafers
24 Campfire® Mini Marshmallows
bunny feet decorations
Directions:
For the Cupcakes
Preheat oven to 350°F. Line cupcake pan with paper liners.
In a large bowl, sift together the flour, baking powder and salt.
In a medium bowl, whisk together the milk and egg whites.
In the bowl of a stand mixer fitted with the paddle attachment, or with a hand mixer, beat the butter, sugar and vanilla bean seeds at medium speed for 3 minutes, or until the butter and sugar are very light.
Add in the vanilla extract and one third of the flour mixture, still beating on medium speed.
Beat in half of the milk-egg mixture, then beat in half of the remaining dry ingredients until well incorporated.
Add the rest of the milk and eggs, beating until the batter fully incorporated and smooth, then add the last of the dry ingredients.
Once ingredients are thoroughly incorporated, give the batter a good 2-minute beating to ensure that it is thoroughly mixed and well aerated.
Using a large scoop (about 3 tablespoons), distribute the batter between 20 muffin wells, filling each well 2/3 full.
Bake for 18-22 minutes, or until a toothpick inserted into the centers come out clean. Cool on wire rack.
For the Buttercream
In the bowl of a stand mixer fitted with the paddle attachment, beat the butter on medium-high speed for five minutes.
With the mixer on low speed, slowly add in the powdered sugar, and continue beating until well blended.
Add in vanilla and mix on low speed until incorporated.
Turn the mixer back up to medium-high speed and beat the buttercream for an additional 5 minutes.
If the buttercream is too thick, add in a bit of milk, one teaspoon at a time until you reach the desired consistency.
Reserve 1/4 cup buttercream. Use remaining buttercream to pipe onto cooled cupcakes.
Dip each cupcake into the shredded coconut to coat the frosting.
Melt the vanilla candy melts according to package directions. Dip half of each mini marshmallow into the melted candy melts and then dip in coconut to create fluffy bunny tails.
Use the reserved buttercream to adhere the bunny tails and bunny feet onto the coconut coated cupcakes.
Cupcake recipe slightly adapted from Dorie Greenspan's Perfect Party Cake.
All images and text ©
Follow Jamie on Instagram. We love to see what you're baking from MBA! Be sure to tag @jamiemba and use the hashtag #mbarecipes!
This post may contain affiliate links. We are a participant in the Amazon Services LLC Associates Program, an affiliate advertising program designed to provide a means for us to earn fees by linking to Amazon.com and affiliated sites.