We love dessert cocktails! An easy Tiramisu Martini is one of my favorite party drinks, so creamy and delicious!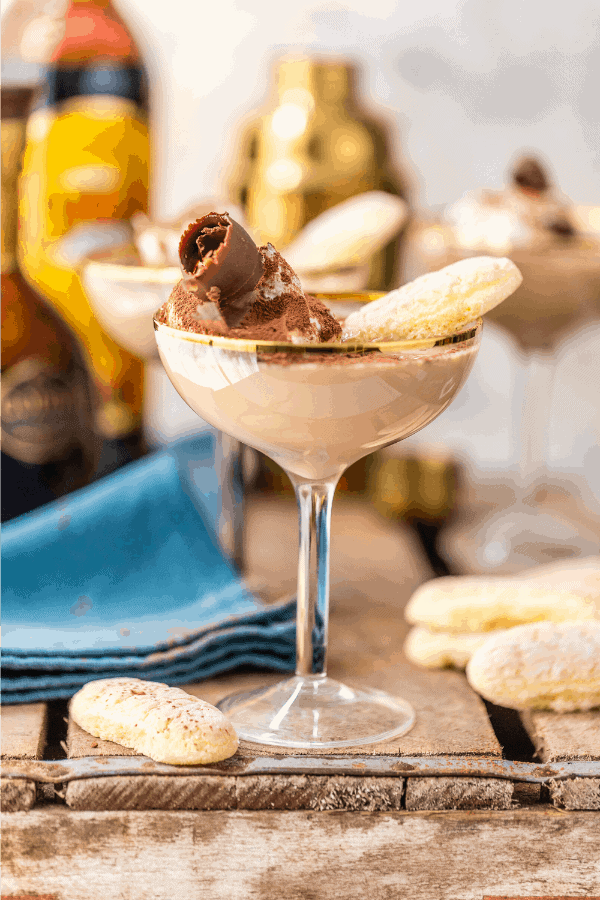 One of my favorite things to do in the kitchen is come up with fun and festive cocktails.
Dessert drinks are my absolute favorite, and so fun to dream up. There are so many cordials and liqueurs that make it simple to recreate almost any flavor combination in drink form!
I have made everything from Snickers Martini to a latte that tastes just like a Gingerbread Cookie! The fun never stops when you're mixing and shaking!
I have found a new favorite in this super simple Tiramisu Martini. Full of all of the flavors that make tiramisu a favorite dessert, in drink form! What's not to love.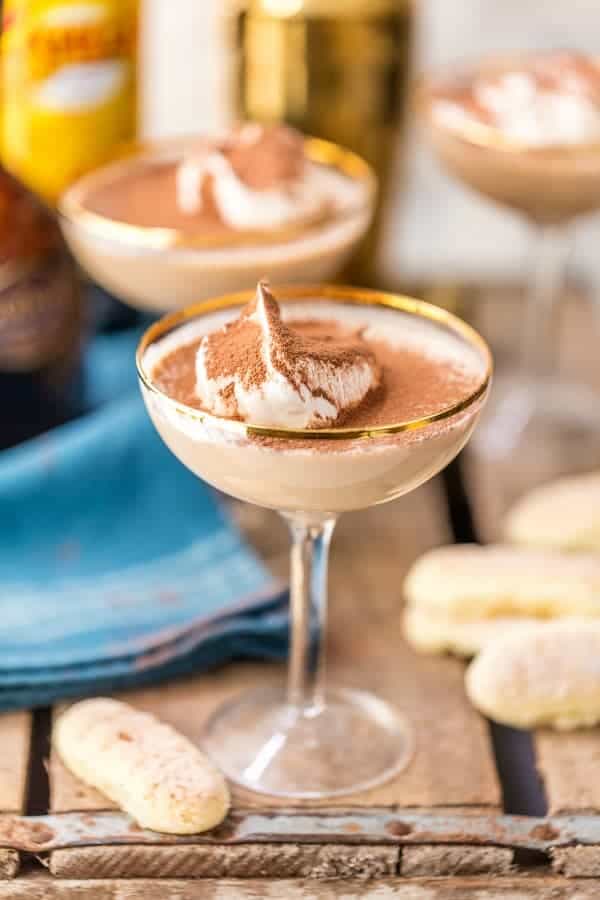 MY FAVORITE TIRAMISU MARTINI
This cocktail contains three of my favorite liqueurs: Kahlua, Godiva Chocolate, and Rum Chata.
Combined with cream, you're left with a dessert cocktail that tastes just like the famed Italian dessert, Tiramisu! A touch of coffee from the Kahlua, a dash of cocoa from the Godiva Chocolate, and some cinnamon and cream from the Rum Chata.
The flavors blend together to create a beautiful after-dinner drink perfect for date night, or just to enjoy by yourself after a long week. You cannot go wrong.
Topped with a dollop of whipped cream (of course!), a dash of ground coffee or cocoa, and some lady fingers, and you're really in business.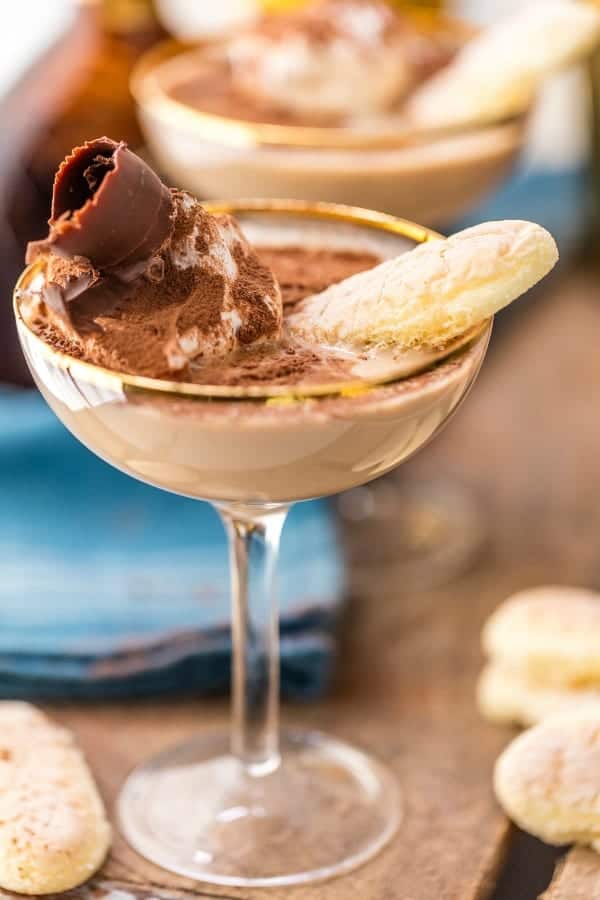 Good luck drinking just one of this decadent dessert cocktail!
What are your favorite desserts? Have you ever tried to turn them into liquid form? The possibilities are endless and oh so fun.
Experimenting with cocktails is about as good as it gets in the kitchen and never a bad idea. I hope you love these Tiramisu Martinis as much as we do! Cheers, friends!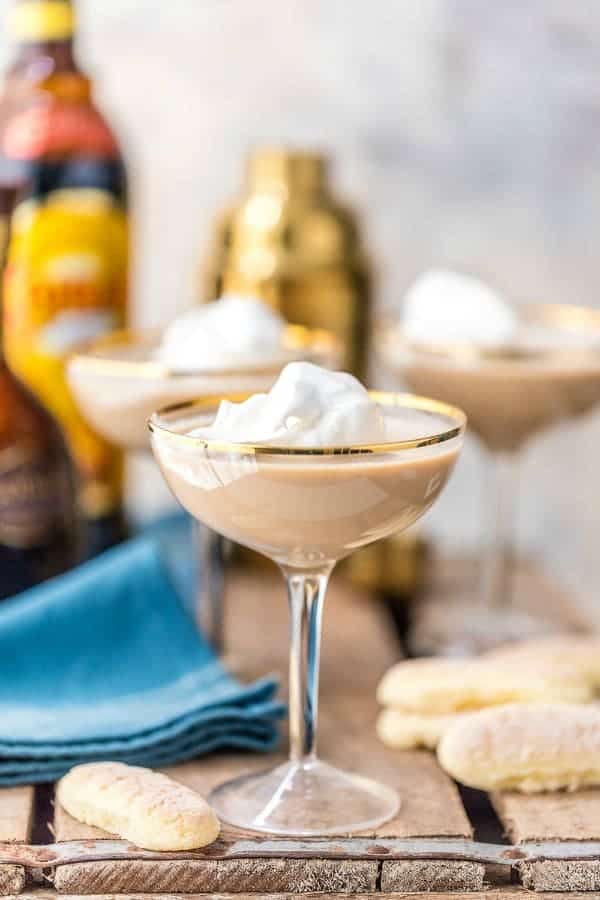 MORE DESSERT COCKTAIL RECIPES
If you like dessert cocktails as much as we do, you are probably always on the hunt for more sweet cocktail recipes!
You can never go wrong with a drink that tastes like pie, especially pumpkin pie! This Pumpkin Pie Cocktail perfectly captures this fall favorite.
A BBC Drink is a banana, Baileys and coconut cocktail and tastes like summer!
Don't forget about birthday cake. Try a Birthday Cake White Russian any time of year – it doesn't have to be on your birthday!
Ice cream floats and milkshakes are a dessert cocktail lover's dream. Try this Boozy Maple Ice Cream Float or a Vanilla Peach Bourbon Milkshake next time you have an ice cream craving.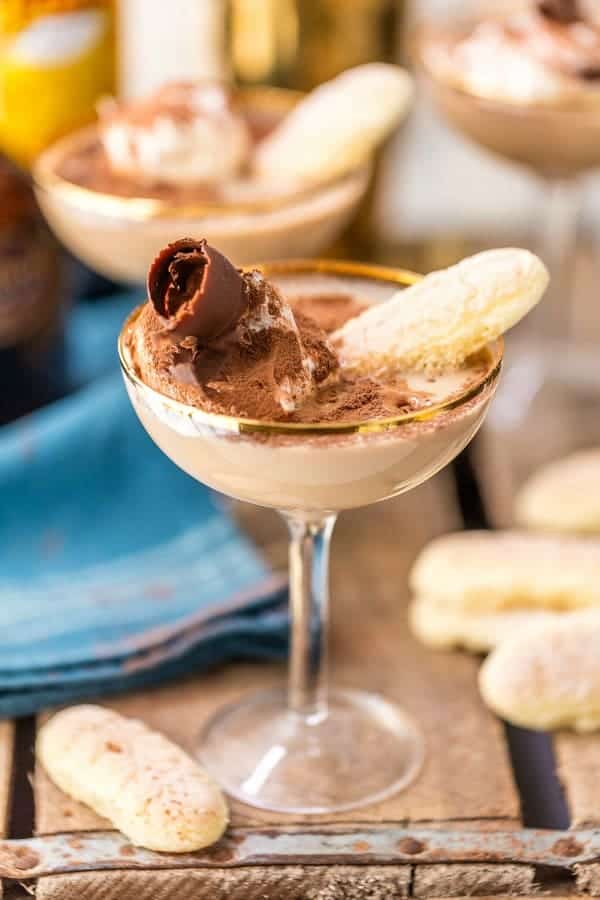 MORE TIRAMISU-INSPIRED RECIPES
If you're looking for more recipes inspired by everyone's favorite Italian dessert, we've got you covered!
White Chocolate Tiramisu Pudding Cups can be made in minutes for a super easy take on tiramisu.
Tiramisu and brownies? It's absolutely possible with this Tiramisu Brownies recipe.
We also love to make tiramisu trifles. Try this classic Tiramisu Trifles recipe or a twist on tradition with Mini Pumpkin Tiramisu.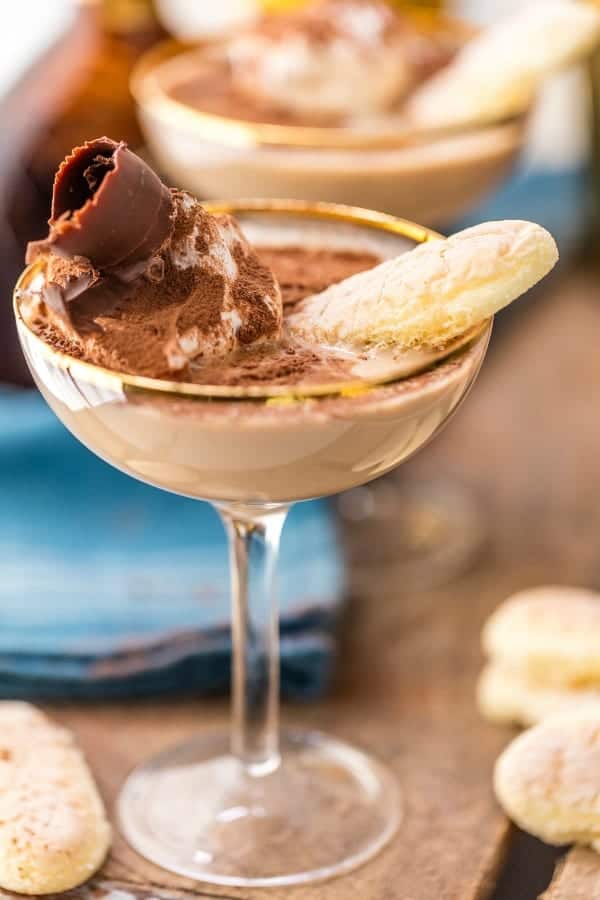 Tiramisu Martini was contributed by Becky of The Cookie Rookie.