5 clever ways to shake up your dinner parties in the new year. Fun ideas for making an evening people will talk about for days!
This post is sponsored by Evite. All opinions are my own.
If you've followed MBA for a little while, you may recall me talking about our upcoming move and all the packing. And even though we are completely overwhelmed, there are so many things we're looking forward to. Things like a finished basement with loads of storage, two dedicated office spaces and enough room to throw parties and have the entire family over for dinner.
Since we started building our home, we've talked about hosting Sunday suppers once a month. We think it will be a great way to gather the whole family for delicious food, conversation and of course – dessert. It's also a tremendous way to show Elle the importance of eating well, and with family.
I've teamed up with Evite to share 5 Ways to Shake Up Your Dinner Party. From choosing themes to fun invitations, I've got you covered with a little help from Evite. I've even linked some of my favorite dishes and desserts to help take the guesswork out of creating your menu.
1. A Trip Around the World: I love the idea of asking guests to bring dishes from their family's country of origin. Not only is this a great way to taste dishes from around the world, it also creates a huge smorgasbord of delicious food. We also love having potluck style dinners that include our favorite dishes from my grandma's recipe box. And since I'm always responsible for dessert, Cherry Cheesecake and Ambrosia Salad often grace our potluck tables.
2. Breakfast for Dinner: We're huge fans of "brinner" and in my opinion, there's nothing better than centering a delicious meal around items like pumpkin pancakes, cranberry-orange scones, and Sausage Egg Souffle.
3. A Flavorful Feast: Ask guests to take the FlavorPrint quiz, a personalized recipe recommendation service that takes less than two minutes to complete. Based on their profiles of their favorite flavors, they'll each receive a few recipe suggestions. Pick one dish from each guest's list and prepare a meal from the results. This is such a fun idea and a great way to get meal recommendations when you're in a bit of a rut.
4. Pick a Theme: Sometimes you want to spend an entire holiday party just nibbling at the dips, chips and crudités, and there's nothing wrong with that. Why not plan an entire dinner party around it? A myriad of dips, a charcuterie and cheese plate with special spreads and pickles – these are the things that make me happy. Ask at your local wine shop for wine recommendations to go with these, OR use it as the starting point for your theme instead. Make recipes based on the wines you've picked! Coming up with themes really isn't all that hard, and once an idea sparks, the recipes will flow.
5. Host a Cook-Off: You can do this a number of ways. Have everyone bring their best dish, or host a "Chopped"-style competition. Give each cook a list of ingredients and a course. I might not make the ingredients too crazy so that you still want to eat the end results, but how fun would it be to see what your friends do with Nerds and crème fraîche for dessert?
Invite your friends and family to your dinner party with the premium Evite invitation below or with others from our dinner party invitation gallery.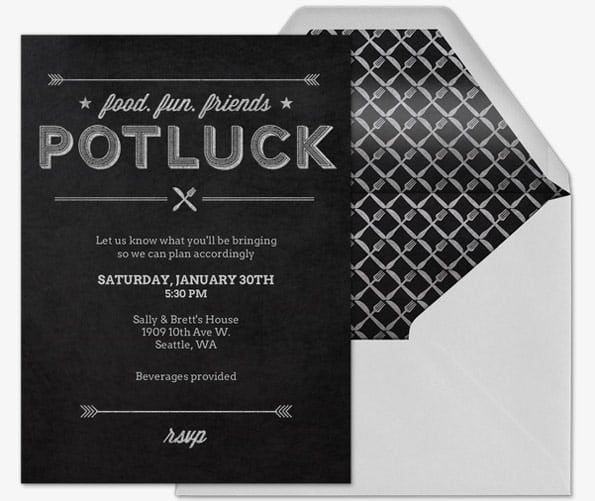 I'd love to hear about your Sunday Supper and dinner party ideas. Do you do any of the things I already suggested? Any tips or tricks for us as we plan our first party of 2015?