Snickerdoodle Bars are loaded with delicious spices and drizzled with a sweet vanilla icing. They're perfect for dessert, or with your morning cup of coffee.
If you follow MBA on a regular basis, you may have noticed that things have been a little quiet in my neck of the woods. While I'd love to say that I've been away on an amazing tropical vacation, that's so far from the truth, I could actually get a little weepy about it. I've been stuck here in frigid, snowy Ohio packing all the things in our house.
Guys, packing is for the birds. We've already filled a storage unit near our new home and our current house has been taken over by boxes, bubble wrap and strips of packing tape hanging from random places. Add in a crawling baby that is obsessed with boxes and tape and it's pretty much a recipe for a disaster-laden disaster with a disaster filling. People told me packing was easy, so clearly they're all a bunch of liars because it's the worst! I've decided that if we ever move again, we're hiring a crew to do it.
Although my kitchen is in shambles, I am still managing to whip up a little deliciousness here and there. And let me tell you , there's nothing like a sweet treat amidst chaos and bubble wrap. I have long been obsessed with all things snickerdoodle. From snickerdoodle cookies and snickerdoodle cake to these bars, I just can't get enough. And since I have a full on obsession with pumpkin pie spice, I swapped my homemade blend in for the typical cinnamon. It adds a whole extra layer of depth that will surprise people – and what's baking for other people without their accolades, amiright?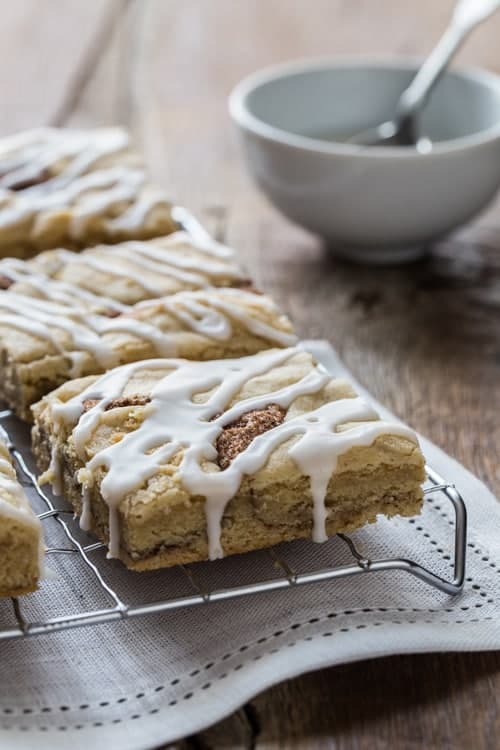 Along with packing, I may be eating my feelings about how stressful all of this. Forget healthy January, you guys. Ain't nobody in this house got time for that. Snickerdoodle bars packed full of spicy flavors and a delectable sweet glaze is where January is at. If you're with me on this, make these babies immediately. I promise, the cold, wintery landscape outside will seem much more bearable after a bite or two.
Photo Credit: Emily Caruso of Jelly Toast