I am typing this as I am suffering from a minor mental breakdown… yep the kitchen is a hot mess, I have more wrapping to do than Santa's elves and I have yet to shower at 2:00pm! HOT. MESS. I tell ya, but that's exactly how I operate! I am baking up a storm in my kitchen and wrapping a mound of gifts in between batches of cookies. However, for those of you that are like me, (there are others like me, right?) I thought I would squeeze in one more yummy, easy cookie recipe that would be the perfect addition to your holiday cookie tray.
My co-worker Jo-Lynn gave this recipe to me and claimed they were "The Best Snickerdoodle Cookies." Jo-Lynn is a sweet, kind and patient gal and I feel lucky to have her working with me in my classroom! Oh, and she brought be a GIANT bottle of pure vanilla extract back from her recent vacation… that my friends was the best gift ever!!! I gave these cookies a whirl last week and Jo-Lynn was right, they are soft, chewy and oh so delicious! Jo-Lynn said the lady she got the recipe from said the key ingredient is the cream of tartar; it's apparently what keeps them soft! Brian took these to work to share with his co-workers and they were gone in no time.
So if ya have an extra hour on your hands (ha…that's funny isn't it?), make these cookies and share them with your family and friends this holiday season. They are on my baking list for today! Have a great day! Be sure to check back first thing tomorrow for an EASY and last minute gift idea that will take you no longer than 15 minutes to throw together!
Don't want to miss a delectable post? Subscribe to My Baking Addiction!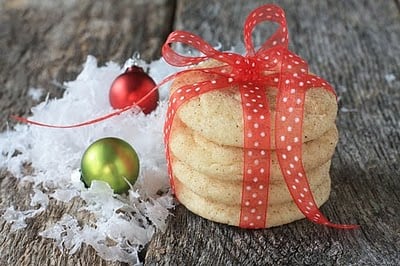 The Best Snickerdoodle Cookies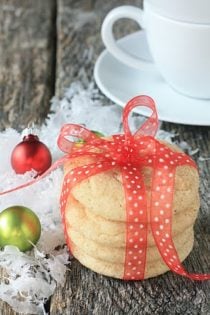 Ingredients:
2 tsp Cream of Tartar
2 3/4 cups of Flour
1/2tsp salt
1 tsp baking soda
1 ½ cups sugar
1 cup (2 sticks) of Parkay margarine; softened
2 eggs
1/2 sugar
2 tsp cinnamon
Directions:
1. Mix together the flour, cream of tartar, salt and baking soda; set aside.
2. Cream together the margarine and sugar until well blended and mix in the eggs.
3. Add dry mixture to the creamed mixture and mix until thoroughly incorporated.
4. In a separate bowl mix together the 1/2 cup of sugar and 2 teaspoons of cinnamon.
5. Form into balls (I used my medium cookie dough scoop) and roll in the cinnamon-sugar mixture.
6. Place the dough balls on an ungreased cookie sheet about 2 inches apart.
7. Bake 350˚ for 12 minutes.
All images and text ©
Follow Jamie on Instagram. We love to see what you're baking from MBA! Be sure to tag @jamiemba and use the hashtag #mbarecipes!
[pinit]