My mom can be technologically inept; therefore, was not an avid reader of my blog until recently. Now she has access to a computer and has been schooled on how to check her email, facebook and my blog! In fact she called me today telling me how good these Maple Chip Waffles look! Way to go, mama!
Not only is she checking out my blog on a regular basis, she and her boyfriend, John are also picking up props for me from local antique shops and flea markets. John is also who I turn to when I need wooden boards for my faux tabletops. In return for all of their hard work, I give them cookies… oatmeal cinnamon chip cookies to be exact! My mom also likes to spread the word about my little blog by telling her friends, co-workers and acquaintances.
Last week I received an email from a gal named Jan that heard about my blog through my mom. Jan was on a quest to find a recipe for a snickerdoodle loaf like the one her brother brought her from a Columbus bakery. I had never made a snickerdoodle loaf or cake, so of course this email sent me on a mission to find one. After doing some searching, I came across a recipe on Dozen Flours that looked perfect and I made it the following night.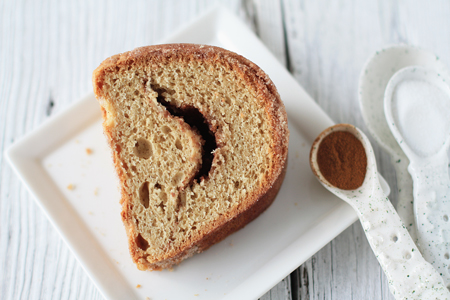 The cake turned out to be quite a looker…a nice crumb, a beautiful band of cinnamon and sugar running through the center and an amazing cinnamon sugar crust. This crust is what defines this cake as being a member of the snickerdoodle family and is truly the winning component of this cake. This is definitely a dessert that I will make again, it's simple, gorgeous and delicious…what more could you ask for?
Jan, I hope this recipe comes close to the one your brother brought you from the bakery in Columbus, if not, I'll keep trying.

Snickerdoodle Cake
Ingredients:
2 teaspoons ground cinnamon
1 cup white sugar
2 1/2 cups all-purpose flour
1 teaspoon baking powder
1/2 teaspoon baking soda
1/2 teaspoon Kosher salt
1 cup unsalted butter, at room temperature
1 cup white sugar
1 cup light brown sugar
3 eggs, at room temperature
2 teaspoon vanilla extract
1 cup full-fat sour cream, at room temperature
Directions:
1. In a small bowl, combine 1 cup of sugar and 2 teaspoons of cinnamon. Mix together really well and Preheat oven to 325F. Here's the exact way Julie made the crust: Using a spray product like Pam with Flour, generously spray a 9 inch Bundt pan, being careful to cover all the nooks and crannies, as well as the center tube. (Note: If you don't want to use Pam with Flour, you can just grease the pan with shortening.) Gently dust the entire inside of the pan with the sugar and cinnamon mixture. You should only need about 1/4 to 1/2 cup of sugar, but you want to try and evenly coat the inside surface of the pan, including the tube. Save the remaining sugar and cinnamon mixture and set everything aside.
2. Sift together the flour, baking powder, baking soda and salt. Set aside.
3. Beat just the butter on medium speed for one full minute. Add the white sugar and mix for 3 minutes, until light and fluffy. Scrape down the bowl and blade and add the brown sugar.
4. Mix for 2 minutes until the mixture looks light brown and uniform in color. Add the eggs one at a time, beating each for 1 full minute. Stir in the vanilla. Add the flour mixture alternately with the sour cream; beat well.
5. Spread half of the batter into the prepared pan. Sprinkle with 1/4 to 1/3 of a cup of the cinnamon sugar mixture over top the cake. Spread the rest of the batter into the pan and sprinkle any remaining sugar mixture over the top. (If you run out of cinnamon sugar, you can mix just 1/4 cup of sugar + 1/2 teaspoon of cinnamon together for the top of the cake. It should be more than enough.)
6. Bake in the preheated oven for 55 to 65 minutes, or until a toothpick inserted into the cake comes out clean. Allow to cool for 10 minutes before inverting onto a wire rack to cool completely.
Follow Jamie on Instagram. We love to see what you're baking from MBA! Be sure to tag @jamiemba and use the hashtag #mbarecipes!