Yellow cake, coconut cream pudding, Cool Whip, and toasted coconut make for a sweet and delicious Coconut Poke Cake! This easy cake will be your new favorite if you're a fan of coconut.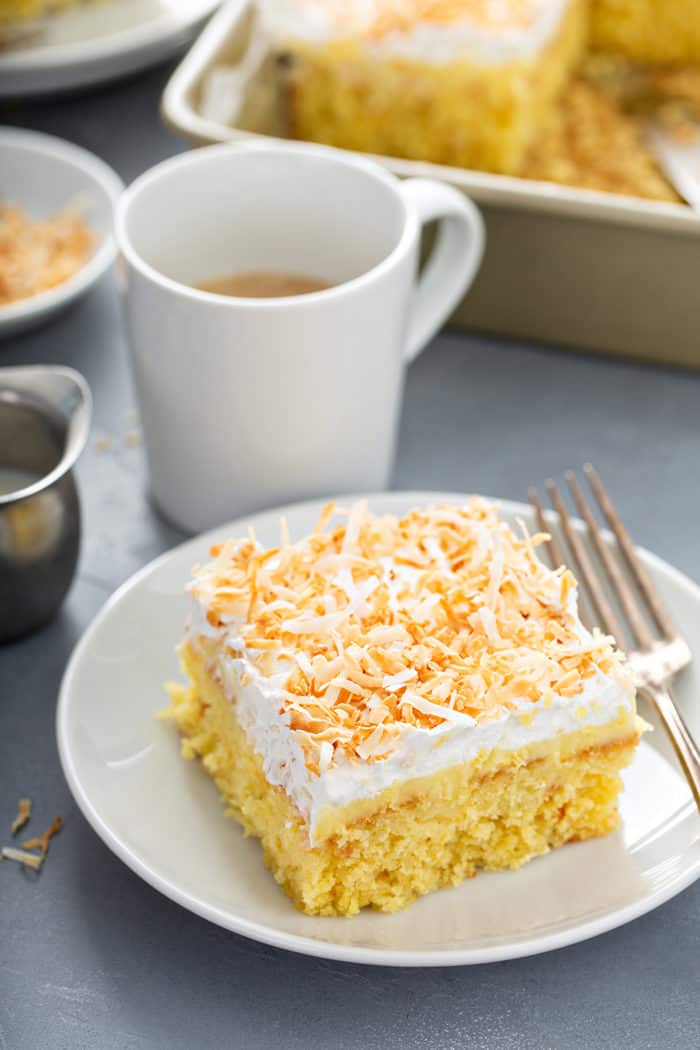 As soon as the weather starts to warm up here in Ohio, my baking mind immediately shifts to craving coconut desserts. I know coconut is one of those ingredients that people tend to love or absolutely hate, but I'm team coconut all the way – especially if we're talking toasted coconut.
This Coconut Poke Cake comes together easily and will be perfect for summer entertaining, or just a simple dinner on your patio. If you love coconut, this is a must-make and sure to become one of your new favorite recipes.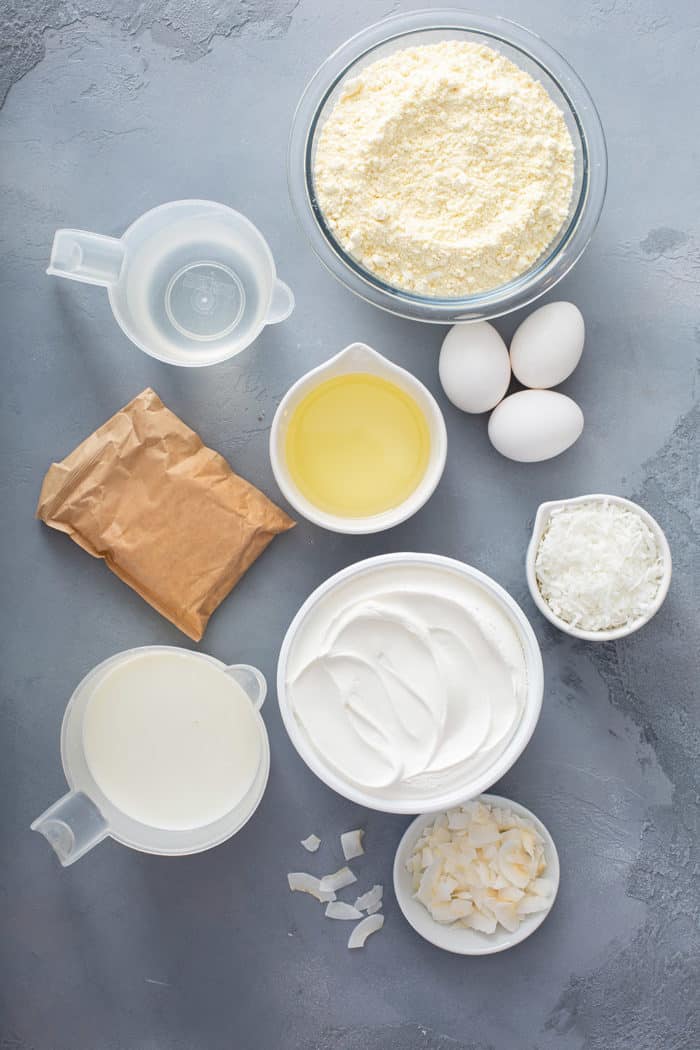 If you grew up eating poke cakes, you're probably already familiar with the concept. If you didn't, you might be wondering, "What the heck is a poke cake?"
A poke cake is exactly what it sounds like: After baking a cake, you poke holes in it and then pour on some kind of topping or filling that adds flavor and moisture.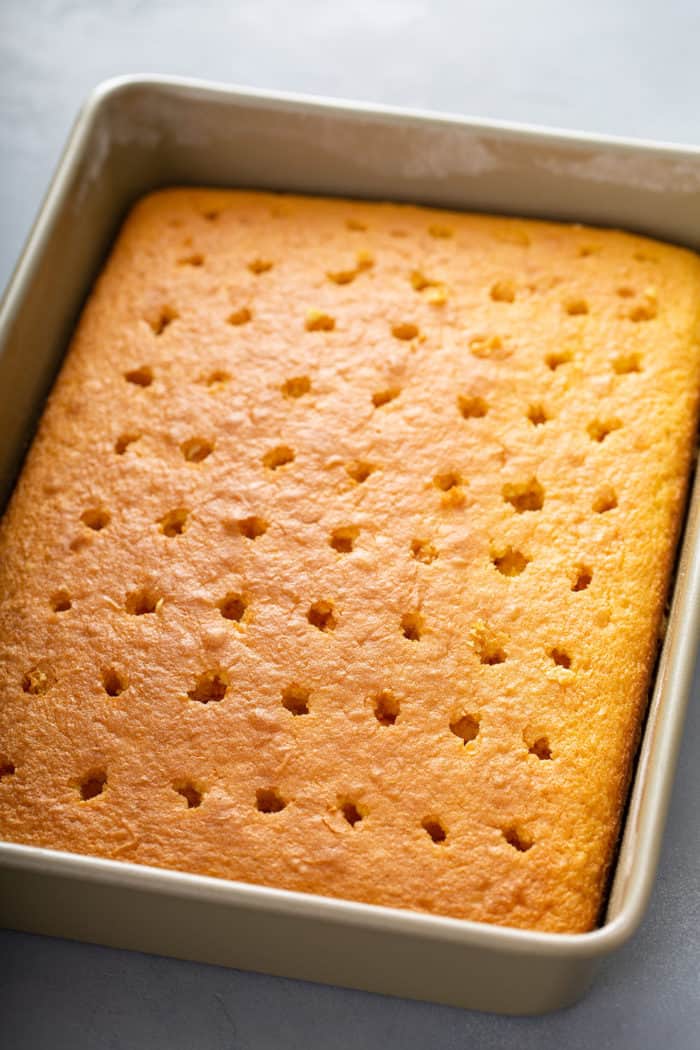 Sometimes it's a liquid, like Strawberry Jell-O Poke Cake. Sometimes it's more of a syrup or sauce, like Caramel Apple Poke Cake. Sometimes it's a pudding, like in Banana Pudding Poke Cake or this Coconut Poke Cake.
Usually the cake is finished off with Cool Whip or homemade whipped cream or even homemade buttercream frosting in some cases.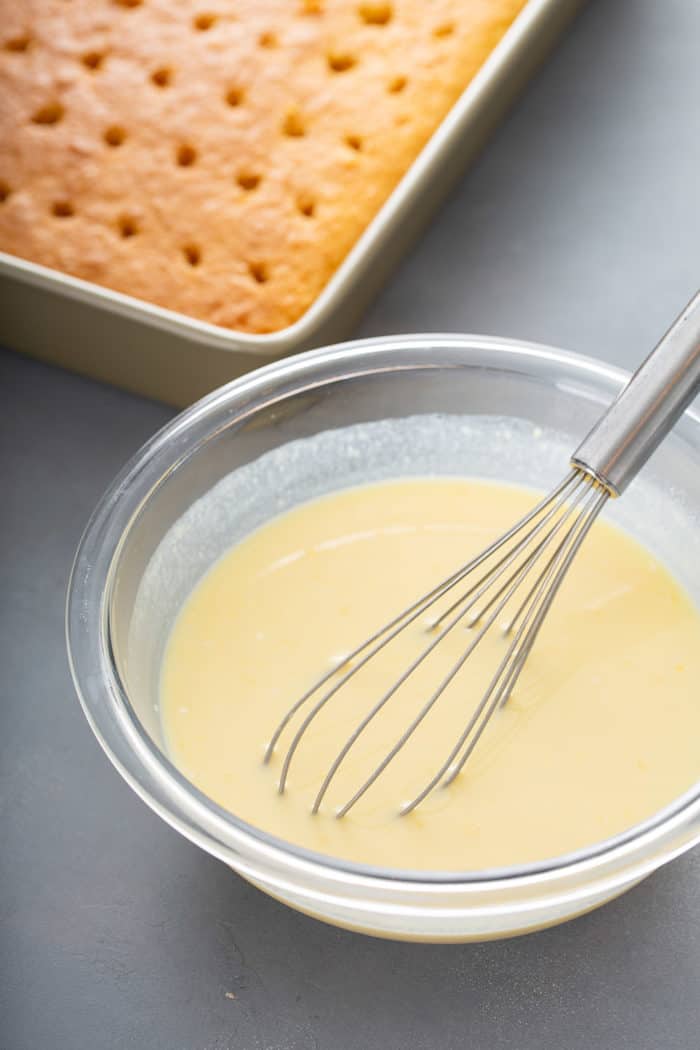 HOW TO MAKE COCONUT POKE CAKE
This Coconut Poke Cake is made up of three simple layers:
Yellow cake
Coconut cream pudding
Cool Whip topping with toasted for coconut garnish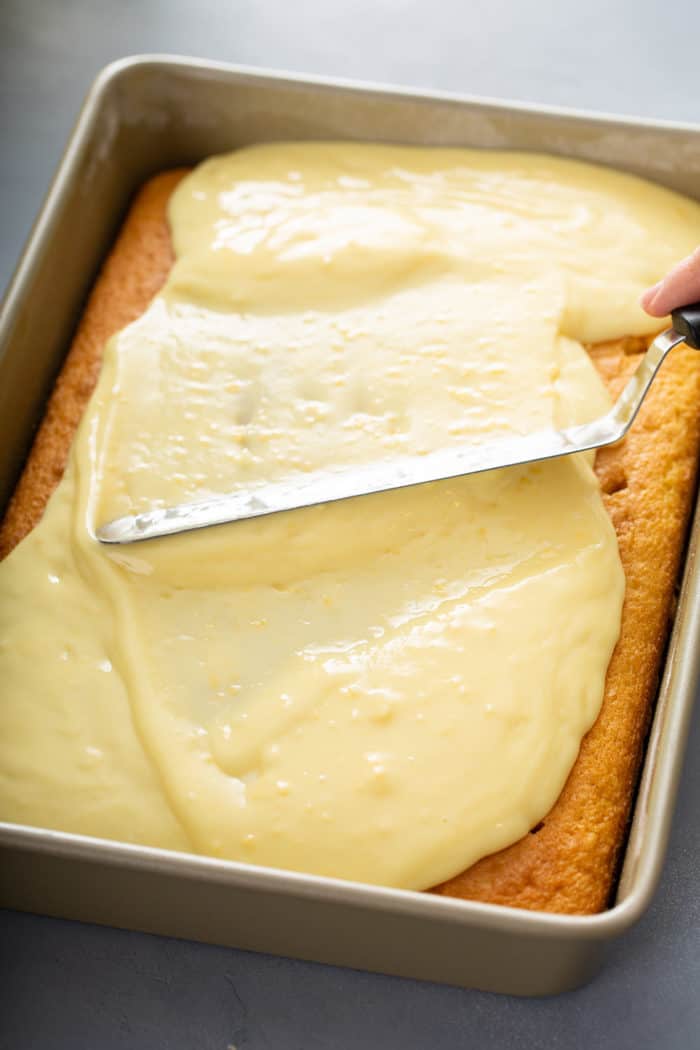 All of those layers are super easy to throw together. The cake is made with a yellow cake mix. Follow the directions on the box to make the cake batter, then add in ½ cup of sweetened flaked coconut before baking for some extra coconut flavor.
After the cake has baked, let it cool for 10-15 minutes. Use a straw or the handle of a wooden spoon to poke holes, spaced about every inch or so, halfway into the cake.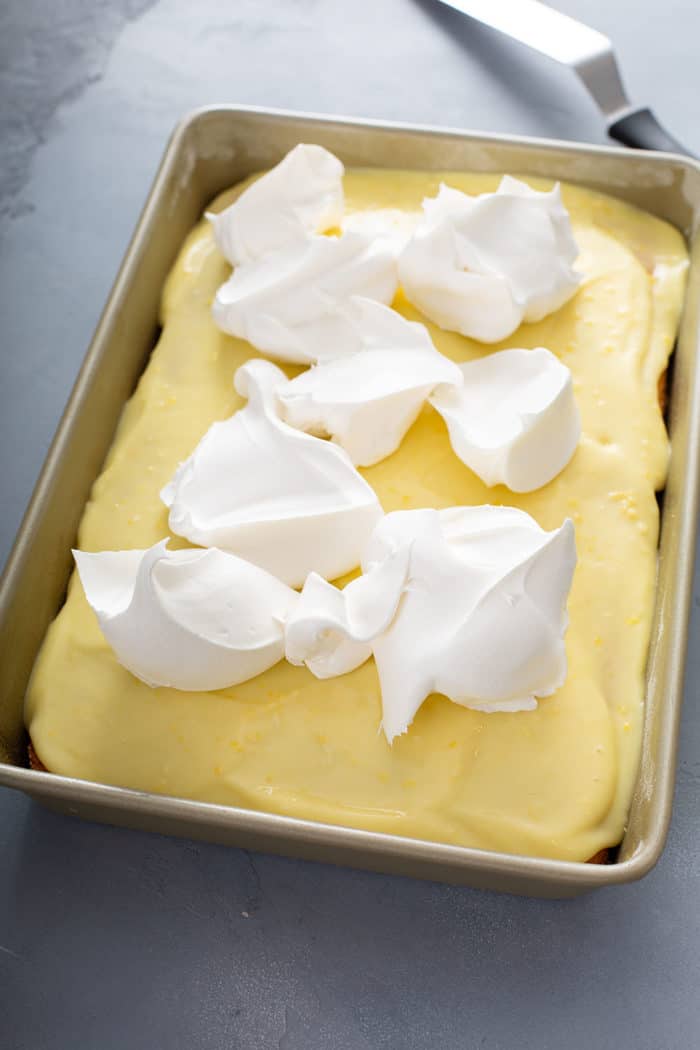 Mix together a box of instant coconut cream pudding with 2 cups of milk and whisk for 2 minutes. Pour the pudding over the top of the still-warm cake, making sure to get the pudding into all of the holes you made.
Top the cake with the whipped topping, then cover the cake and let it rest in the refrigerator for at least 2 hours. I recommend letting it rest overnight for the best flavor, though!
When you're ready to serve the cake, garnish it with as much toasted coconut as you like. Never toasted coconut before? Make sure to check out my tutorial on how to toast coconut!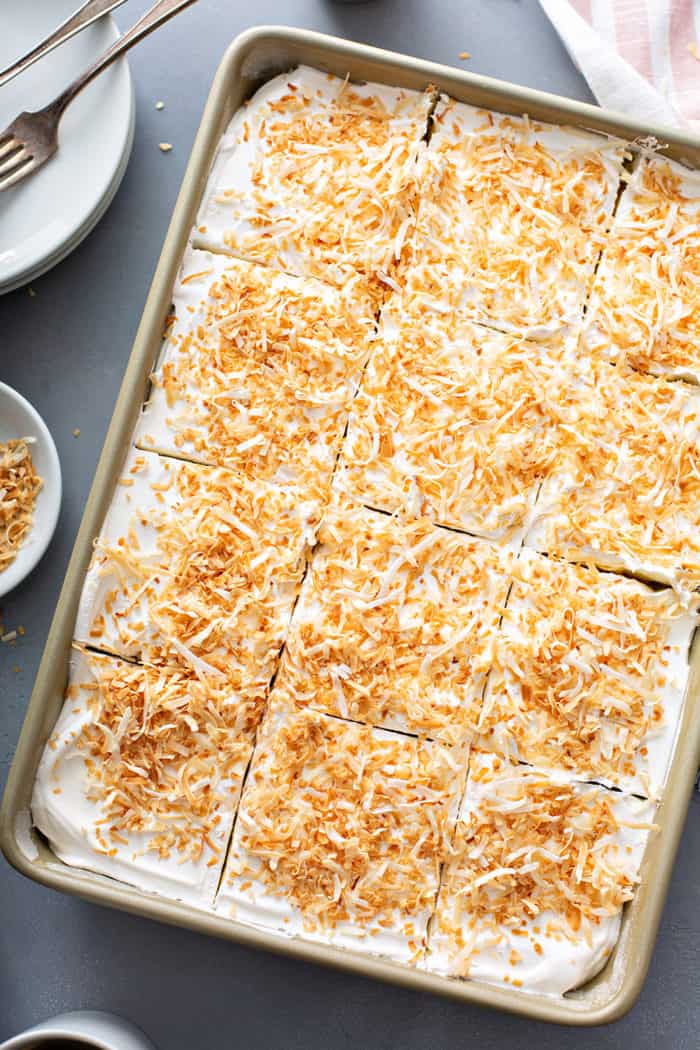 CAN COCONUT POKE CAKE BE FROZEN?
I know that everyone is always looking for a cake you can make ahead and freeze, but I do not recommend freezing this particular cake. The pudding is likely to split and do weird things when it thaws.
No one wants that.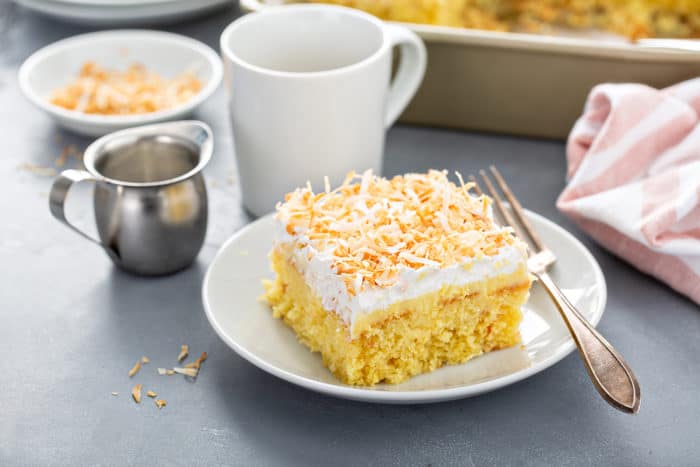 If you're looking for a cake recipe that you can make ahead and freeze, you might check out my Cream Cheese Pound Cake, Citrus Poppy Seed Cake, or Hershey's Chocolate Cake.
But since this Coconut Poke Cake needs to rest at least 2 hours or preferably overnight, it is still a great option to make the day before you plan to serve it.