Frosted Maple Pecan Marshmallow Cereal Treats are a surefire no-bake treat. They taste warm and toasty without the need to turn on your oven!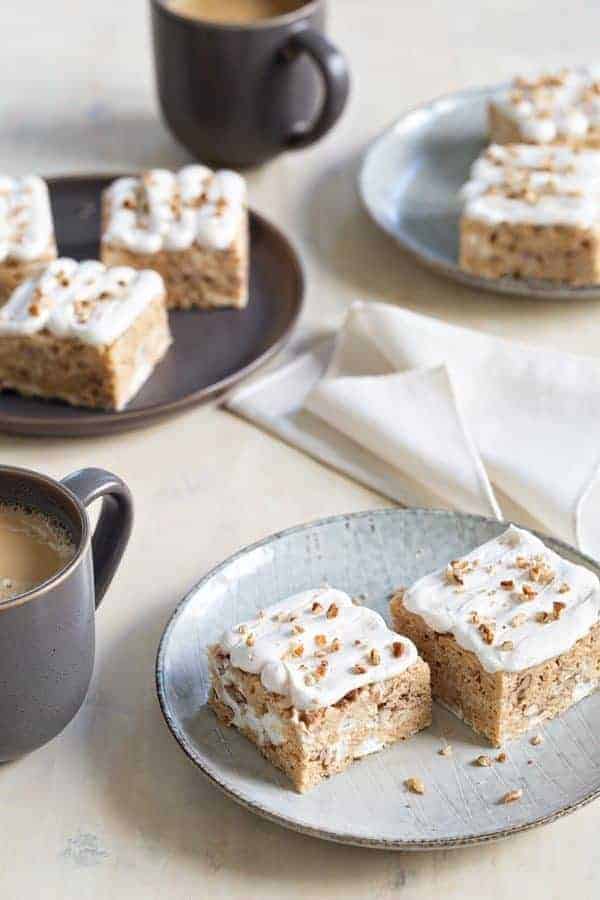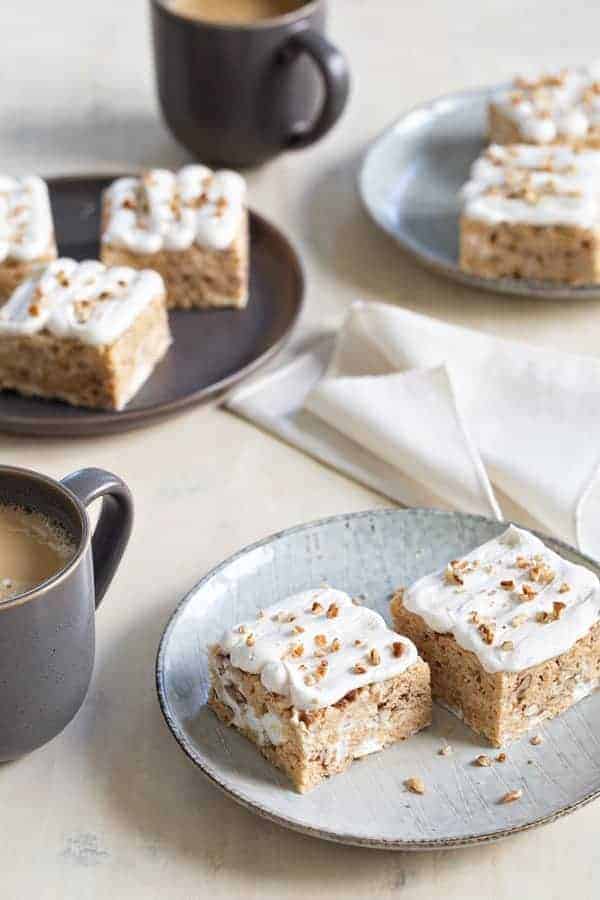 This post is sponsored by Campfire® Marshmallows. All opinions are my own. Thank you for supporting the brands that continue to make My Baking Addiction possible.
Can we talk about fall for a second? Does anyone else kind of feel like we're getting cheated just a bit?
The weather has been crazy warm here in Ohio. Our air conditioning is still running pretty much nonstop and Elle was wearing her favorite summer dress and flip flops a few days ago because it was almost 80 degrees.
And don't even get me started on the leaves – 80% of them are still green and there are hardly any on the ground. Which by the way, I know I shouldn't be complaining about, but guys, I love fall and I'm just not feeling very fall-ish right now.
I mean, it's too hot to sip pumpkin spice lattes and if I put a sweater on at 6:30 AM, I am 100% regretting that decision by 10:00 AM.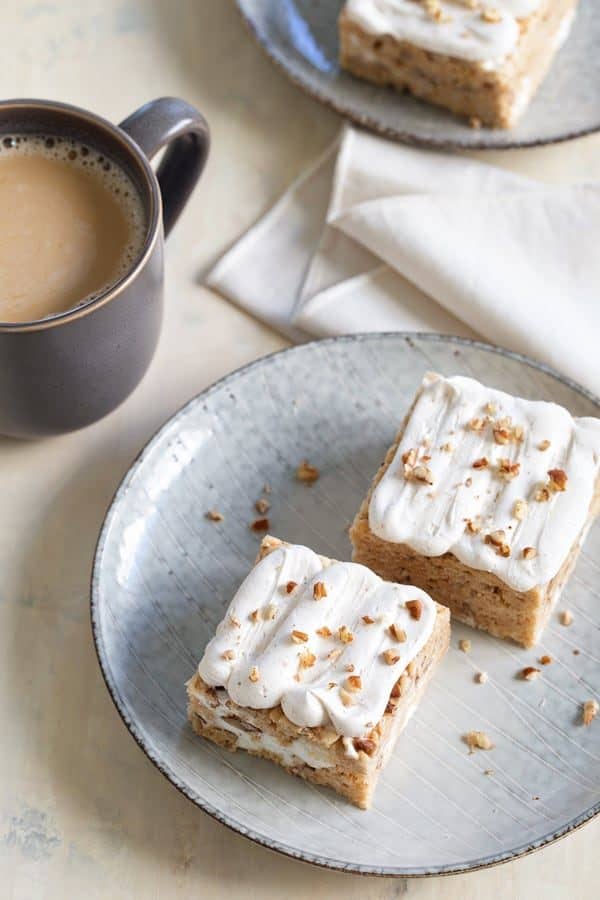 I want crisp air, cozy sweaters, hot cocoa and piles of gorgeous leaves. Right now, it almost seems weird to have pumpkins, cornstalks and mums on my porch.
In fact, I took Elle to the pumpkin patch last week and I broke a sweat while picking apples. Which was partially due to the fact that I wanted to look all fall-ish for pics and dressed way too warmly for the weather. So instead of looking cute, I looked like I just stepped out of a 60 minute hot yoga class.
Even though the weather isn't cooperating, I decided to jump right back in to fall treat-making after we returned from vacation. First on my list were these Frosted Maple Pecan Marshmallow Cereal Treats.
If you follow My Baking Addiction on a regular basis, you know that I am a big fan of marshmallow cereal treats. From these Birthday Marshmallow Cereal Treats and S'mores Marshmallow Crispy Treats to these Berry Cereal Treats, I'm all about that ooey-gooey crispy goodness!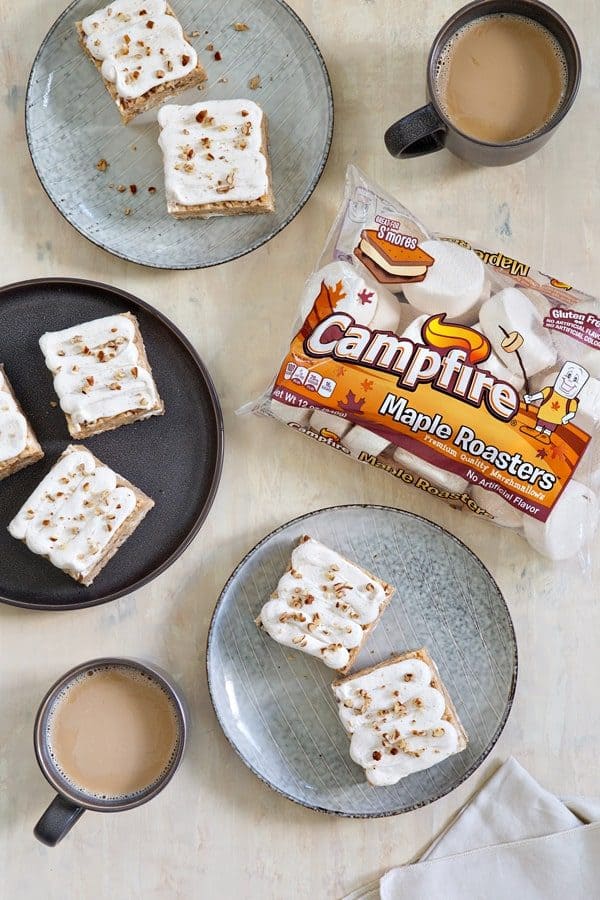 These Frosted Maple Pecan Marshmallow Cereal Treats use Campfire® Maple Roasters to impart a lovely maple flavor to these cereal treats. A little cinnamon, chopped pecans, and a layer of maple-cinnamon buttercream push them into ultimate fall food territory.
I took these to Elle's school for the staff and someone actually said they don't typically like marshmallow cereal treats, but these changed her mind because she deemed them as the best marshmallow cereal treats – ever!
If you can't find Campfire® Maple Roasters in your area, I've got ya covered. Simply sub in Campfire® Mini White Marshmallows and add 2 1/2 teaspoons of maple extract to the melted marshmallow mixture.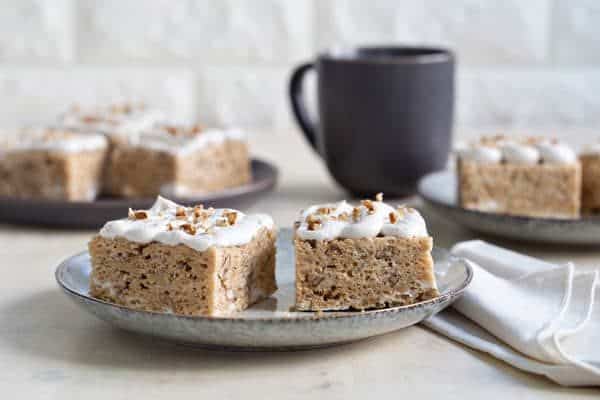 Even better, if it's still warm in your neck of the woods too, these are a no-bake treat! All the right flavors to get you in an autumnal mood without the need to crank up the oven is just about right for this kooky weather we're having.
As you may remember, I'm partnering with Emily from Jelly Toast and Campfire® Marshmallows. We've got tons of great recipes from the past couple of years, and more to come!
We even created a Marshmallow Madness Pinterest board where we'll pinning loads of delicious marshmallow recipes for the holidays. Just like these adorable Halloween Marshmallow Pops.