Pumpkin Spice Marshmallow Treat Cupcakes are an adorable and delicious addition to any fall dessert plate! Festive sprinkles and mini pumpkin spice marshmallows make them extra special.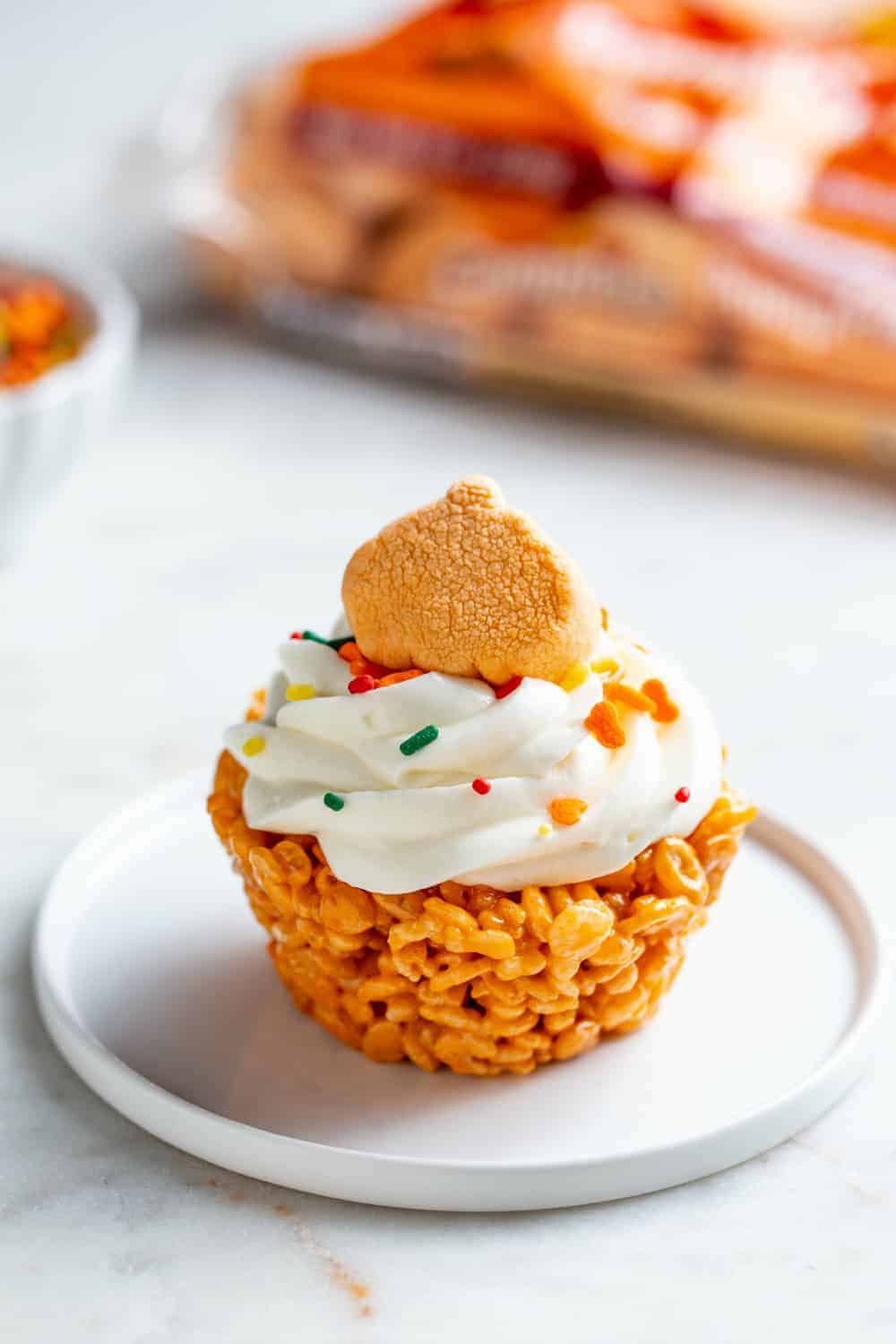 The calendar has officially clicked over to fall! This is my favorite time of year.
We are finally getting into the groove of the new school year, routines are being established, and the weather is hinting at cooling down sometime in the next few weeks *fingers crossed*.
I have been living on pumpkin spice lattes (iced lattes for when the days are too relentlessly hot) and with October just around the corner, I can officially bust out all of my cinnamon, pumpkin, nutmeg-y recipes.
Fall is birthday season in our house, too. September, October, and November are filled with birthdays.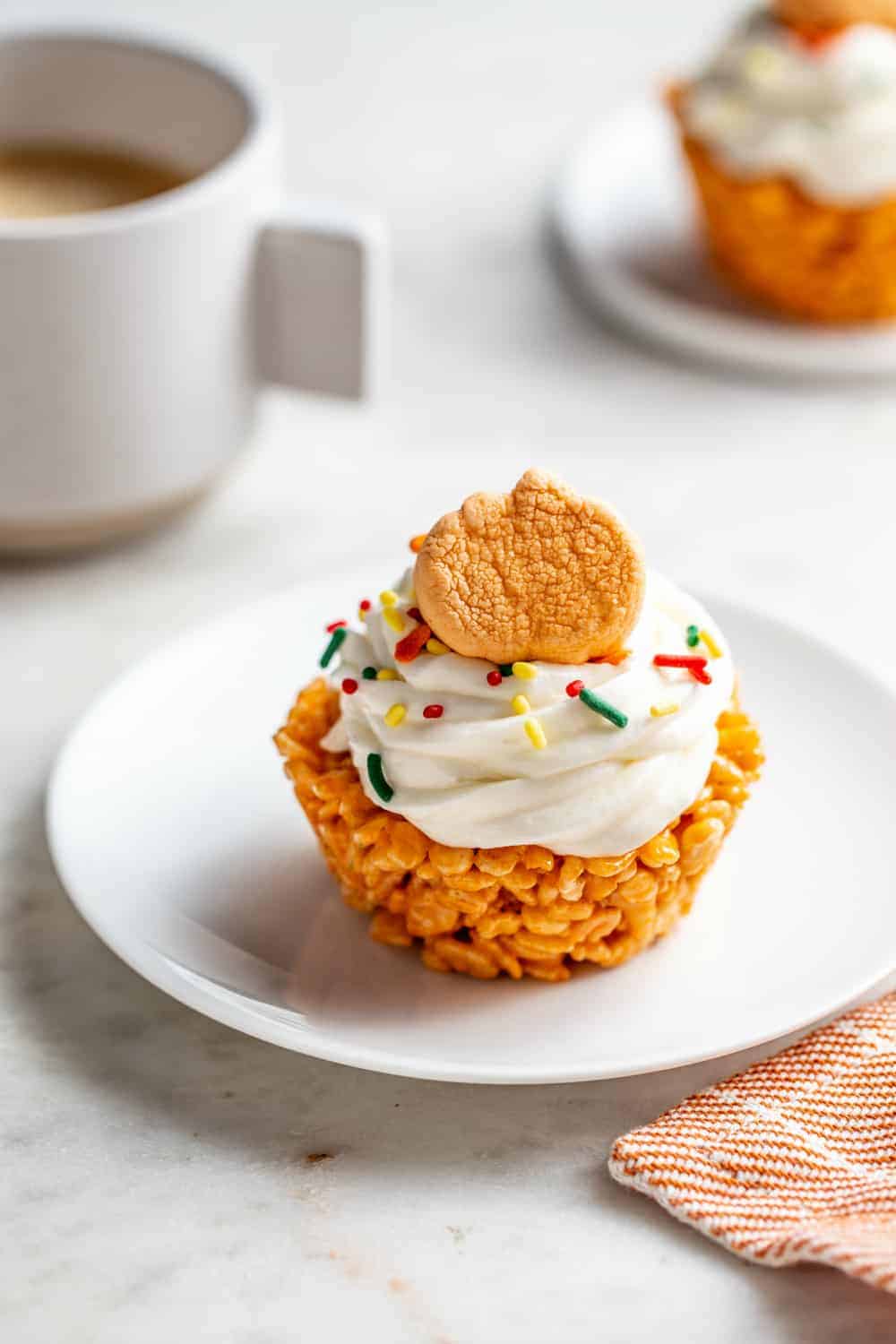 On one hand, I love that the kids' and my husband's birthday all fall during my favorite season, but I have a hard time coming up with good ideas for both gifts and treats that don't feel repeated.
Not to mention that Christmas is just around the corner and balancing what gifts to buy for birthday vs. Christmas is an annual struggle.
Oh, did I mention that kids like having a dessert for home and one for school?
That means double birthday desserts. Double. Birthday. Desserts.
In other words, that's a whole bunch of treats that I need to make so I always have my eyes peeled for new and fun birthday treats. But, having a back-pocket idea to keep myself from getting overwhelmed this time of year is a necessity.
Back-pocket idea = marshmallow treat cupcakes.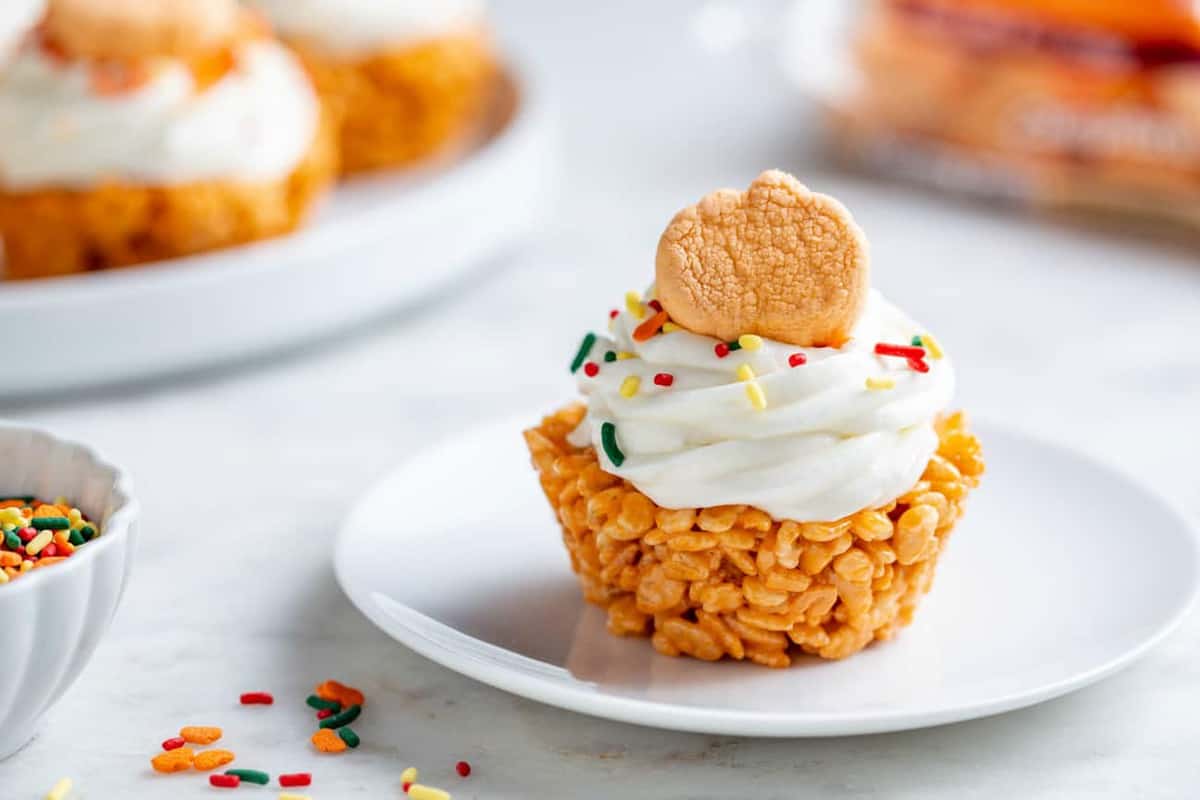 EASY-TO-MAKE MARSHMALLOW TREAT CUPCAKES
I started making these marshmallow treat cupcakes a few years ago for different holidays. A different frosting, festive sprinkles, and seasonal marshmallows go a long way to making these unique for each season.
Easter? Pop a pretty pastel marshmallow and sprinkles on top of your marshmallow treat cupcakes. Christmas? Give them a gingerbread spin.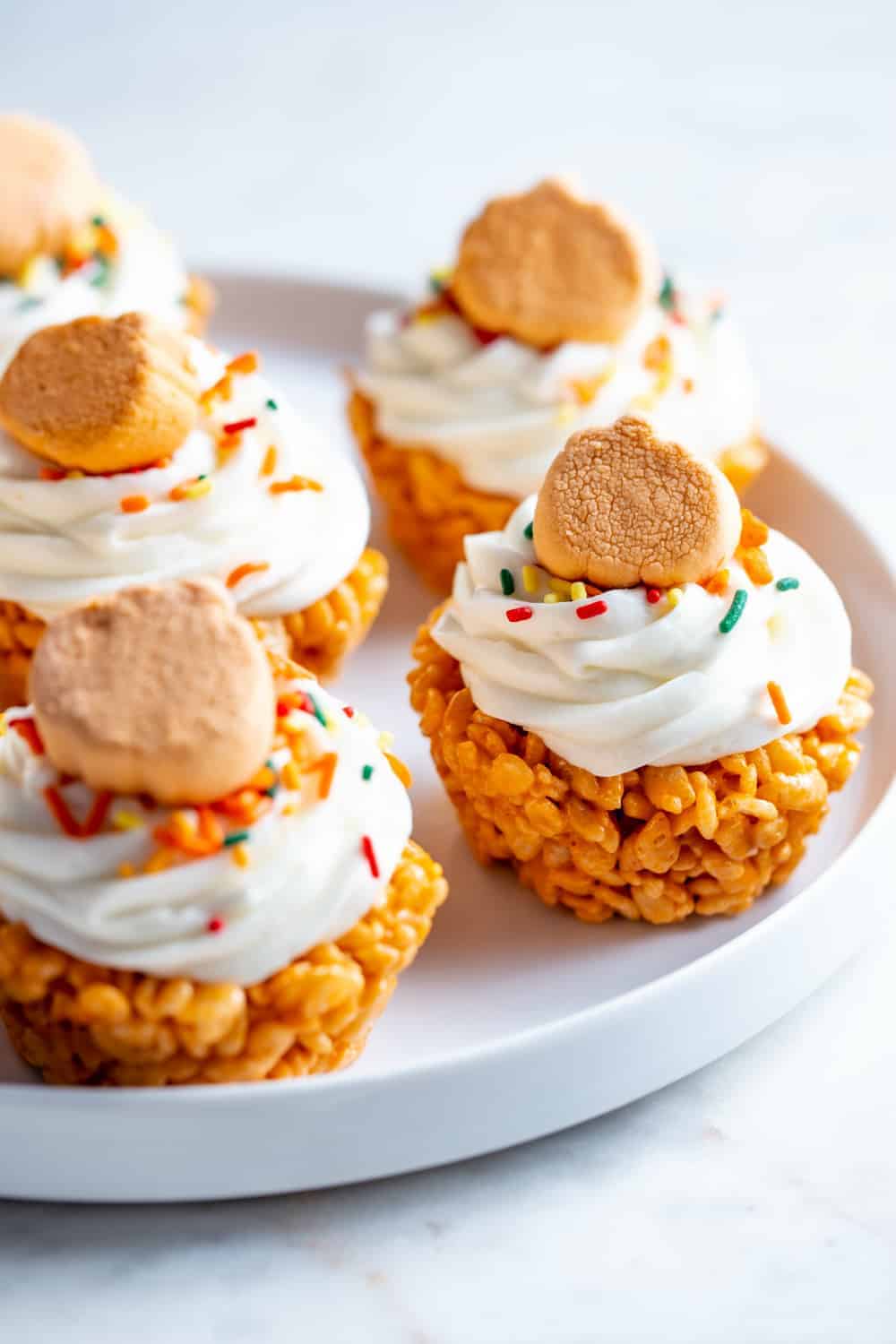 Plus, making marshmallow treats is an obvious choice because:
1. They're delicious
2. They're easy
How many more reasons do we need?
This month, I am busting out the Campfire® Pumpkin Spice Marshmallows for a festive fall treat!
These marshmallows are one of my favorites of Campfire's seasonal marshmallows. Adorable, soft pumpkin-shaped marshmallows that are lightly spiced and ready to float in mugs of hot chocolate or melt into marshmallow treats.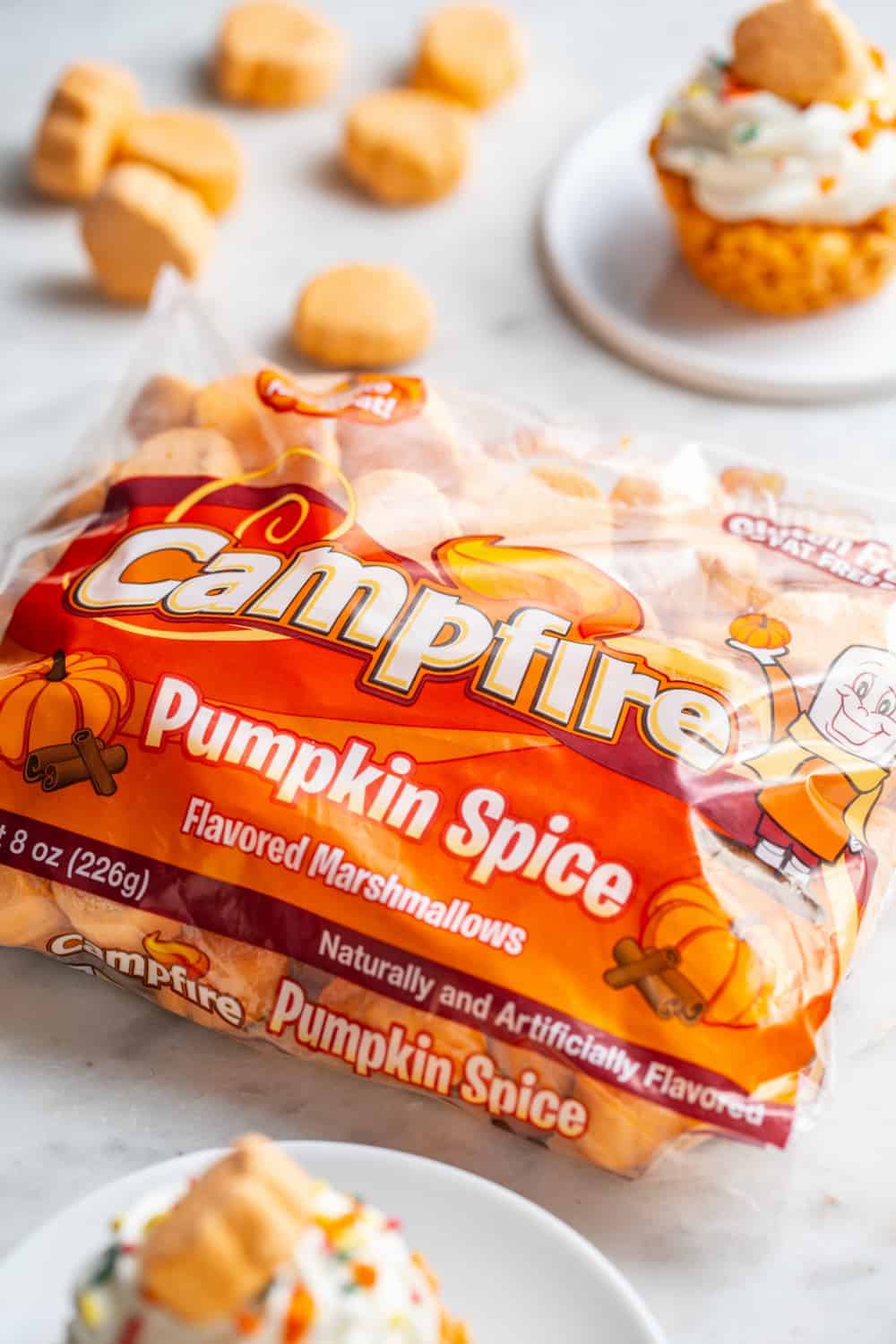 Marshmallow treats are a total no-bake standby. They take just minutes to whip together. When you use a muffin tin to form the treats, they take on a whole new level of amazing!
Plus, you only need three ingredients for the marshmallow treat cupcakes.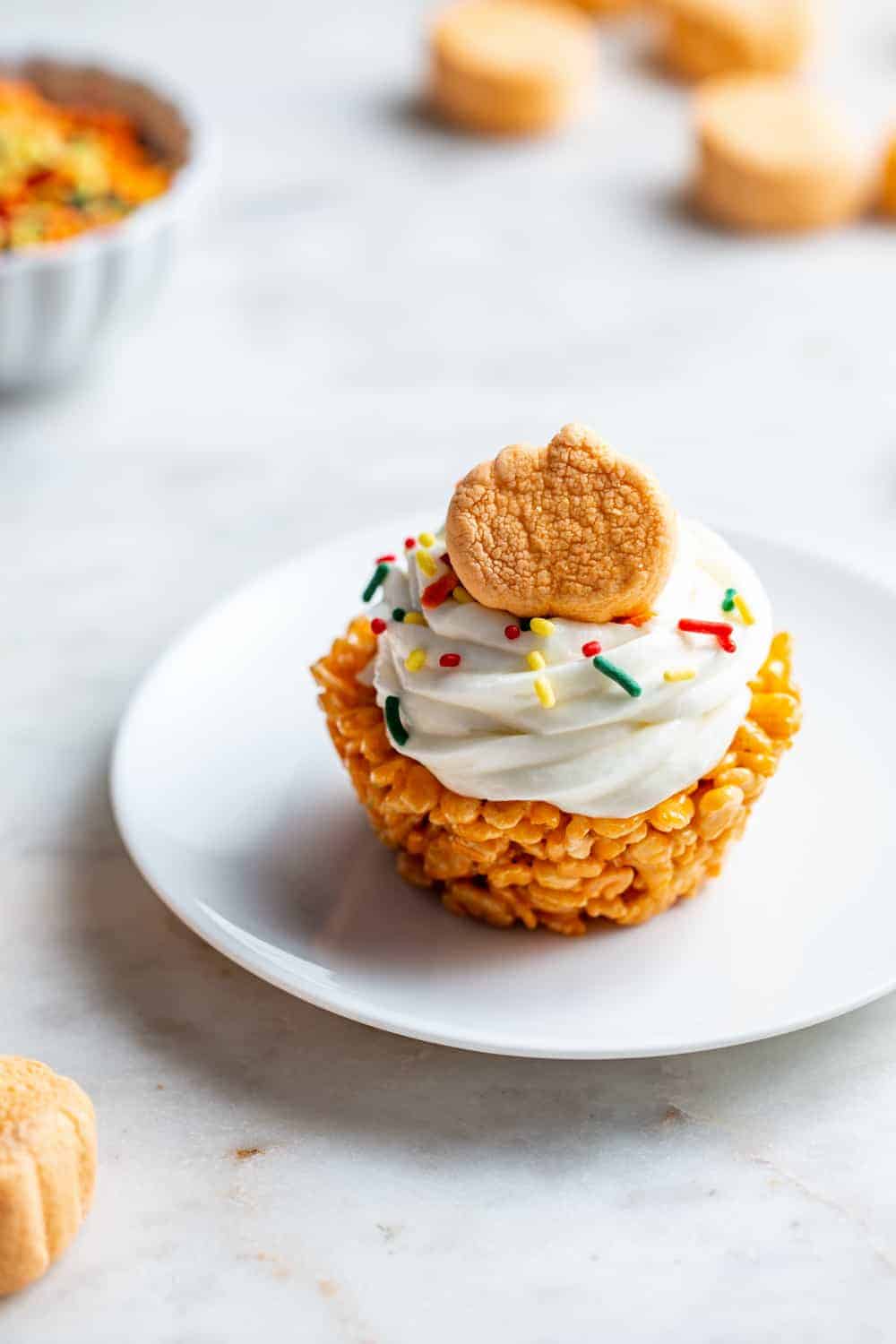 WHAT YOU NEED FOR PUMPKIN SPICE MARSHMALLOW TREAT CUPCAKES
Butter
Campfire® Pumpkin Spice Marshmallows
Rice Cereal
The frosting for these pumpkin spice marshmallow treat cupcakes is a yummy, homemade cream cheese frosting, similar to the one on these banana cupcakes, that comes together quickly in a stand mixer.
I used vanilla extract in the frosting for some warmth, but you can use pumpkin spice extract to make them extra pumpkin-spicy! A few fall sprinkles and a mini pumpkin spice marshmallow and voila!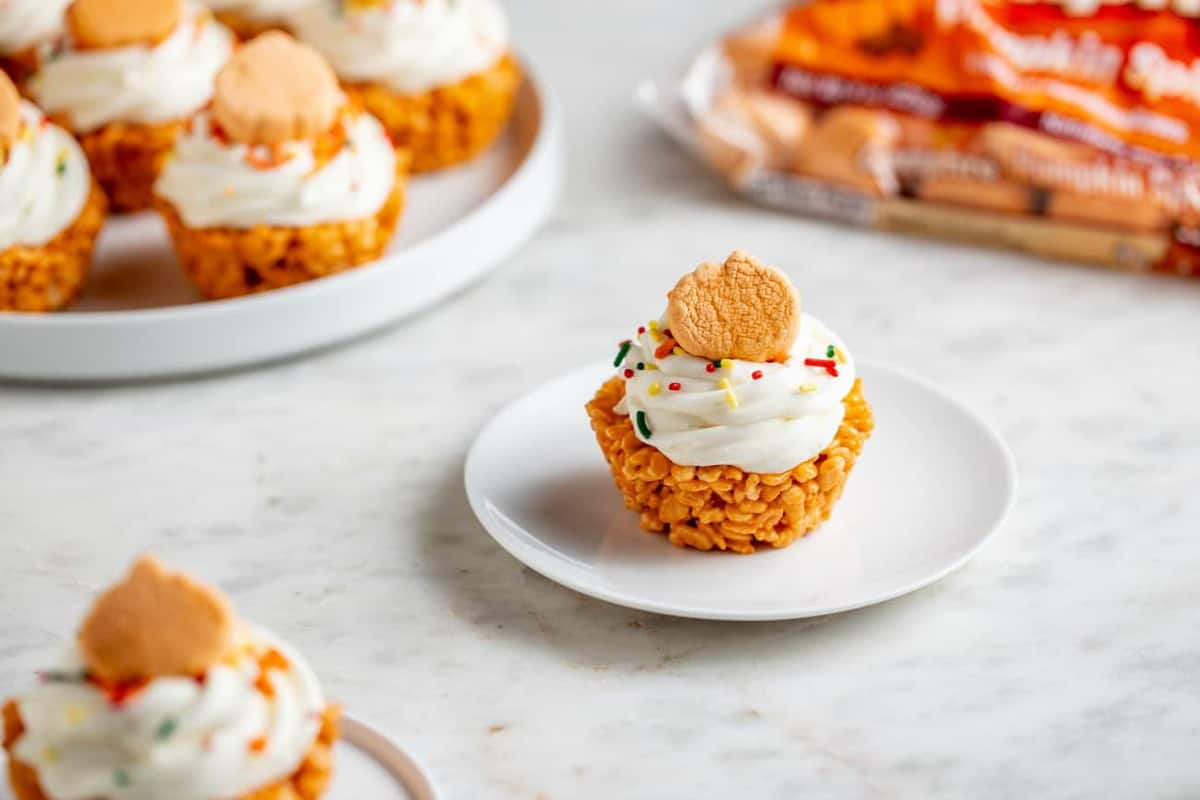 Total cuteness that any kid (or adult) is going to love.
You can bet that I'll be making a batch of these gingerbread marshmallow treat cupcakes come December, too!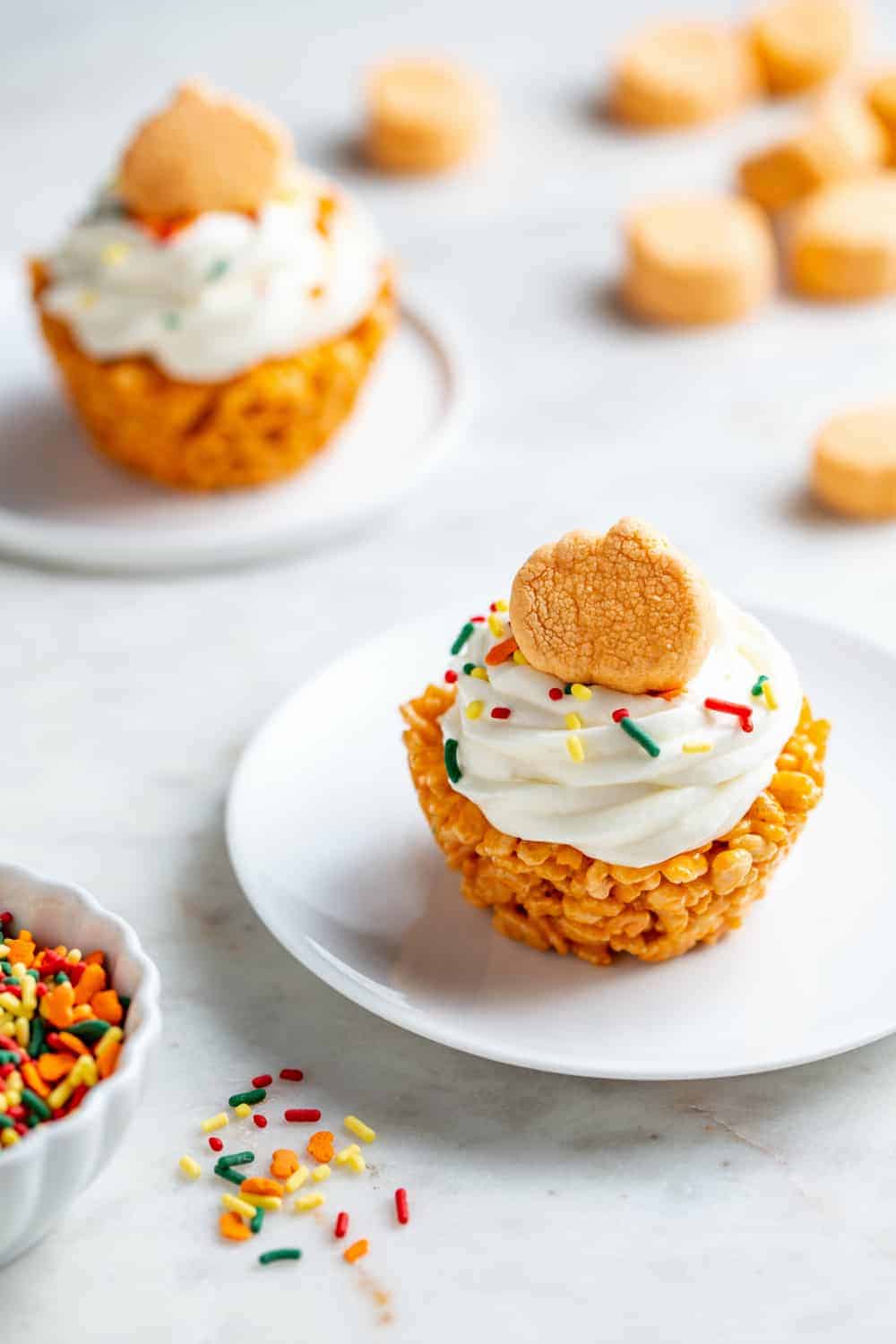 This post is by Emily Caruso of Jelly Toast.