Gingerbread Marshmallow Treat Cupcakes are an adorable and delicious addition to any holiday dessert plate! Festive sprinkles and mini gingerbread marshmallows make them extra special.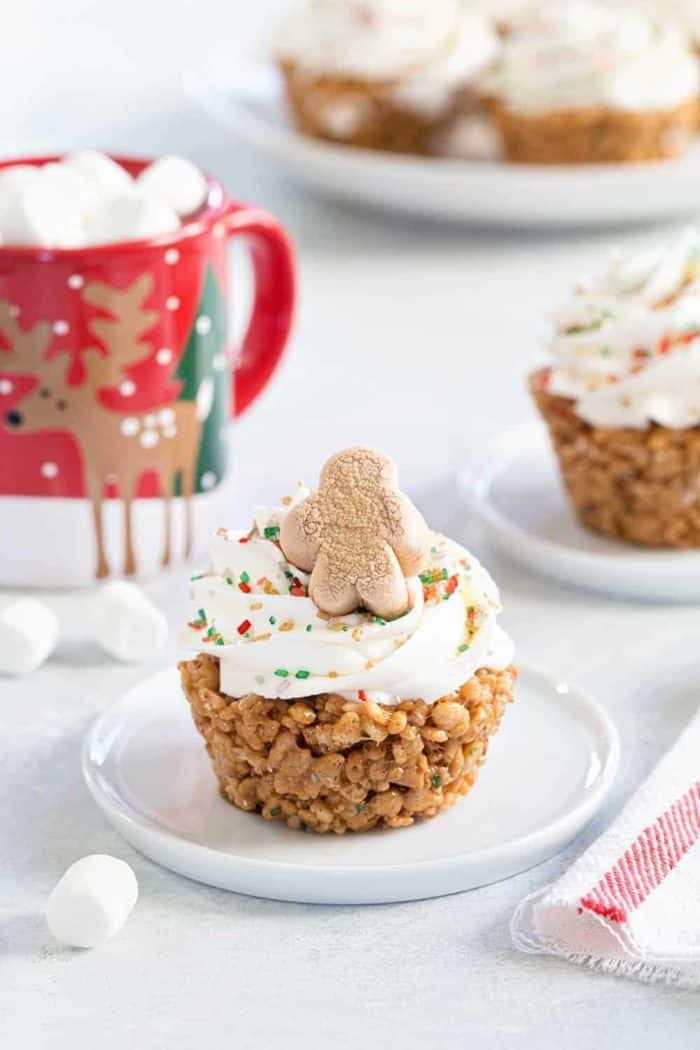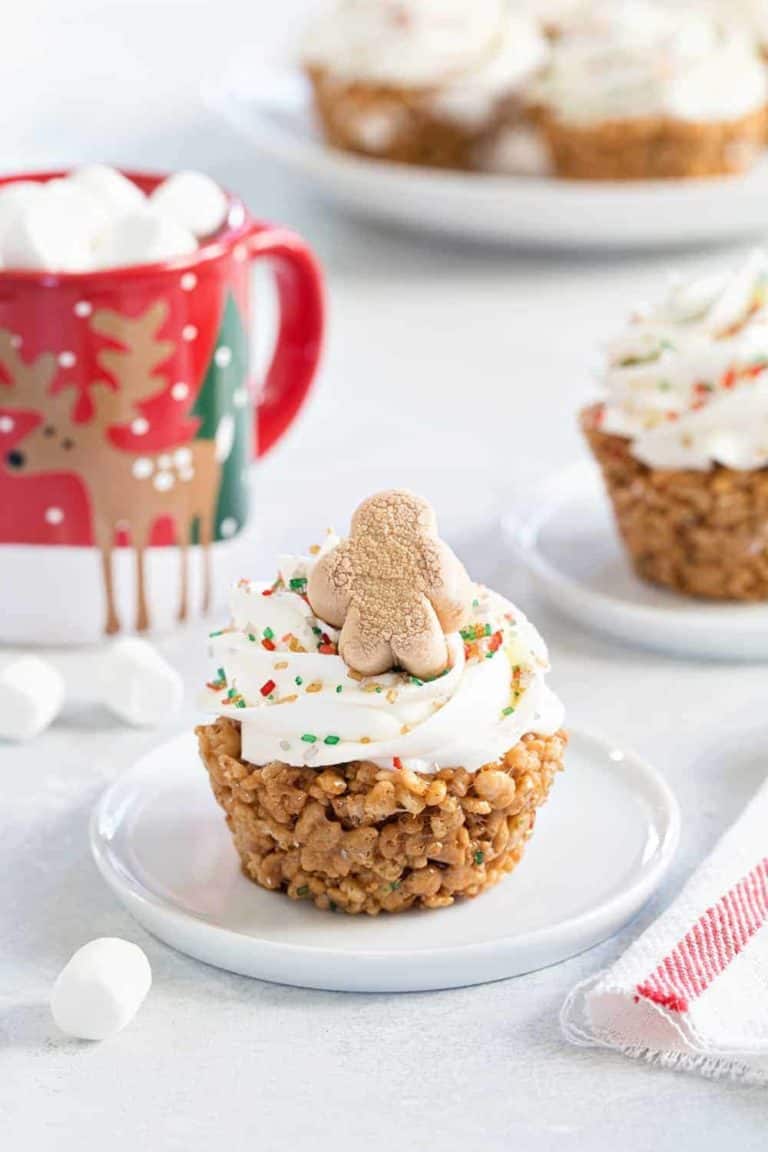 I need you guys to make me feel better about where I stand right now in regards to Christmas – even if you have to lie a little, puhlease.
I was so on top on my game at the beginning of November, I was borderline gloating about it.
I pretty much had everything purchased for Elle, which by the way was a huge mistake because now she's not in to that anymore (her words, not mine,) so I have to return about 5 things that will otherwise sit in a box.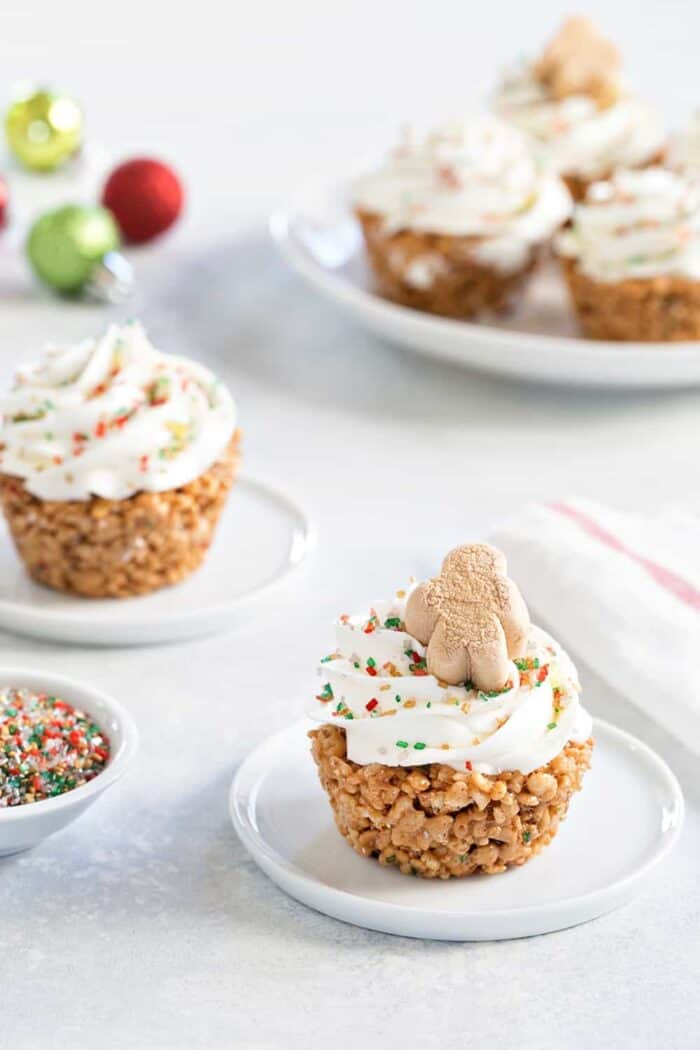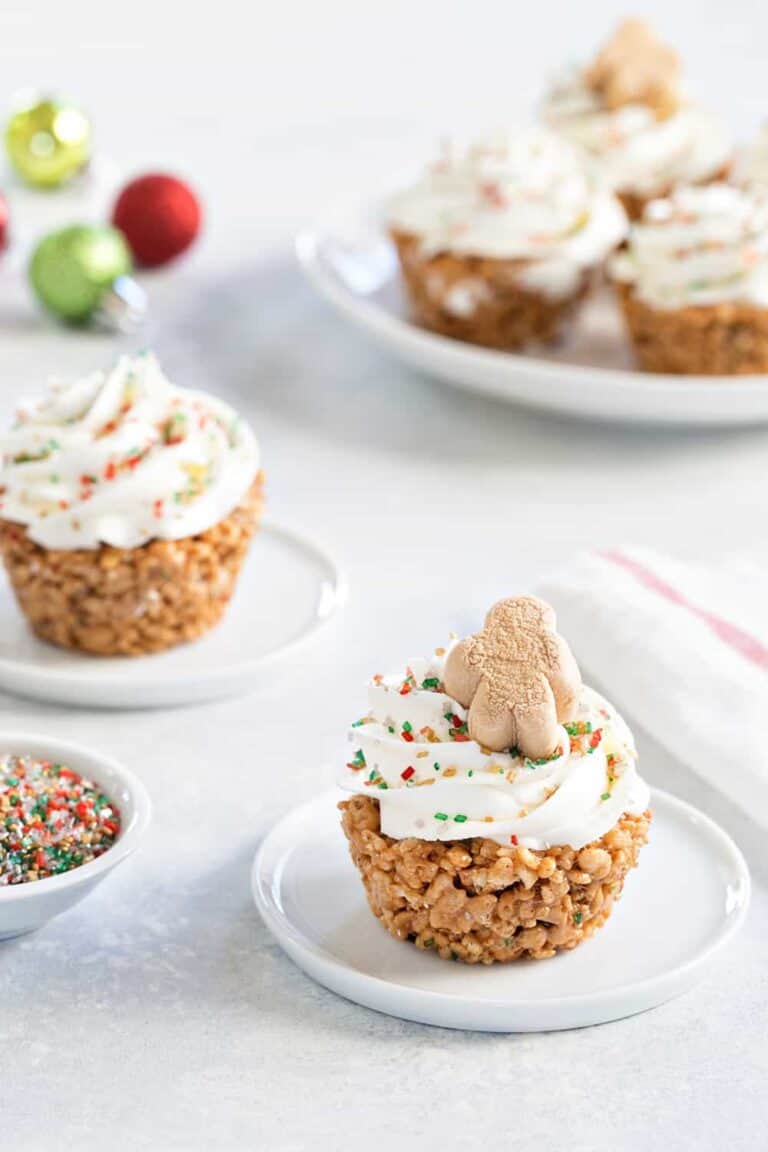 I also had big plans of wrapping her gifts in coordinating pink paper with festive homemade bows.
Now, on the 21st of December, I'm like where are the gift bags? Gimme all the bags.
I'm also channeling my inner Oprah because on Christmas Day, I'm just going to pass out everyone's gift while saying, You get an Echo, you get an Echo and you get an Echo.
Because Amazon Prime. I mean, if they had cuter wrapping paper, they'd be doing that too.
And if you can believe it, I have not one cookie baked. Heck, I don't even have cookie dough waiting for me in the freezer.
Basically, I'm a mess.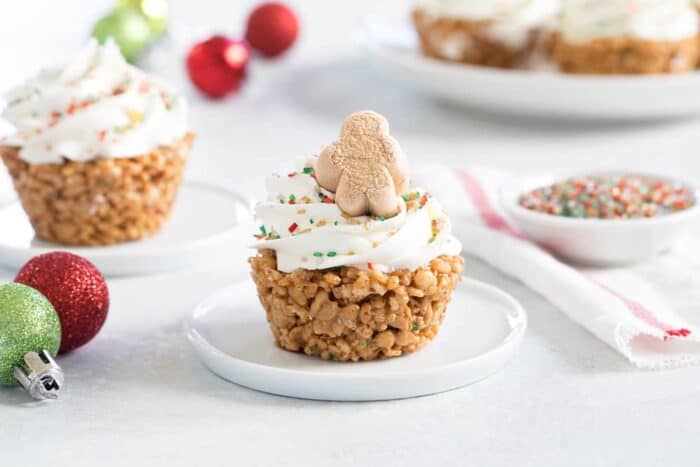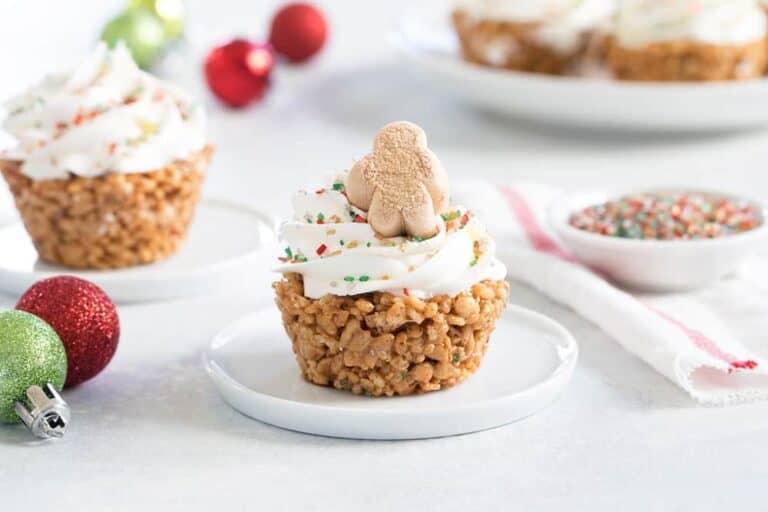 Not to mention my husband just had ACL and meniscus surgery, so he is a legitimate mess and I swear is somehow functioning on like 2 hours of sleep a day.
Between running to the grocery store for bags of ice for his nifty icing machine, finishing work deadlines and trying to run a household, I've turned into the Grinch.
And somehow I need to get my holiday cheer back by tomorrow. Because let me tell you, I have a good 2 days of wrapping and baking ahead of me.
I feel like there should be some sort of service for moms like me at this time of year.
Maybe a gift wrapping service that also cleans your house AND bakes yummy cookies? That sounds like the stuff my Christmas dreams are made of right now.
If by chance you're feeling the stress of the season and need a delicious treat for your office potluck, or Christmas Eve dinner at Aunt Betty's, I've got you covered with these super simple Gingerbread Marshmallow Treat Cupcakes.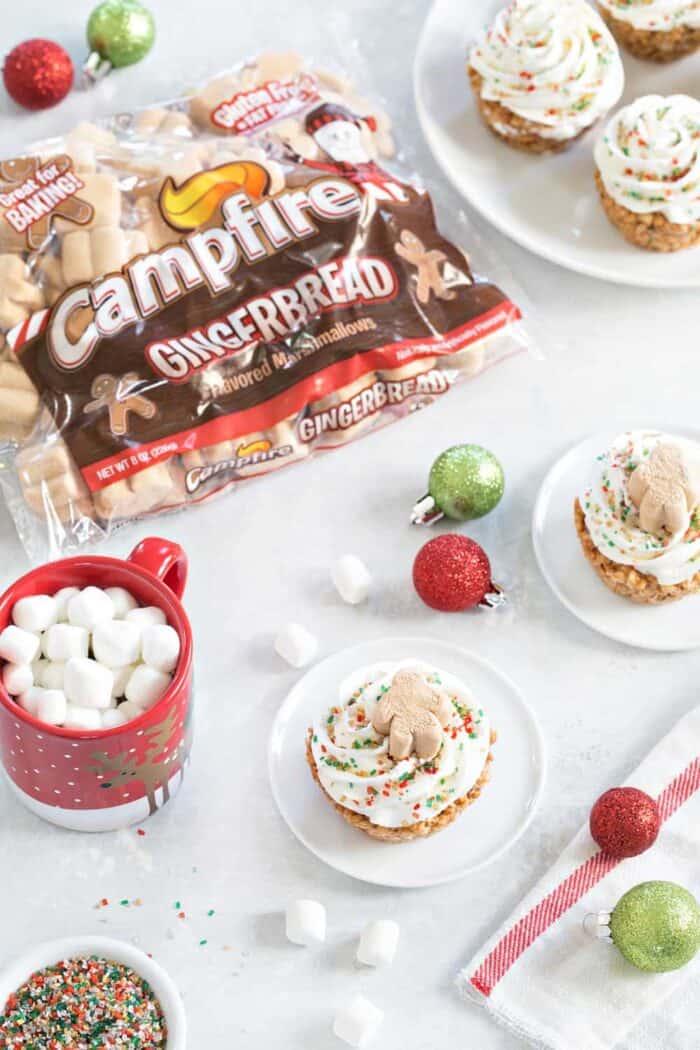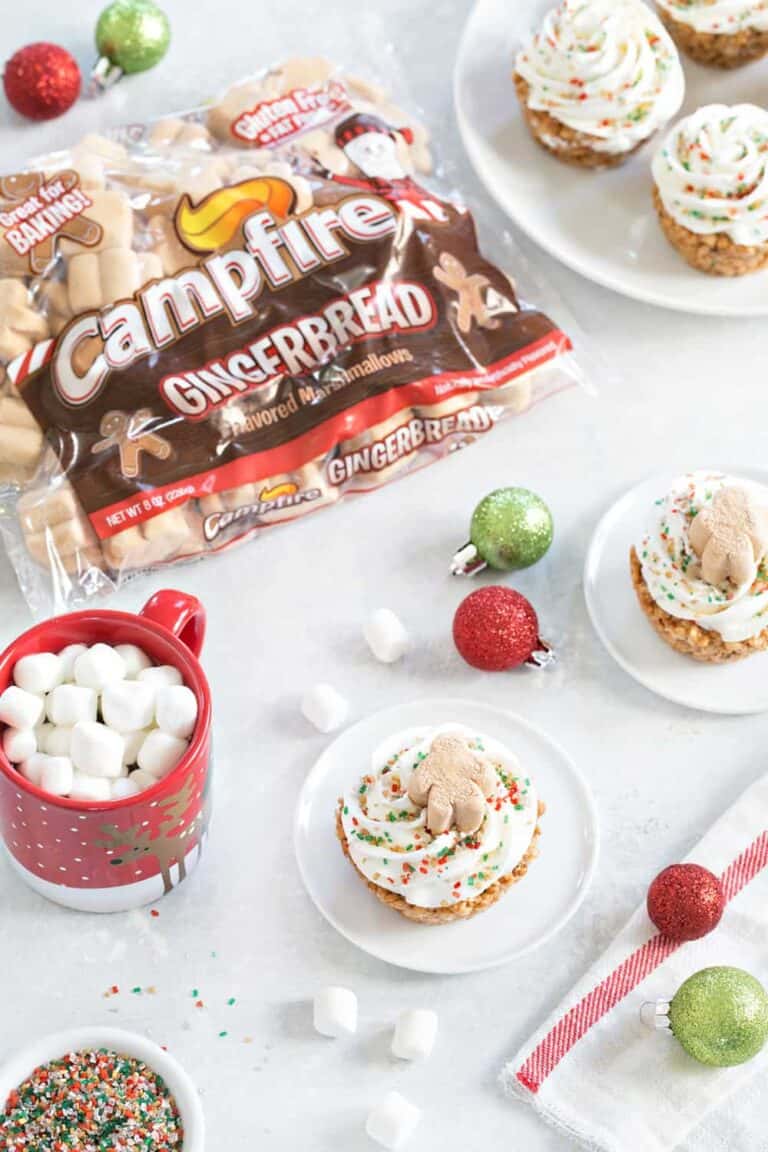 Not only do they come together in less than 15 minutes, they're also super adorable and festive.
Who could possibly resist an ooey-gooey gingerbread flavored marshmallow treat in cupcake form topped with sprinkles and cute marshmallow gingerbread men?
Speaking of sprinkles, I am officially obsessed with these vintage sprinkles that I picked up from World Market. I literally want to sprinkle them on every single thing.
As you may remember, I'm partnering with Emily from Jelly Toast and Campfire® Marshmallows. We've got tons of great recipes from the past couple of years, and more to come next year!
We even created a Marshmallow Madness Pinterest board where we've pinned loads of delicious marshmallow recipes for the holidays. Just like these Gingerbread Marshmallow Treat Cupcakes, this Nutella S'mores Fudge and this White Chocolate Peppermint Cocoa.