Marshmallow Treat Cupcakes
Marshmallow Treat Cupcakes are an adorable and delicious addition to any spring party! Festive sprinkles and colorful marshmallows make them extra special.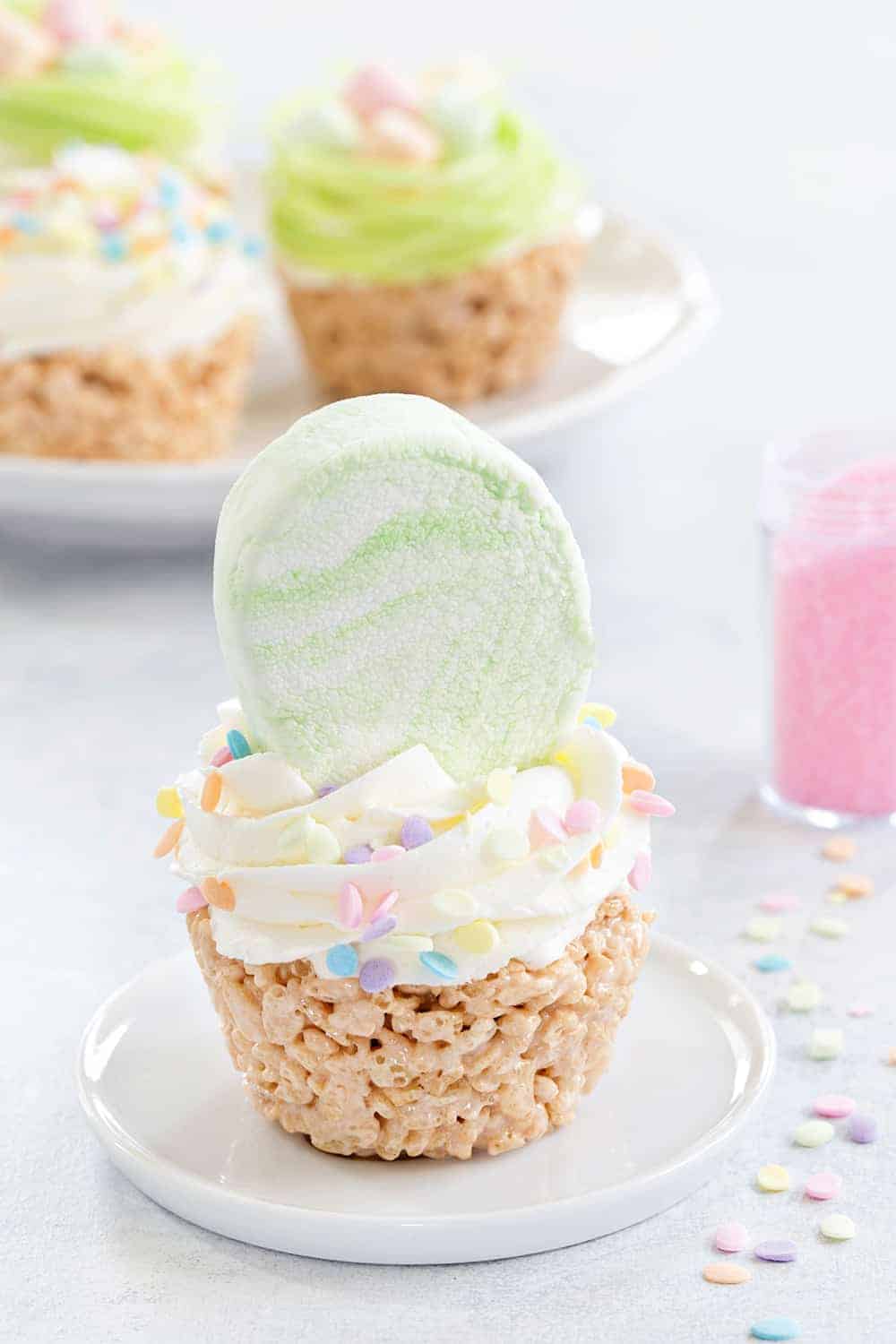 This recipe is sponsored by Campfire® Marshmallows, but all thoughts are my own. Thank you for continuing to support the brands that make My Baking Addiction possible.
If you're at all like me, you're scrambling to come up with last minute ideas for Easter.
Per usual, I started off strong, picking up things for Elle's basket weeks ago. Then life happened and now I'm left with a bagful of chocolate, a floppy sun hat and a bathing suit that says, SHELLO.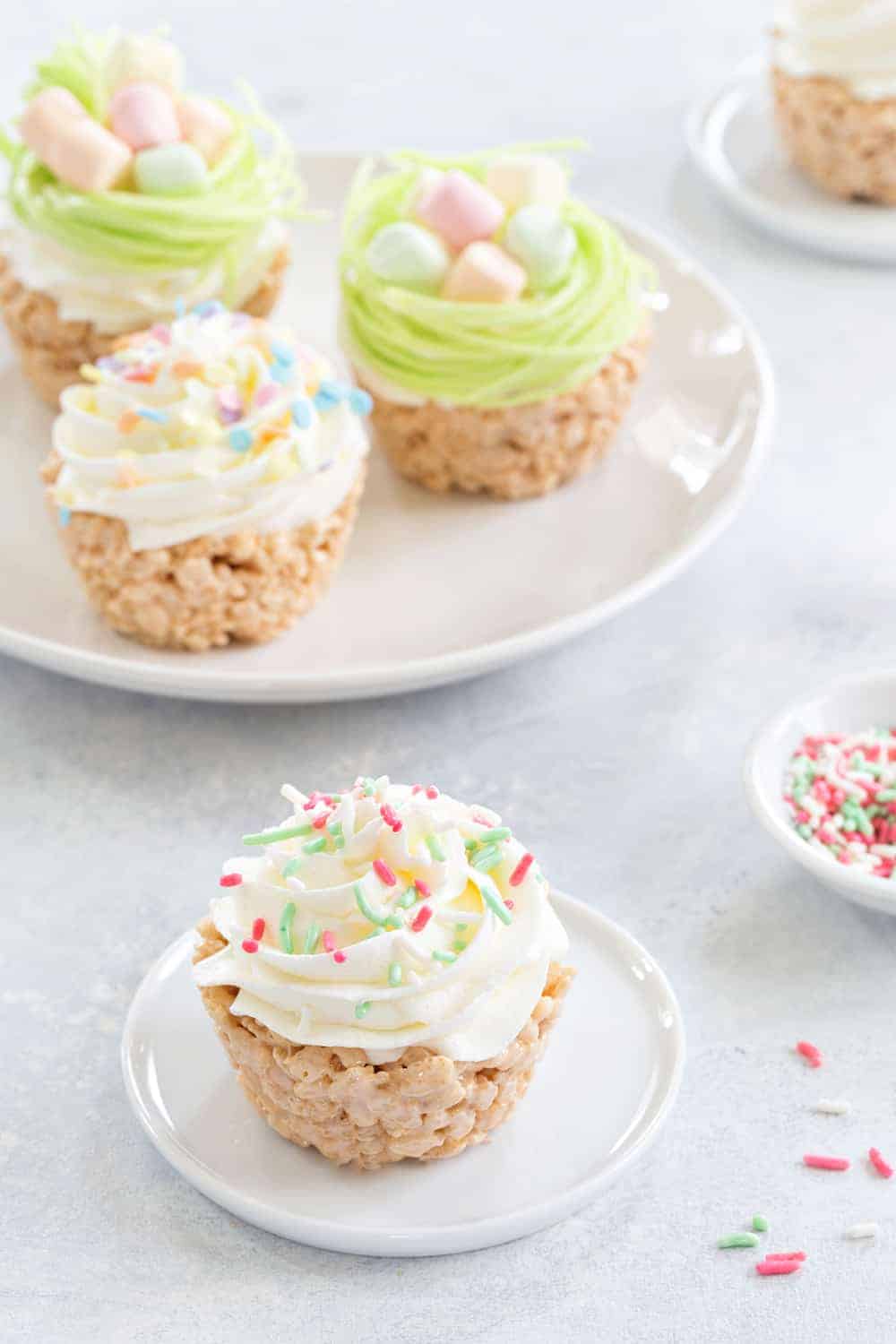 Guys, I can't even find her super cute Easter basket that I bought from Pottery Barn complete with her name embroidered on it.
I'm convinced Eric accidentally threw it away when he was organizing the storage area in the basement, although he denies it.
Basically, I'm going to need to go on a pretty serious Target run today after our Egg Dyeing Party.
Elle is in a phase where she wants to plan parties on a daily basis.
These parties are full of colorful paper plates, confetti, noise makers, (my personal fave) faux jewels, loads of stickers and super slobbery balloons.
Our cat, Gracie, has had no less than 17 birthday parties in the last month. And Elle is loving every minute of it.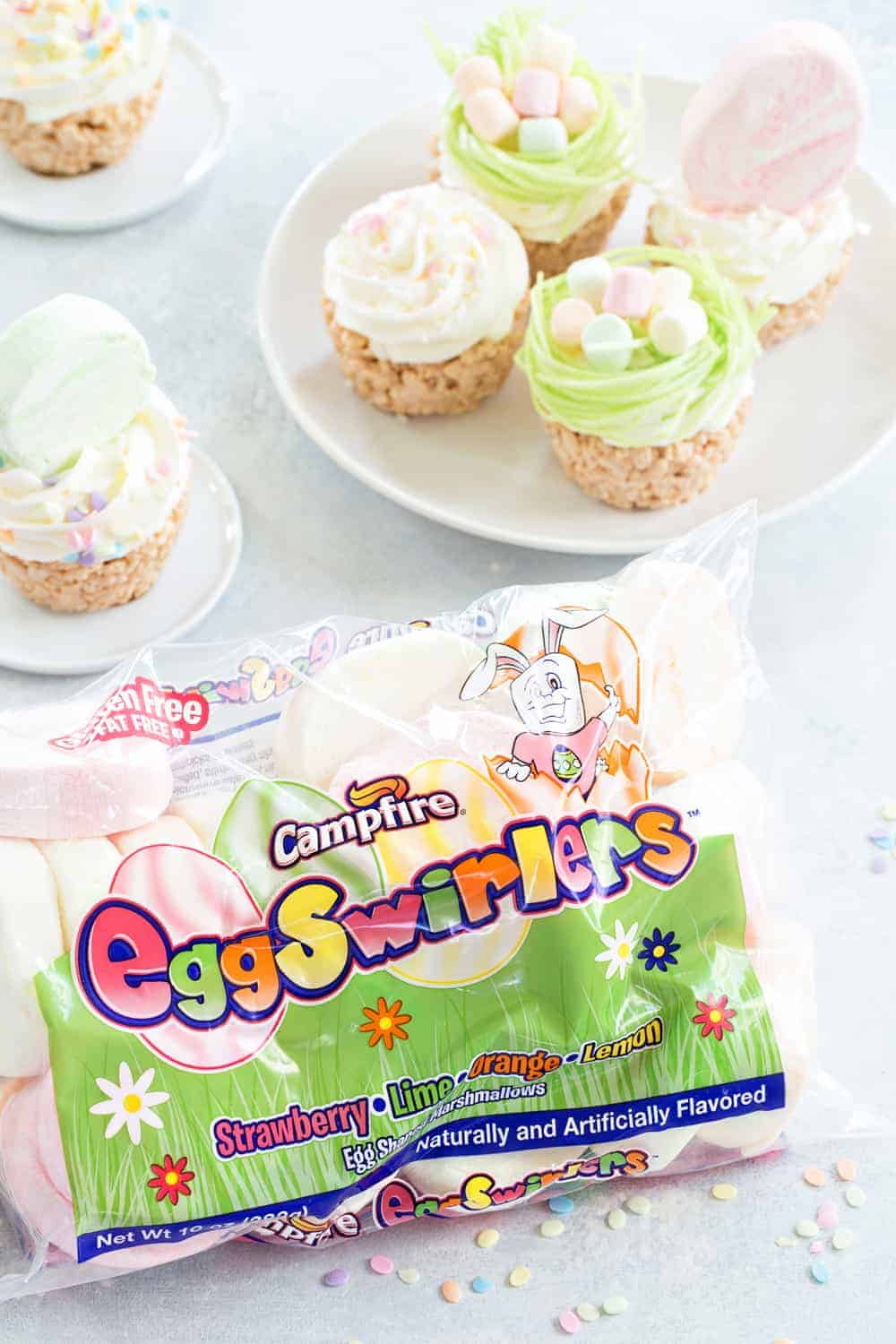 Our egg dyeing party is happening today and while Elle is in the midst of making decorations out of empty toilet paper rolls, I'm whipping together my easy crock pot pulled pork sandwiches, baked beans, jo-jo wedge potatoes and these marshmallow treat cupcakes.
These may look a little familiar because I made a gingerbread version of them back in December and they were so darn cute, and not to mention well received, I had to whip them up for Easter too.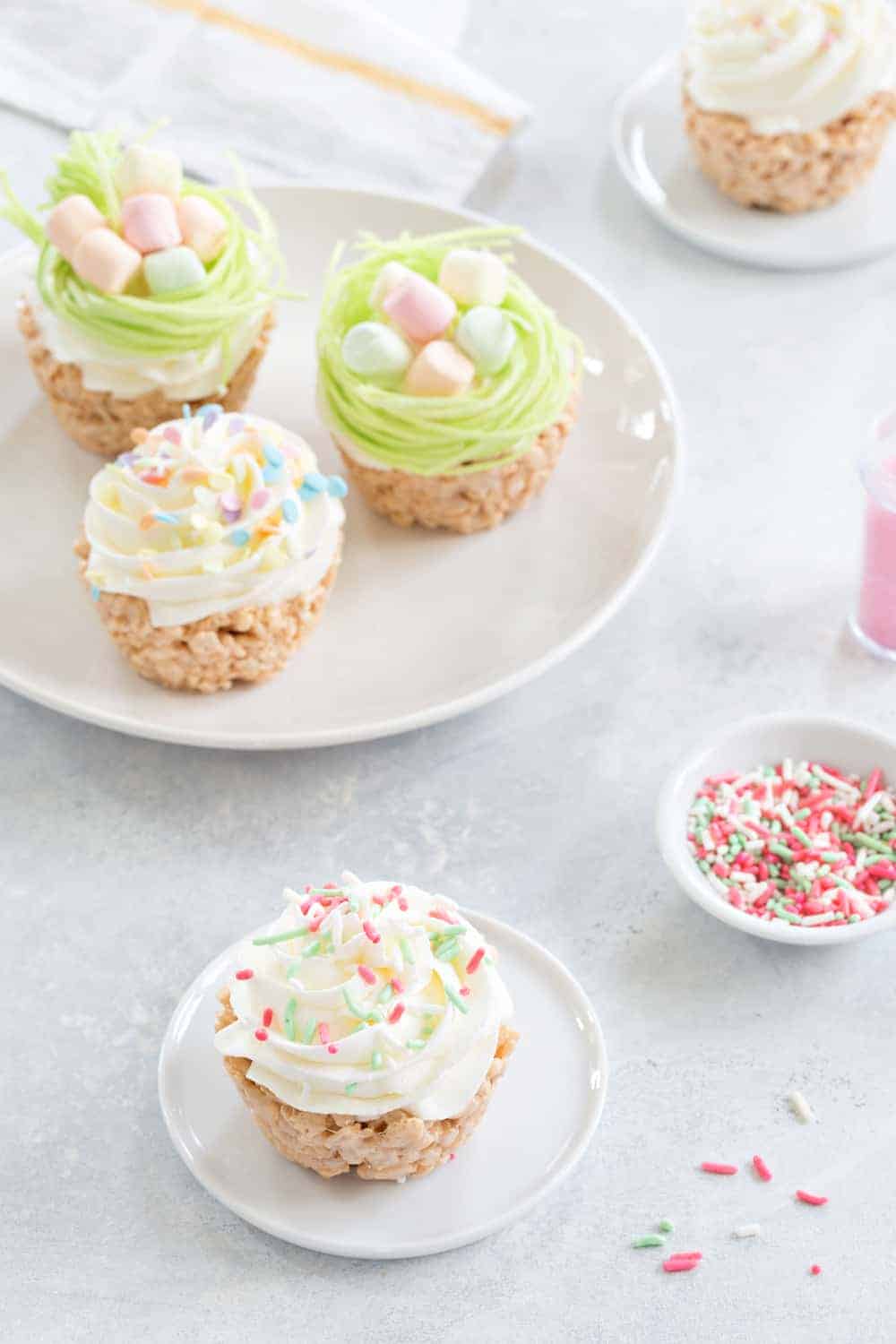 I mean, who could possibly resist a marshmallow treat cupcake, piled high with vanilla buttercream, edible grass, and adorable fruity marshmallows?
My whole family is obsessed with Campfire® Egg Swirlers and every single year my dad calls dibs on the extras. They're ultra-soft, sweet, full of fruity flavors, and shaped like adorable Easter eggs.
I love the orange, but Elle is totally guilty of snagging all of the strawberry ones from the bag.
These marshmallow treat cupcakes are super easy and totally adaptable. If you can't find the Campfire® Egg Swirlers, you can easily substitute them with Campfire® Mini Fruit Marshmallows as mini eggs within the edible candy nests! So cute!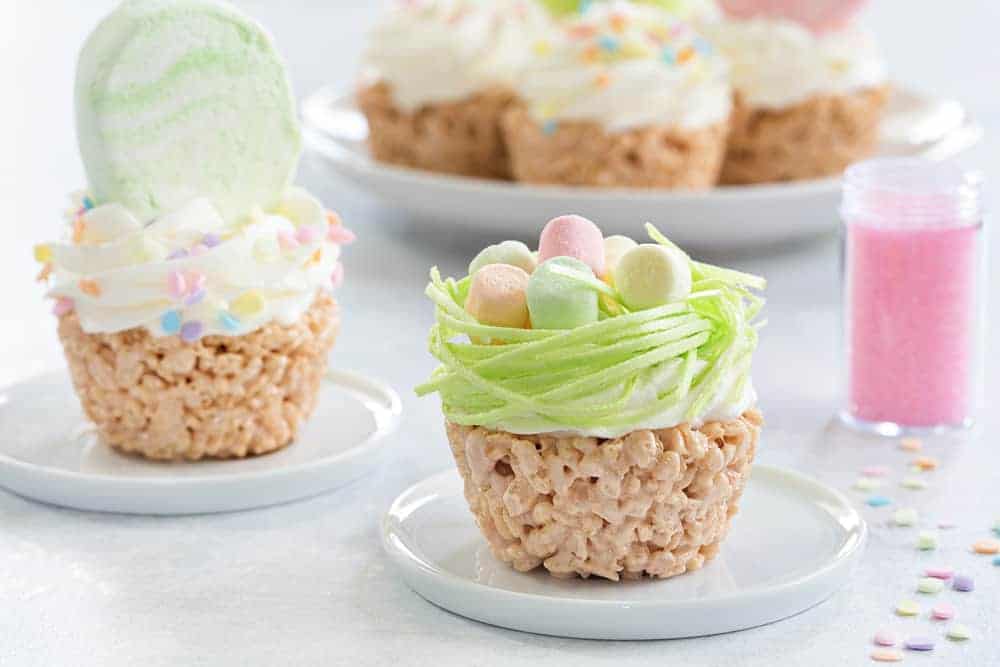 As you may remember, I'm partnering with Emily from Jelly Toast and Campfire® Marshmallows. We've got tons of great recipes from the past couple of years, and so much more to come.
We even created a Marshmallow Madness Pinterest board where we've pinned loads of delicious ooey-gooey marshmallow recipes. Just like these marshmallow treat cupcakes, this Nutella s'mores fudge and this s'mores snack mix.
Marshmallow Treat Cupcakes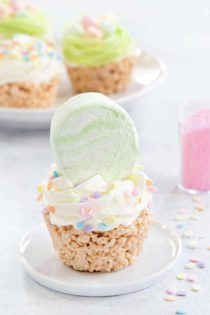 Ingredients:
For the Marshmallow Treat Cupcakes:
3 tablespoons unsalted butter
1 package Campfire® Egg Swirlers OR Campfire® Mini Fruit Marshmallows
5 cups crispy rice cereal
For the Buttercream Frosting:
1 cup unsalted butter, room temperature
3 cups powdered sugar, sifted
1 1/2 teaspoons vanilla extract
1-2 tablespoons milk, as needed
sprinkles, edible grass, and additional Campfire® Marshmallows for topping
Directions:
For the Marshmallow Treat Cupcakes
Spray the wells of a 12-cup standard cupcake pan with nonstick cooking spray.
In large pan, melt butter over low heat. Add the marshmallows to the pan and stir until completely melted. If using Campfire® Egg Swirlers this will take a little patience due to their size. To decrease the melting time, you can cut the marshmallows into smaller pieces before add them to the pan.
Gradually add crispy rice cereal; stirring until well coated.
Use a buttered spatula or clean, buttered hands to firmly press the mixture into the wells of the prepared cupcake pan. You'll need to work quickly, so the mixture doesn't set up in the pan you melted the marshmallows in.
Cool for about 15 minutes. Remove marshmallow treat cupcakes from the pan and prepare the frosting.
For the Buttercream Frosting:
In the bowl of a stand mixer fitted with the paddle attachment, or in a large bowl with an electric mixer, beat butter on medium-high speed for about 5 minutes.
With the mixer on low speed, slowly add in powdered sugar, and continue beating until well combined.
Add in vanilla, and 1 teaspoon of milk. Mix on low speed until incorporated.
Beat at high speed until frosting is smooth and fluffy; about 4-5 more minutes.
If your frosting is too thick, gradually add a little more milk, 1 teaspoon at a time until you reach the desired consistency.
Spread or pipe frosting onto cooled marshmallow treat cupcakes and top with colorful sprinkles, edible grass and additional Campfire® Marshmallows
All images and text ©
Follow Jamie on Instagram. We love to see what you're baking from MBA! Be sure to tag @jamiemba and use the hashtag #mbarecipes!
This post may contain affiliate links. We are a participant in the Amazon Services LLC Associates Program, an affiliate advertising program designed to provide a means for us to earn fees by linking to Amazon.com and affiliated sites.