Pumpkin Spice Marshmallow Treats are over-the-top-amazing with the addition of a roasted Campfire® Giant Roasters and milk chocolate.
So the weather is playing tricks on us here in Ohio. It's been an incredibly mild summer, but then, as soon as the back to school hustle and bustle begins – bam – it's 90 degrees. Thankfully, I'm pretending to enjoy these sweltering last days of summer from my air conditioned home and not a gazillion degree classroom on the second floor of a ridiculously hot school building.
As soon as I start seeing yellow buses, everything in my mind transitions to fall. And the fact that Starbucks is releasing their Pumpkin Spice Latte way earlier than normal certainly helps get me in the mood.
From desserts and dinners to clothing and home decor – it's all about the crisp, cool fall season. I even lit pumpkin candles last week, which by the way, can totally trick your mind into believing it's 60 degrees outside instead of 90 – at least until you step outside.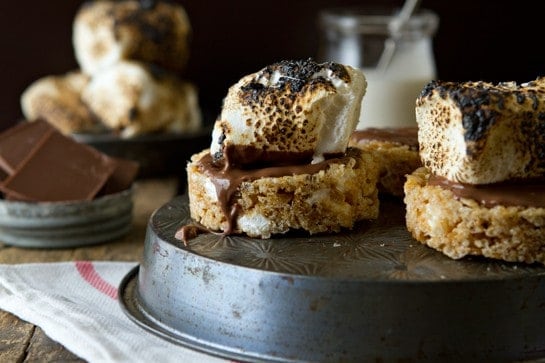 I absolutely love making marshmallow treats in the summer – not only are they a classic dessert, they're no bake, which is always a bonus in my book. Even though they're ridiculously simple they are to make, they always seem to disappear in a matter of minutes. Last week, I whipped up a batch of Pumpkin Cream Cheese Muffins (you just have to make these) and I had a little leftover pumpkin puree because I bought a ginormous can.
That leftover puree stared me down for a few days, then I had a brief moment of pumpkin brilliance and added a little puree, homemade pumpkin pie spice, and loads of Campfire® Mini Marshmallows to rice cereal and within a few minutes, I had a super delicious fall dessert. Because I can never leave well enough alone, I went ahead pushed the Pumpkin Spice Marshmallow Treats into the realm of over-the-top-amazing with the addition of a roasted Campfire® Giant Roasters and milk chocolate. Basically, I created the most epic s'more – ever.
How can you go wrong with a dessert that combines both Campfire® Mini Marshmallows and Giant Roasters. Ya just can't. In my opinion, Campfire® Mini Marshmallows are the best tasting marshmallows on the market – they're super soft, fluffy and oh, so delicious. And the addition of pumpkin puree and pumpkin pie spice makes the transition from summer to fall a little more scrumptious!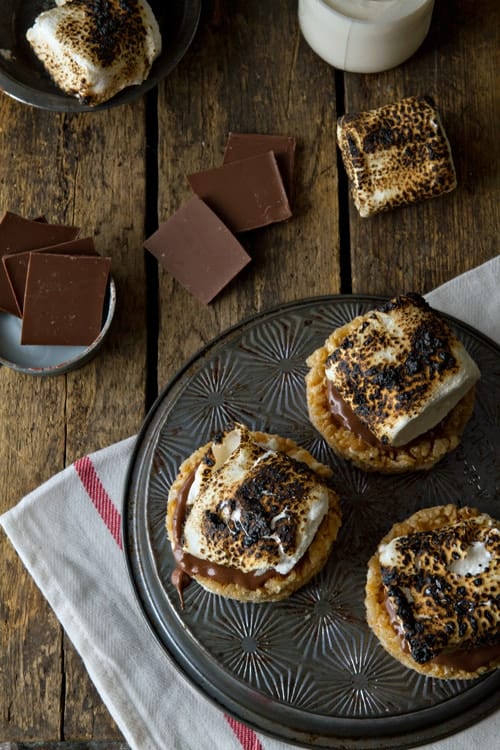 As you may remember from my Chocolate Dipped Key Lime Pie Marshmallow Treats, I'm partnering with Emily from Jelly Toast and Campfire® Marshmallows over the next year. You'll see more recipes from us, and hopefully even more exciting stuff as the year goes on.
We even created a Marshmallow Madness Pin Board where we'll pinning all of our favorite marshmallow recipes from our favorite food sites.
For more information about Campfire® Marshmallows, find them on them on Facebook and Twitter.
Pumpkin Spice Marshmallow Treats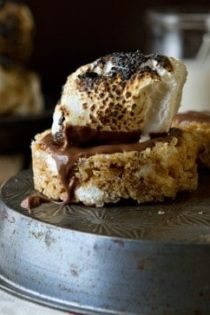 Ingredients:
4 tablespoons unsalted butter
10.5 ounce package Campfire® Mini Marshmallows
2 tablespoons pure pumpkin purée
2 teaspoons homemade pumpkin pie spice
1/2 teaspoon pure vanilla extract
7 cups crisped rice cereal
Optional
Campfire® Giant Roasters
milk chocolate bars
Directions:
1. Line a 9 x 13 x 2 inch baking pan with foil. Butter the foil or spray with nonstick cooking spray.
2. In large saucepan, melt butter over low heat. Add in Campfire® Mini Marshmallows and stir until completely melted. Add pumpkin purée and pumpkin pie spice and stir until the mixture is smooth. Remove from heat and stir in vanilla extract.
3. Add crisped rice cereal stirring until well coated.
4. Using a buttered spatula, press the mixture into the prepared pan. Cool. Cut into squares.
5. If desired, top a Pumpkin Spice Marshmallow Treat with a mini milk chocolate candy bar and a roasted Campfire® Giant Roaster marshmallow.
Notes:
Pumpkin Spice Marshmallow Treats are best served the day they are made.
All images and text ©
Follow Jamie on Instagram. We love to see what you're baking from MBA! Be sure to tag @jamiemba and use the hashtag #mbarecipes!
Disclosure: My Baking Addiction has teamed up with Campfire® marshmallows to share recipes using their products. This is a sponsored post written as part of that program. All opinions about Campfire® marshmallows are 100% my own.