Knowing how to make buttercream frosting is one of the best tricks to keep in your baking arsenal. This classic American buttercream recipe makes enough pillowy frosting for 24 cupcakes or a 9-inch layer cake.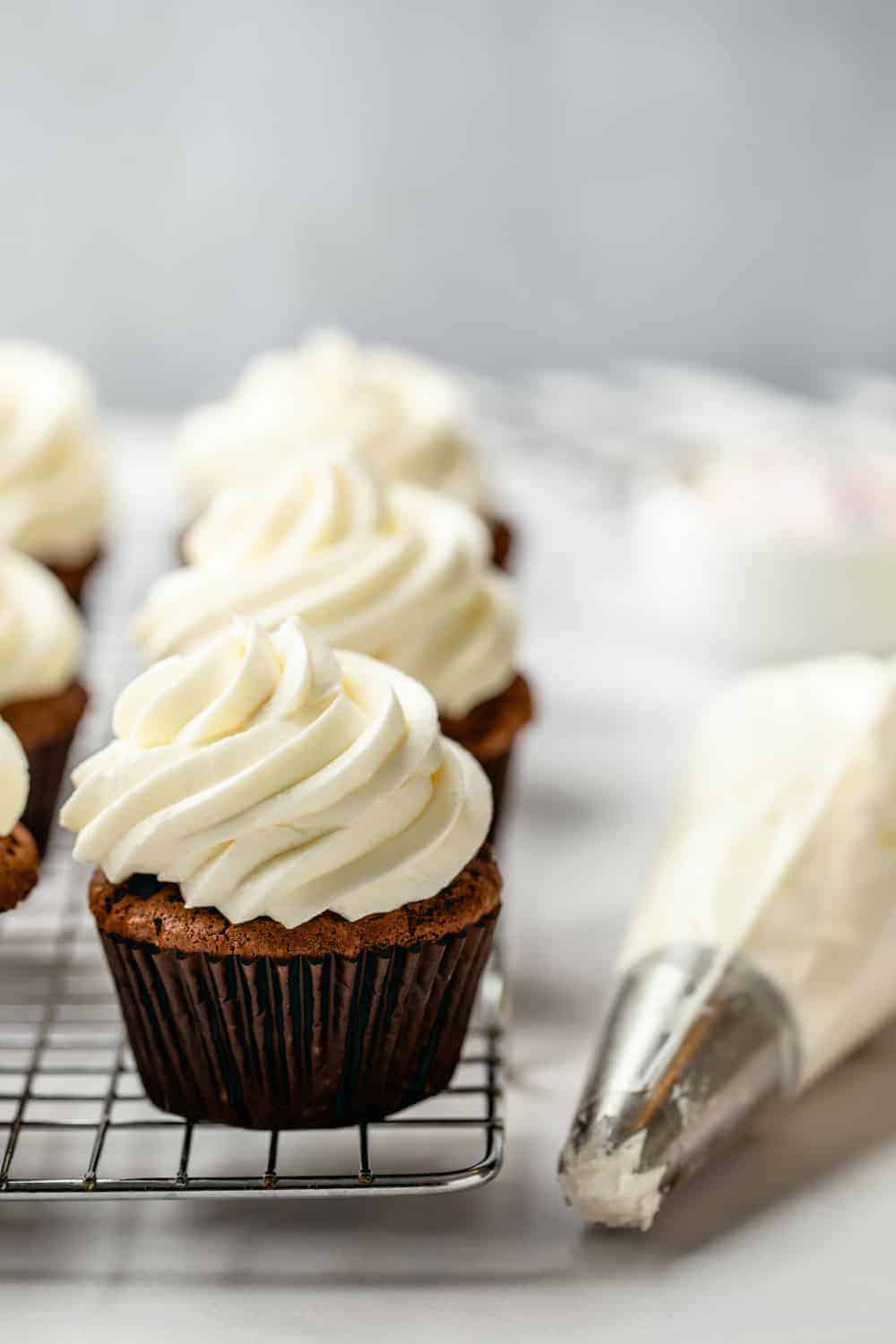 Of all the recipes on My Baking Addiction, Homemade Buttercream Frosting is definitely the recipe that I make the most in my kitchen.
In fact, it's probably the most requested recipe amongst family and friends – well, maybe the second most requested next to My Favorite Chocolate Chip Cookies.
Whether I'm whipping up cupcakes, cake, or cookies, knowing how to make my favorite buttercream has saved me time and time again.
Since so many people keep coming back to it, I thought I would share some of my favorite tips for how to make buttercream frosting with you!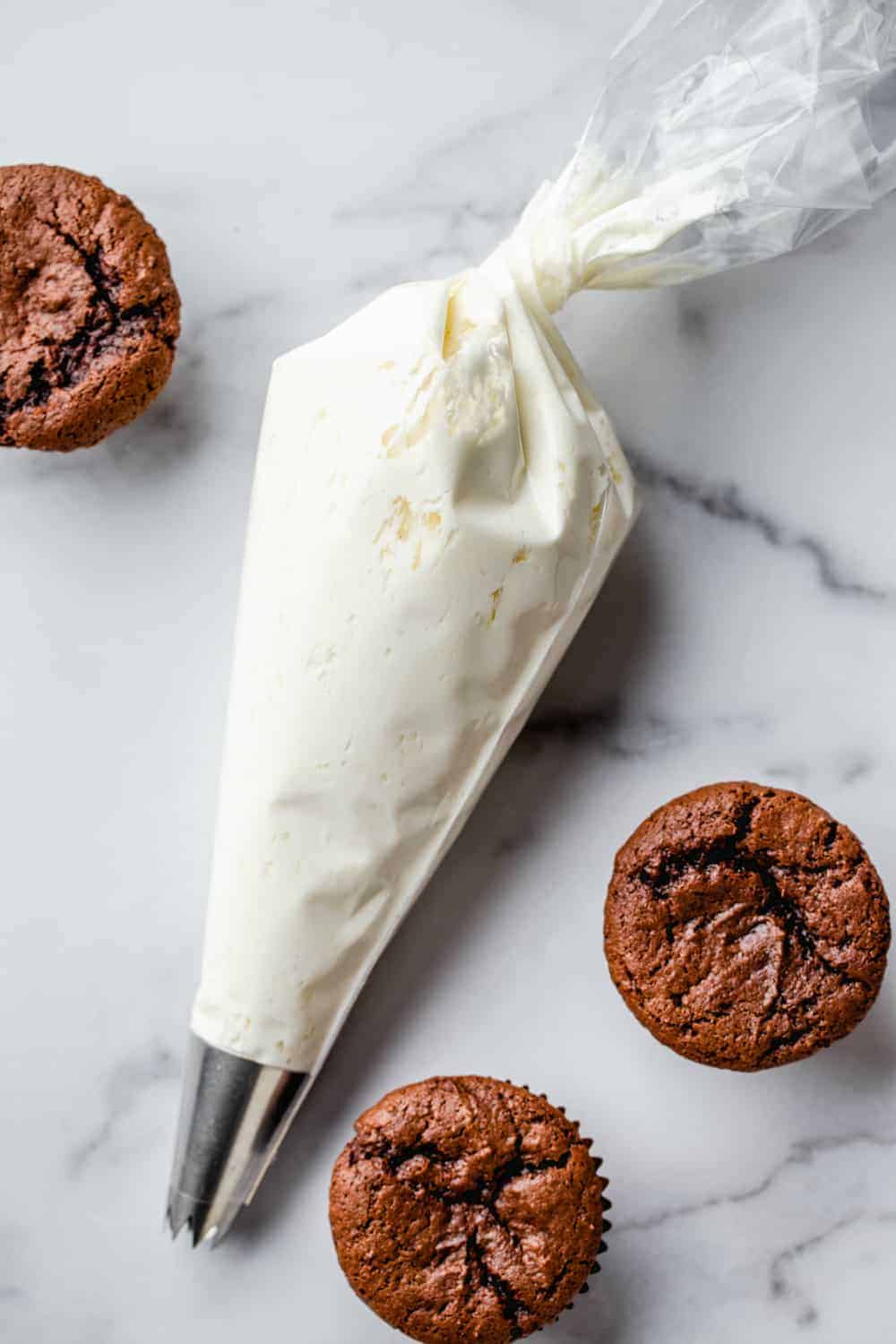 WHAT ARE THE DIFFERENT TYPES OF BUTTERCREAM FROSTING?
Before we dive into how to make buttercream, let's review the three different types of buttercream frosting:
American Buttercream Frosting – This buttercream is fast, simple and what you see on most grocery store cakes (and in the recipe card below). It's essentially fat (butter, margarine, shortening), confectioners' sugar, and vanilla extract whipped together.
Swiss Meringue Buttercream – This type of buttercream in made by cooking egg whites and sugar together in a bowl placed on a pot of boiling water.
The mixture is continuously whisked while it reaches 140° F. The egg white and sugar mixture is then removed from the heat and whipped at high speed until it forms stiff peaks and has cooled.
Italian Buttercream – This buttercream is made by adding simple syrup, which is made by heating sugar and water (soft-ball stage) to the egg-whites and allowing the syrup to cook the egg whites and whipped to form stiff peaks.
Today we'll be making American buttercream, but I encourage you to give the others a try once you want more of a challenge!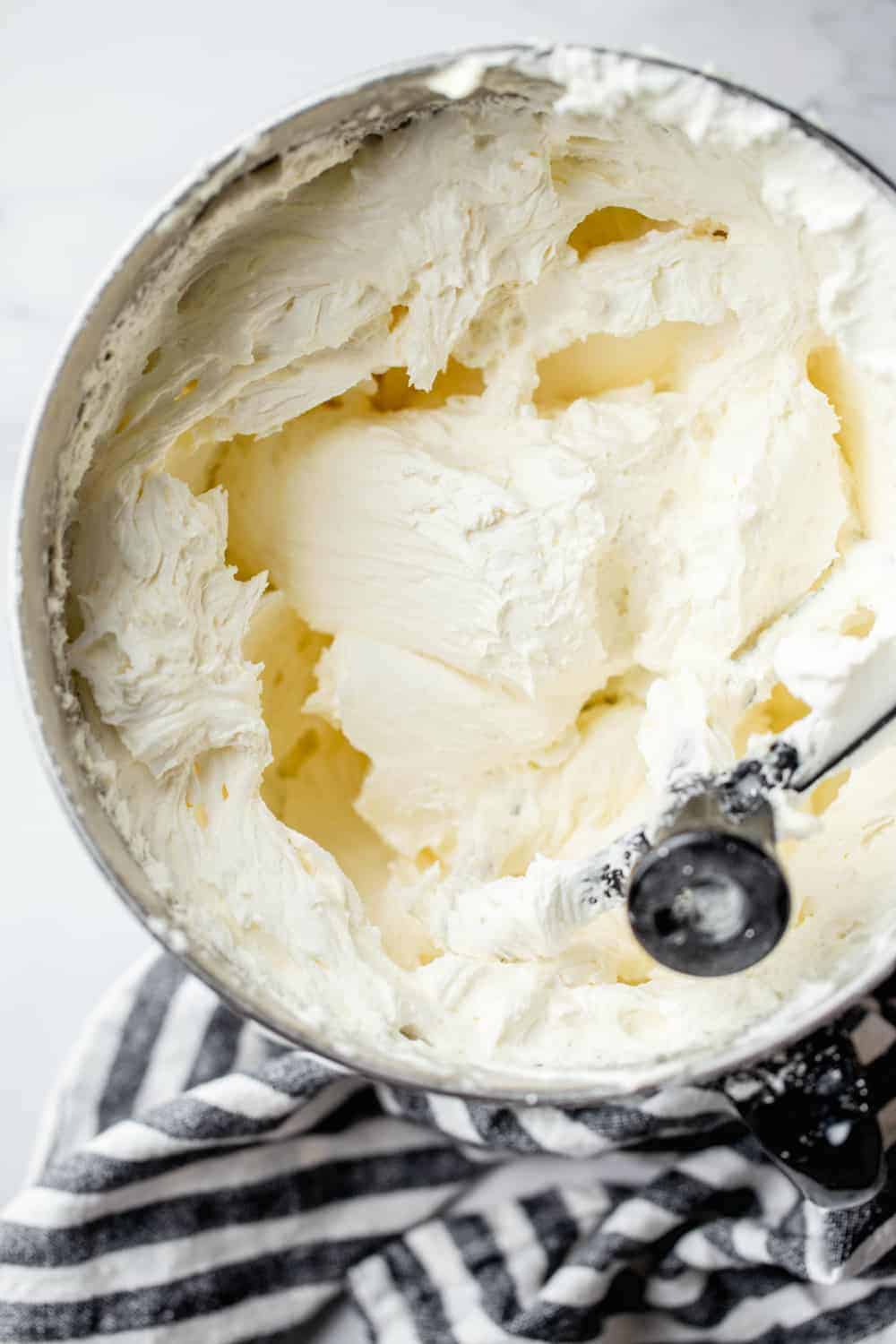 HOW TO MAKE BUTTERCREAM FROSTING
Homemade buttercream frosting is so easy to make and so delicious, you'll wonder why you ever bothered buying frosting.
All you need to make buttercream frosting is a big bowl, an electric mixer, and a rubber spatula. If you are using a stand mixer instead of a hand mixer, I recommend using the paddle attachment.
First, make sure your butter is softened. (Don't worry if you didn't set it out ahead of time – check out my guide for how to soften butter to figure out how to soften it in a jiffy!)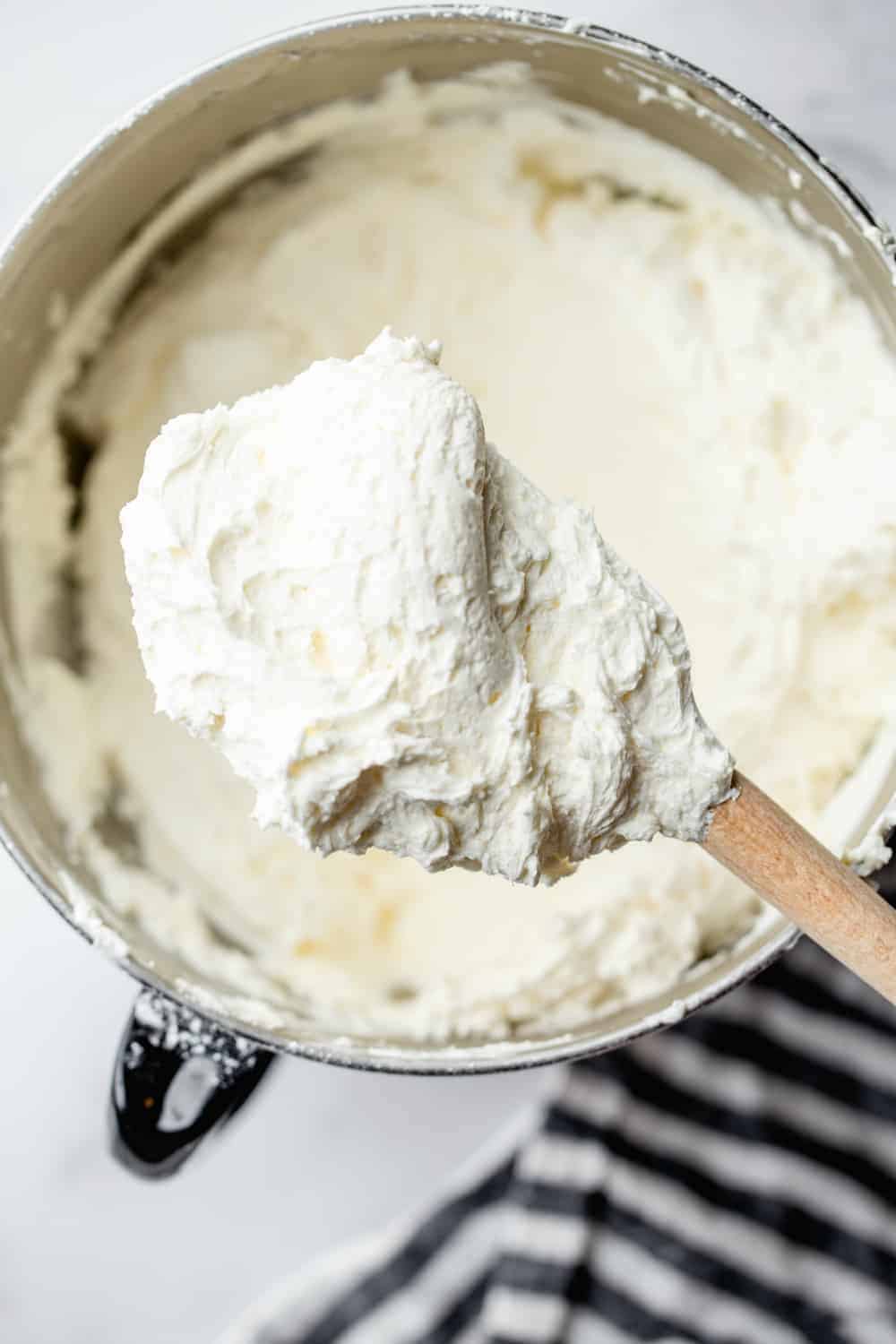 Cream the butter until it is fluffy. This is really the most important step in this entire recipe. I often set a kitchen timer for 6-7 minutes and just let my KitchenAid Stand Mixer do all of the work while I wash some dishes.
Next, add the salt and slowly add in the powdered sugar, continuing to beat the mixture until it is well blended.
Then add in the vanilla and cream or milk and beat on low speed until everything is combined.
Once the vanilla and cream or milk are incorporated, I like to turn up the speed to medium-high and set another timer for an additional 6-7 minutes. This will ensure the buttercream is ultra-fluffy and creamy.
You can add additional cream or milk if you want a softer consistency, but I recommend adding it just a couple of teaspoons at a time until it's just right.
It's ready to use or store for later!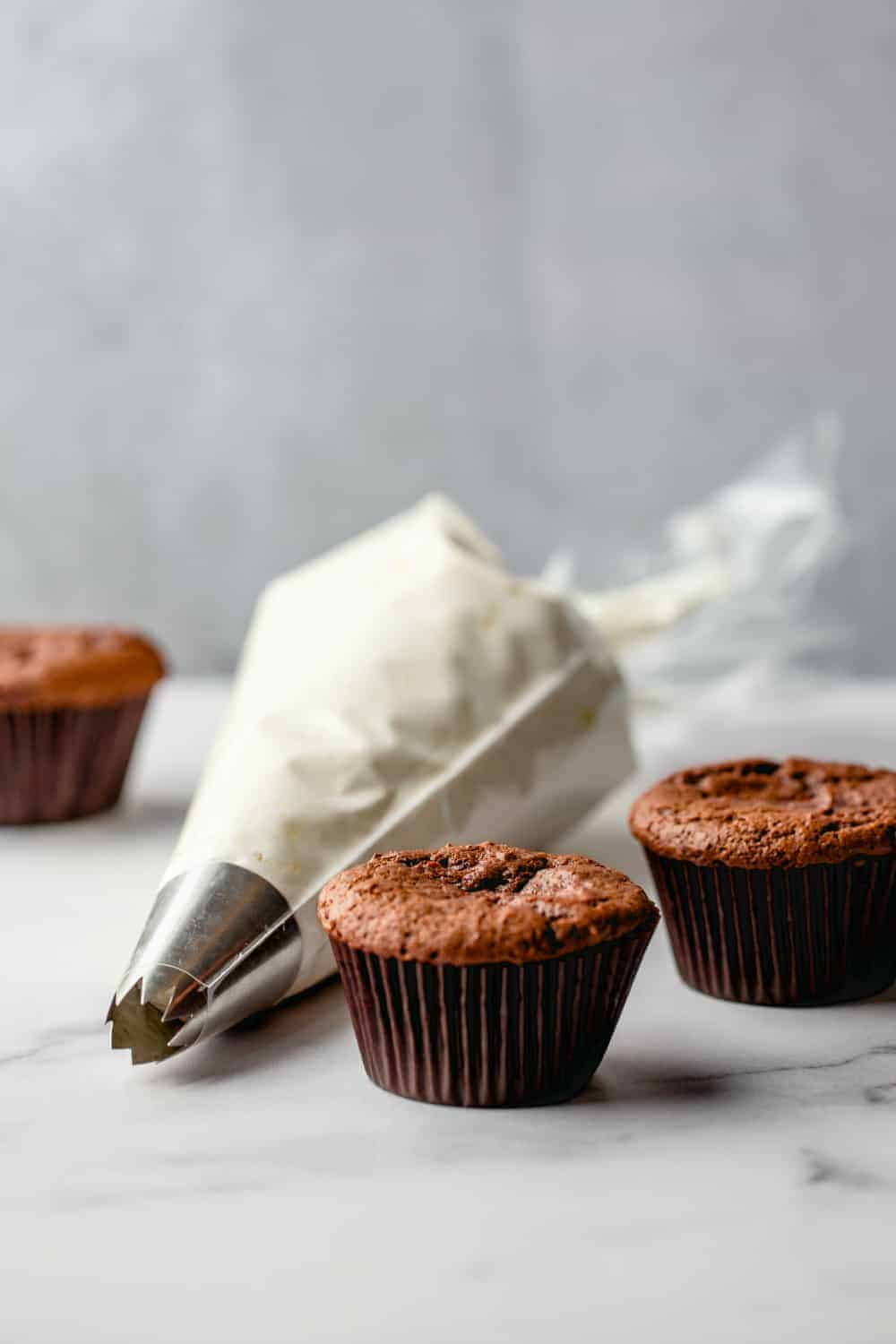 HOW TO MAKE FLAVORED BUTTERCREAM FROSTING
One of the best things about knowing how to make buttercream frosting is being able to make your own flavored buttercream!
There are lots of different ways to flavor buttercream frosting. Of course there is always the classic vanilla extract, vanilla paste or vanilla beans. You guys know I am obsessed with vanilla everything and always use pure vanilla extract; however, this buttercream is the exception.
More often than not, I turn to Wilton's Clear Vanilla Extract for this recipe. It keeps my buttercream frosting super white and has the perfect, yummy, creamy vanilla flavor that is simply my favorite in buttercream.
You can also use any other flavor extract you like, such as peppermint extract.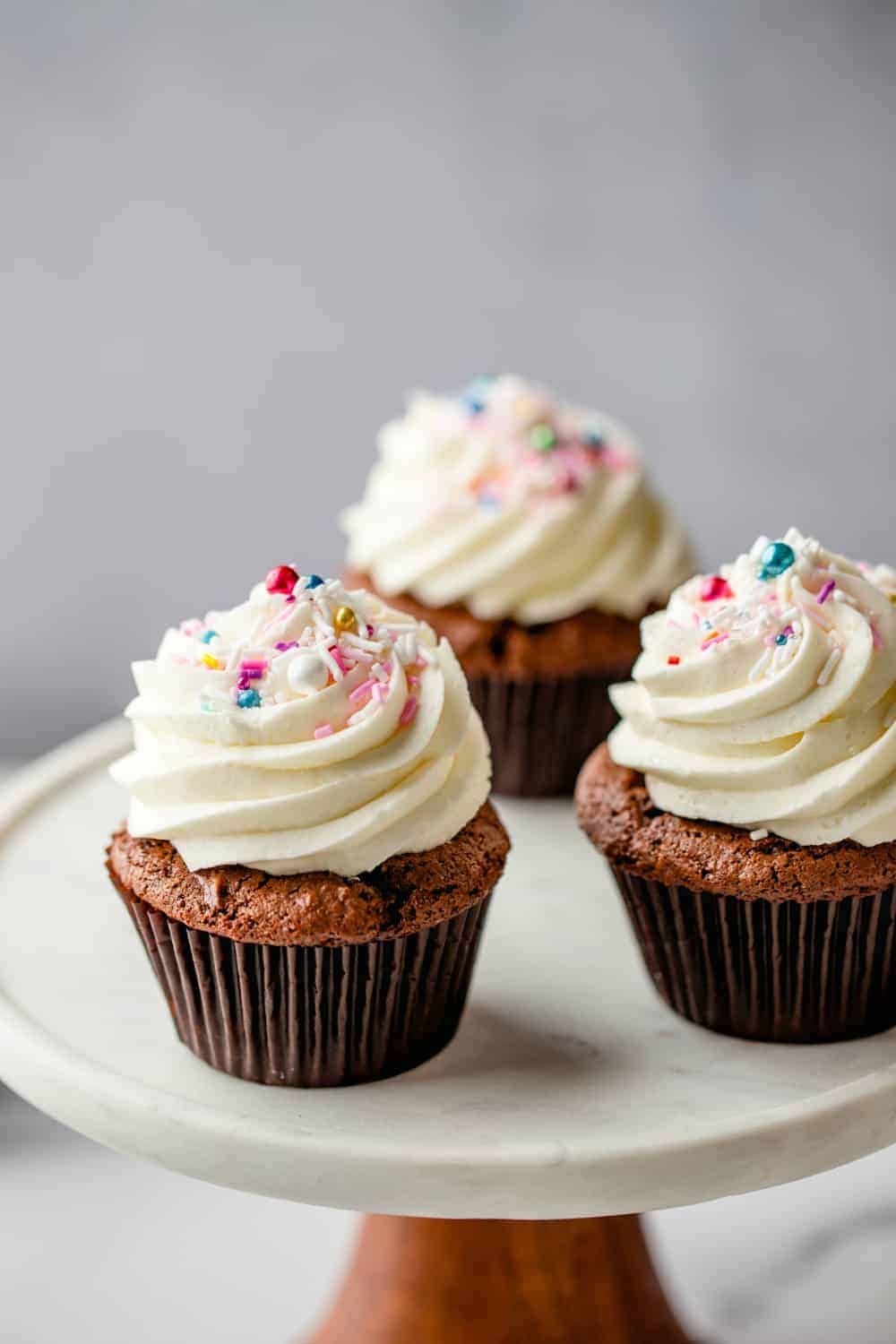 For any citrus flavors, I like to reach for fresh citrus zest or juice. Even though lemon is the most common, you could try lime, orange, or grapefruit instead. I used both lemon and lime for Lemon Lime Cupcakes.
We can't forget chocolate – you can add cocoa powder or melted chocolate to turn Homemade Buttercream Frosting into chocolate buttercream like I used on Mint Chocolate Chip Cupcakes.
You could even try fresh fruit puree (like I did with my Lemon Blueberry Buttercream), jam, curd, or even salted caramel sauce.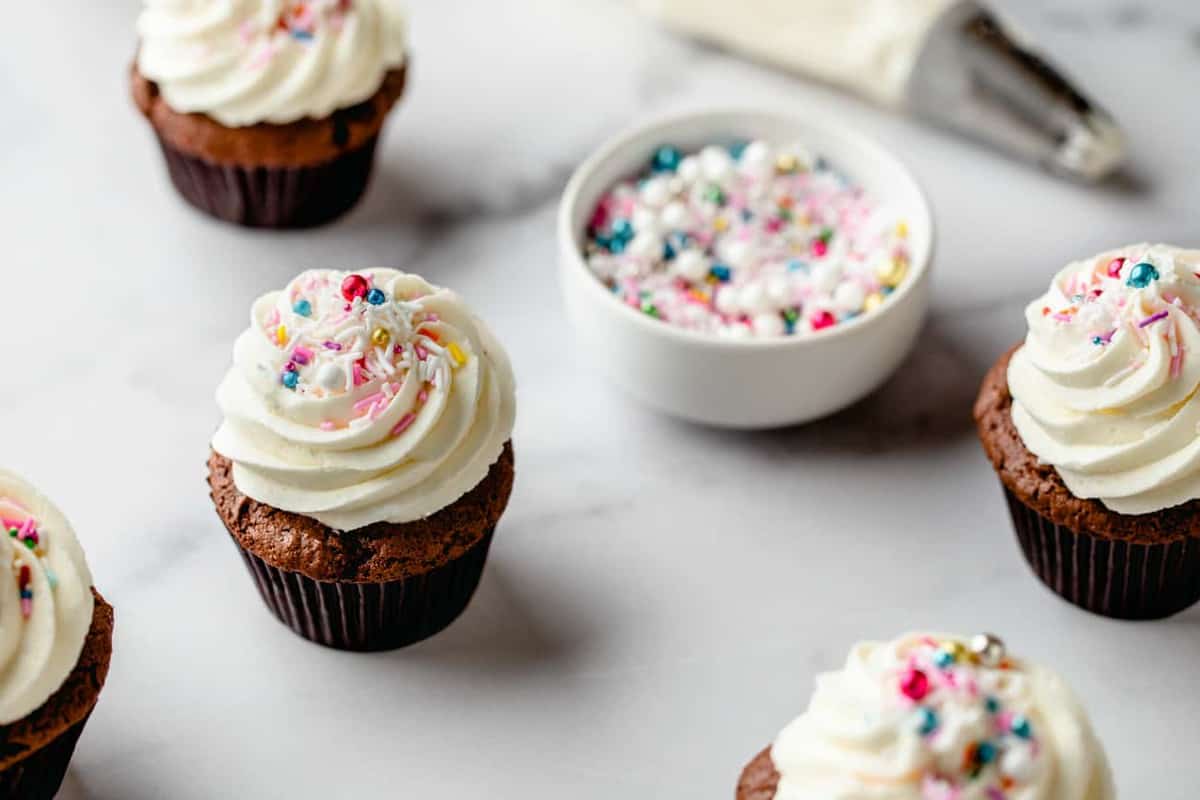 HOW TO STORE BUTTERCREAM FROSTING
Homemade buttercream can be made a few days ahead of time, so it's easy to prepare before a party and pipe onto a cake or cupcakes the day of.
Cover and refrigerate the buttercream for up to three days. When you're ready to use it, simply bring it to room temperature and beat it for about 5 minutes or until smooth. You may need to add a splash of cream or milk to revive the consistency before piping.