Lemon Lime Cupcakes are loaded with fresh citrus flavor, both in the cake and fluffy buttercream frosting. They're sure to make your summer a little more amazing!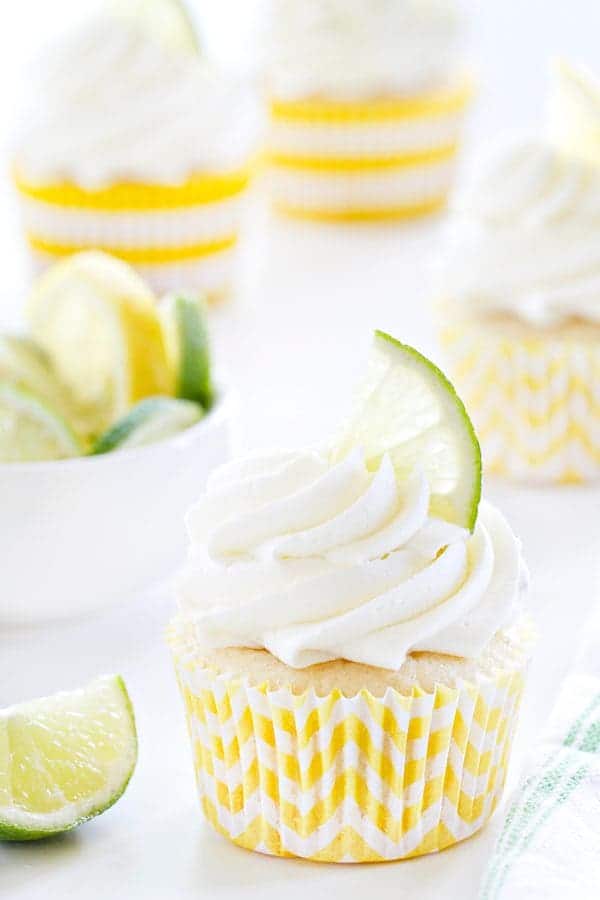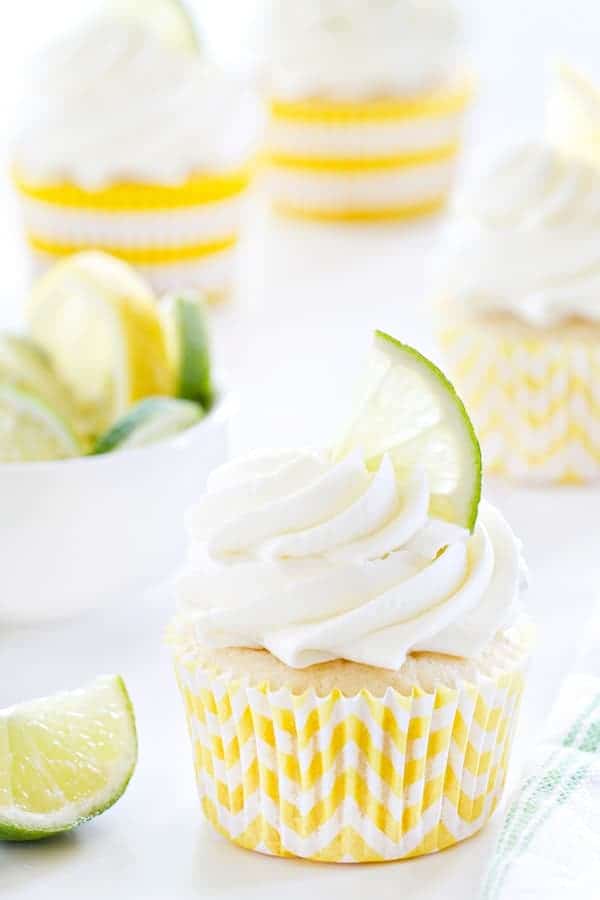 If you follow My Baking Addiction on a regular basis, you may have realized that I've taken about a month off, but I definitely didn't leave you hangin'.
I had a few recipes like these Grilled Garlic Basil Shrimp ready in advance and then I enlisted the help of some of my favorite blogging friends to create amazing and delicious recipes to share with you.
These No Bake Pineapple Cheesecakes and Banana Nutella Cupcakes are just couple of the recipes that were shared while I was basking in the Florida sun.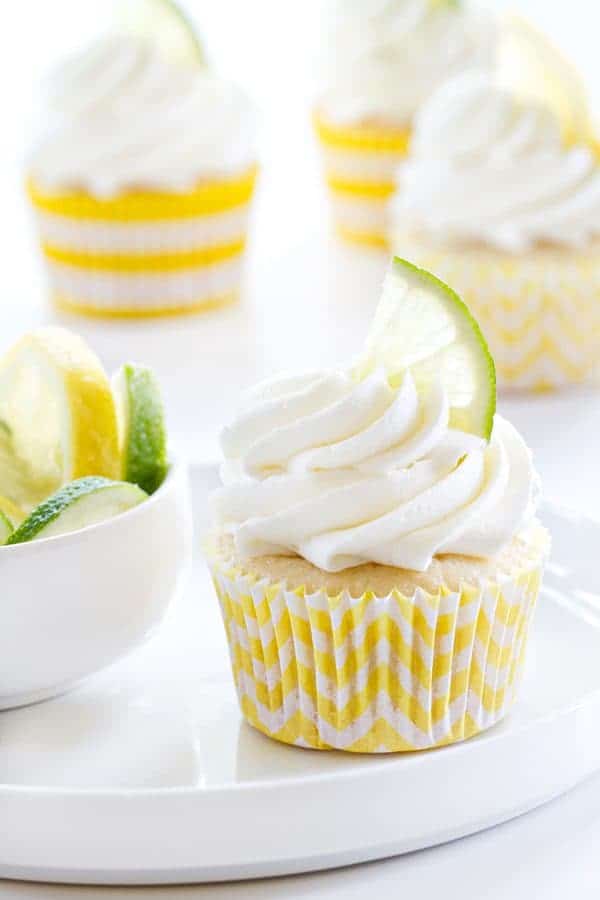 We try to head to Boca Grande, Florida at least twice per year – once in the spring and again in the fall. And each time we've been, I've worked while we were there. Yep, worked while on vacation. Between writing posts, social media, and emails, I'd wake up early and try to get the tasks for the day completed before we hit the beach, but let's be real, a vacation is just not a vacation when you have to set an alarm every morning.
I definitely want Elle to know her mama works hard, but I also want her to know that mama plays hard too. Being attached to a laptop while on vacation, just isn't the type of memories we're trying to create.
This time, we were gone for two full weeks and the only work related thing I did was schedule Facebook shares from my phone and took a 5 minute conference call from the beach. And let me tell you, it was glorious.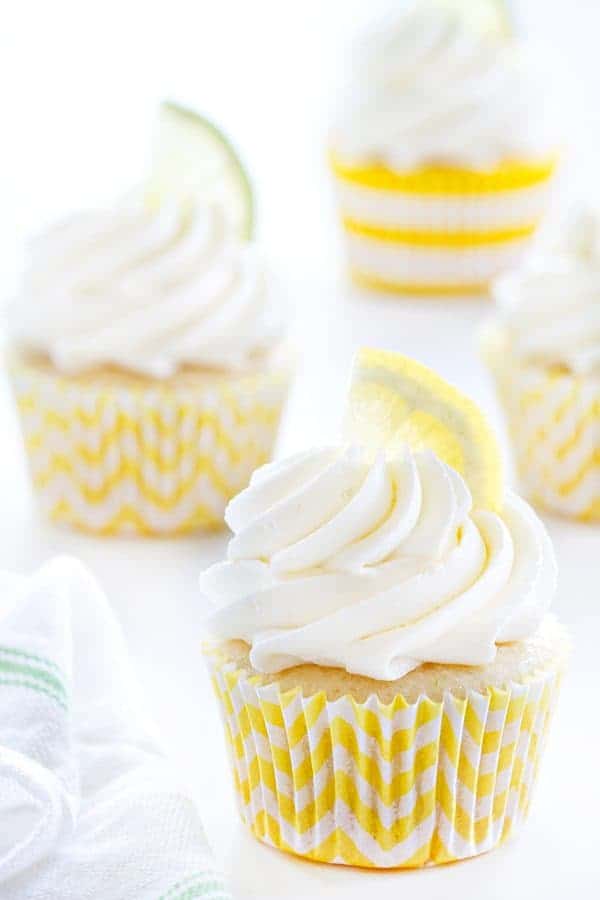 I came back feeling refreshed, creative, and well, like I just spent two weeks at the beach. We've already booked our trip for fall and I plan on doing absolutely zero work while we're there. I'm pretty sure I can make it happen!
While we were on the island, we all kind of developed a love for the lemonade and limeade served at the local restaurants. So when we got home, one of the first recipes I baked up were these Lemon Lime Cupcakes.
I used Dorie Greenspan's recipe for Perfect Party Cake – this is undoubtedly my favorite cake – ever, I also used Dorie's recipe for Vanilla Bean Cupcakes and those are also all kinds of delish.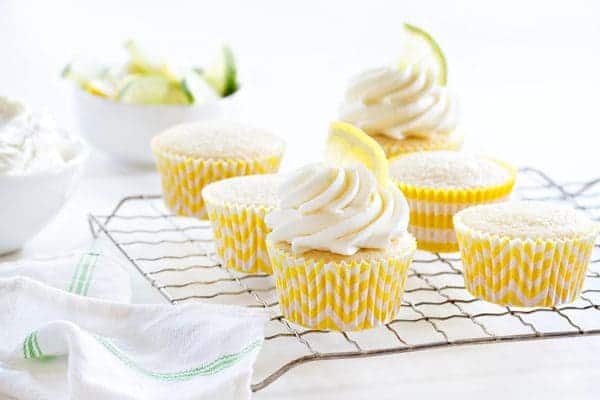 This time, I added loads of freshly grated lemon and lime zest and topped the cupcakes with a generous swirl lemon-lime buttercream. If you want to get a little fancy, you can add a small slice of lemon or lime to the top of each cupcake just before serving – yellow or green sanding sugar would also be lovely.
This Lemon Lime Cupcakes recipe are fluffy, delicious, and totally perfect for summer! They may even quench our craving for island lemonade until fall. Give them a try, I'm pretty certain you'll love them as much as we do.
For more delicious summer cupcake recipes, be sure to check out these Coconut Cupcakes and Easy Strawberry Cupcakes.