I love scones… to me, they are like a cross between a muffin and a cookie. They are truly a delectable culinary creation. I tasted my first scone over five years ago at Panera Bread.
I ordered it on a whim to accompany a cup of hot tea. The scone was orange flavored and was topped with a lovely glaze. Needless to say I was smitten with them for about a minute… my short lived love affair with this delicious mid-afternoon "snack" ended ubruptly when I realized it was packing almost 500 calories and 20 grams of fat!
Once I started my blog, I had every intention of trying to make scones at home, but never got around to it. My perfectionist self also thought I needed a fancy schmancy pan to create nice, perfectly uniform, triangular scones. Then a few weeks ago I was watching Chef Ann Burrell on her Food Network show, Secrets of a Restaurant Chef.
I am not a huge fan of this show, but will watch it from time to time. However, her Cherry Almond Scones piqued my interest because she demonstrated how to form the scone dough and cut it into triangles.
After watching the episode, I hit up the web in search of a scone recipe that would be perfect for fall. I came across several recipes through yahoo, but ended up settling on a Starbucks Pumpkin Scones copycat recipe. Of course I tweaked the recipe because I apparently cannot leave well enough alone.
I did add mini cinnamon chips to the dough which was a scrumptious decision. The end result was terrifically spiced scones full of fall flavors. The texture was amazing and the glaze put them over the top.
Do these compare to the Starbucks scones? I honestly have no idea, but I will definitely be trying one to compare the next time I venture into a Starbucks.
This recipe definitely ranks up in my top 3 fall favorites and I will certainly be making them again in the very near future. These were so good I ate one for dinner! I hope you enjoy them as much as we did.
Have a great day and thanks so much for visiting!
Looking for more fall recipes? Check out more of my Fall favorites and stay tuned this weekend for a yummy Apple Cinnamon Chip Bundt Cake!

Pumpkin Cinnamon Chip Scones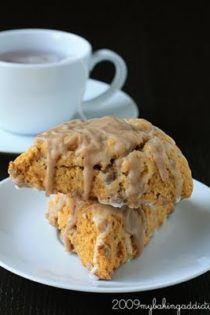 Ingredients:
For the Scones
2 cups all-purpose flour
7 tablespoons sugar
1 tablespoon baking powder
1/2 teaspoon salt
1 teaspoon ground cinnamon
1/4 teaspoon ground nutmeg
1/4 teaspoon ground ginger
6 tablespoons cold butter
1/2 cup canned pumpkin
3 tablespoons half-and-half
1 tsp vanilla paste
1 large egg
1/2 cup mini cinnamon chips
For the Powderered Sugar Glaze
1 cup powdered sugar
1 tablespoon powdered sugar
2 tablespoons whole milk
For the Spiced Glaze
1 cup powdered sugar
3 tablespoons powdered sugar
2 tablespoons whole milk
1/4 teaspoon ground cinnamon
1/8 teaspoon ground nutmeg
1 pinch ginger
1 pinch ground cloves
Directions:
For the Scones
1. Preheat oven to 425°F. Lightly oil a baking sheet or line with parchment paper.
2. Combine flour, sugar, baking powder, salt, and spices in a large bowl. Using a pastry knife, fork, or food processor, cut butter into the dry ingredients until mixture is crumbly and no chunks of butter are obvious. Set aside.
3. In a separate bowl, whisk together pumpkin, half and half, vanilla paste and egg. Fold wet ingredients into dry ingredients and mix in mini cinnamon chips. Form the dough into a ball.
4. Pat out dough onto a lightly floured surface and form it into an 8-inch circle and about 1 inch thick. Use a large knife or a pizza cutter to slice the dough into 8 equal triangular portions. Place on prepared baking sheet.
5. Bake for 14–16 minutes. Scones should begin to turn light brown. Place on wire rack to cool.
For the Powderered Sugar Glaze
1. Mix the powdered sugar and 2 tbsp milk together until smooth.
2. When scones are cool, use a brush to paint plain glaze over the top of each scone.
For the Spiced Glaze
As the plain glaze firms up, make the spiced glaze.
1. Combine the ingredient for the spiced icing together.
2. Drizzle this thicker icing over each scone and allow the icing to dry before serving (at least 1 hour). A squirt bottle works great for this, or you can drizzle with a whisk.
Follow Jamie on Instagram. We love to see what you're baking from MBA! Be sure to tag @jamiemba and use the hashtag #mbarecipes!
[pinit]