These perfect Pumpkin Scones are studded with cinnamon chips and topped with a simple glaze, making for a craveable breakfast or afternoon snack with a cup of coffee.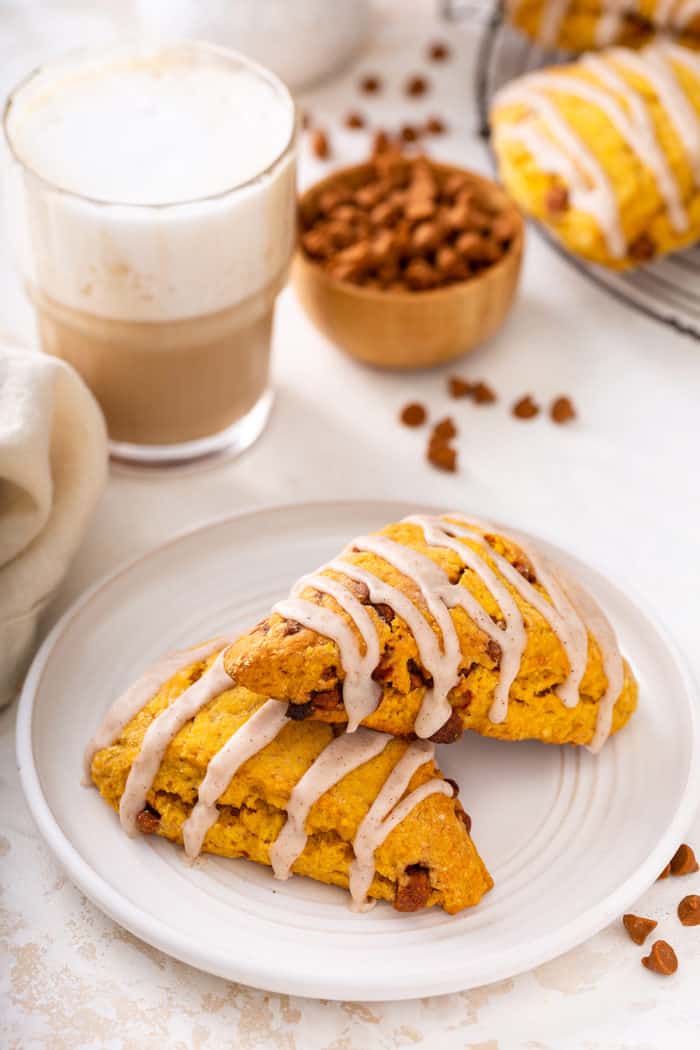 I love scones any time of the year, but especially during the fall.
After all, what's better than cozying up under a blanket with a cup of coffee and a sweet treat? And scones are definitely one of my favorite afternoon sweet treats.
Right now, I'm obsessed with these Pumpkin Scones. They're full of cinnamon chips and plenty of pumpkin pie spice so they taste like fall in every bite!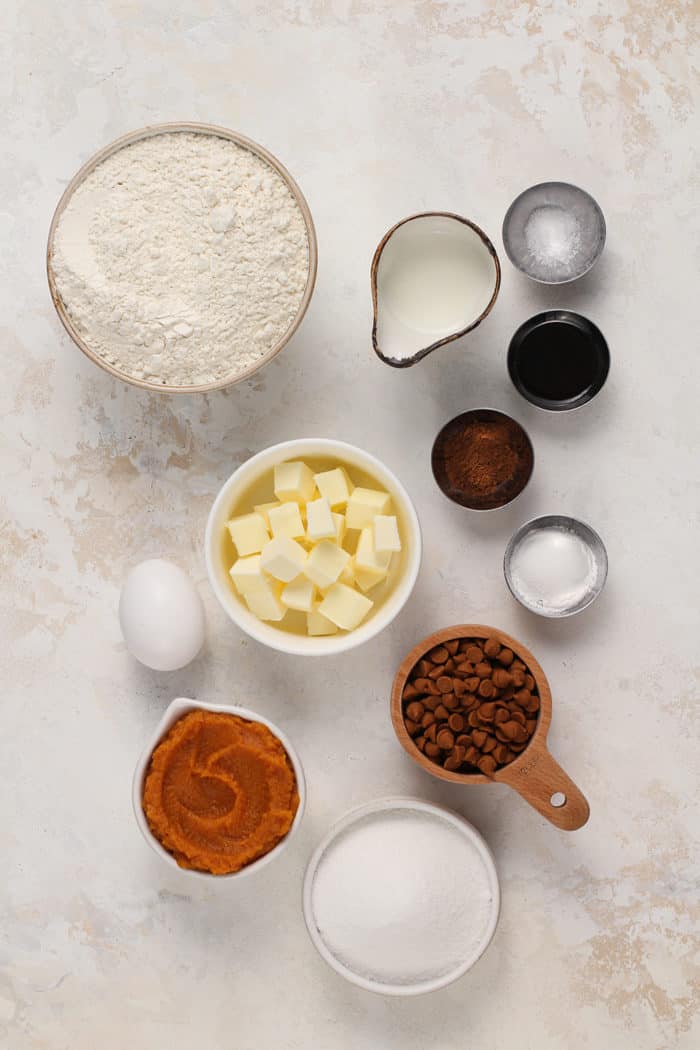 PUMPKIN CINNAMON CHIP SCONES
The first scone I ever had were the Orange Scones from Panera Bread. I immediately fell in love with them.
Since then, I've made Lemon Raspberry Scones, Cranberry Orange Scones, Toffee Almond Scones…I might be a little scone obsessed.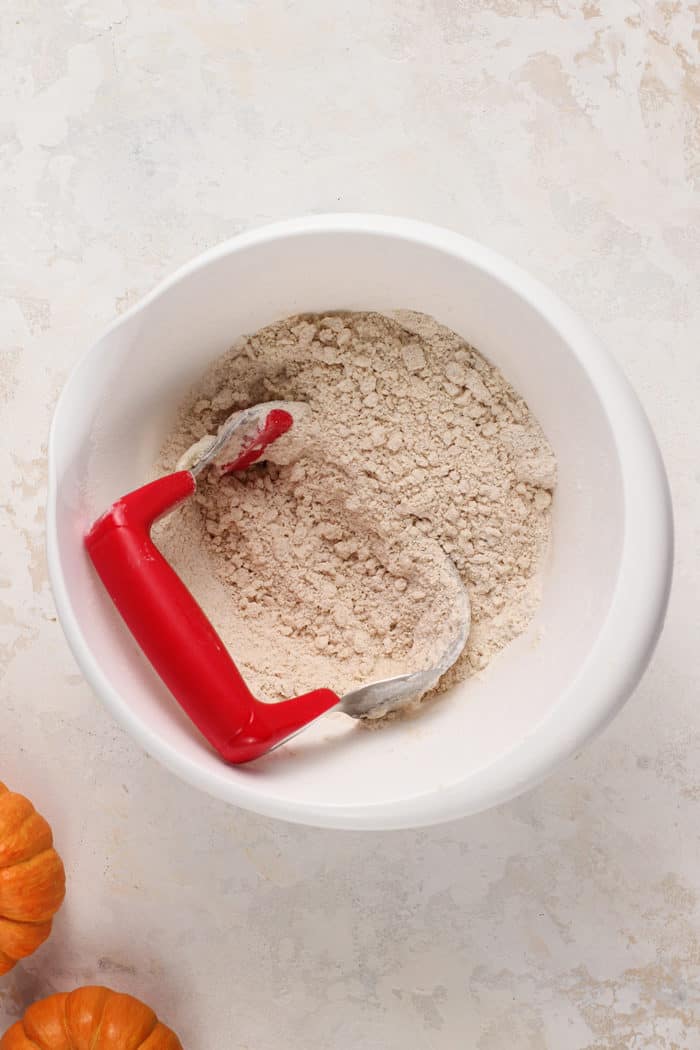 I know that every fall, people lose their minds over the Pumpkin Scones appearing at Starbucks. And while I love a cup of Starbucks coffee as much as the next girl, I actually prefer to make my own versions of some of their treats at home.
Especially the seasonal stuff that you can't get year round! I mean, what good is it to fall in love with a pumpkin scone or sugar plum cheese danish if you can't enjoy it any time?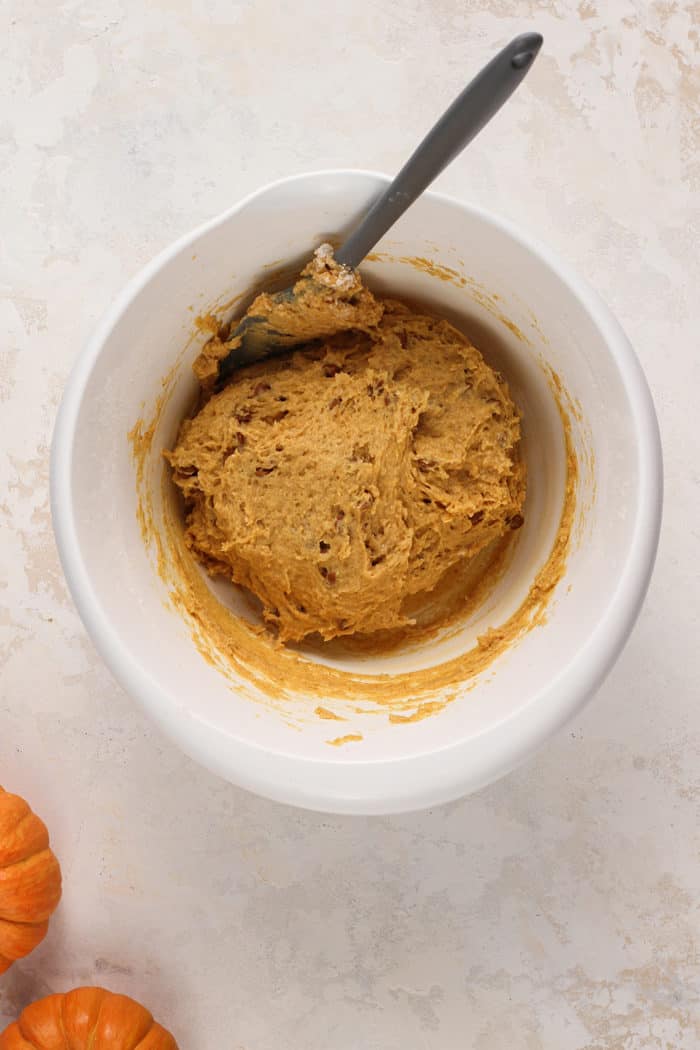 Even though these Pumpkin Scones started out as a Starbucks copycat recipe, I ended up adding my own twist to them because I apparently can't leave well enough alone.
In this case, I couldn't resist adding some cinnamon chips to the dough. Who could blame me? The extra pockets of cinnamon goodness pair so well with the sweet pumpkin and pumpkin pie spice.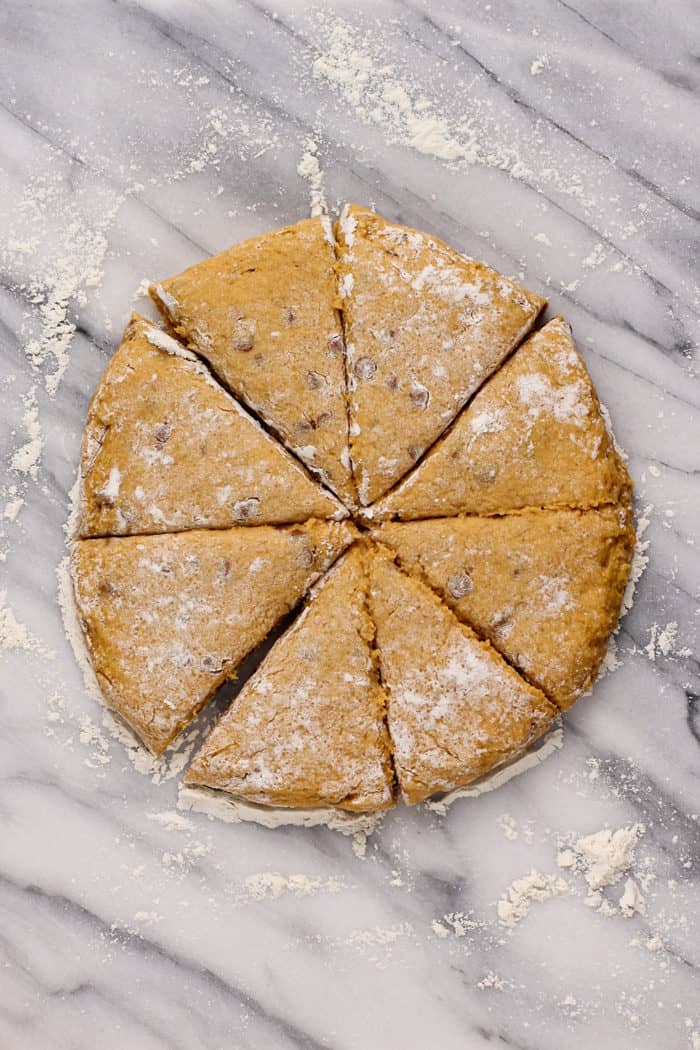 HOW TO MAKE PUMPKIN SCONES
The first time I tried scones, I was sure they had to be hard to make. After all, they sound and look so fancy!
But they're really very simple to make.
Whisk together the dry ingredients in a large bowl. Use a pastry cutter, a fork, or even a food processor to cut cold butter into the dry ingredients until the mixture is crumbly. Set this aside.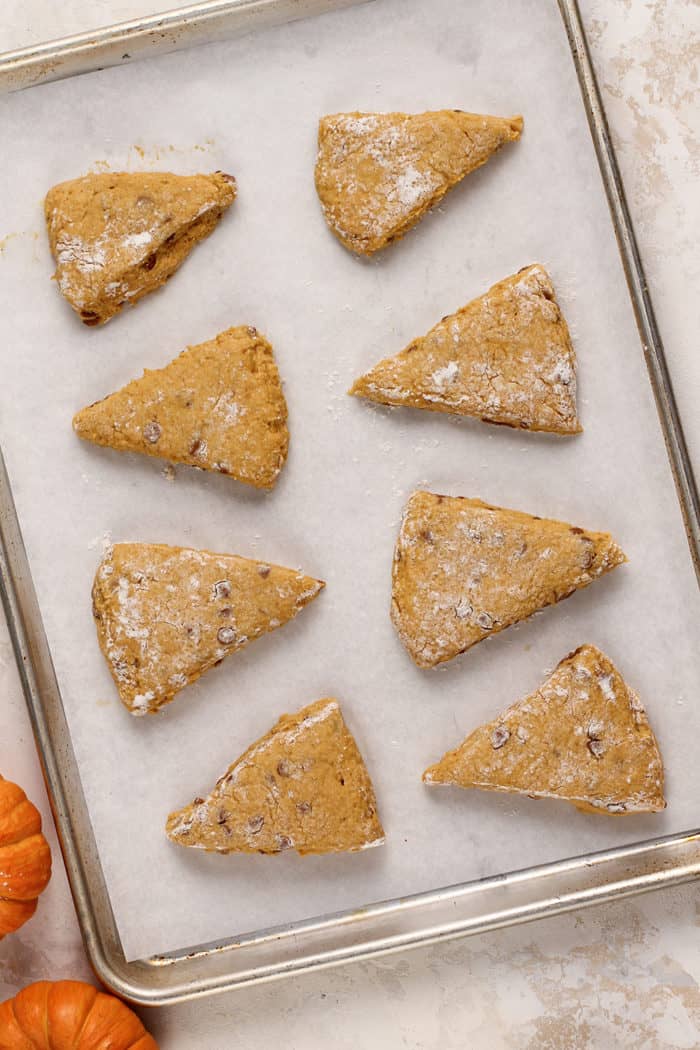 Next, whisk together the wet ingredients. In this case, we're using pumpkin puree, milk, vanilla bean paste, and an egg. Stir the wet ingredients into the dry ingredients and mix in the cinnamon chips.
Use your hands to form the dough into a ball, then pat it out onto a lightly floured surface into an 8-inch circle. The dough will be about 1 inch thick.
Use a large knife or even a pizza cutter to slice the dough into 8 equal triangles. Place these on a lined baking sheet.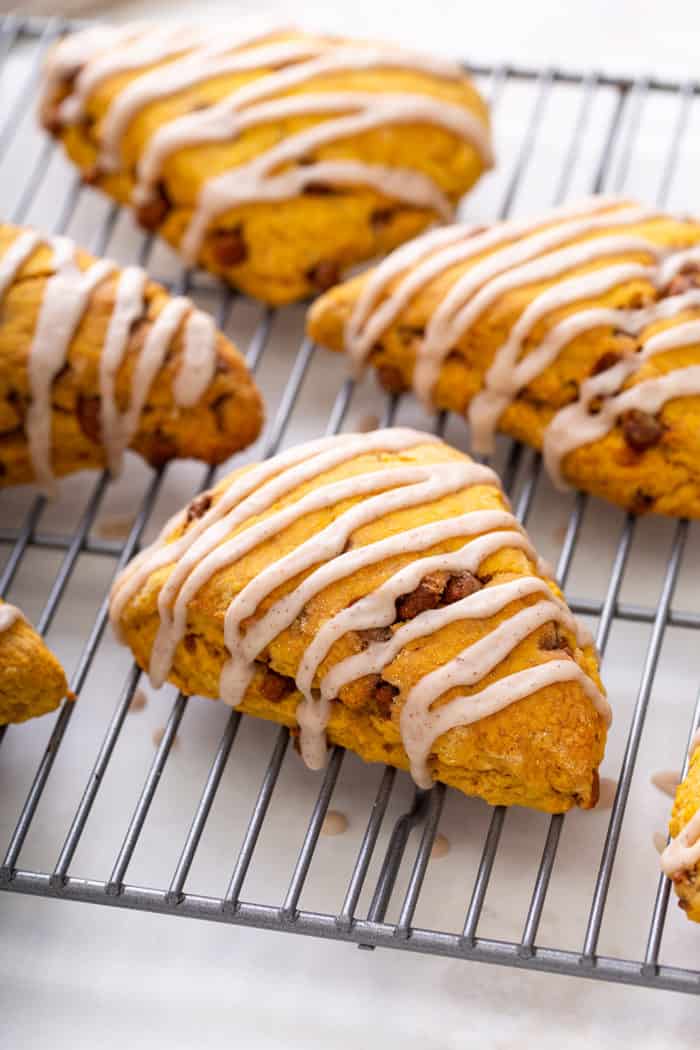 Bake the scones for 14-16 minutes or until lightly browned.
After the scones have cooled on a wire rack, top them with a simple glaze made with:
1 heaping cup powdered sugar
1 ½ to 2 tablespoons whole milk
¼ teaspoon vanilla extract
¼ teaspoon pumpkin pie spice
The bit of pumpkin pie spice in the glaze mimics the flavor in the scones themselves and is the perfect finishing touch!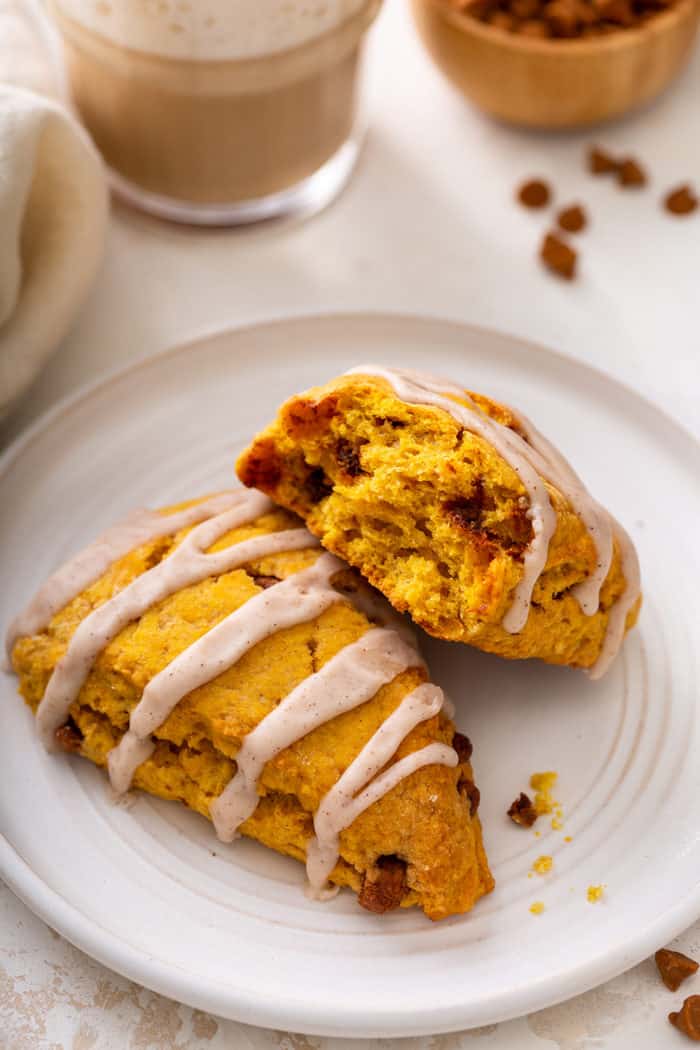 STORING AND FREEZING
Store cooled and glazed scones in an airtight container at room temperature for up to 3 days.
If you'd like to freeze them for later, store them in a freezer-safe container or a zip-top freezer bag for up to 2 months. You can then let them thaw at room temperature or pop them in the microwave for 30-60 seconds before enjoying.