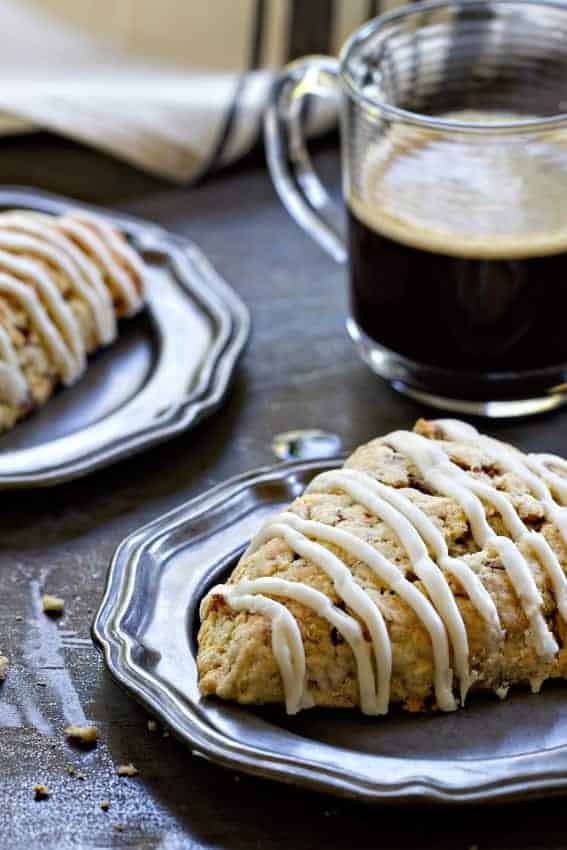 Toffee Almond Scones are rich and buttery, and a wonderfully British way to start your morning. Don't skip that drizzle, it's killer!
This post is compensated recipe development on behalf of BAILEYS® Coffee Creamers. All opinions are 100% my own. Thank you for continuing to support the brands that make My Baking Addiction possible.
Okay, people, it's here. It's finally here! Cardigan and Ugg Boot weather. Though if I'm perfectly honest with you, in my house, it's always Ugg Boot weather. It might be 90 outside, but it's a cool 70 in my house, making cozy slippers and boots a must.
I can't tell you how excited I am to be leaving behind the dog days of summer. While I will miss playing outside at the water table with my babe before long, it's time to bake ALLTHETHINGS.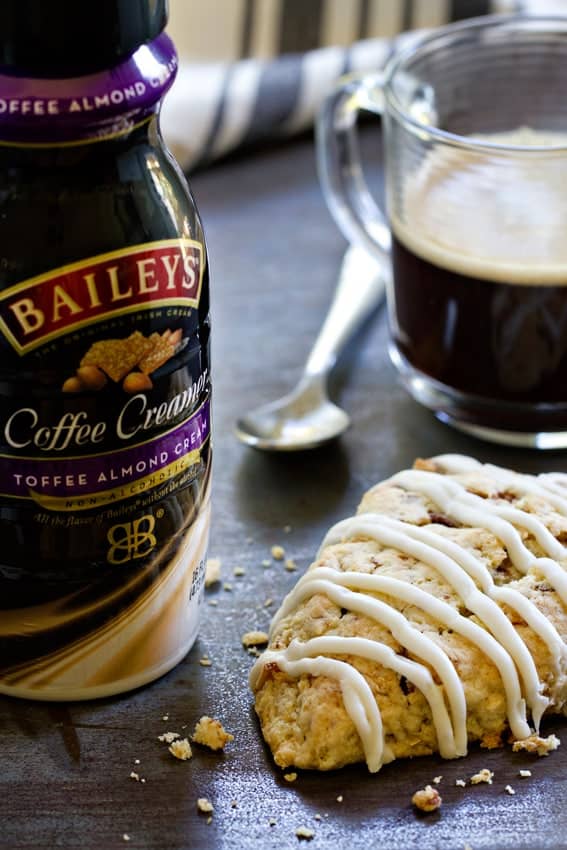 Fall is 100% my jam. It's my favorite season of the year, which anyone perusing the Autumn recipes section of MBA will quickly realize. I make no apologies. I am that basic girl, and I will Pumpkin Spice everything I can get my hands on.
But before we hit the pumpkin spice, I thought we should try an understated cold-weather favorite: Toffee. Buttery toffee is one of my favorite flavors, period. If you put something chocolate in front of me, and something toffee – I'm almost always going to choose the toffee first. That's not to say I won't go back and eat the chocolate thing too, but Toffee first.
It's kind of my rule in life.
And I don't know about you, but as soon as there's a chill in the air, I'm ready to move past toast for breakfast, and straight onto scones. There's just something so comforting about a beautiful wedge of sweet scone paired with my favorite creamy coffee that makes life worth living, people.
These Toffee Almond Scones are made with BAILEYS® Coffee Creamer Toffee Almond Cream and delectable crunchy toffee chocolate bits. Just a little bit of decadence to start your day off with a bang. It's what I do.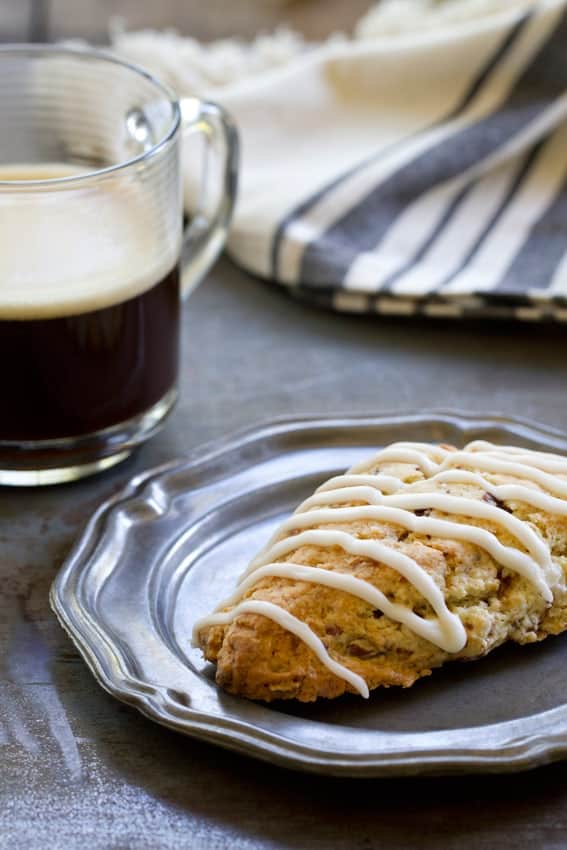 Do you know the trick to make scones easily? Frozen butter. It's all about the frozen butter. And a cheese grater. Say what?!
Scones are one of those things that seem really complicated to make, until you figure out that using frozen butter, grated with a simple cheese grater, into the dry ingredients, works far better than trying to cut in with a pastry cutter or two forks.
Then you add the wet ingredients, mix together until you've got a cohesive dough, and done.
Using BAILEYS® Coffee Creamer Toffee Almond Cream as the creamy component in these scones means you get a lovely, buttery sweet undertone to each bite. The addition of crunchy, chocolate-covered English toffee bits doesn't hurt either.
Then there's the sweet drizzle. I think I've outdone myself with this one, but you'll have to try it for yourself and let me know.
Grab a cup of coffee, add some BAILEYS® Coffee Creamer Toffee Almond Cream, and then dig into these super yum, super easy scones. And enjoy that crisp chill in the air. It's time.
Looking for more delicious scone recipes? Be sure to check out these Glazed Orange Scones and these scrumptious blueberry scones!