Tender blueberry scones flecked with lemon zest create the perfect breakfast treat.
Sunday was my first Mother's Day and I must say, it was pretty much the one of the best days – ever. Eric has a way of going above and beyond, and truly has the ability of making every day seem special. So it's no surprise that holidays with him are perfection.
My day started out with a frosted doughnut and iced vanilla coffee from Dunkin' Doughnuts and ended with a hibachi dinner with my fam and a crunch coat ice cream cone for dessert. I'm telling you – this guy gets me.
After breakfast, I opened my gifts from Elle and Eric. Word on the street is that I am incredibly difficult to buy for; however, somehow Eric is able to wow me time after time with the most thoughtful and unique gifts.
If you read MBA on a regular basis, you may know that Elle's nickname is Bird, or Birdie, or Baby Bird. So he scoured Etsy and found an adorable bird nest with three engraved eggs for my desk. And as though that wasn't cute enough, he purchased a "Mom's Recipe for Love" subway sign for the kitchen. And he even hung it the same day! He's a keeper, I tell ya.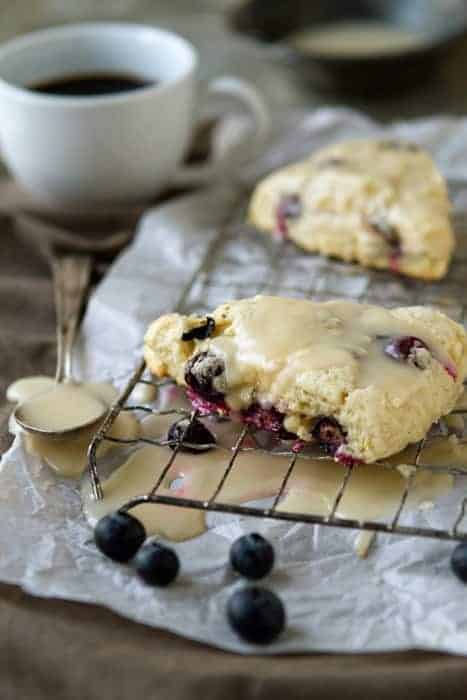 But honestly, no "perfect" day would be complete without some time in the kitchen, baking up something I love. I know it's not for everyone – on Mother's Day, some moms want nothing to do with the kitchen, and that's okay. But this mom truly finds bliss in mixing up a few simple ingredients to become some light and fluffy, ethereal baked good. I never claimed to be sane.
You guys know that I love a good scone. If I have my choice between a scone and a doughnut (even a frosted one from Dunkin'), I'll gladly get down with the scone any day of the week.
I've been making the same scone base for years because to me, it's perfect. One of my favorite things about scones is that they're super customizable. From Glazed Orange Scones and Bacon and Cheddar Scones to these Lemon Blueberry Scones – I'm pretty confidant that you can create a scone with just about anything in your fridge.
Sweet or savory, scones are something you can eat for breakfast, snack with tea, or as dessert at the end of the day. Blueberries are starting to pop up here and there at the market, and I just can't refuse a fresh spring berry. Blueberries and lemon are pretty much one of the happiest marriages in baking land, and combined in a scone they are completely irresistible!
These blueberry scones are a way to show Mom or Dad, Boyfriend or Girlfriend, Wife or Husband, just how much you care. Sure, Mother's Day is one day a year. But I prefer to show my love through food even on the random Tuesdays. And that's what these scones are about. You just have to make them!
Blueberry Scones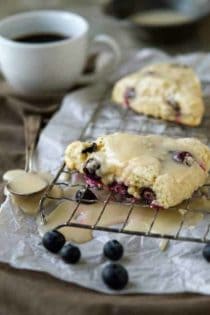 Ingredients:
For the Scones
1/3 cup sugar
zest of two medium lemons
2 cups all-purpose flour
1 teaspoon baking powder
1/4 teaspoon baking soda
1/2 teaspoon salt
8 tablespoons unsalted butter, frozen
1/2 cup sour cream
1 large egg
1 cup fresh/frozen blueberries
For the Glaze
3 tablespoons unsalted butter; melted
1 cup confectioners' sugar; sifted
1/2 teaspoon pure vanilla extract
2 tablespoons freshly squeezed lemon juice
Directions:
Adjust oven rack to lower-middle position and preheat oven to 400°F. Line a baking sheet with parchment paper.
In a medium bowl, combine sugar and lemon zest; mix with your fingertips until the sugar is moistened and fragrant. Add in the flour, baking powder, baking soda and salt and mix until combined.
Grate butter into flour mixture on the large holes of a box grater; use your fingers to work in the butter until the mixture resembles coarse meal.
In a small bowl, whisk the sour cream and egg until smooth.
Using a fork, stir sour cream mixture into flour mixture until large dough clumps form. Add in blueberries. Use your hands to press the dough against the bowl into a ball. The dough will be sticky first, but as you press, the dough will come together.
Place on a lightly floured surface and pat into a 7-inch circle about 3/4-inch thick. Use a sharp knife to cut into 8 triangles; place on prepared baking sheet, about 1 inch apart. Bake until golden, about 15 to 17 minutes. Cool for 10 minutes and prepare the glaze.
In a medium bowl, prepare the glaze by mixing together the melted butter, confectioners' sugar, vanilla and lemon juice. Whisk until smooth. Dip the top of the scones into the glaze and allow the glaze to harden. At this point, you can leave them as is or go for the double dip. I glazed my scones twice.
Notes:
Scones store well in an airtight container for up to two days.
My Baking Addiction adapted from All Recipes.
All images and text ©
Follow Jamie on Instagram. We love to see what you're baking from MBA! Be sure to tag @jamiemba and use the hashtag #mbarecipes!