Bacon and Cheddar Scones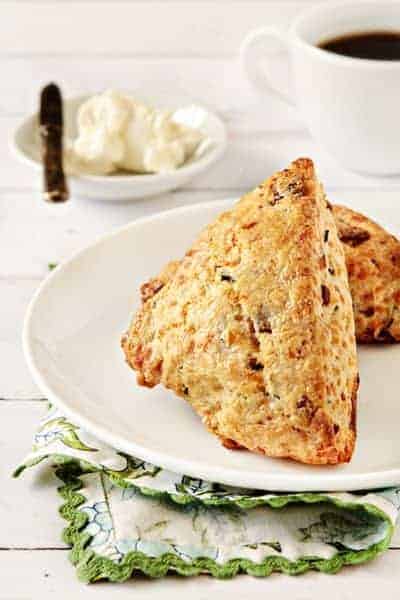 Breakfast. It's really never been my thing. Now don't get me wrong, I love Belgian Waffles, home fries, and biscuits as much as I like cheesecake, but I've never been an early morning eater. In fact, I'm not a morning person at all – Brian will tell you that you probably shouldn't even try to look me in the eye until around 10 a.m. Oh, and I'm definitely not a morning talker – so as you've probably assumed, I don't get invited to breakfast very often.
I prefer to start my day with a latte and nothing more. My appetite rolls in around mid-morning. That also happens to be the same time that I actually seek out human interaction. During the week, my breakfast typically includes hard boiled egg whites, cottage cheese or an apple with crunchy peanut butter. Clearly weekdays equal me being pretty boring, in regards to the first meal of the day and beyond.
Weekends, however, are another matter entirely. Brunch is a meal I can get behind wholeheartedly. I get to sleep in, I get copious amounts of bacon…what's not to love?
I came across two savory scone recipes last week and took it as a sign that they should be on this past weekend's brunch menu. Bacon and Cheddar Scones totally personified Sunday morning this week. Savory, crunchy, just a little bit sinful and indulgent – they are perfect for sharing with family and friends on a lazy weekend day. In fact, I have plans to make these again just for my bacon-loving dad very soon. You guys know I don't repeat recipes, so I hope you know that these scones are pretty darn spectacular!
[pinit]

Bacon and Cheddar Scones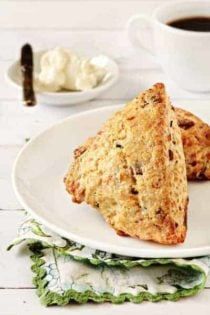 Ingredients:
2 cups all-purpose flour

1 teaspoon baking powder

1/4 teaspoon baking soda

1/2 teaspoon salt

8 tablespoons unsalted butter, frozen

1/2 cup sour cream

1 large egg

1 cup shredded cheddar cheese

1/2 pound bacon, cooked, cooled, and chopped

2 tablespoons finely chopped chives

1/4 cup heavy cream
Directions:
1. Adjust oven rack to lower-middle position and preheat oven to 400 degrees. Line a baking sheet with parchment paper.
2. In a medium bowl, mix flour, baking powder, baking soda and salt. Using the large holes of a box grater, grate the frozen butter into flour mixture. Use the tips of your fingers to work in the butter (the dough will be crumbly).
3. In a small bowl, whisk the sour cream and egg until smooth.
4. Using a fork, stir sour cream mixture into flour mixture until large dough clumps form. Stir in the cheese, bacon and chives until they are well incorporated into the dough.
5. Use your hands to press the dough against the bowl into a ball. At first it may seem like there isn't enough liquid, but as you press, the dough will come together.
6. Place the dough on a lightly floured surface and pat into a 7-inch disk about 3/4-inch thick. Use a sharp knife to cut the dough into 8 triangles; place the scones onto prepared baking sheet. Use a pastry brush to lightly brush the tops of the scones with heavy cream, this will help you achieve a nice golden brown color. Bake until golden, about 15 to 17 minutes. Cool for 5 minutes and serve warm or at room temperature.
Notes:
- If you really want to take these to the next level, slice a scone in half and top each half with a fried egg.

- These scones are best served the day they are made.
Follow Jamie on Instagram. We love to see what you're baking from MBA! Be sure to tag @jamiemba and use the hashtag #mbarecipes!
This post may contain affiliate links. We are a participant in the Amazon Services LLC Associates Program, an affiliate advertising program designed to provide a means for us to earn fees by linking to Amazon.com and affiliated sites.