Bacon and Cheddar Scones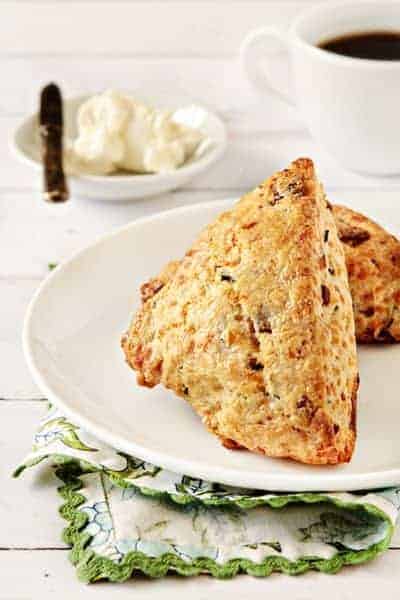 Breakfast. It's really never been my thing. Now don't get me wrong, I love Belgian Waffles, home fries, and biscuits as much as I like cheesecake, but I've never been an early morning eater. In fact, I'm not a morning person at all – Brian will tell you that you probably shouldn't even try to look me in the eye until around 10 a.m. Oh, and I'm definitely not a morning talker – so as you've probably assumed, I don't get invited to breakfast very often.
I prefer to start my day with a latte and nothing more. My appetite rolls in around mid-morning. That also happens to be the same time that I actually seek out human interaction. During the week, my breakfast typically includes hard boiled egg whites, cottage cheese or an apple with crunchy peanut butter. Clearly weekdays equal me being pretty boring, in regards to the first meal of the day and beyond.
Weekends, however, are another matter entirely. Brunch is a meal I can get behind wholeheartedly. I get to sleep in, I get copious amounts of bacon…what's not to love?
I came across two savory scone recipes last week and took it as a sign that they should be on this past weekend's brunch menu. Bacon and Cheddar Scones totally personified Sunday morning this week. Savory, crunchy, just a little bit sinful and indulgent – they are perfect for sharing with family and friends on a lazy weekend day. In fact, I have plans to make these again just for my bacon-loving dad very soon. You guys know I don't repeat recipes, so I hope you know that these scones are pretty darn spectacular!
[pinit]

This post may contain affiliate links. We are a participant in the Amazon Services LLC Associates Program, an affiliate advertising program designed to provide a means for us to earn fees by linking to Amazon.com and affiliated sites.