Gluten-Free Blueberry Scones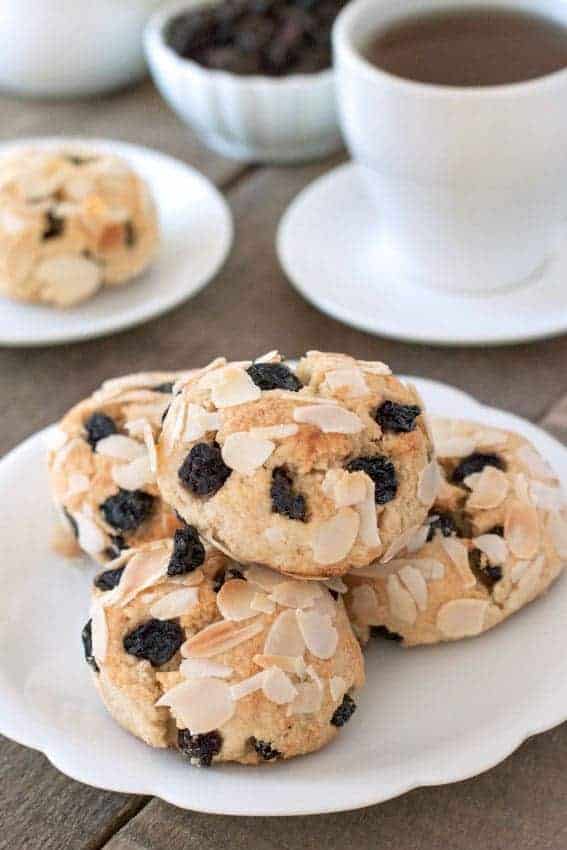 These quick and easy gluten-free blueberry scones can be made with fresh or dried blueberries and are easily adaptable. They're perfect for breakfast or an afternoon snack.
One thing I really like about gluten-free baking is that sometimes it's actually easier than traditional baking! As much as I love regular scones, it seems like I always overwork the dough, resulting in tough scones, or I add too much liquid making them muffin-like.
Neither of those issues comes into play with these gluten-free blueberry scones. There's no butter (or any added fat!) in the recipe for you to overwork and there's also no milk or cream that you need to be judicious about. I cringe whenever I see that I'm supposed to add "just enough" liquid so that the dough comes together because, honestly, I have no idea when that is.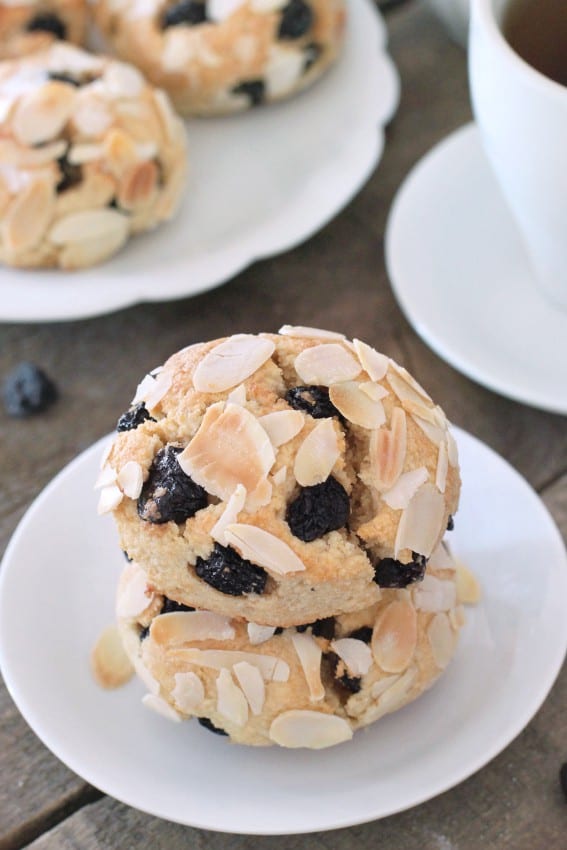 That said, these gluten-free scones don't have the same texture as a regular scone made with all-purpose flour. If that's what you're looking for, try Jamie's blueberry scones or my whole grain chocolate orange scones. These blueberry scones aren't buttery or flaky in the traditional sense but they have a lovely texture with a nicely browned crust.
It's a great base recipe which you can play around with to suit the season or whatever you're craving at the moment. It's almond flour based with a little coconut flour thrown in to improve the texture, but you can't really taste a strong almond or coconut flavor. You'll definitely want to add in some extracts or zests to liven them up! If making a lemon version, I recommend adding about two teaspoons of zest for added lemony goodness. Lime zest would also make for a fun variation.
This recipe calls for dried blueberries but fresh blueberries work just as well. I loved the chewy bits of dried blueberries, but if you're looking for juicy – go with fresh blueberries! Just be extremely careful when adding them to the scone dough so that they don't break.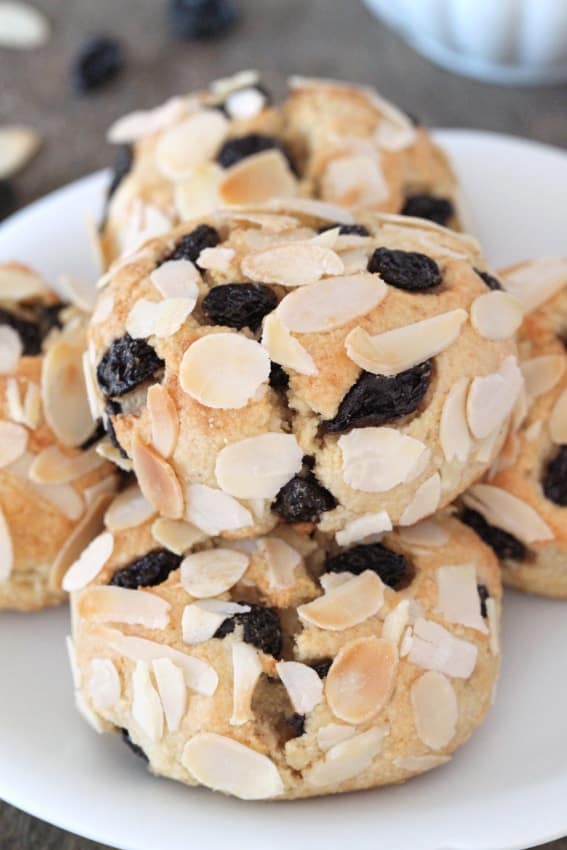 I rolled the scones in flaked almonds to make them a little prettier. Coarse sugar is another great option that adds a little extra crunch as well as sweetness.
It's important to note that there aren't any subs for the almond and coconut flours. If you don't have those on hand, this gluten-free granola makes for an awesome breakfast!
Gluten-Free Blueberry Scones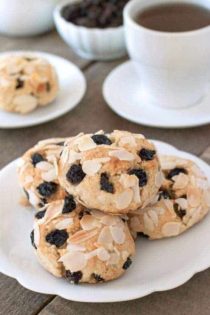 Ingredients:
2 large eggs, room temperature
3 tablespoons maple syrup
3/4 teaspoon lemon extract
1/2 teaspoon vanilla extract
3 cups (300 grams) blanched almond flour
1 tablespoon coconut flour
1 tablespoon granulated sugar
1/2 teaspoon baking soda
1/2 teaspoon baking powder
1/4 teaspoon salt
1/2 cup dried blueberries
1/3 cup flaked almonds or 2-3 tablespoons coarse sugar, optionalNote: If you need these to be gluten-free, make sure all your products are certified gluten-free.
Directions:
Preheat oven to 350 °F and line a baking sheet with a piece of parchment paper.
In a medium mixing bowl, stir together the eggs, maple syrup, lemon extract, and vanilla extract. Set aside.
In another medium mixing bowl, stir together the blanched almond flour, coconut flour, sugar, baking soda, baking powder and salt.
Stir the dry mixture into the wet until well combined but do not over mix.
Fold in the dried blueberries.
Form discs of dough approximately 2″ wide and 1″ high.
If using, place the flaked almonds on a small plate and roll the tops and sides of the discs in the almonds. Alternatively, sprinkle the tops of the scones with coarse sugar.
Place the scones 2″ apart on the prepared baking sheet and bake for 15-17 minutes or until the outside of the scones are firm and lightly browned.
Let cool for 2 minutes on the baking sheet and then remove to a wire rack to cool completely.
Store in an airtight container for up to 2 days. They'll become a little moister the longer they sit.
Follow Jamie on Instagram. We love to see what you're baking from MBA! Be sure to tag @jamiemba and use the hashtag #mbarecipes!
This post may contain affiliate links. We are a participant in the Amazon Services LLC Associates Program, an affiliate advertising program designed to provide a means for us to earn fees by linking to Amazon.com and affiliated sites.