Vanilla bean scones are simple to make but packed with flavor. Whip up these scones for a special brunch or afternoon treat any time!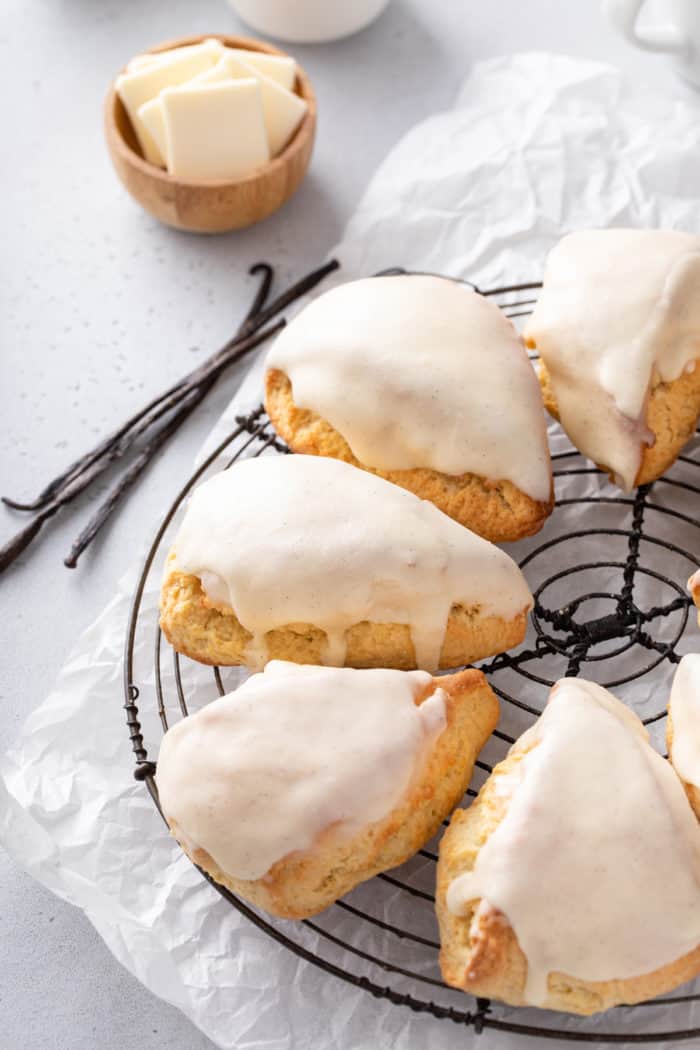 This post contains affiliate links.
I have been smitten with scones from the first time I ate one. They're one of my favorite treats to pick up at the coffee shop and have become one of my favorite breakfasts or afternoon snacks to make.
I like that you can make scones with so many different ingredients – sour cream, buttermilk, heavy cream, and even yogurt.
Take these Vanilla Bean Scones. I used vanilla yogurt to give them even more flavor, and I am so glad I did.
We could not stop eating them – fresh out of the oven they smelled divine. Once cooled, I topped them with a smooth vanilla glaze – vanilla overdrive, friends. And it is SO good.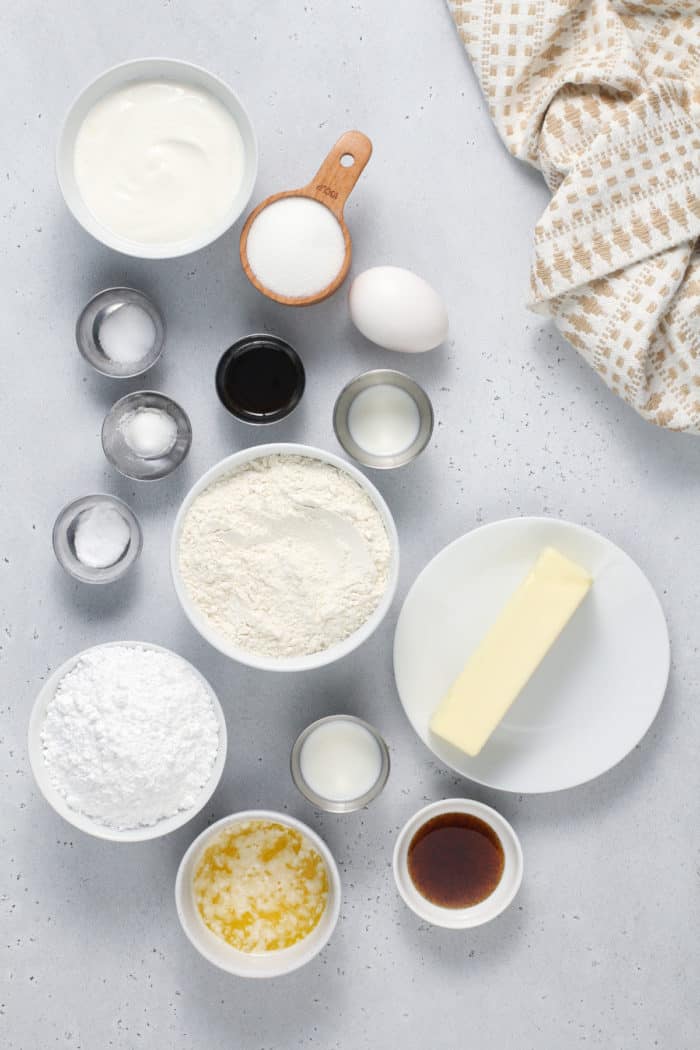 COPYCAT STARBUCKS VANILLA BEAN SCONES
Like a lot of people, I certainly have a habit of visiting the Starbucks drive thru a couple of times a week. Sometimes I just need a "me" moment, and sometimes I just really need some caffeine to make it from school pickup to karate practice or piano lessons and back home again.
Even though sometimes I give in and get myself a pastry to go with my drink, I can usually refrain when I remember: I'm a baking blogger. Surely I can make a copycat version at home.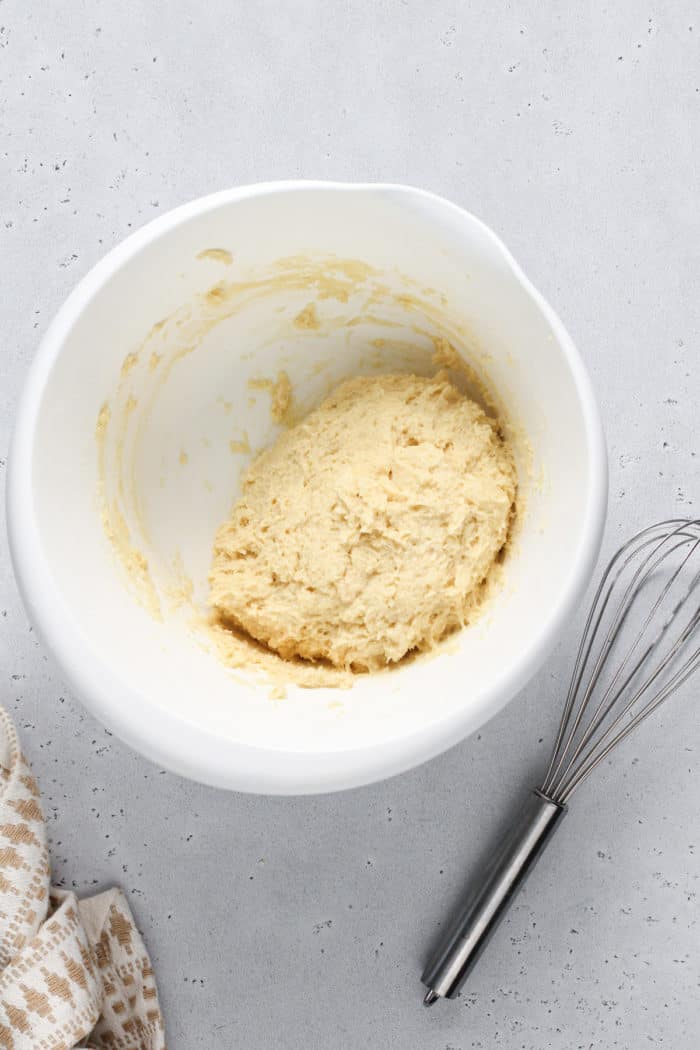 My Cranberry Bliss Bars are one of my favorite Starbucks copycat recipes, especially since they aren't available in stores year round.
I will sometimes even make myself some vanilla coffee syrup to recreate my favorite lattes at home.
And these scones are perfect for anyone who loves those cute petite vanilla bean scones they carry. Except you can make them any size you want – and you know I always opt for a full-size scone!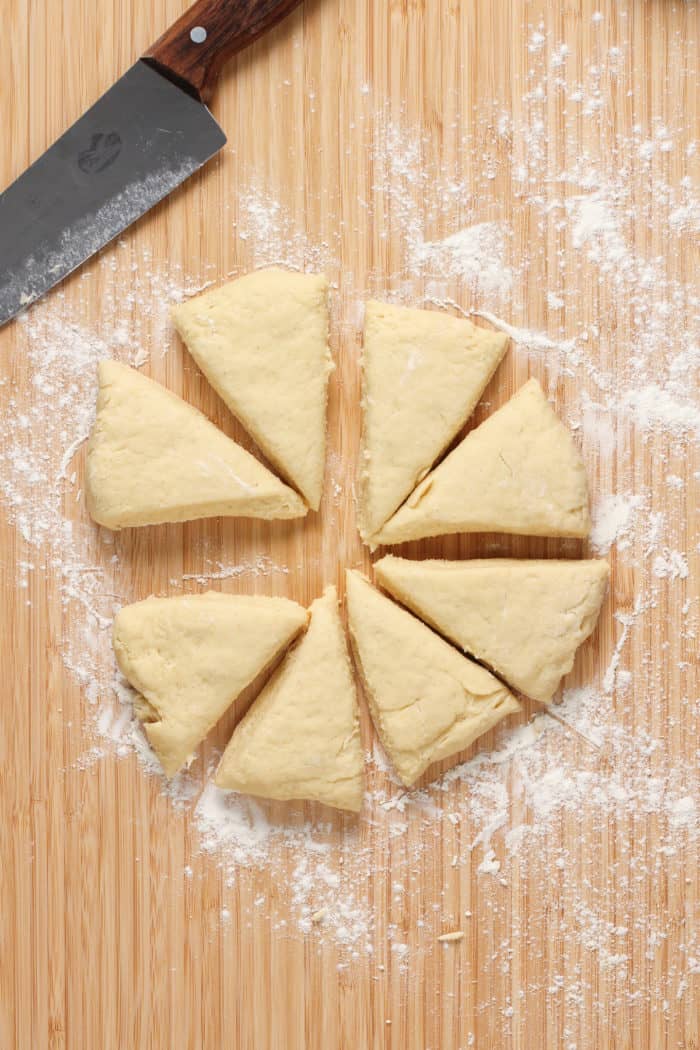 HOW TO MAKE VANILLA BEAN SCONES
If you've made my orange scones or blueberry scones, then you'll be pretty familiar with my favorite way to make scones.
Ingredients you'll need
These Vanilla Bean Scones are light, fluffy, and heavenly with vanilla flavor. The ingredients are simple:
1/3 cup sugar
2 cups all-purpose flour
1 teaspoon baking powder
1/4 teaspoon baking soda
1/2 teaspoon salt
8 tablespoons unsalted butter, frozen
1 5.3-ounce container vanilla yogurt
1 large egg
1 tablespoon milk
1 teaspoon vanilla bean paste or pure vanilla extract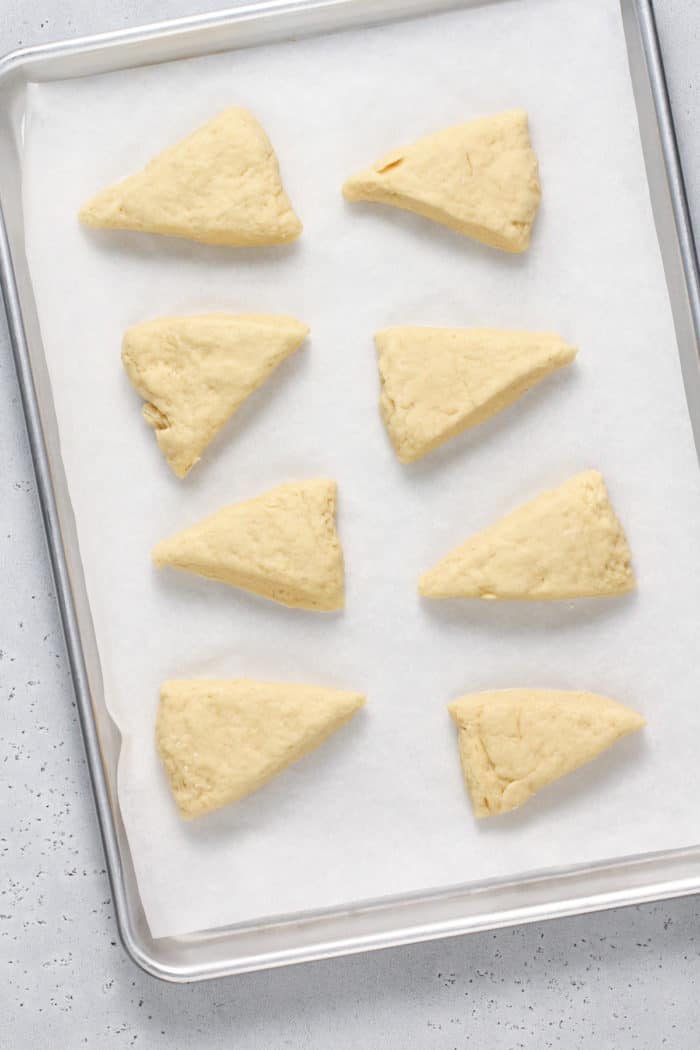 To really get that vanilla flavor to shine through, I like to use vanilla in 3 ways here. I use vanilla yogurt in the scones (grab a vanilla bean yogurt if you can find it) along with vanilla bean paste.
I also add vanilla bean paste to the simple glaze that goes on top of the scones after they cool.
If you don't have vanilla bean paste, you can always use vanilla extract instead. But the paste is so flavorful and gives us those beautiful vanilla specs in the scones and the glaze!
(Psst! Make sure that you have brushed up on how to measure flour so your scones turn out great every time!)
Tools you'll need
I bet you already have the equipment you'll need to make these scones:
Mixing bowl
Measuring cups and spoons
Box grater
Baking sheet and parchment paper
You can also use a silicone baking mat in place of the parchment paper if you like.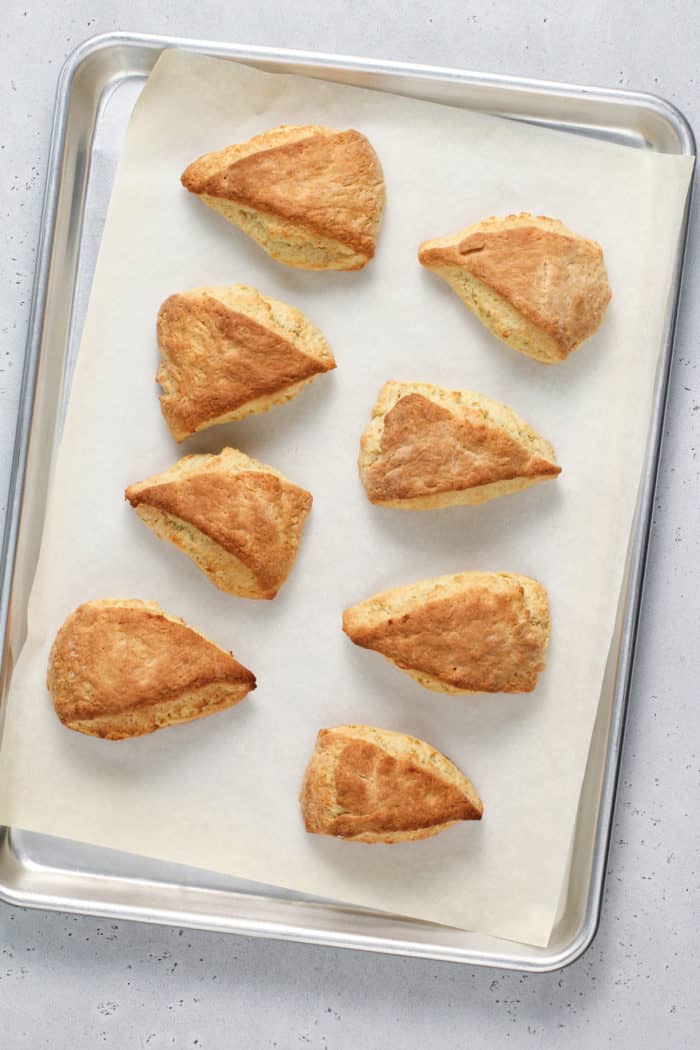 Making this recipe
Get started by whisking together the sugar, flour, baking powder, baking soda, and salt in a mixing bowl.
Use your box grater to grate the frozen butter into the dry ingredients, then use your fingers to work the butter into the flour until it resembles a coarse meal.
If you can't grate the butter, you can add the dry ingredients into a food processor, then cut the butter into pieces and add it in. Pulse the food processor until the mixture resembles coarse meal, then transfer it to a bowl and continue with the recipe.
Whisk together the yogurt, egg, milk, and vanilla bean paste, then stir this into the flour mixture with a fork until large dough clumps form.
Now it's time to use your hands to gently press the dough into a ball. Doing this in the bowl is helpful because you can use the walls of the bowl to help you out.
Place the dough onto a floured surface and cut it into 8 triangles. If you'd like to make mini scones, you could pat it into a rectangle and cut 16 smaller triangles instead.
Put the scones on a lined baking sheet and bake for 15-17 minutes, or until golden.
Once they have cooled for about 10 minutes, whisk together the glaze and dip the tops of the scones.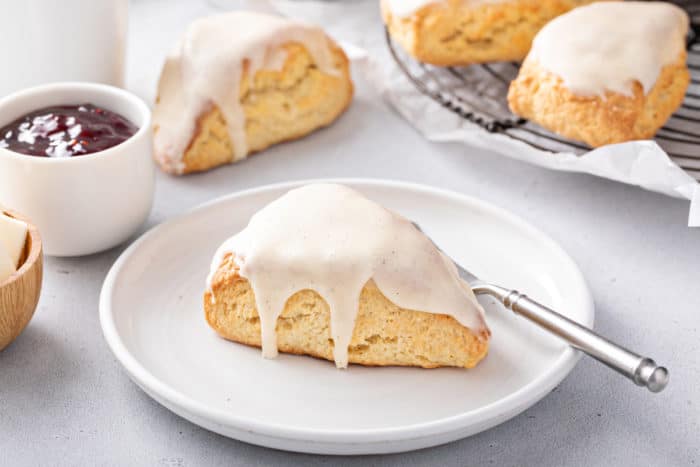 STORAGE AND FREEZING TIPS
Keep any leftover scones in an airtight container at room temperature for up to 3 days. I actually prefer them on the 2nd or 3rd day – I think the vanilla flavor just gets deeper and more fragrant, although they will get a bit moist on top from the glaze.
Freezing scones
You can freeze your after baking them – place them in an airtight zip-top bag and freeze for up to a month. But the best way to freeze these Vanilla Bean Scones is before they are baked!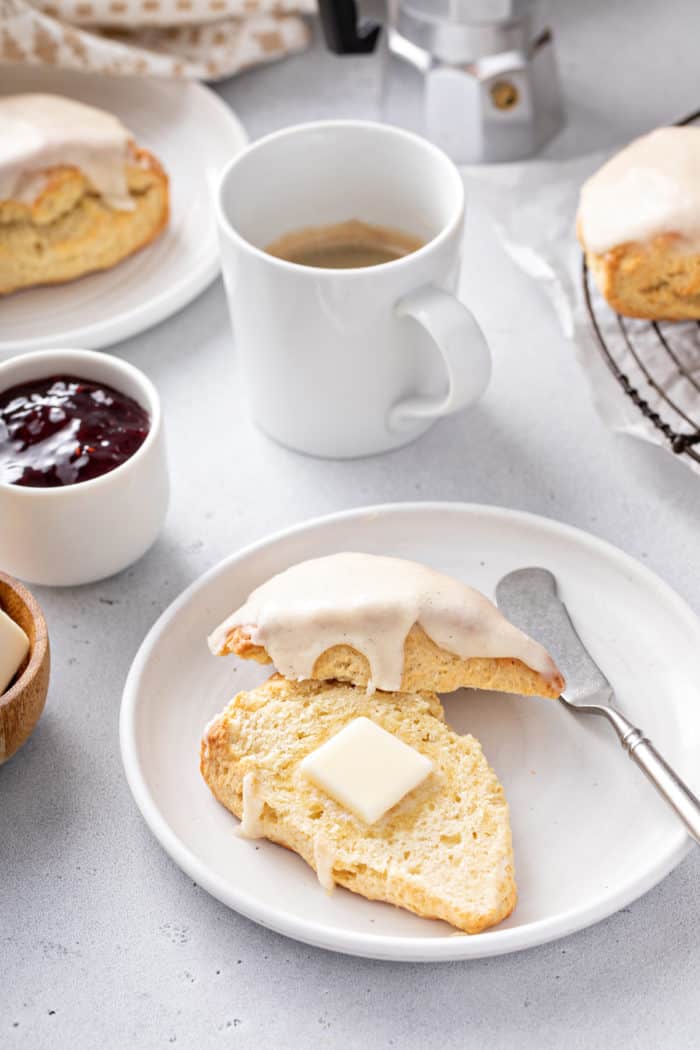 Prepare the scones up to cutting them into triangles. Place the scones on a lined baking sheet and place the baking sheet in the freezer for 1-2 hours, until the scones are pretty much frozen solid.
Put the frozen scones in an airtight container or zip-top bag (wrapping them each in plastic wrap is a good idea as well) and freeze for no more than a month.
When you're ready to bake, place as many scones as you'd like on a lined baking sheet while your oven preheats. Bake according to the recipe instructions, adding 1-2 minutes if necessary.
Glaze and enjoy having a fresh scone at a moment's notice!