Glazed vanilla bean scones make an inspired and easy breakfast. Enjoy them on Sunday freshly baked, and as a treat the rest of the week too!
This is a sponsored post on behalf of TapInfluence and Yulu Yogurt. Thank you for continuing to support brands that help make My Baking Addiction possible.
Here we are, you guys. A brand new year. 2015! How is that even a real thing? I mean, this is the year Marty McFly went to in Back to the Future 2. Where the heck is my hoverboard?
I don't have a hoverboard, but what I do have is an unerring need to bake. I know, it's the new year and we're supposed to be all healthy healthy blah blah blah, yoga, pilates, work your core, etc. And I'm there with you, I really am. I'm all about maintaining balance and staying healthy, especially for our little girl.
But Mama also loves to bake, and the two don't have to be mutually exclusive. Especially when you can plan your recipe around fresh, quality ingredients.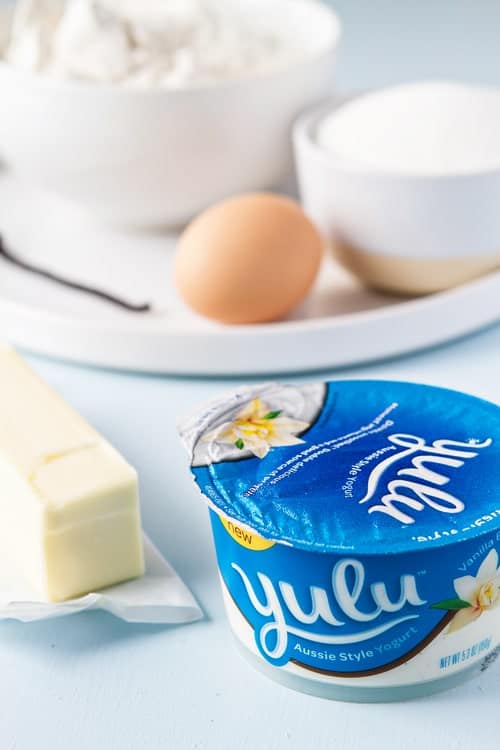 Take these Glazed Vanilla Bean Scones. You can make scones with a lot of different things – sour cream, buttermilk, heavy cream, and even yogurt. I got the chance to try Yulu Aussie-style Yogurt before it hit shelves, and boy oh boy was I surprised at how much I loved it.
Have you ever tried Aussie-style yogurt? You guys – I'm obsessed. Aussie-style yogurt has as much protein as Greek yogurt – a whopping 9 grams – but it's extra creamy.
Yulu Aussie-style Yogurt uses a process that smoothes the yogurt twice, and oh my gosh – it feels like a breakfast of true decadence, without the actual decadence. Oh, and don't let Aussie-style make you think this is some fine fancy imported food. It's not. It's just fine fancy food made here in the good ol' USA.
After enjoying several different flavors of Yulu Aussie-style yogurt with a bit of granola and fresh fruit as our breakfast, Eric and I decided it was time to try our hands at baking with Yulu, and we were not disappointed.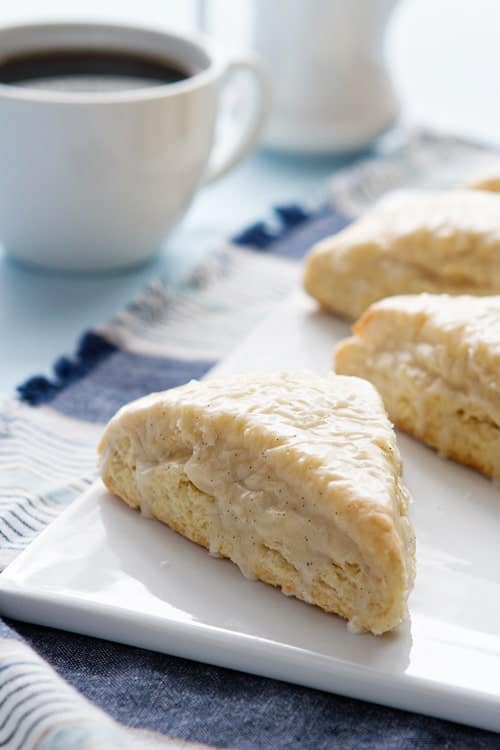 These Glazed Vanilla Bean Scones are light, fluffy, and heavenly with vanilla flavor. The ingredients are simple. Yulu only uses ingredients you can pronounce, like milk, sugar, and vanilla. Really! That's it. But this yogurt is like nothing you've ever tasted before, and you guys – you've GOT to try it.
I loved adding Yulu Vanilla Bean Yogurt to these scones, because I knew going in that these honest ingredients would only make this scone recipe shine, and I was right. We could not stop eating them – fresh out of the oven they smelled divine. Once cooled, I topped them with a smooth vanilla glaze – vanilla overdrive, friends. And it is SO good.
These scones are fantastic on the day they're made – and are even delicious crumbled over the top of your favorite Yulu Aussie yogurt. In my opinion, though, they're even better the second day and third day, so long as they're kept in an airtight container. The vanilla flavor just gets deeper and more fragrant, making this a perfect breakfast to enjoy on your morning commute.
I don't know about you, but my 2015 resolutions include baking more good stuff, just like these Glazed Vanilla Bean Scones!
This is a sponsored conversation written by me on behalf of Yulu. The opinions and text are all mine.