Sheet Pan Pancakes are the best way to make pancakes for a crowd! Bake your pancake batter in a sheet pan and add as many toppings as you like to please the whole family.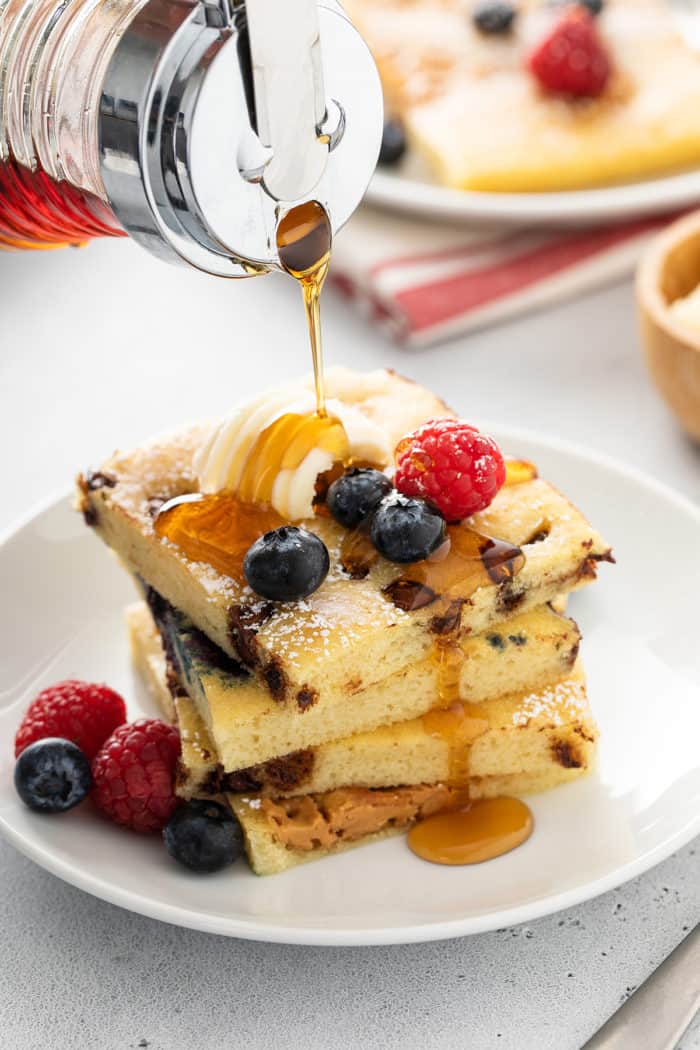 This post contains affiliate links.
I have a bit of a love-hate relationship with making pancakes.
Sometimes it's kind of relaxing to stand in front of the stove pouring and flipping pancakes on a weekend morning. But sometimes I find myself getting bored or getting distracted while the pancakes cook.
Burnt pancakes are not it, okay?
On the days when I don't feel like flipping a bunch of pancakes or when I'm trying to feed pancakes to a crowd, these sheet pan pancakes are a total win.
No standing in front of the stove and a whole batch of pancakes cooked in 10 minutes? I'm in.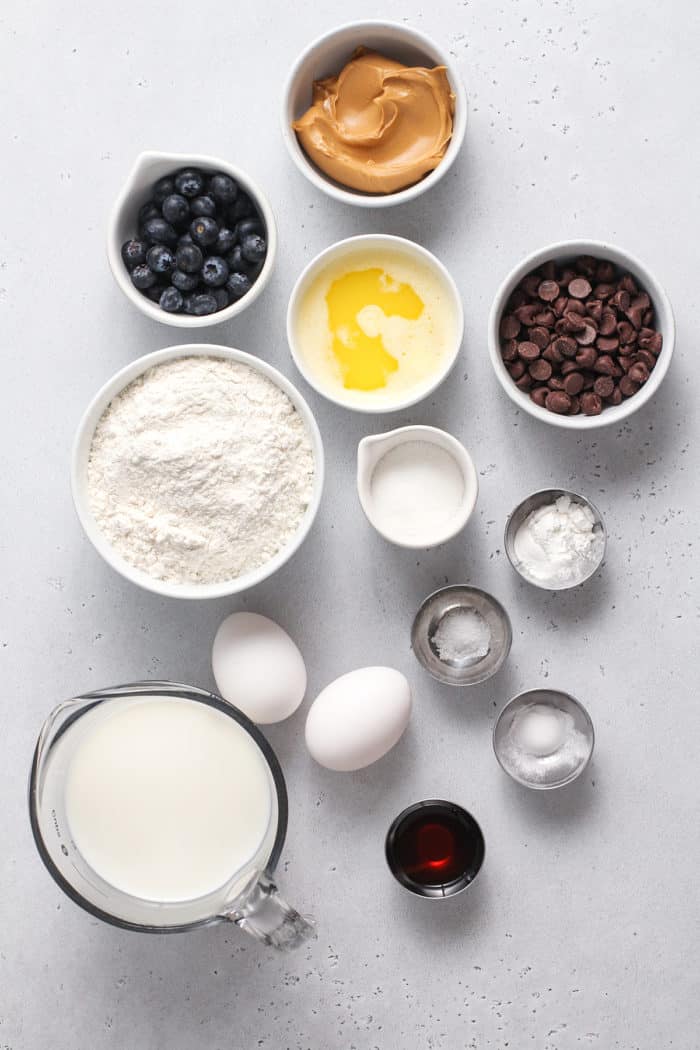 WHAT ARE SHEET PAN PANCAKES?
Have you ever made pancakes for the whole family and spent more time in front of the stove flipping pancakes than actually eating with your family?
Yeah. I know how that feels.
I don't know whose idea it was to make the first sheet pan pancakes, but they are genius and solve the whole pancake-flipping problem.
Sheet pan pancakes are exactly what they sound like: pancakes that have been baked in a sheet pan. Once baked, they're cut into individual pancakes for serving.
Because of the size of the sheet pan, the pancakes you get at the end are almost exactly the same height as pancakes cooked on the stove. They're just squares or rectangles instead of circles!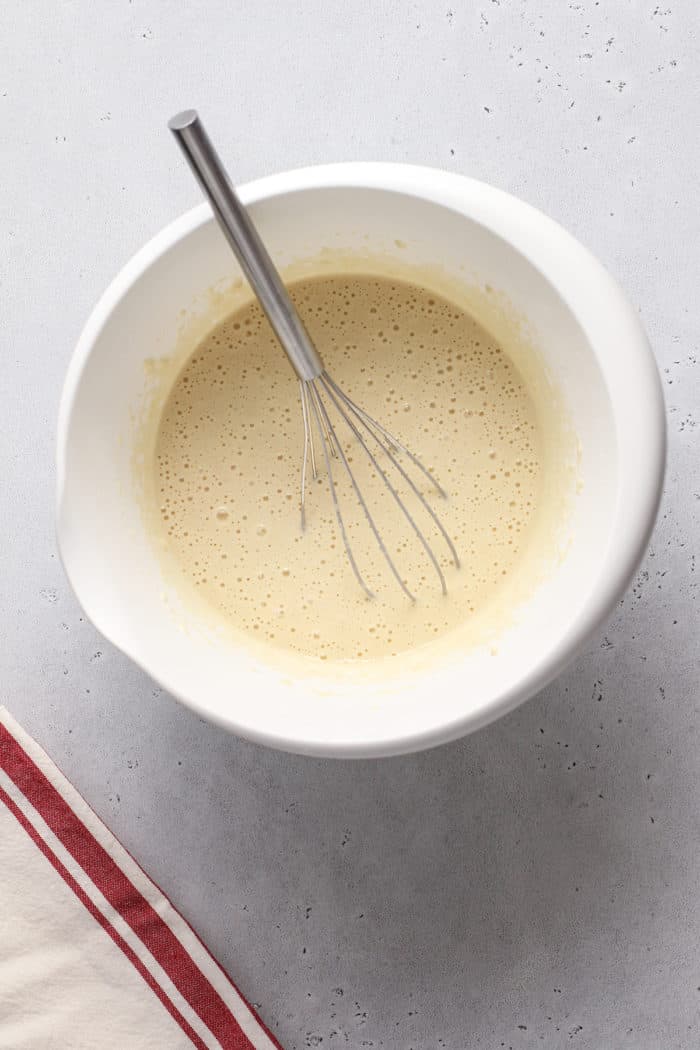 HOW TO MAKE SHEET PAN PANCAKES
These pancakes are so flippin' easy to make. (Pun intended!)
Ingredients you'll need
The batter for these sheet pan pancakes is super simple so we can get fancy with our toppings. You'll need:
2 cups all-purpose flour
2 tablespoons granulated sugar
2 teaspoons baking powder
½ teaspoon baking soda
1/4 teaspoon salt
2 eggs, beaten
1 1/2 cups milk
2 teaspoons pure vanilla extract or vanilla bean paste
4 tablespoons unsalted butter, melted and cooled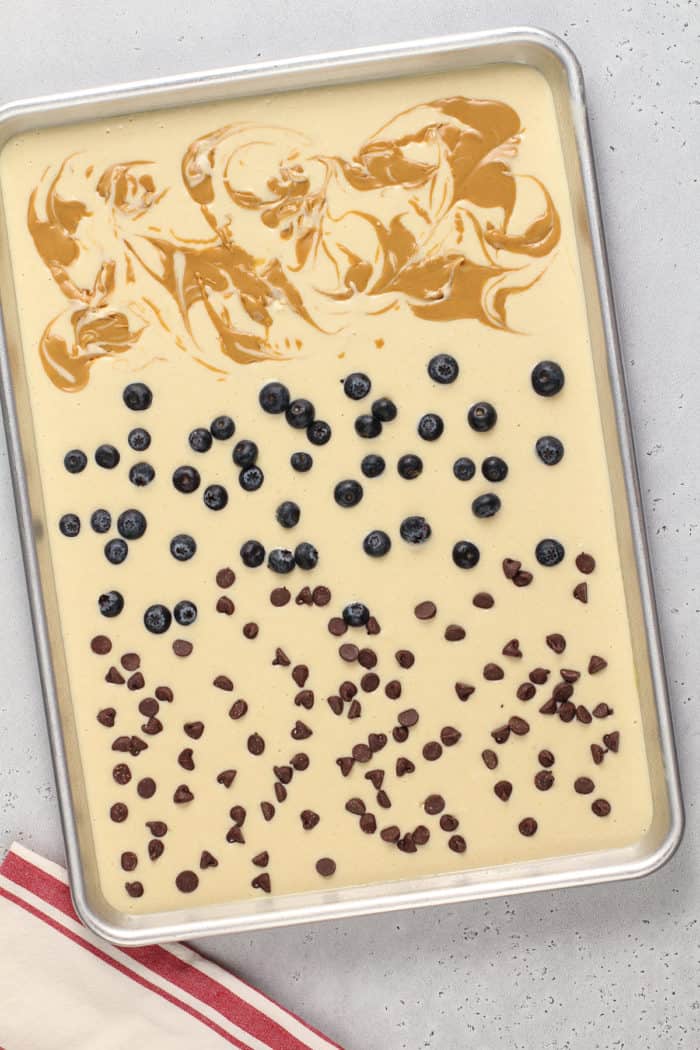 Tools you'll need
Besides a mixing bowl and some measuring cups and spoons, the main piece of equipment you'll need is a half sheet pan.
The sheet pan should measure about 13×18 inches. If your sheet pan is a bit bigger or a bit smaller than this you can still use it, just be aware that you may need to decrease or increase your baking time accordingly.
Making this recipe
This is a pretty straightforward pancake batter recipe and is mixed together just as if we were making banana pancakes or buttermilk pancakes.
Grab a large bowl and whisk together the flour, sugar, baking powder, baking soda, and salt.
Separately, whisk together the eggs, milk, and vanilla extract. I like to measure my milk in a large measuring cup and add my eggs and vanilla right into it so I'm not dirtying an extra bowl.
Whisk the wet ingredients into the dry ingredients just until you don't see any big spots of dry ingredients left. The batter will be lumpy. That's ok!
Let the batter rest for 10 minutes while you get your sheet pan and toppings ready.
Spray your sheet pan with nonstick spray. Make sure you get all of the corners and the sides, not just the bottom! If you're really worried about the pancakes sticking, you can add a piece of parchment paper to the bottom of the pan.
Once the batter has rested, fold in the melted butter just until combined, then pour the batter into the pan and spread it out evenly.
Add your favorite toppings and bake the pancakes for 10 minutes.
Cut the sheet into individual pancakes and serve them hot with butter, syrup, powdered sugar, or whatever strikes your fancy.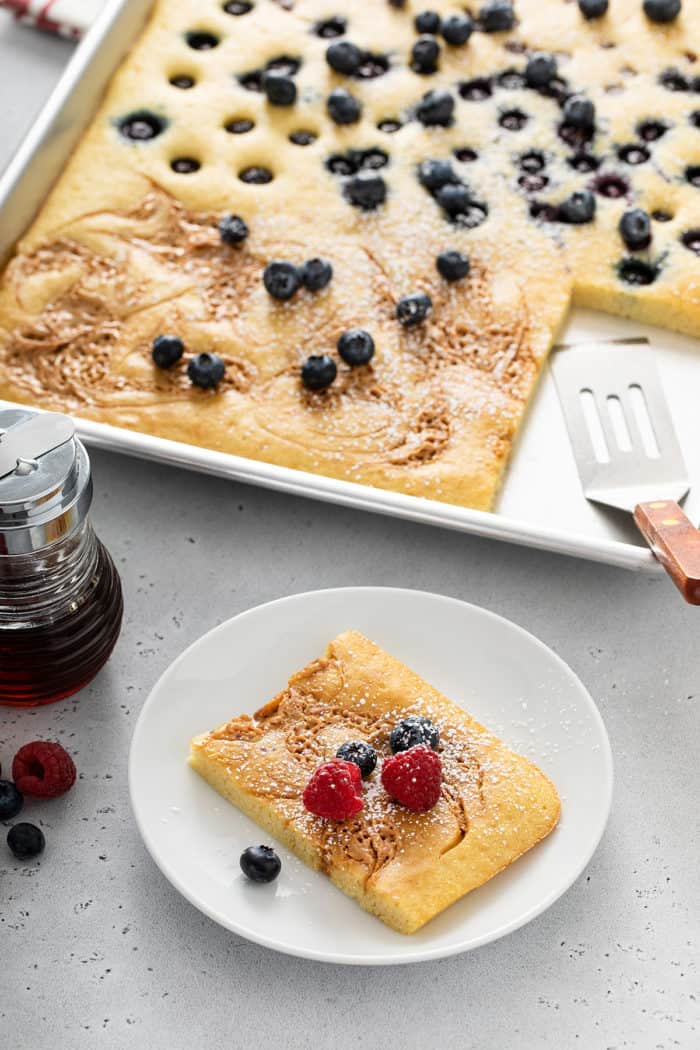 CAN YOU MAKE THESE WITH PANCAKE MIX?
Sheet pan pancakes are as much about the method as the batter recipe. Even though I've shared a super simple pancake batter with you here, you could totally make these with a mix.
For example, don't hesitate to use my homemade Bisquick mix to make Bisquick pancakes and bake them using this method!
TOPPING IDEAS
The most fun part of making sheet pan pancakes is getting creative with the toppings, okay?
You can use one topping for the entire sheet pan or divide the pan into halves, thirds, or quarters to use 2, 3, or four different toppings.
Here are some of my favorite toppings for this recipe:
Fresh or frozen berries
Chocolate chips
Peanut butter or peanut butter chips
Nutella
Jam or Blueberry sauce, raspberry sauce, or strawberry sauce
Sliced bananas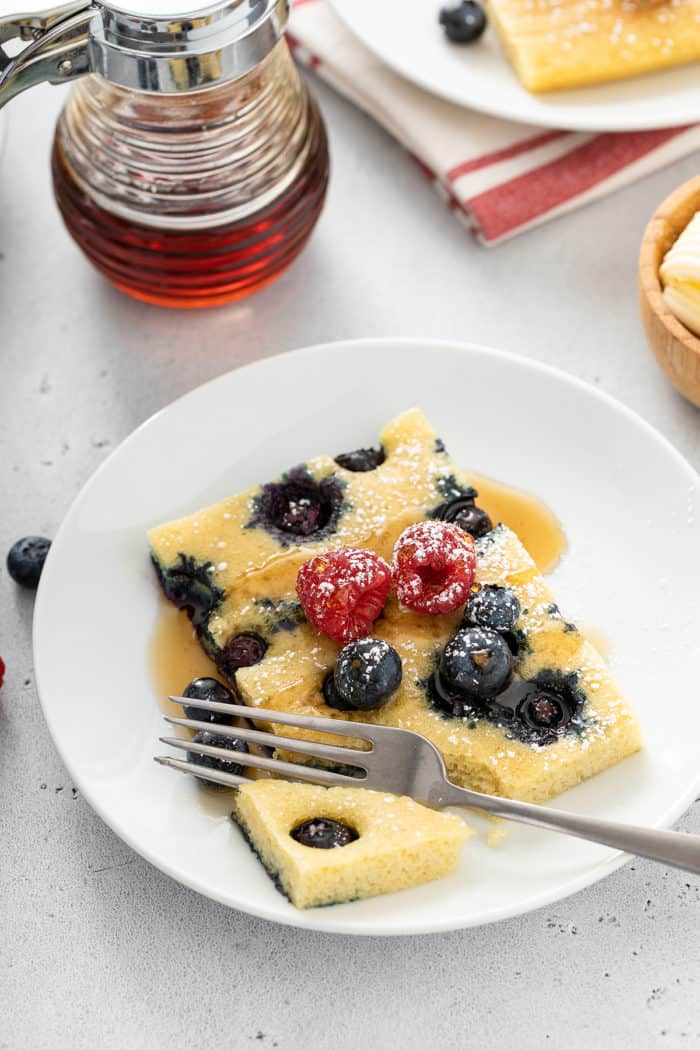 If you're using something like fruit or chocolate chips, just sprinkle them over the top of the batter before baking.
If you're using a topping like peanut butter or a fruit sauce, dollop it on top of the batter in small spoonfuls, then use a butter knife or a chopstick to swirl it into the batter before baking.
When I'm using peanut butter or nutella, I like to heat them in the microwave for 15-30 seconds. This heats them up enough to make them easier to swirl into the pancake batter.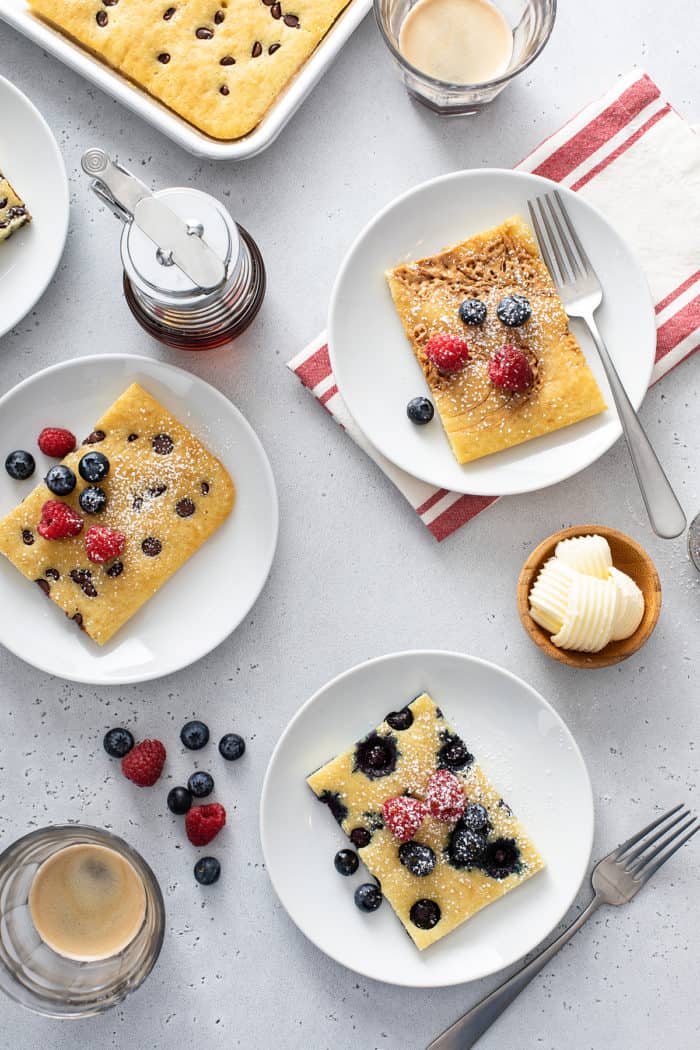 STORAGE AND REHEATING TIPS
You can store leftover sheet pan pancakes just as you would traditional pancakes.
Let the cut pancakes cool completely, then pop them into a zip-top bag. You can keep them in the refrigerator for up to 3 days.
You can also freeze the pancakes! Again, make sure the cut pancakes are completely cool, then pop the sheet pan into the freezer for about an hour to freeze them solid.
From there, place the frozen pancakes into a zip-top freezer bag and store them in the freezer for up to 3 months.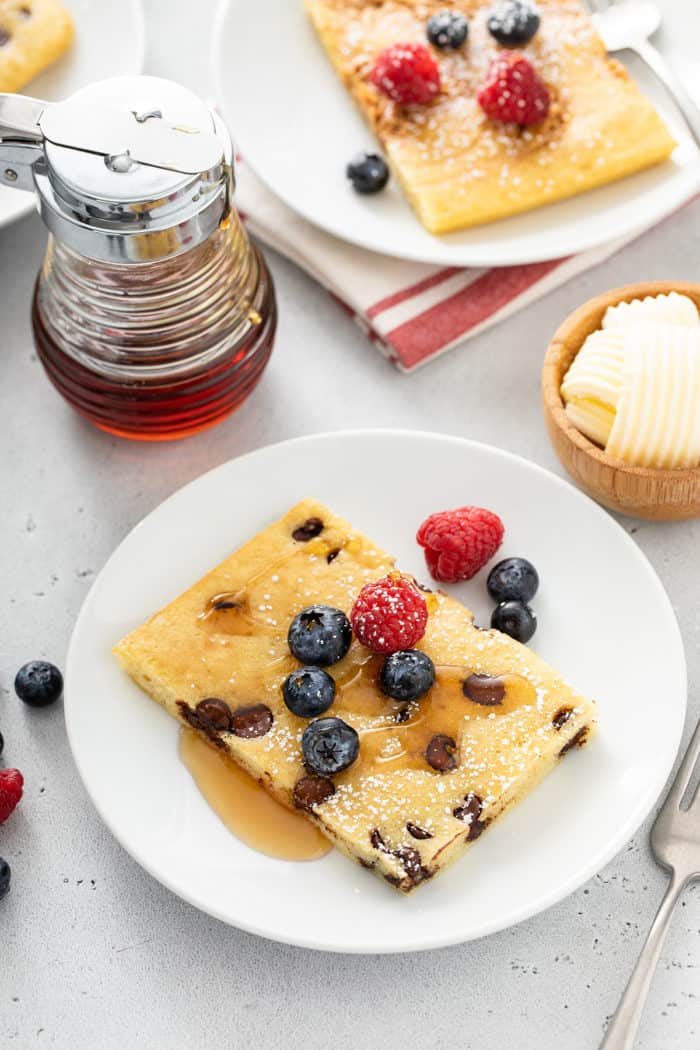 Reheating pancakes
When you're ready to reheat your pancakes, there are a few methods you can use:
Microwave: Place the pancakes in a single layer and microwave for anywhere from 45-60 seconds, depending on your microwave.
Oven: If you're reheating a lot of pancakes or the entire sheet pan, place the pancakes on a sheet pan and cover the pan with foil. Bake at 350 just until warmed through.
Toaster or Toaster Oven: Pop 1 or 2 pancakes into the toaster or toaster oven. You'll probably want to use a medium-low setting for this, depending on your toaster. Your toaster may even have a setting for reheating frozen foods – that's a great setting to use here.
Since sheet pan pancakes are so easy to make and reheat, they're a great option for making on a Sunday night and reheating for breakfast throughout the week. See? They're the most versatile pancakes out there.