This strawberry pie filling is quick and easy to make, whether you plan to use it as a pie filling or a topping! This recipe is made without jello and lets the sweet flavor of summer-ripe strawberries shine through.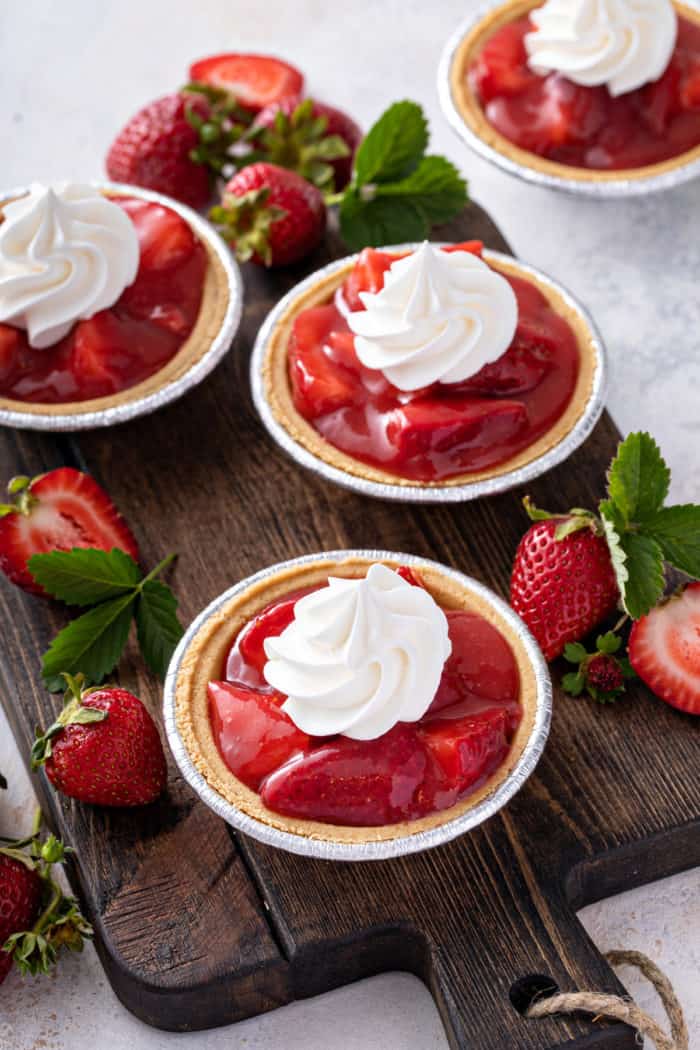 This post contains affiliate links.
This has been the Summer of Strawberries around here.
Whether they're in strawberry popsicles, piled on top of ricotta cheesecake, or a part of a fresh fruit salsa with cinnamon tortilla chips, I can't get enough strawberries this year.
So it only makes sense that I would want to throw together a simple strawberry pie filling to really let those beautiful strawberries shine, right??
Forget canned strawberry pie filling – this recipe is so easy and tastes so much better!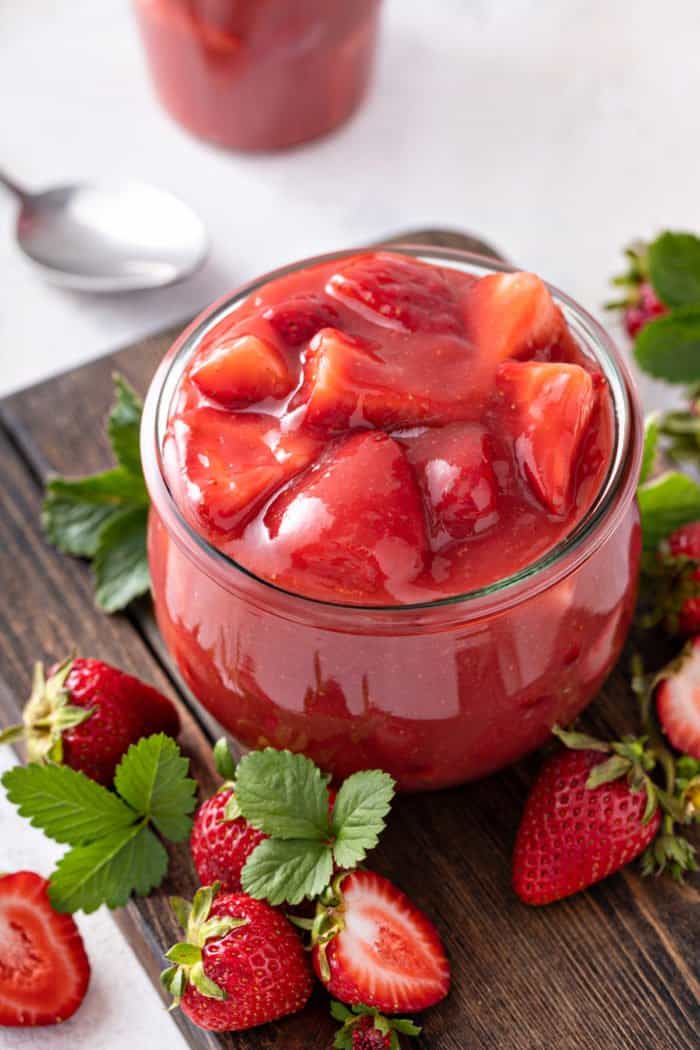 MY SIMPLE JELLO-FREE PIE FILLING
Now, if you've been around MBA long enough, you know that I don't have any problem with using jello in recipes. I use jello mixes all of the time in different ways!
But for some reason, when it comes to strawberry pie, I really prefer to go the no-jello route.
When I decided to make a standalone strawberry pie filling that could be used as any sort of filling or topping, I turned to my fresh strawberry pie recipe.
So many of you have told me that you love having a strawberry pie recipe that doesn't use jello, so I tweaked that recipe to make a more spoonable filling that could be used in a pie crust or on top of just about anything.
(Don't worry, we'll talk more about that in a minute! Skip down to "Ways to Use This Recipe" if you're curious.)
The result is a pie filling that lets the fresh flavor of the strawberries shine through. You're getting pure strawberry flavor here – nothing artificial!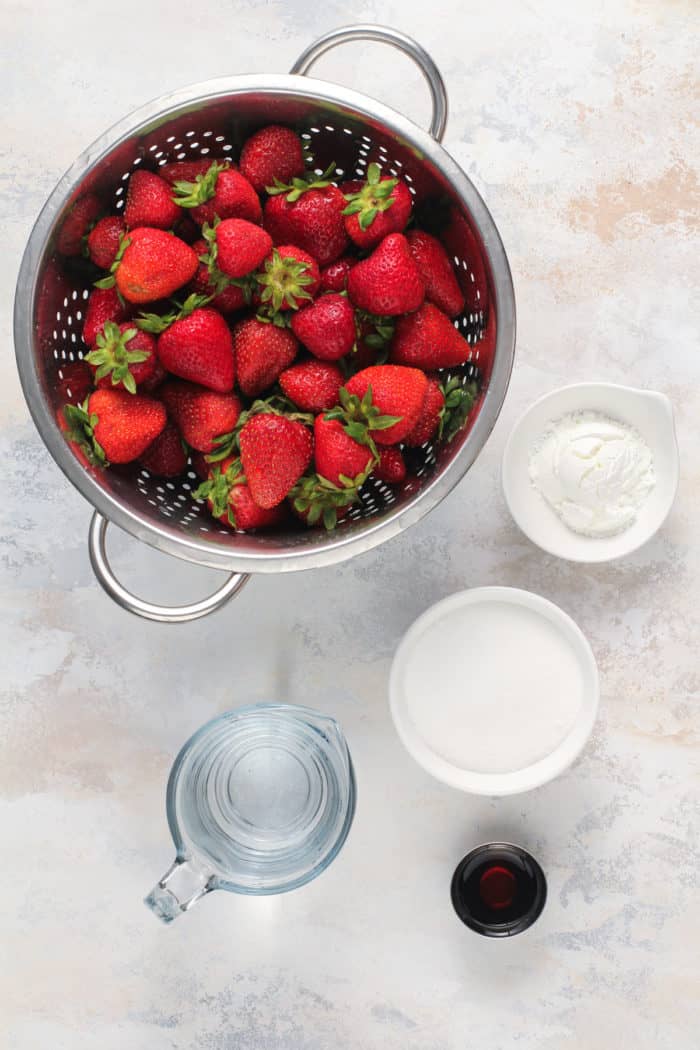 HOW TO MAKE STRAWBERRY PIE FILLING
If you've made my fresh strawberry pie, then you'll know how easy this filling will be to make. You'll only need a handful of ingredients and a few minutes of time to whip this one up.
Ingredients you'll need
The ingredients for my strawberry pie filling are so simple and there's one reason for that: I want the fresh strawberries to be the star!
After all, if we're going to make a strawberry pie filling, we want it to taste like those summer-ripe berries, right??
To make this one, we'll need:
Fresh strawberries: For this recipe, we'll use 2 pounds of fresh, clean strawberries with the tops removed. We'll use them in 2 different ways in this recipe.
Granulated sugar: Even though the strawberries are nice and sweet, we'll need some sugar to help bring the filling together and add just the right amount of sweetness to be able to call it a pie filling.
Boiling water: I bet you're wondering if the water has to be boiling. The answer is yes! Skip down to "Making this recipe" to find out why.
Cornstarch: Since we're leaving out any gelatin or pectin in this recipe, cornstarch is what will thicken the filling.
Vanilla: You know that a bit of pure vanilla extract or vanilla bean paste adds so much flavor to almost any dessert or baked good. The vanilla here really helps highlight the flavor of those strawberries.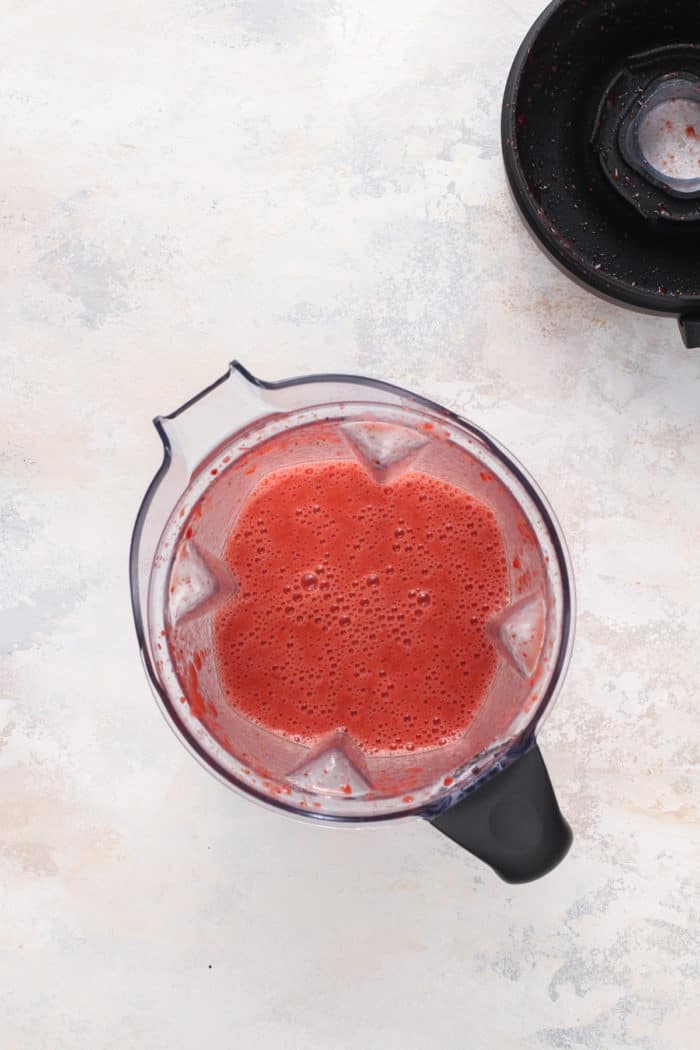 Can you use frozen strawberries?
I do not recommend using frozen strawberries for this recipe. You really do need to use fresh strawberries for their texture here.
If you only have frozen strawberries on hand, I recommend giving my strawberry sauce recipe a try instead.
Tools you'll need
Aside from measuring cups and a saucepan, the main thing you'll need to make this recipe is a food processor or a blender.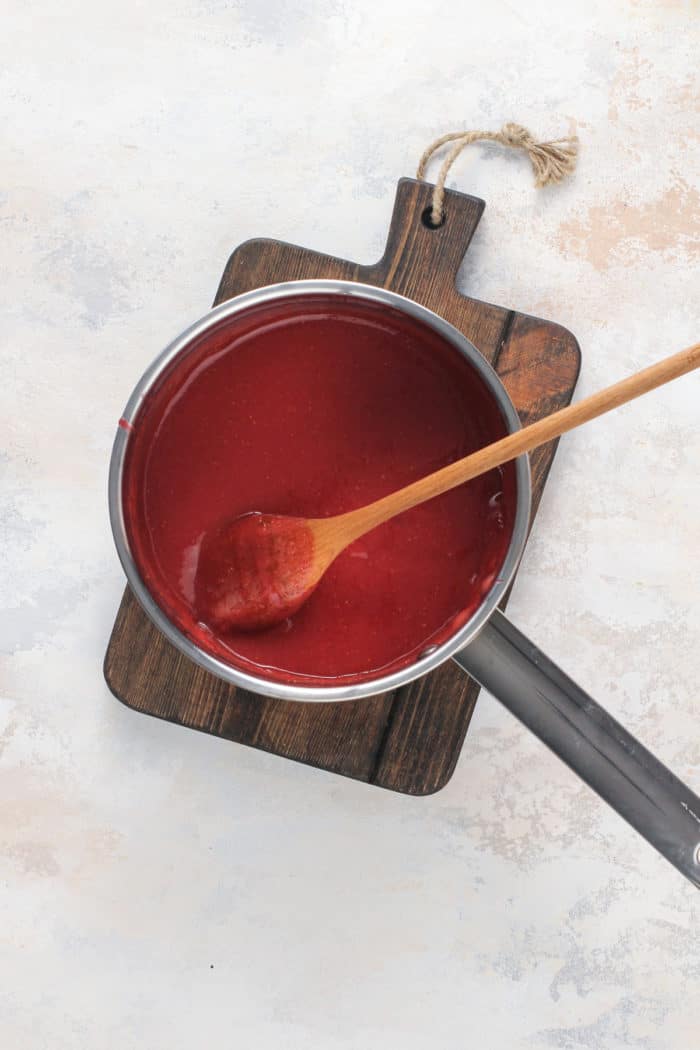 Making this recipe
The main work in this recipe is making the base of the filling.
Since we aren't using any jello in this recipe, we have to make a strawberry puree that will thicken nicely and hold the fresh strawberries in it.
To do this, start by placing 1 ½ cups of the fresh, whole berries in your food processor or blender. Add the sugar, boiling water, and cornstarch and blend until smooth.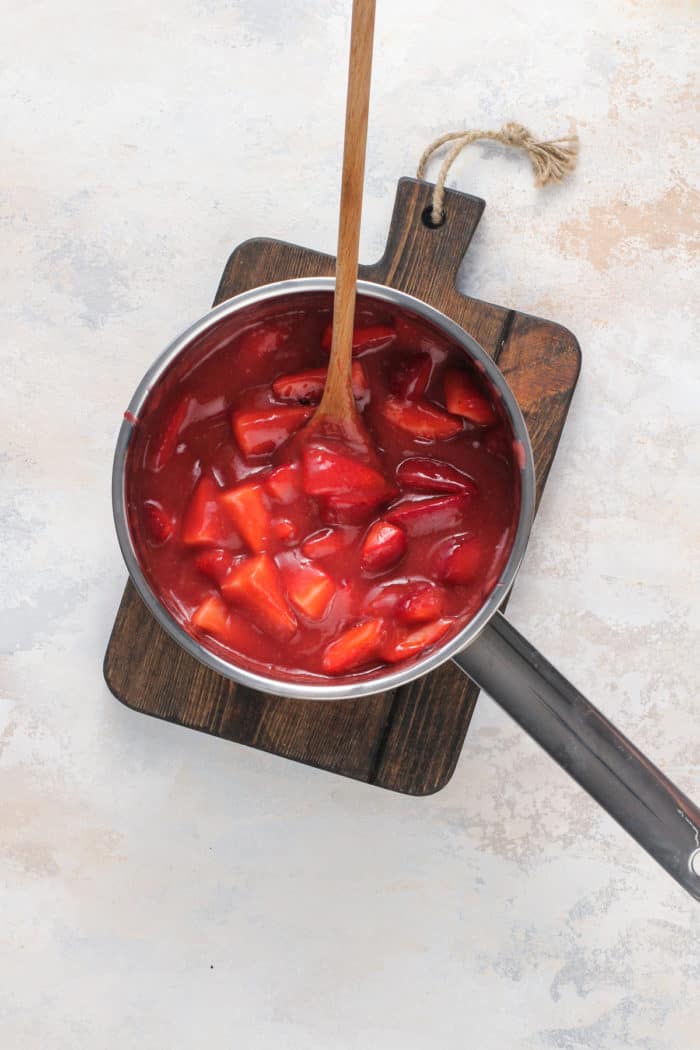 Why use boiling water? The boiling water gives the sugar a head start on dissolving, giving us a beautifully smooth filling without any graininess to it!
Once the mixture is smooth, add it to a saucepan and bring it to a boil over medium heat. Make sure to stir the mixture constantly.
Once the mixture starts to boil, set a timer for 3 minutes and keep boiling and stirring that whole time. The mixture should thicken and look less cloudy and more jam-like as it cooks.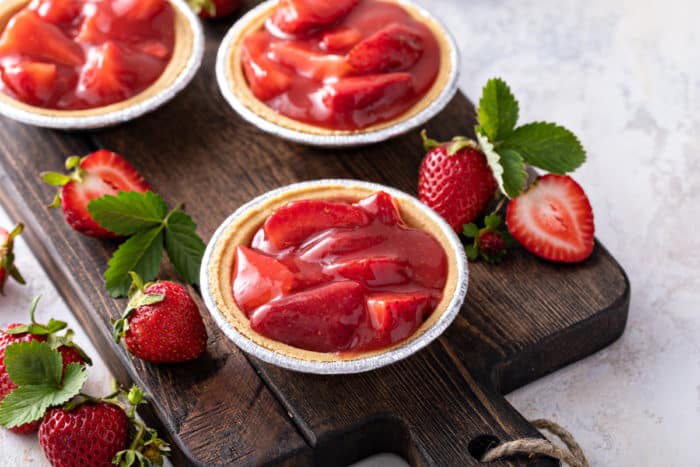 Once the 3 minutes have passed, remove the pan from the heat and stir in the vanilla extract. Let the base cool while you prep the rest of the strawberries.
Halve or quarter the remaining strawberries, depending on their size. You want all of the strawberry pieces to be roughly the same size.
Fold the strawberry pieces into the glaze to thoroughly coat.
From here, you can pour the filling into a pie crust or store it in an airtight container in the refrigerator until you're ready to use it.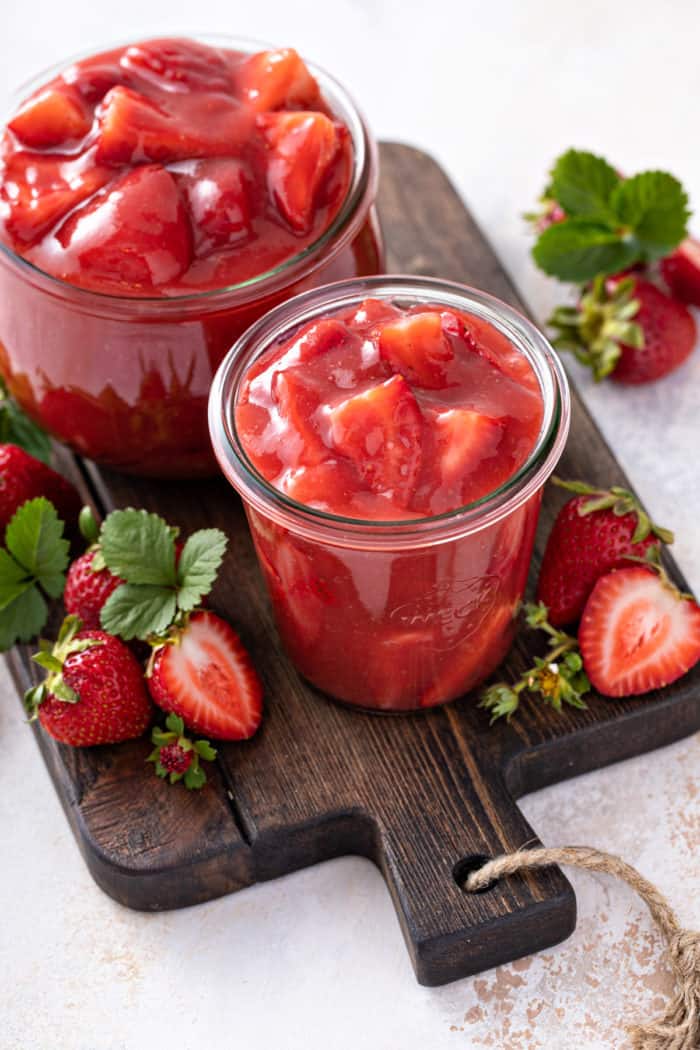 WAYS TO USE STRAWBERRY PIE FILLING
As the name would suggest, one of the best ways to use this strawberry pie filling is…as a pie filling!
Spoon it into a graham cracker crust or into mini graham cracker crusts and top with homemade whipped cream, Cool Whip, or even homemade Cool Whip.
Honestly, is that not the easiest pie ever? So much faster than making something like a pecan pie, right?!
Strawberry pie filling is also amazing as a topping, especially when paired with cheesecake. Whether you're putting it on vanilla cheesecake, cheesecake bars, mini cheesecakes, or no-bake cheesecake, it's a winner.
And who said that pie filling could only be used to fill pie? Spread this strawberry pie filling between layers of the best chocolate cake for a chocolate-covered strawberry cake moment everyone will love.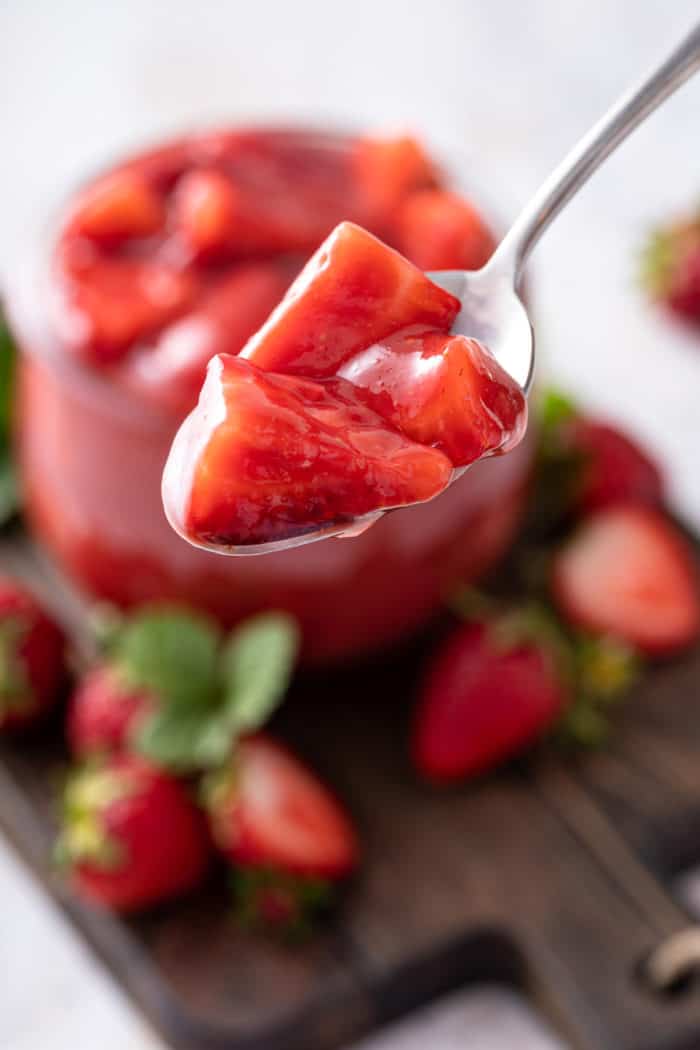 STORAGE
Store this pie filling in an airtight container in the refrigerator for up to 2 days, although it is at its best within the first day.
Store any pies made with the filling in the fridge as well until ready to serve.
Unlike cherry pie filling, I don't recommend freezing strawberry pie filling.
Whether you use it as a pie filling, a cake filling, or a cheesecake topping, this strawberry pie filling is a great way to highlight those summer strawberries!