Ricotta cheesecake is topped with fresh berries for a beautiful red, white, and blue dessert! This light, subtly flavored cheesecake is a lovely change of pace from a traditional cheesecake.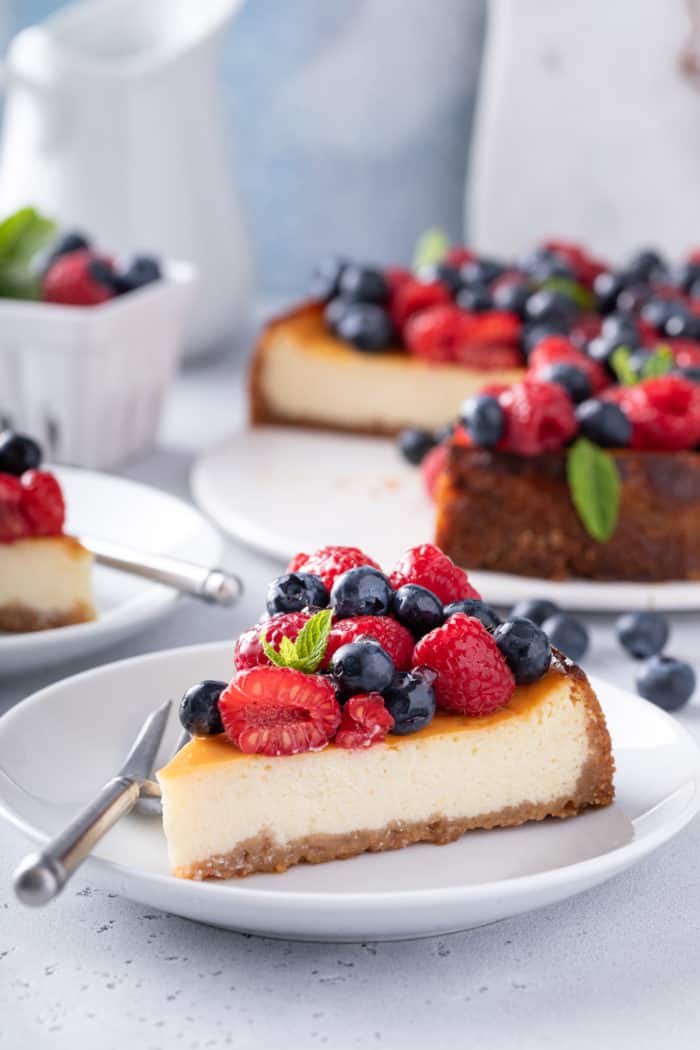 This post includes affiliate links.
If you've been a regular reader of My Baking Addiction for pretty much any length of time, you're probably very well aware of the fact that I absolutely love cheesecake. It's one of my favorite desserts to bake and of course – eat!
I know summer weather doesn't often scream cheesecake, but I'm telling you a chilled piece of cheesecake topped with fresh summer fruit really hits the spot after a meal on the barbecue.
From sweet and tart lemon cheesecake and no-bake frozen cheesecake to this delicious ricotta cheesecake, I promise – I have the perfect cheesecake recipe to help you celebrate summer!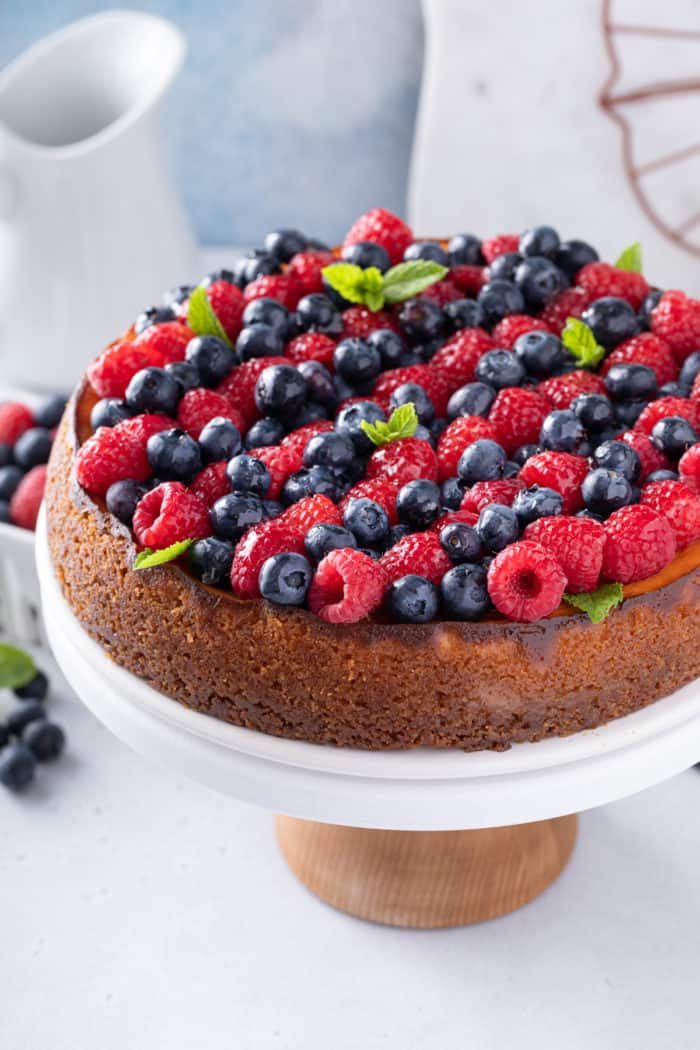 WHAT IS RICOTTA CHEESE?
Ricotta is an Italian fresh cheese known as "whey cheese." This means that the cheese is made of whey, which the liquid left after the production of other cheese.
Ricotta is very moist and has a mild flavor. While most ricotta available in American grocery stores is made from cow milk whey, it can also be made from sheep or goat milk whey.
You can also make homemade ricotta very easily! Everyone should try it at least once; it's a fun project and the flavor is so much better than most ricotta you buy in the stores here in the States.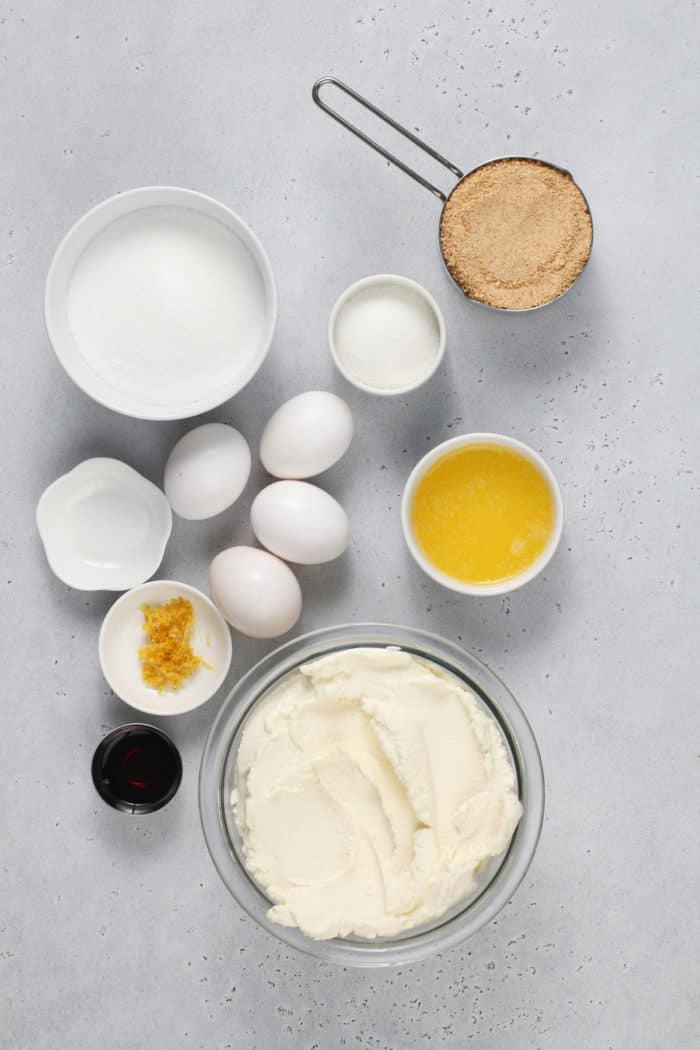 Can ricotta be used for cheesecake?
Even though I have what probably feels like an infinite number of cheesecake recipes using cream cheese, you can make an incredible cheesecake using ricotta cheese, too!
While there are some recipes that use a mix of ricotta and cream cheese, this recipe uses only ricotta cheese. The result is a cheesecake with a lighter texture and a slightly more subtle flavor than a traditional vanilla cheesecake.
This ricotta cheesecake is a great alternative any time you want to enjoy cheesecake and are looking for something a little different!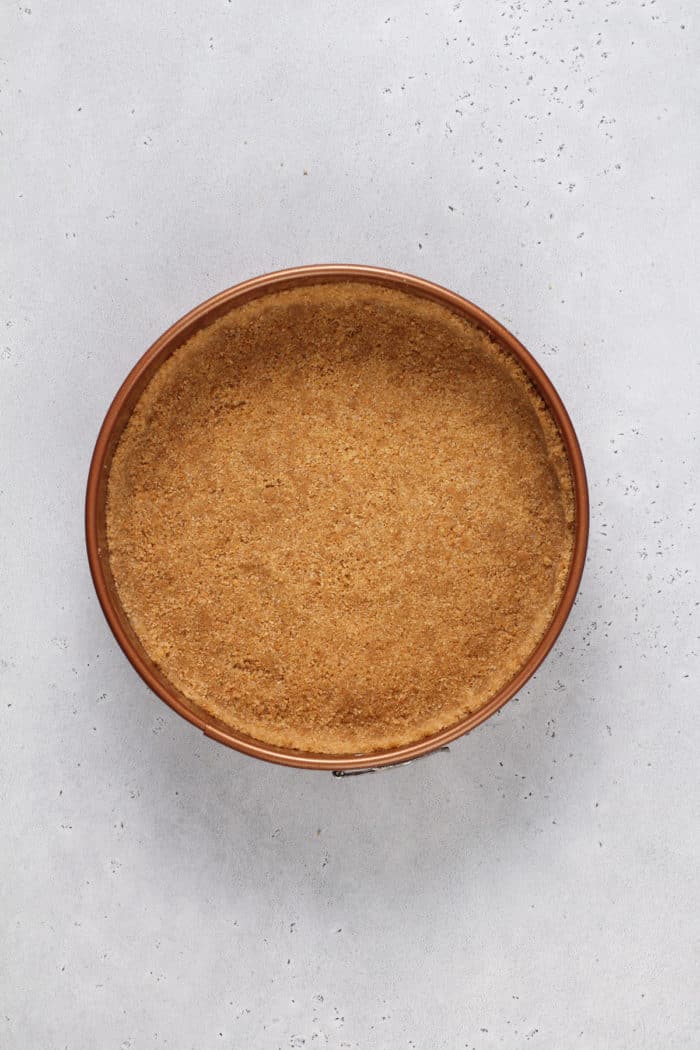 HOW TO MAKE RICOTTA CHEESECAKE
In many ways, ricotta cheesecake is actually a bit easier to make than a cream-cheese-based cheesecake such as pumpkin cheesecake.
Ingredients you'll need
I like to use a traditional graham cracker crust for the base of this cheesecake, but you can use any crust you happen to love most.
For the filling, you will need:
1 cup sugar
1 tablespoon lemon zest
32 ounces ricotta cheese, room temperature
1 teaspoon pure vanilla extract
1/4 teaspoon salt
4 eggs, room temperature
I prefer to use whole milk ricotta cheese for this recipe, but have used part-skim ricotta successfully as well.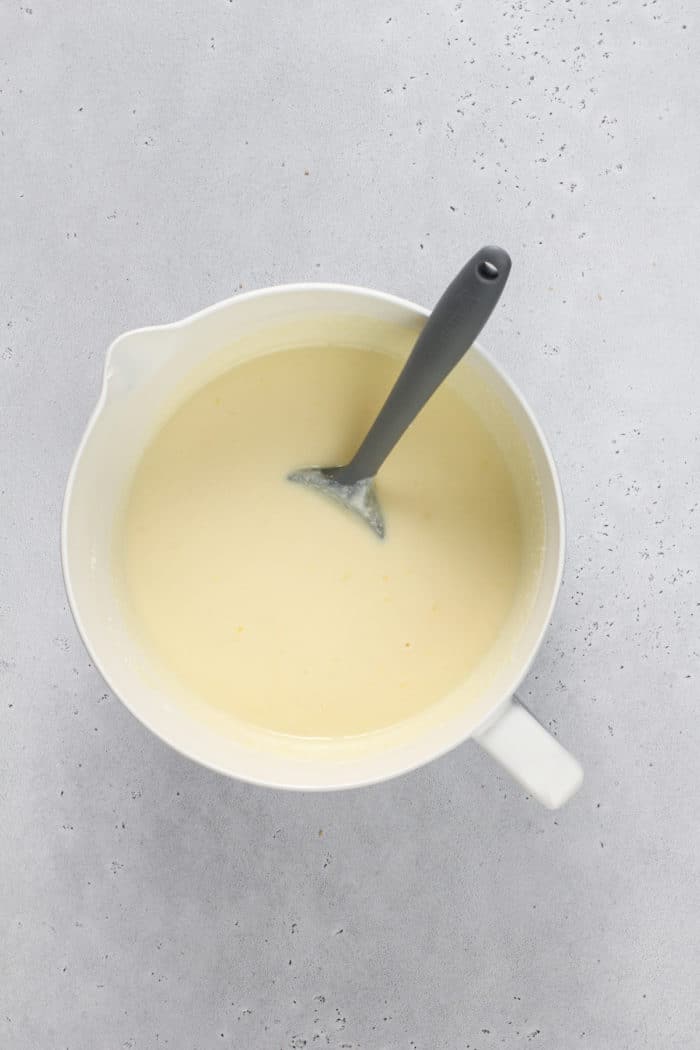 Cheesecake pan
Cheesecake is traditionally baked in a springform pan. This allows for those beautiful straight sides that are so classic to cheesecake.
This ricotta cheesecake recipe uses a 9-inch springform pan. Since this recipe is not baked in a water bath, you won't have to worry about wrapping the bottom of the pan in foil.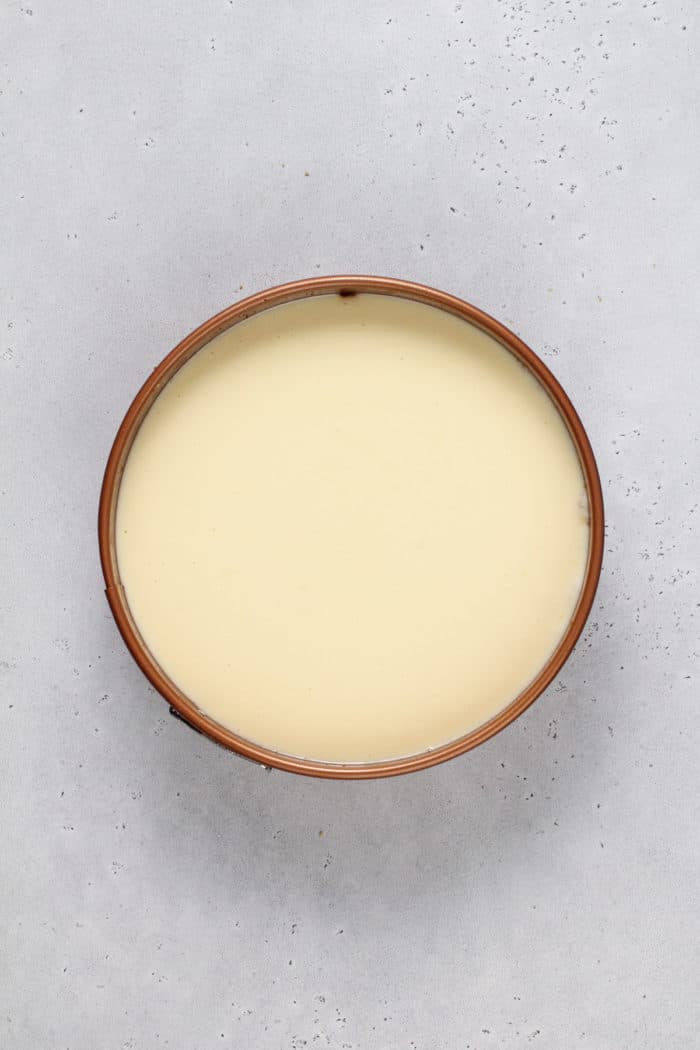 Making this recipe
Start by making the crust: mix together the crust ingredients and then press them evenly into the bottom and up the sides of the springform pan.
I try to get the crust at least ½-inch up the sides of the pan to accommodate all of the filling, although you may still have some filling come above the crust in some areas. This is totally ok!
Bake the crust for about 7 minutes, then let it cool while you make the filling.
I like to start the filling by rubbing the sugar and lemon zest together until the sugar is moist and fragrant. This extra step really infuses the oils from the lemon zest throughout the cheesecake filling.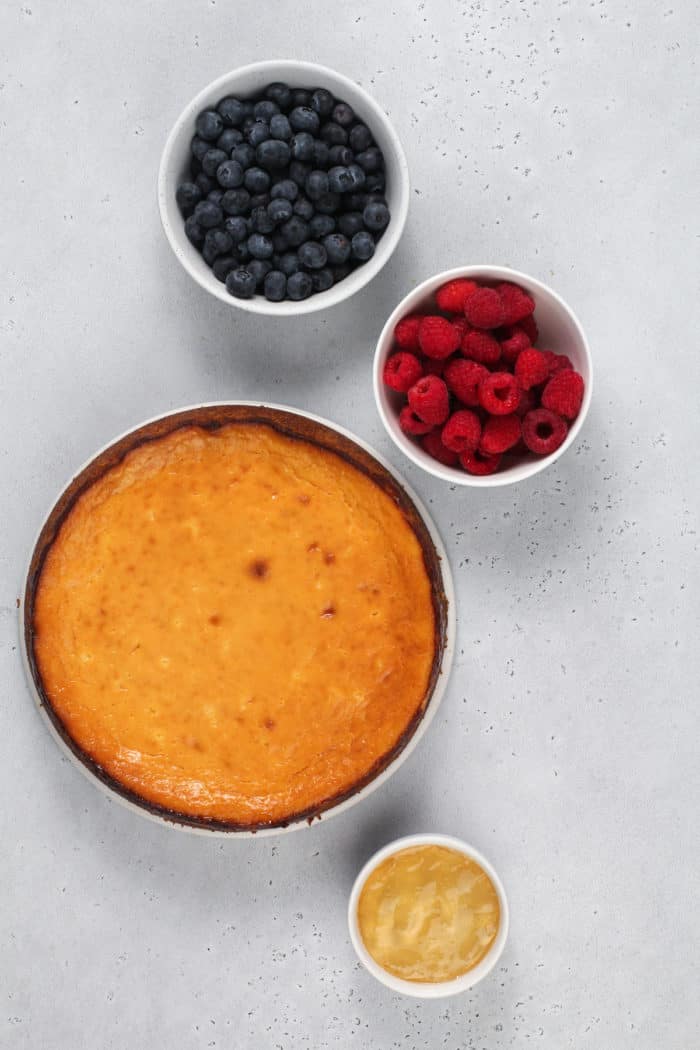 Use an electric mixer to mix the ricotta cheese, vanilla, and salt with the lemon sugar, then add the eggs one at a time.
Once the filling is smooth, it's time to add it to the crust!
This is a pretty liquidy filling, so you will want a steady hand to transfer the pan back into the oven after adding the filling to the crust.
If that sounds like a lot for you, you can pull the oven rack out a bit, then set the pan on it and pour the filling into the pan while it's on the oven rack. Then you only have to gently push the rack back into position and close the oven door.
Ricotta cheesecake does take a while to set up; this cheesecake will bake for around 75-80 minutes. Bake it just until the center is set, then let it cool completely before chilling for several hours.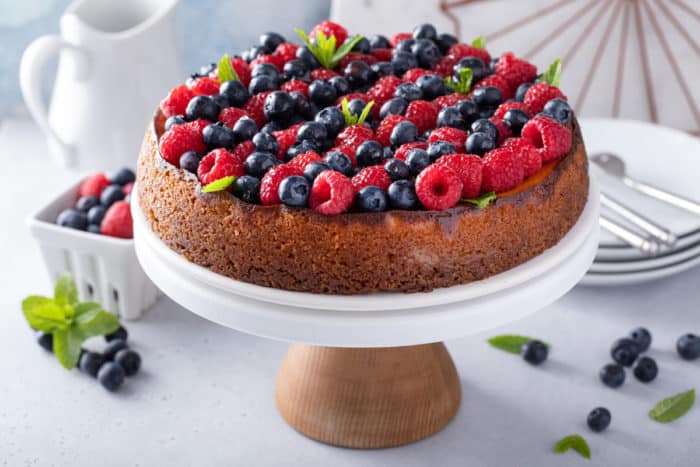 SERVING SUGGESTIONS
I think the mild flavor and light texture of this ricotta cheesecake is perfect when paired with fresh berries.
To make this extra summery and seasonal, I like to pair strawberries and/or raspberries with blueberries for a red, white, and blue dessert.
Make sure not to add the berries until just before serving. If you want to give them some extra sheen, like you'd see on a strawberry tart, simply brush the berries with a bit of warmed apricot jam.
You can also top the cheesecake with your favorite fruit sauce instead of fresh berries. Some of my favorite options are: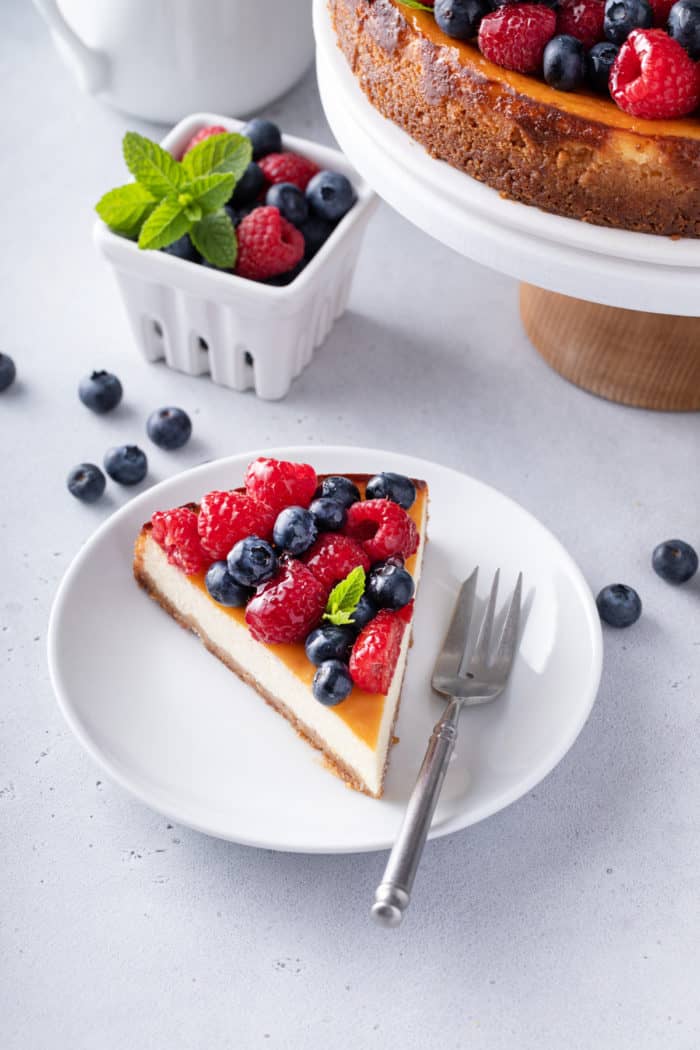 STORAGE AND FREEZING
Store leftover ricotta cheesecake in the refrigerator, well wrapped, for up to 3 days.
If you'd like to freeze the cheesecake for longer storage, place the whole cheesecake or individual slices on a sheet pan in the freezer until they are solid.
Wrap in two layers of plastic wrap or a layer of foil and place in a zip-top freezer bag. Freeze for up to 3 months.
Let the cheesecake thaw in the refrigerator overnight. If you have frozen individual slices, you can also gently thaw them in the microwave any time you get a craving for ricotta cheesecake.