Have you guys figured out that I'm a last minute kinda girl? Case in point: this recipe for Ricotta Cheesecake that's all prettied up for the 4th of July. Although I am sure most of you have your menu planned for this weekend, I thought I might sneak in a few last minute recipes for those of you that are like me and tend wait until the last possible second to decide these sorts of things.
I really had no plan to create anything special for the 4th of July, I just sort became inspired when I started decorating this Ricotta Cheesecake earlier in the week. As I was about to mound the glazed berries in a simple pile, instead I suddenly envisioned a ripe red star with strawberries.
I printed a star shape that I found on the internet, cut it out and used it as a guide. Easy? Yes. Tedious? Kind of. Although it took some time, I think it's definitely worth the patriotic impact.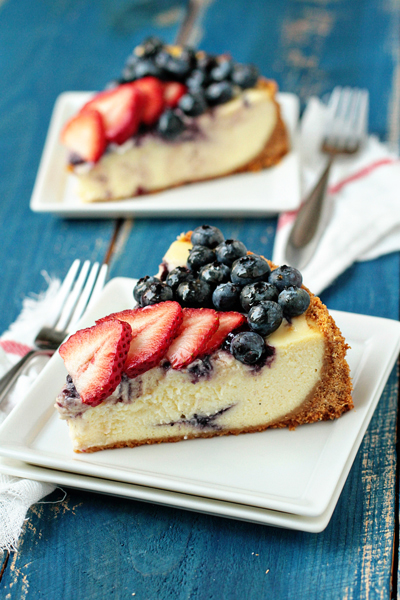 Now let's move on to the cheescake.
I've never had a Ricotta Cheesecake, so if I am being honest, I was a little apprehensive about how this recipe would unfold, especially since I tend to be a little oversensitive to food textures. Certain things like jell-o, raw oysters, and ripe bananas don't make it past my lips. And that's just to name a few.
This Ricotta Cheesecake is prepared pretty much like any standard cheesecake and has all the same components. Graham cracker crust? Check. Creamy filling? Check. But where things get a little different is the texture and flavor.
Comparing this to a traditional cheesecake probably isn't the best route to take because well, it's not traditional cheesecake. But for those of you that are curious, the texture is a bit fluffier and the taste is a bit more subtle. Overall, I liked the recipe for a change of pace, but you guys know I love cheesecake. This ricotta based recipe may never top my absolute favorite recipe for homemade cheesecake, but I'm glad that I gave it a whirl.
I hope you have a great holiday weekend full of amazing family, friends, fireworks and of course, food!
Ricotta Cheesecake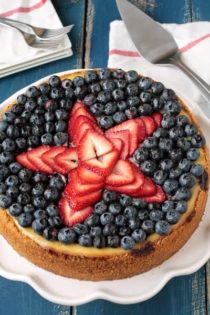 Ingredients:
For the Crust
1 cups graham cracker crumbs
1/4 cup sugar
1/4 cup butter, melted
For the Filling
4 cups (30 oz.) Sargento® Part Skim Ricotta Cheese
1 cup sugar
1 tablespoon lemon zest (about one medium lemon)
1/2 cup half-and-half
1/4 cup all-purpose flour
1 teaspoon pure vanilla extract
1/4 teaspoon salt
3 eggs
1/2 cup blueberry jam, heated slightly and stirred
For the Topping
1-1/2 cups fresh strawberry slices or fresh whole raspberries
2 cups fresh blueberries
1/4 cup apricot jelly, heated slightly
Directions:
Preheat oven to 350°F. Line the bottom of a 9-inch springform pan with foil and clamp on the ring.
Combine crust ingredients; mix well. Press evenly into the bottom and up the sides of the prepared pan. Bake crust for 7 minutes in preheated oven. Remove and cool on a wire rack.
While crust is cooling, prepare the filling. In the bowl of a stand mixer, fitted with the paddle attachment, or with a hand mixer in a large bowl, blend together the cheese, sugar, lemon zest, half-and-half, flour, vanilla and salt. Add eggs, one at a time; blend until smooth.
Pour half of batter into prepared crust. Spoon half of blueberry spread randomly over batter; top with remaining batter, smooth with spatula. Spoon remaining blueberry spread randomly over batter; swirl with knife for marbled effect.
Bake in preheated oven for 1 hour or until center is just set. Turn off oven; cool in oven with door propped open 30 minutes. Remove to cooling rack. Cool completely; chill 6 to 24 hours.
Arrange strawberries and blueberries on cooled cheesecake. Brush jelly over fruit; chill at least 30 minutes to set glaze.
Notes:
Do not top the cheesecake with the fresh fruit until the day you are serving. The fruit will not have the same fresh appeal and will add a bit of moisture to the top of the cake.
Feel free to substitute the blueberry jam with strawberry or raspberry.
The apricot jam is not necessary for the fruit topping, it simply adds a little sheen to the fruit.
Follow Jamie on Instagram. We love to see what you're baking from MBA! Be sure to tag @jamiemba and use the hashtag #mbarecipes!