Hey guys – I'm taking a short break to take care of some stuff at home, so some of my favorite bloggers are stepping in and showing off here on MBA. I adore Shelly more than cupcakes, and that's saying something. You're going to love what she's baked up for you! – Jamie
Hey MBA readers! I'm Shelly from Cookies and Cups. I'm major excited to be standing in over here for Jamie for the day.
I have been an honest to goodness blog stalker of My Baking Addiction for too long to admit and I am pretty darn excited to be here today!
Of course when I was trying to think of something to make for you guys I wanted to be all classy-like. Because over in my neck of the woods things can get a little low-brow… think caramel covered cookie dough on top of a peanut butter cup.
Ok, I didn't really make that, but totally don't steal my idea… I know what I am making later!
Anyway, so trying to channel my inner Jamie, I decided to make a simple classic, but with a twist.
I decided on Coconut Lemon Squares.
I love the combo of citrus and coconut, and these bars offer the perfect balance!
Even for those of you who swear they don't like coconut, or the texture, blah blah you will like these.
I'm certain of it.
Hope you enjoy as much as I did!
Coconut Lemon Squares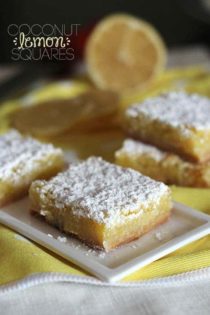 Ingredients:
For the Crust
2 cups all purpose flour
1 1/2 cups powdered sugar, divided
1 cup butter, room temperature
For the Filling
2 cups granulated sugar
4 large eggs
1/4 cup butter, melted
1/4 cup milk
zest of one large lemon (about 1 tablespoon)
1/4 cup lemon juice
1 tablespoon flour
1 tablespoon cornmeal
1/2 teaspoon salt
1 cup sweetened flaked coconut
Directions:
1. Preheat oven to 350°F
2. Spray a 9x13 pan with cooking spray, set aside
3. Combine 2 cups flour, 1 cup powdered sugar and 1 cup butter in a large bowl. Using a pastry cutter combine the ingredients until they form a crumbly consistency.
4. Press into the bottom of the prepared pan. Bake 15-20 minutes until lightly golden.
5. Meanwhile in another bowl combine all the filling ingredients.
6. Pour filling over the baked crust and bake for an additional 25-30 minutes until center is set.
7. When done, place on wire rack and cool for at least 30 minutes. Sprinkle with remaining powdered sugar and cut into bars.
Notes:
- Store in an airtight container for up to 3 days.
Adapted from Southern Living
All images and text ©
Follow Jamie on Instagram. We love to see what you're baking from MBA! Be sure to tag @jamiemba and use the hashtag #mbarecipes!