A Lemon Berry Mascarpone Tart is a simple, delicious way to show off all the season's best berries. A creamy mascarpone filling, a hint of fresh lemon, and four kinds of berries, all on top of a sweet shortbread crust!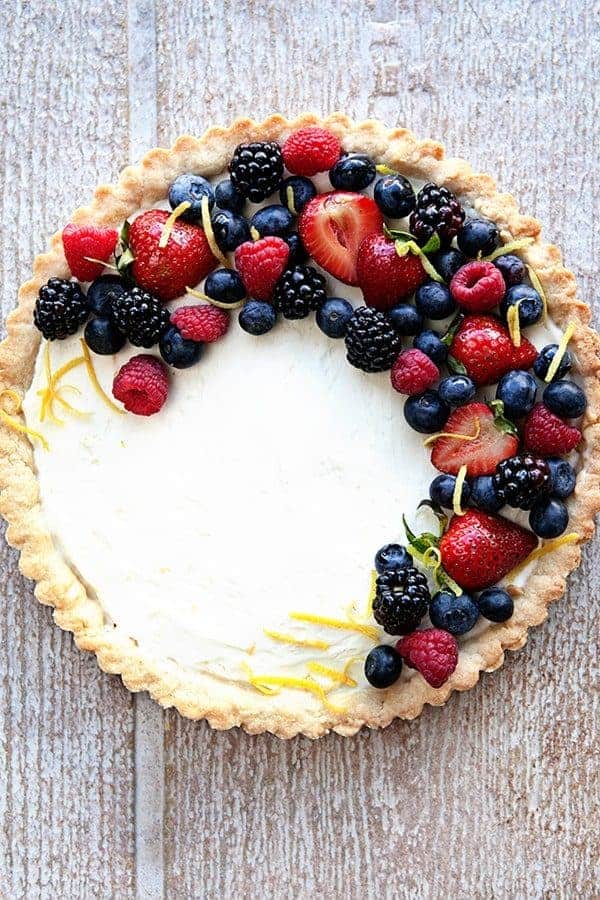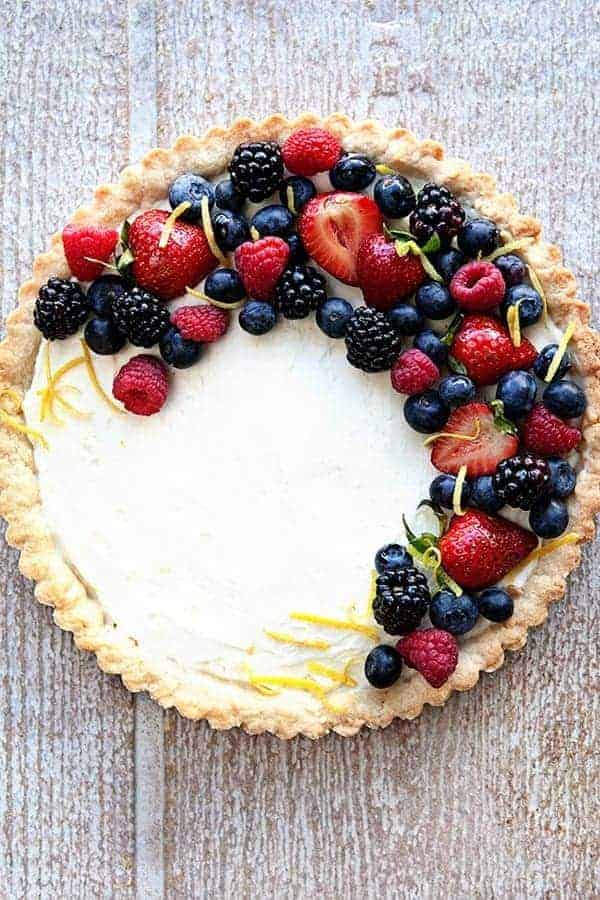 This post was written by MBA contributor, Allison of the lovely blog, Some the Wiser. I hope you love this mascarpone tart as much as I do!
It's officially summer break here! On the last day of school I picked up the kids with our summer theme song blaring in the car, their scooters in the trunk, and a plan to take them and a pizza to the park. I thought we'd celebrate. It didn't quite go like that though.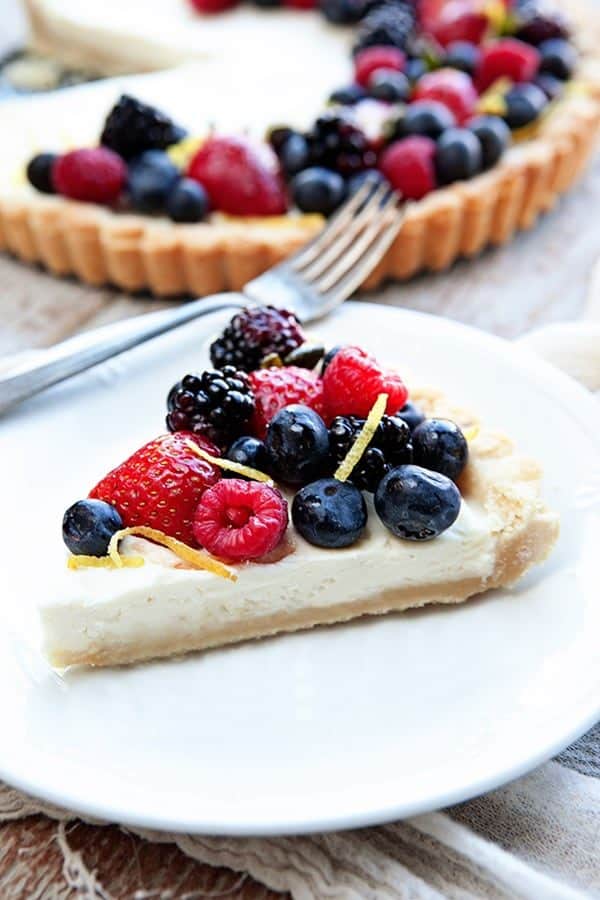 Instead of running out the school doors looking for freedom after that last bell rang, they came trudging out with tears in their eyes. They cried the whole way to the park. Then, they cried while they rode their scooters around their favorite paths at the park until I finally gave up. I thought it would be super fun, but it was a super bust.
I guess my kids just really love school.
It took a few days after their tragic last day of school, but they are finally excited about summer. Taking them to the farmer's market's grand opening for the season helped too. We left with a basket full of berries and big summer plans. A Fresh Berry Mascarpone Tart could surely make anyone feel excited for the season ahead.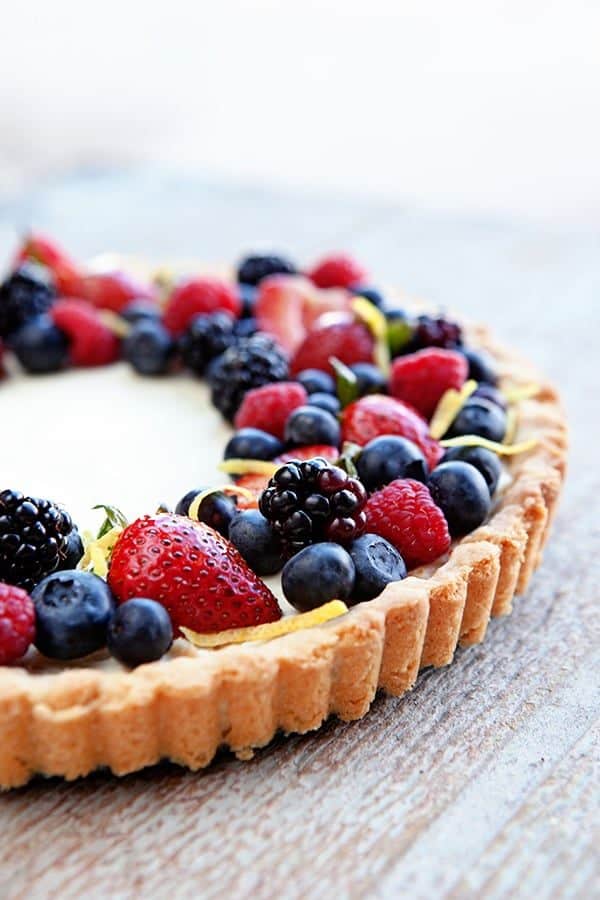 The fresh berries tasted amazing all by themselves and I knew it wouldn't take much to make a great dessert. I started with a simple, short bread crust. I didn't want a fussy crust, just something easy that I could press into the pan. Plus, I'm a sucker for a delicious cookie crust.
The mascarpone filling is creamy, lightly sweet, and has just a hint of lemon to accent the berries. As you're eating it, you'll notice it actually melts in your mouth. It's perfection, really.
The berries are the real star of the show though. We used fresh strawberries, blueberries, raspberries, and blackberries. Their bright colors make them a feast for the eyes. Their juicy sweet berry flavors make them the quintessential summer dessert.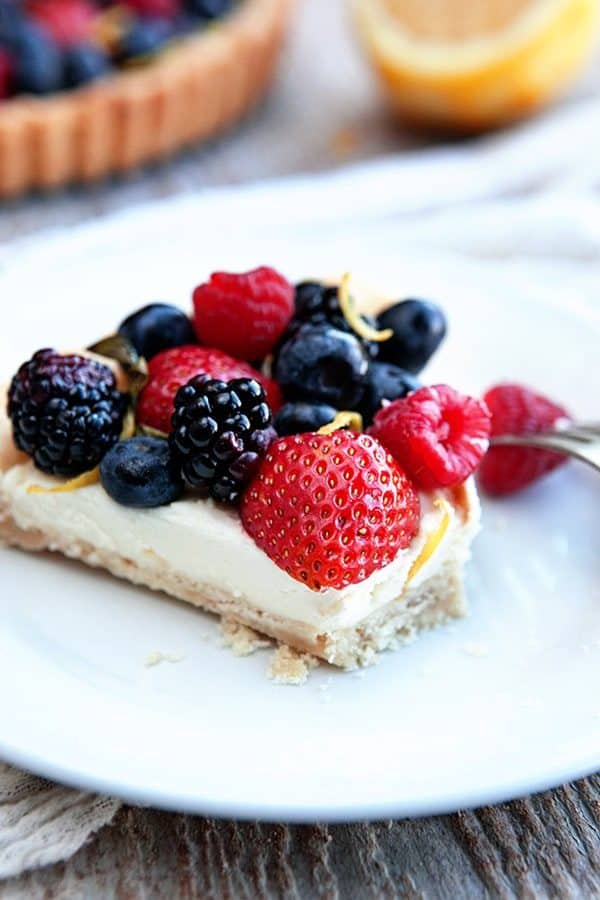 The nice thing about this Fresh Berry Mascarpone Tart is that it looks like a real showstopper, but it's actually quite easy to make. The press-in crust is quick and easy, just a few minutes in the oven. The filling is no-bake and so easy to mix up that I put the kids in charge of that part.
It's the perfect dessert to take to all your summer gatherings and potlucks this year. We've already found three occasions to whip up this Fresh Berry Mascarpone Tart and the summer is just getting started here!
For more delicious ways to use summer berries, be sure to check out these Berry Cookie Cups, No Bake Lemon Ice Box Cake, and these Blueberry Doughnut Muffins!