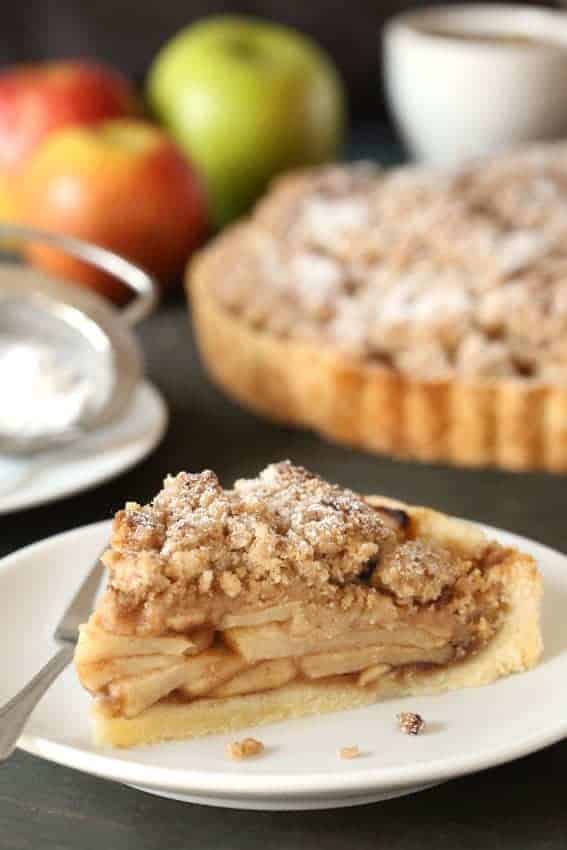 This gluten-free apple tart has a thick crumb topping and can also be made with traditional all-purpose flour. Enjoy it with a cup of coffee for a sweet breakfast or a delicious Fall dessert.
This tart was the first autumnal thing I've baked this year. Before I made it, I had been rolling my eyes at the fall-themed desserts I'd been seeing for the past month on Pinterest and everywhere else.
It's still summer, right? But after a bite of this tart, my opinion changed. Hand over the apples and apple pie spice!
The crust and topping use a mix of gluten-free flours but if you don't have those on hand, you should be able to use any all-purpose gluten-free mix.
I obviously haven't tried them all in this recipe but it should work as long as that flour blend is a 1:1 substitute for all-purpose flour.
The beauty of this crust and crumb topping are how flexible they are. They also work with regular all-purpose flour and white whole wheat if you don't need this apple tart to be gluten-free.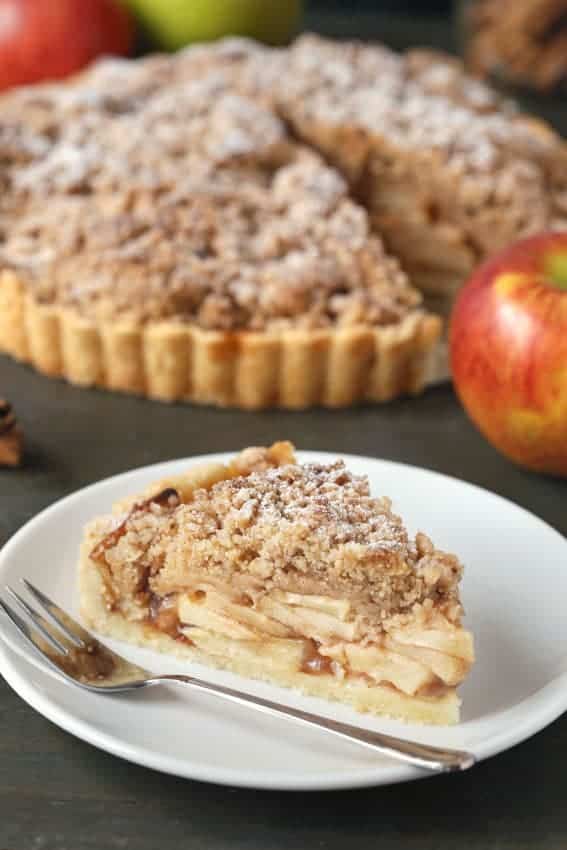 When you mix the crumb topping together, you'll probably think that it's way too much. Like twice what you need. Then when you pile the crumb topping on top of the apples, you'll probably think I'm daft and start swearing at me. But it bakes down so much! The crumb topping is nice and thick but not too much.
Some of the topping will fall off as you put it on, but it's easy enough to put right back on. If you're worried about making a mess, you could probably use a deep-dish pie pan. In that case, you'd probably want to roll the dough out with a rolling pin. I've also made this recipe using six 4.75″ mini tart pans. After the initial 10 minutes of baking at 425 °F, I only baked them for another 25 minutes at 350°F rather than the 40-45 that the full-sized tart requires.
I have to admit that I was slightly terrified before cutting that first piece. The crumb topping seemed so firm that it'd crack and make a mess but it slices wonderfully! I waited for the tart to cool completely, though. Cutting it while warm is probably not the best idea if you want it to stay in one piece.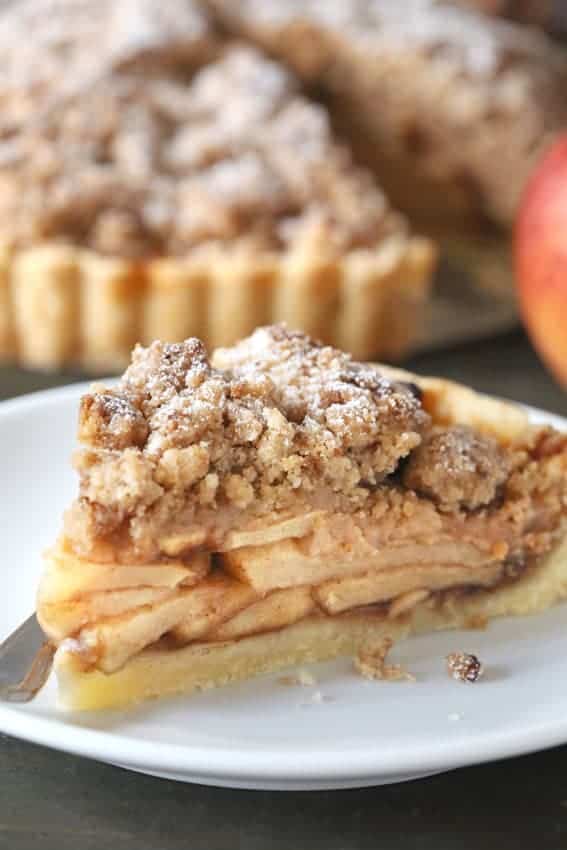 I made this tart in late August and wasn't quite in the mood for lots of autumnal spices yet but if you'd like, you could use 1 teaspoon (or more!) of apple pie spice in place of the cinnamon and nutmeg in the apple filling.
It does take some time to put this apple tart together but it's so worth it. If you're a little low on time, try my gluten-free apple crisp, which is a much quicker, thought not quite as elegant, alternative to this apple crumb tart!