Gluten-Free Apple Tart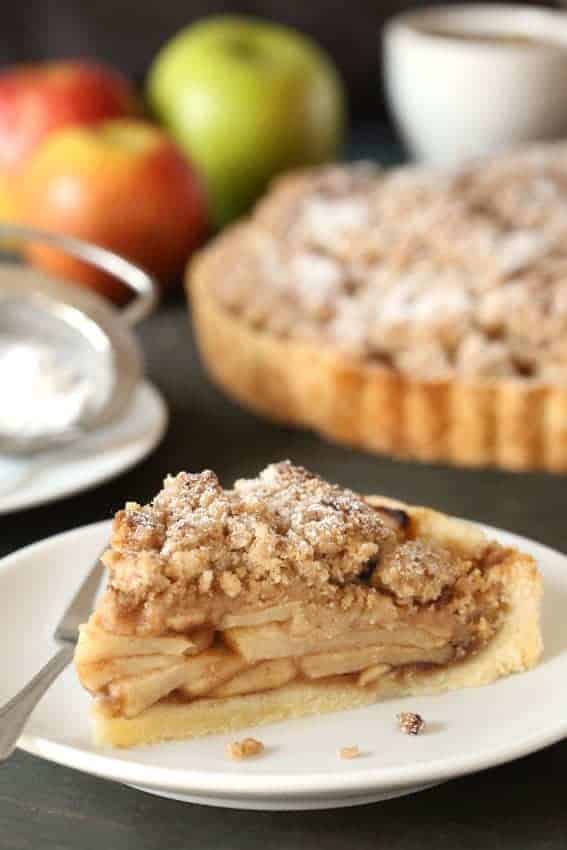 This gluten-free apple tart has a thick crumb topping and can also be made with traditional all-purpose flour. Enjoy it with a cup of coffee for a sweet breakfast or a delicious Fall dessert.
This tart was the first autumnal thing I've baked this year. Before I made it, I had been rolling my eyes at the fall-themed desserts I'd been seeing for the past month on Pinterest and everywhere else.
It's still summer, right? But after a bite of this tart, my opinion changed. Hand over the apples and apple pie spice!
The crust and topping use a mix of gluten-free flours but if you don't have those on hand, you should be able to use any all-purpose gluten-free mix.
I obviously haven't tried them all in this recipe but it should work as long as that flour blend is a 1:1 substitute for all-purpose flour.
The beauty of this crust and crumb topping are how flexible they are. They also work with regular all-purpose flour and white whole wheat if you don't need this apple tart to be gluten-free.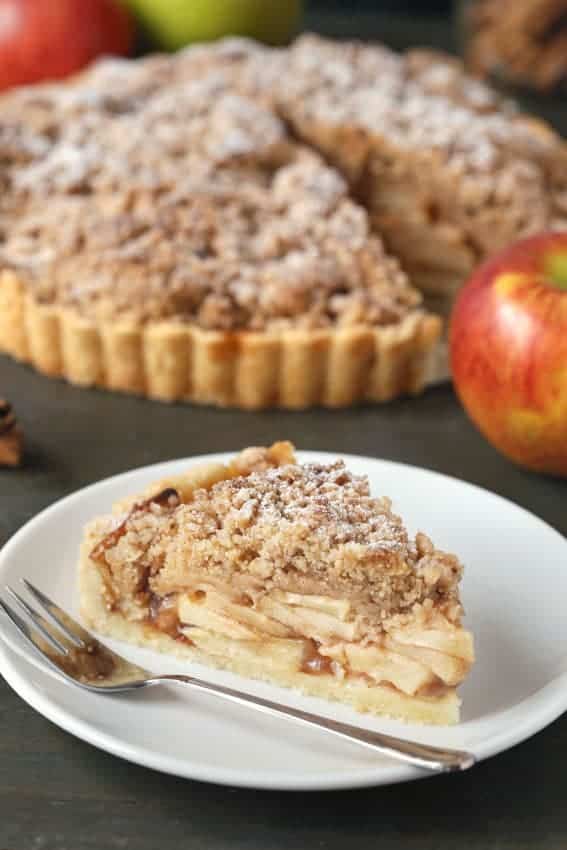 When you mix the crumb topping together, you'll probably think that it's way too much. Like twice what you need. Then when you pile the crumb topping on top of the apples, you'll probably think I'm daft and start swearing at me. But it bakes down so much! The crumb topping is nice and thick but not too much.
Some of the topping will fall off as you put it on, but it's easy enough to put right back on. If you're worried about making a mess, you could probably use a deep-dish pie pan. In that case, you'd probably want to roll the dough out with a rolling pin. I've also made this recipe using six 4.75″ mini tart pans. After the initial 10 minutes of baking at 425 °F, I only baked them for another 25 minutes at 350°F rather than the 40-45 that the full-sized tart requires.
I have to admit that I was slightly terrified before cutting that first piece. The crumb topping seemed so firm that it'd crack and make a mess but it slices wonderfully! I waited for the tart to cool completely, though. Cutting it while warm is probably not the best idea if you want it to stay in one piece.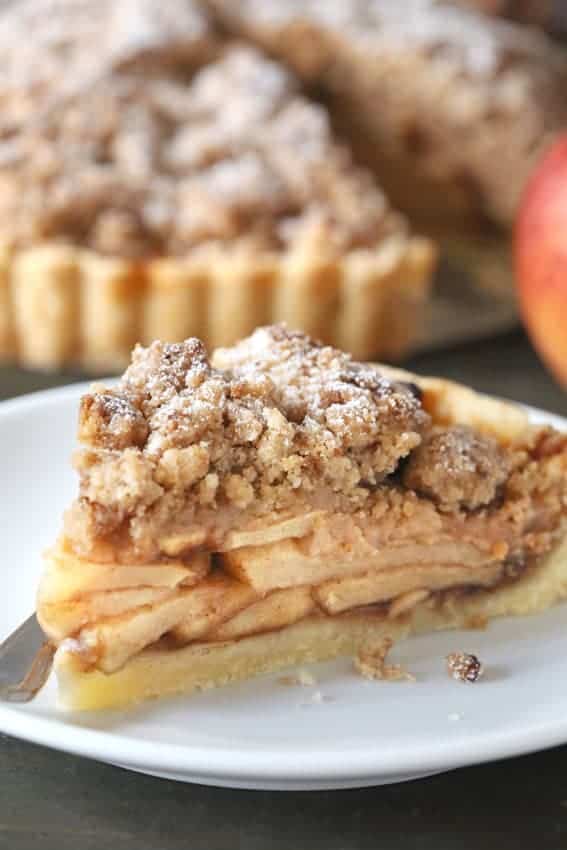 I made this tart in late August and wasn't quite in the mood for lots of autumnal spices yet but if you'd like, you could use 1 teaspoon (or more!) of apple pie spice in place of the cinnamon and nutmeg in the apple filling.
It does take some time to put this apple tart together but it's so worth it. If you're a little low on time, try my gluten-free apple crisp, which is a much quicker, thought not quite as elegant, alternative to this apple crumb tart!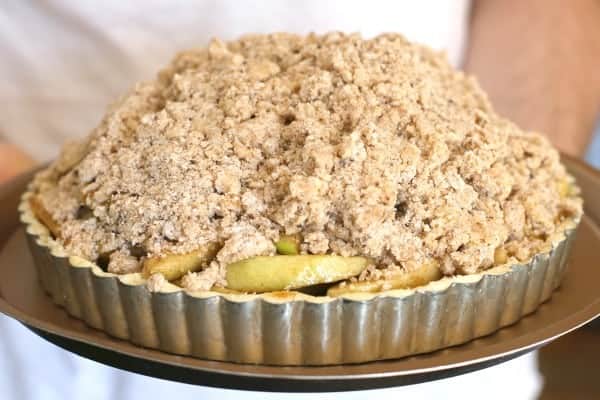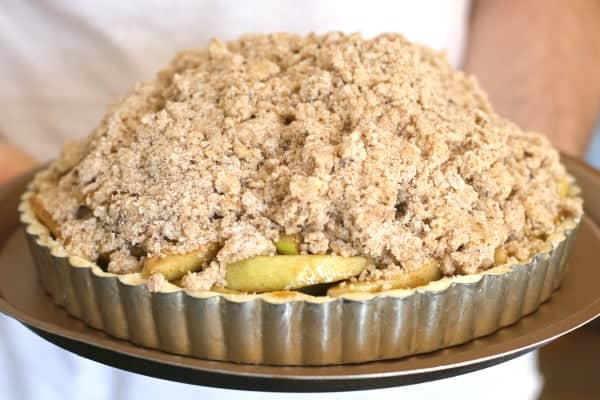 Gluten-Free Apple Tart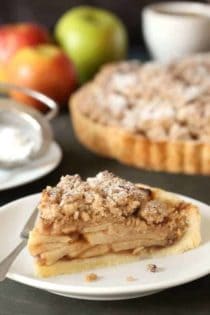 Ingredients:
For the Crust
1/2 cup unsalted butter, room temperature
3 tablespoons granulated sugar
1 large egg
1 teaspoon vanilla extract
1/4 teaspoon salt
1 1/2 cups gluten-free flour* (all-purpose flour or white whole wheat flour can be used for a non-gluten-free version)
For the Crumb Topping
1 1/2 cups gluten-free flour* (all-purpose flour or white whole wheat flour can be used for a non-gluten-free version)
1 teaspoon ground cinnamon
1/2 cup brown sugar
1/4 cup granulated sugar
1/8 teaspoon salt
3/4 cup unsalted butter, cold
* You can use your favorite gluten-free flour mixture that's a 1:1 substitute for regular all-purpose flour. If you don't have one on hand, the following recipe from Land O'Lakes is what I used for this tart. I highly recommend using a scale rather than measuring cups to ensure accuracy. Using this flour mixture, you'll use 1 1/2 cups (245 grams) in the crust and the same amount in the crumb topping.


2 cups (320 grams) white rice flour
2/3 cup (128 grams) potato starch
1/3 cup (40 grams) tapioca flour / starch
1 teaspoon xanthan gum
For the Apple Filling
1 tablespoon lemon juice
1 teaspoon vanilla extract
1/4 cup granulated sugar
1/4 cup brown sugar
2 teaspoons cornstarch
1 teaspoon ground cinnamon
1/8 teaspoon ground nutmeg
pinch of salt
4 medium (about 1 3/4 pounds) Granny Smith apples, peeled and cut into slightly less than 1/4″ slices
For Serving
powdered sugar or vanilla ice cream
Note: If you need the tart to be gluten-free, make sure all your products are certified gluten-free.
Directions:
For the crust:
In a large mixing bowl, beat the butter at medium speed using a stand mixer or electric hand mixer until fluffy.
Add the sugar, egg, vanilla and salt and beat for about 20 seconds. It'll appear curdled at this stage. Gradually add in the flour and beat until well combined.
Take out a 9″ or 10″ tart pan with a removable bottom and pat the dough evenly up the sides and over the bottom of the tart pan.
Refrigerate for at least 20 minutes while preparing the rest of the tart.
For the Crumb Topping
In a large mixing bowl, stir together the flour, cinnamon, brown sugar, granulated sugar and salt.
Beat in the butter or use your hands or a pastry blender to incorporate it.
Once well combined, place the bowl in the refrigerator to chill while preparing the apples.
For the Apple Filling
In a large mixing bowl, stir together everything except for the apples.
Then stir in the apples and coat thoroughly in the liquid mixture.
Take the crust and crumb topping out of the refrigerator.
Place the apples (and all the juice that has accumulated at the bottom of the bowl) into to unbaked tart crust. Do not worry about placing them in neatly – they will cook down.
Place the tart on a clean workspace away from the counter's edge. Top with the crumb topping. Note that it will be piled several inches above the rim of the tart pan.
Place the tart on a baking sheet to catch any spills.
Bake for 10 minutes at 450°F and then turn the heat down to 350 °F.
Bake for another 40-45 minutes or until the topping is firm and the filling is bubbling.
If you notice the topping is browning too quickly, cover it with foil and place the tart on the bottom rack of the oven.
If not using a 9″ or 10″ tart pan, you'll need to adjust the baking time accordingly.
Let cool completely. If you cut into the tart while it's still warm, it may be difficult to cut a clean piece.
Dust with powdered sugar or top with ice cream.
Cover and store at room temperature for up to 2 days and then refrigerate any leftovers.
All images and text ©
Follow Jamie on Instagram. We love to see what you're baking from MBA! Be sure to tag @jamiemba and use the hashtag #mbarecipes!
This post may contain affiliate links. We are a participant in the Amazon Services LLC Associates Program, an affiliate advertising program designed to provide a means for us to earn fees by linking to Amazon.com and affiliated sites.