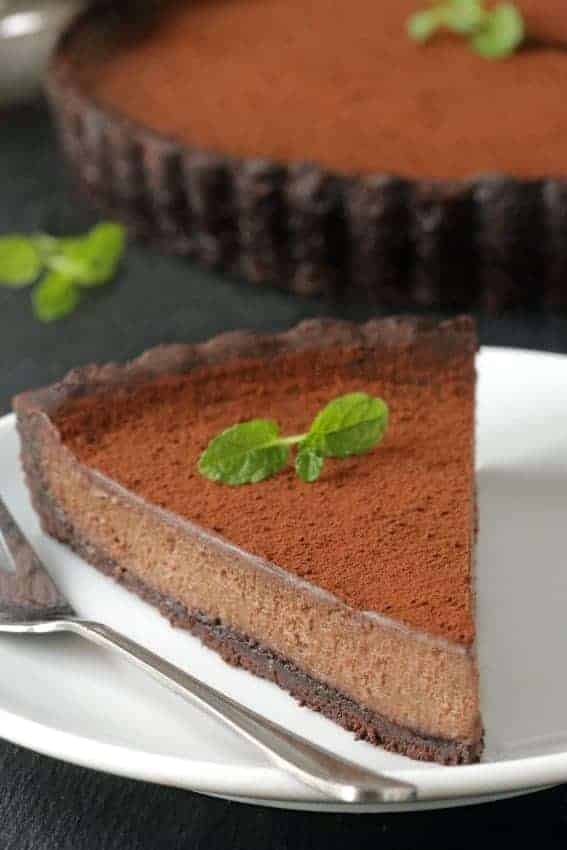 If you're looking for a decadent yet simple Christmas dessert, then look no further! This mint chocolate tart has an amazingly delicious chocolate, cream and egg-based filling. Prior to chilling, the filling is like pudding. After chilling, it's luscious perfection.
The crust is similar to the one in my mini pumpkin cheesecakes. That crust recipe worked great for mini cheesecakes, but used in a regular tart pan, it was pretty much a disaster. So in this mint chocolate tart, we have a tweaked version that works perfectly in a tart pan and cuts beautifully.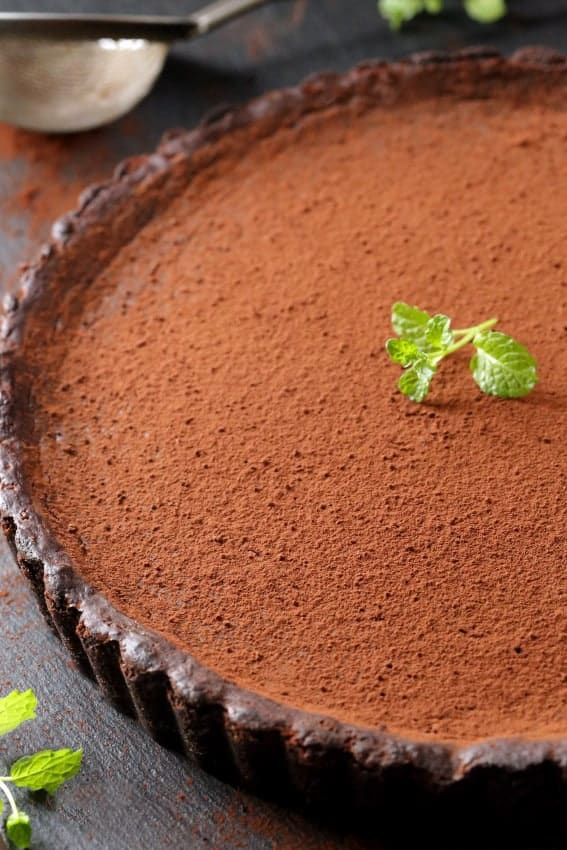 The filling has quite a bit of mint flavor, thanks to a hefty amount of peppermint extract. If mint isn't your thing, just use more vanilla or another type of extract in place of the peppermint. I've tried this chocolate tart with almond extract and it was amazing but I prefer this mint chocolate version!
Before I even made this tart, I was worrying about how to decorate it. Perhaps I should add a layer of ganache? But just a layer of ganache would look boring. So then I figured I'd add some chocolate curls. And mint leaves! And whipped cream!
Then I realized most people probably don't want complicated and over-the-top. So I went with a simple dusting of cocoa powder and couldn't be happier with it. A few tiny bubbles form on the surface during baking so if you're serving this to company, I definitely recommend topping it with something.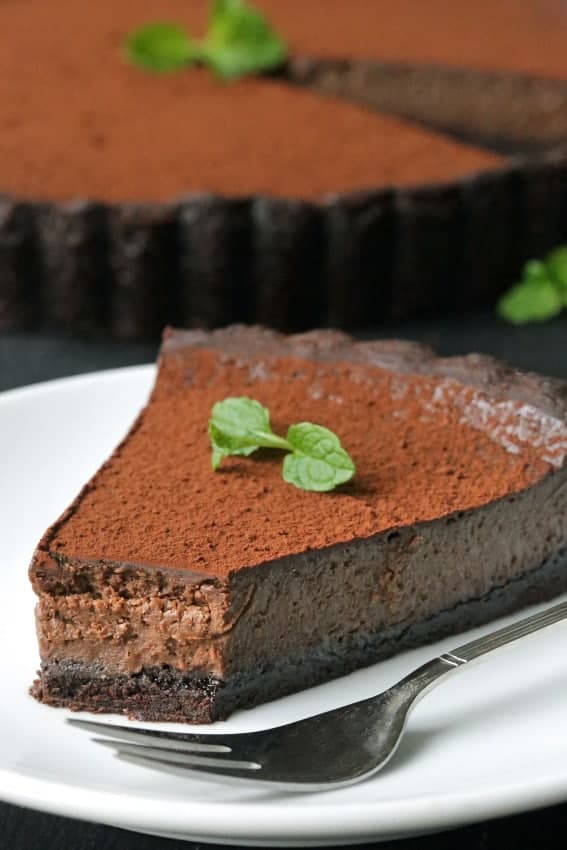 If you prefer to go the mini tart route, you can use six 4.75″ mini tart pans. You'll need to bake the crust for 8-10 minutes and then bake the filling for 15 minutes.
This mint chocolate tart is a great make-ahead dessert. You can prepare it 2 days before you want to serve it or you can even prepare it earlier and then freeze. If you do the latter, freeze the undecorated tart. To defrost, let it sit at room temperature for about an hour and then dust with cocoa powder just before serving.
Having a stressful holiday season? Make this tart for a little reprieve from the insanity. Or try these gluten-free mint chocolate chip brownies. Both recipes are ridiculously easy and sure to ease any holiday woes!
Mint Chocolate Tart
Yield: 8-10 servings
Prep Time: 15 minutes
Cook Time: 37 minutes
Total Time: 52 minutes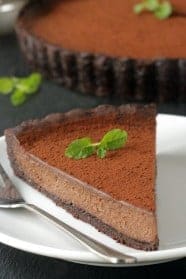 Ingredients:
For the crust:
3/4 cup granulated sugar
1/2 cup all-purpose flour or 1/2 cup + 1 tablespoon buckwheat flour for a gluten-free version
1/2 cup + 1 tablespoon cocoa powder
1/8 teaspoon salt
6 tablespoons unsalted butter, melted
For the filling:
1 3/4 cups semi-sweet chocolate chips or chopped chocolate
1 1/2 cups whipping cream
3/4 teaspoon peppermint extract
1/4 teaspoon vanilla extract
2 large eggs, beaten
For serving:
Note: If you need this tart to be gluten-free, make sure all your ingredients are certified gluten-free.
Directions:
Preheat the oven to 350 °F and get out a 9" tart pan with a removable bottom.
In a large mixing bowl, stir together the sugar, flour, cocoa powder and salt. Stir in the melted butter until well combined and a dough forms.
Press up the sides and over the bottom of the tart pan.
Bake for 10 minutes. It'll have started to bubble slightly and will still be quite soft. Let cool for at least 10 minutes before filling.
After 10 minutes of cooling, the sides of the crust will be firm and the center will still be quite soft.
While the crust is baking and cooling, prepare the filling.
In a medium saucepan over medium-low heat, mix together the chocolate and whipping cream and stir frequently until the chocolate is melted. Remove from the heat. It shouldn't be that warm but if it is, let it cool about 5-10 minutes so that the eggs don't scramble when added.
Stir in the peppermint and vanilla extracts followed by the beaten eggs.
Place the tart pan on a baking sheet, which will make removing the tart from the oven easier.
Pour the filling over the partially cooled crust and bake for 22-27 minutes or until the center is set. When you tap the pan, there shouldn't be any ripples, but it won't be totally firm.
Let cool for about 1 hour and then chill for another 2 hours.
Dust with cocoa powder and top with mint leaves prior to serving, if desired.

8 Responses to "Mint Chocolate Tart"