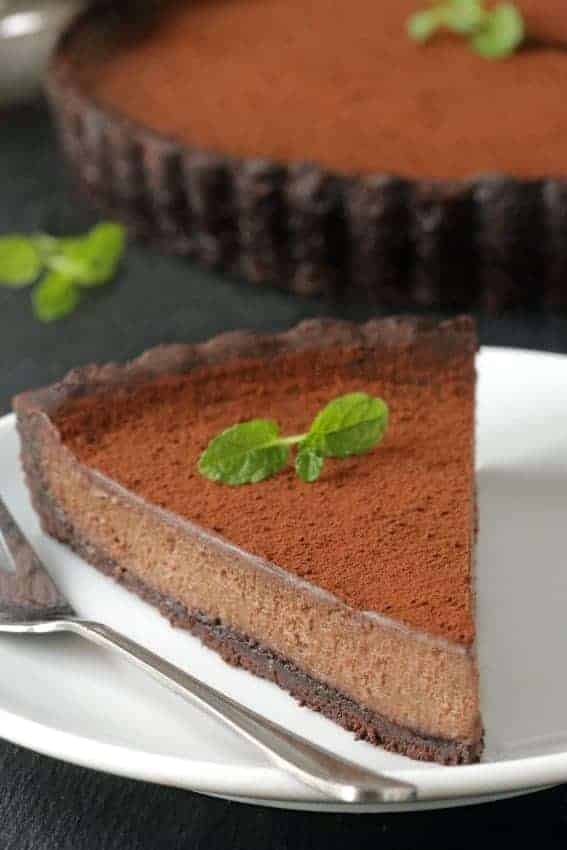 If you're looking for a decadent yet simple Christmas dessert, then look no further! This mint chocolate tart has an amazingly delicious chocolate, cream and egg-based filling. Prior to chilling, the filling is like pudding. After chilling, it's luscious perfection.
The crust is similar to the one in my mini pumpkin cheesecakes. That crust recipe worked great for mini cheesecakes, but used in a regular tart pan, it was pretty much a disaster. So in this mint chocolate tart, we have a tweaked version that works perfectly in a tart pan and cuts beautifully.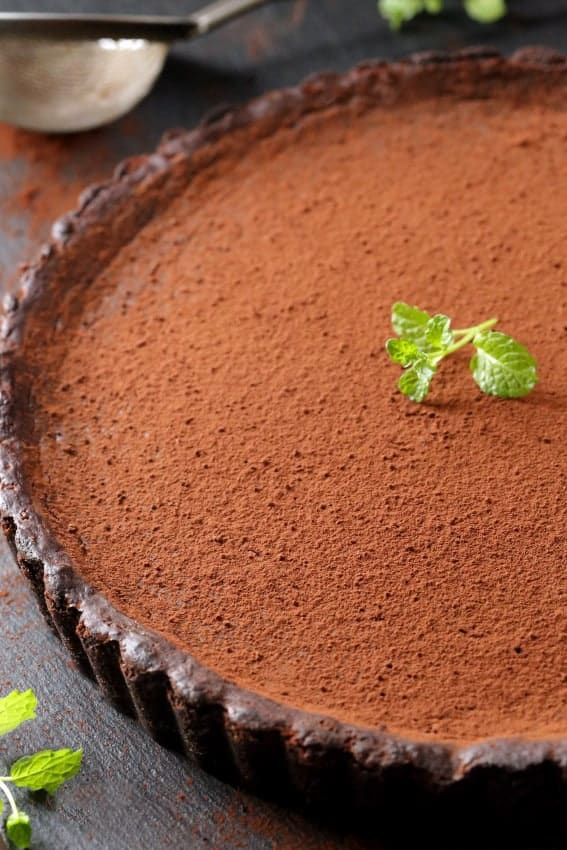 The filling has quite a bit of mint flavor, thanks to a hefty amount of peppermint extract. If mint isn't your thing, just use more vanilla or another type of extract in place of the peppermint. I've tried this chocolate tart with almond extract and it was amazing but I prefer this mint chocolate version!
Before I even made this tart, I was worrying about how to decorate it. Perhaps I should add a layer of ganache? But just a layer of ganache would look boring. So then I figured I'd add some chocolate curls. And mint leaves! And whipped cream!
Then I realized most people probably don't want complicated and over-the-top. So I went with a simple dusting of cocoa powder and couldn't be happier with it. A few tiny bubbles form on the surface during baking so if you're serving this to company, I definitely recommend topping it with something.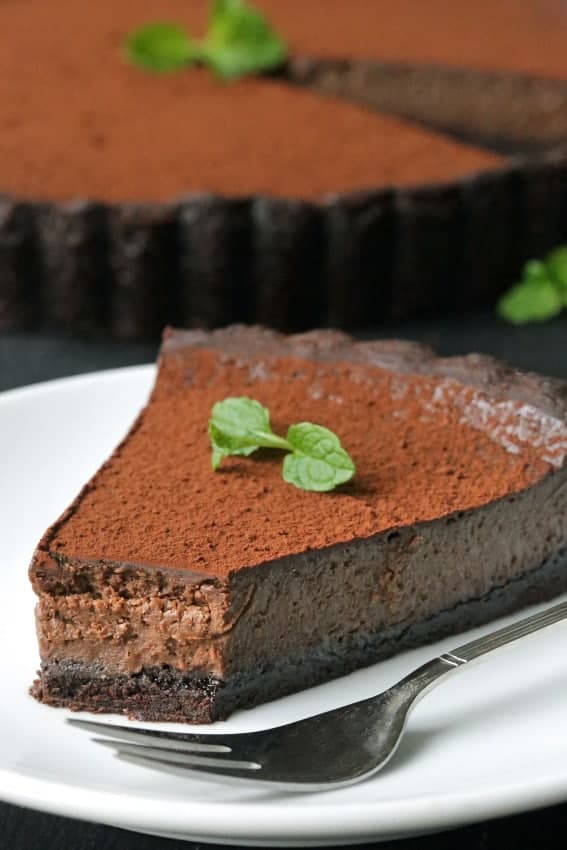 If you prefer to go the mini tart route, you can use six 4.75″ mini tart pans. You'll need to bake the crust for 8-10 minutes and then bake the filling for 15 minutes.
This mint chocolate tart is a great make-ahead dessert. You can prepare it 2 days before you want to serve it or you can even prepare it earlier and then freeze. If you do the latter, freeze the undecorated tart. To defrost, let it sit at room temperature for about an hour and then dust with cocoa powder just before serving.
Having a stressful holiday season? Make this tart for a little reprieve from the insanity. Or try these gluten-free mint chocolate chip brownies. Both recipes are ridiculously easy and sure to ease any holiday woes!