This super easy Puff Pastry Strawberry Tart is our favorite simple summer sweet treat. Made in minutes, it's delicious on its own or topped with vanilla ice cream!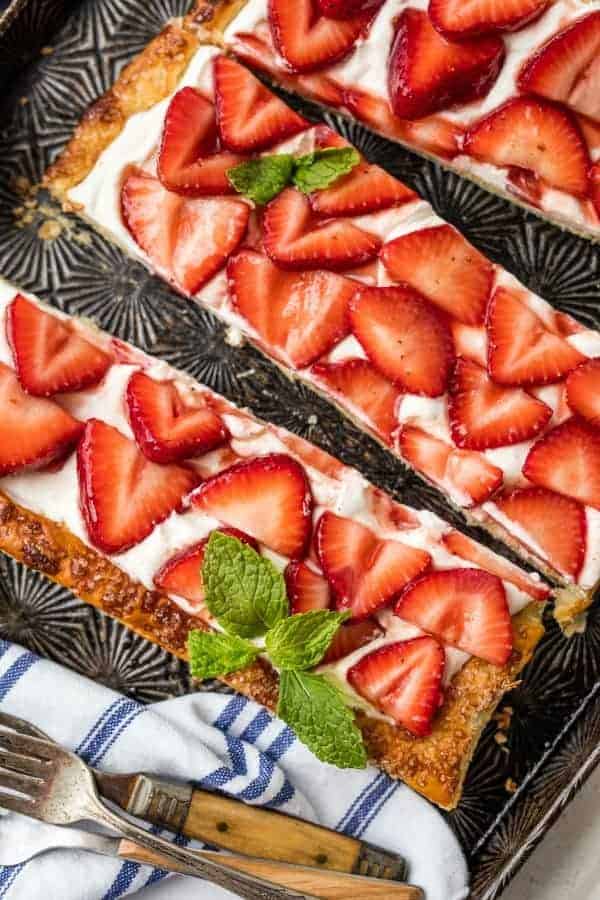 I've been really working on my dessert game. I'm so honored to be contributing here at My Baking Addiction, and it has me so inspired.
Jamie is the absolute queen of easy and attainable desserts, and she makes me feel like I can do it too. So…baby steps. One sweet treat at a time.
Making Strawberries Foster helped me to remember that simple is best. I could eat that recipe every darn day.
This month, I settled on this super simple Puff Pastry Strawberry Tart, and I couldn't be happier. It just looks and tastes just like summer.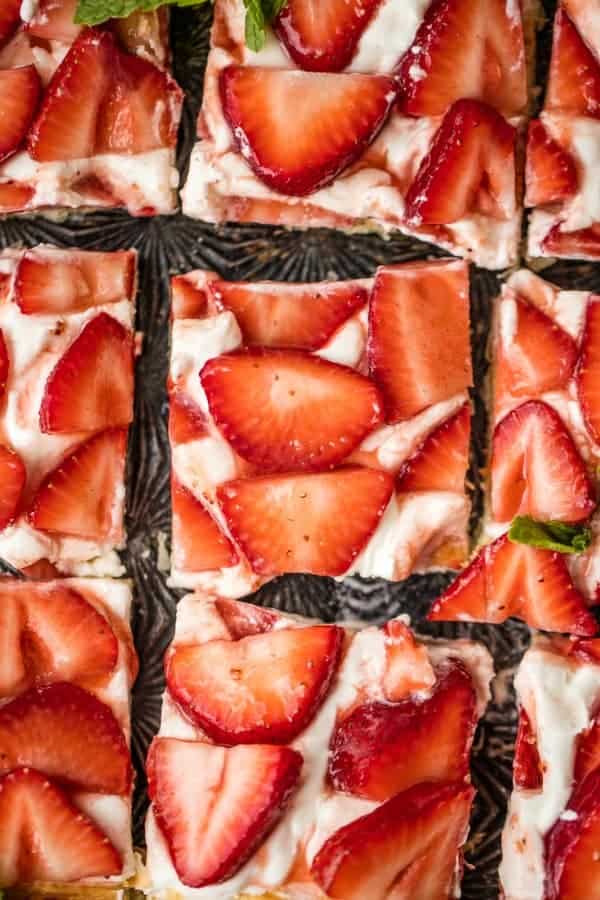 Fresh fruit, a creamy and easy base, and puff pastry. It's pretty much the only thing I need in this world this summer!
This easy Puff Pastry Strawberry Tart is the perfect sweet treat to bring with you to family BBQs, work potlucks, or any summer get-together.
Believe me, it will be the hit of the party! Way better than store bought but almost just as easy. But you might want to make two.
One is gone REALLY quick…trust me!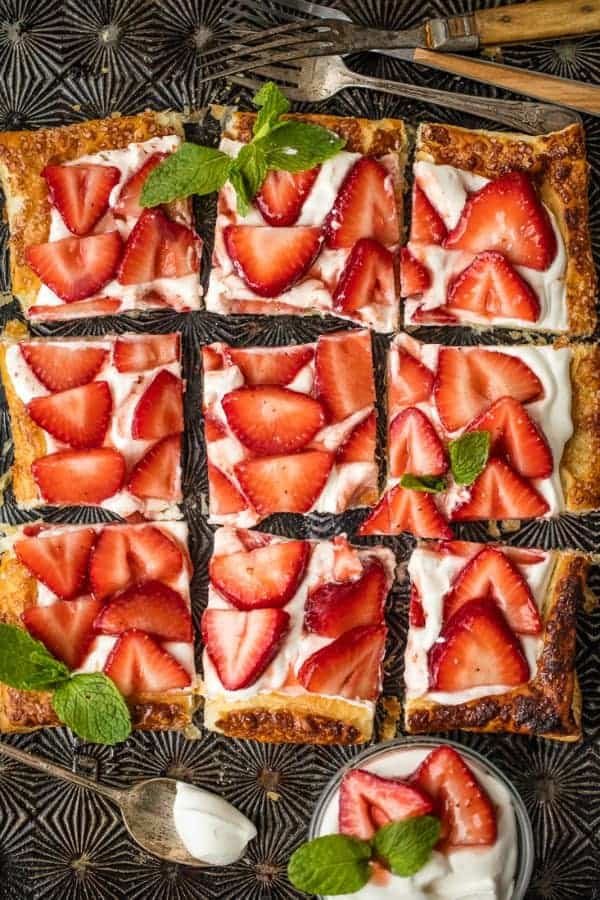 WHY PUFF PASTRY STRAWBERRY TART IS SO EASY
You can't claim that this Puff Pastry Strawberry Tart is made from scratch, but you can say that it's homemade. And I feel pretty good about that.
It's certainly a massive step up from when I used to show up to every party with nothing but Buffalo Wild Wings.
I use store-bought puff pastry to make the crust for this start. Since we aren't making the dough from scratch, go ahead and make sure you buy the all-butter puff pastry for that yummy buttery flavor.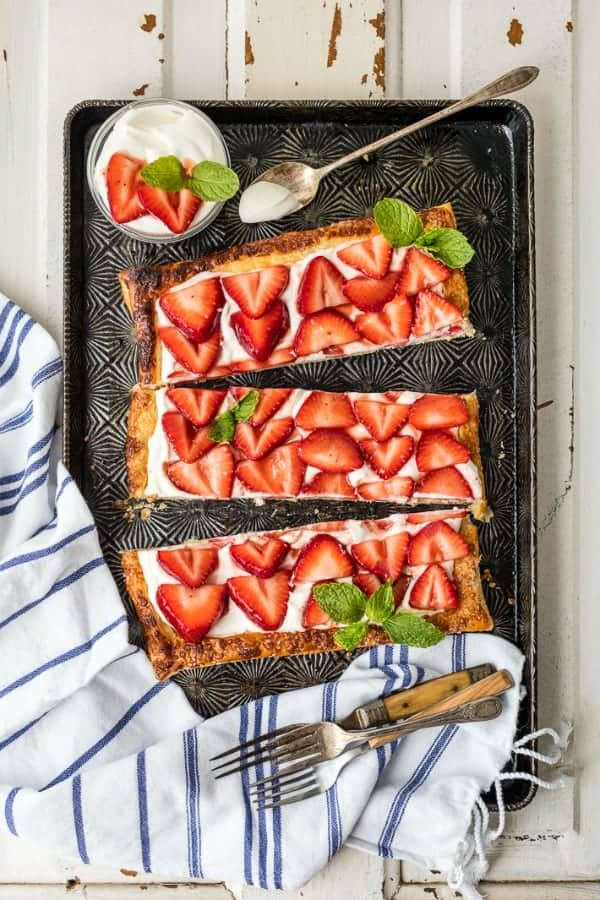 The filling is made with mascarpone cheese for a little tang, a bit of sugar and some whipped cream. It is light and creamy and a perfect match for the sweet and tart strawberries.
Wondering how to give the strawberries that fancy glazed look that you always see on bakery tarts? Jam!
Yep, just mix a little strawberry jam with the sliced fresh berries and they'll look super fancy with almost zero effort.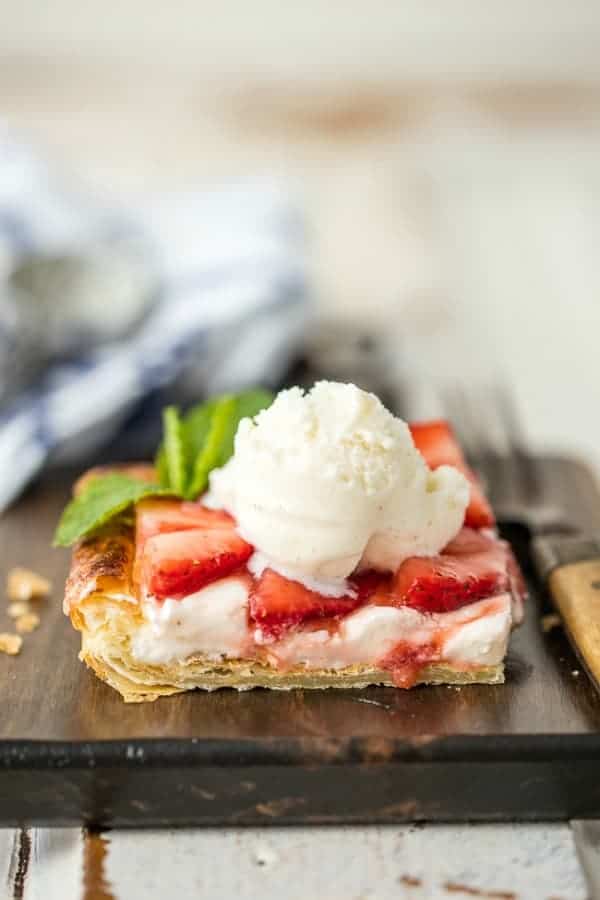 HOW TO MAKE A PUFF PASTRY TART BASE
I love using puff pastry to make a tart base because you don't even have to have a tart pan. It's a crust and a pan all in one!
Just roll out the thawed puff pastry and use a paring knife to gently score a border about ¾-inch inside the edge of the pastry.
Make sure you don't cut all the way through, though – you just want to score the first few layers!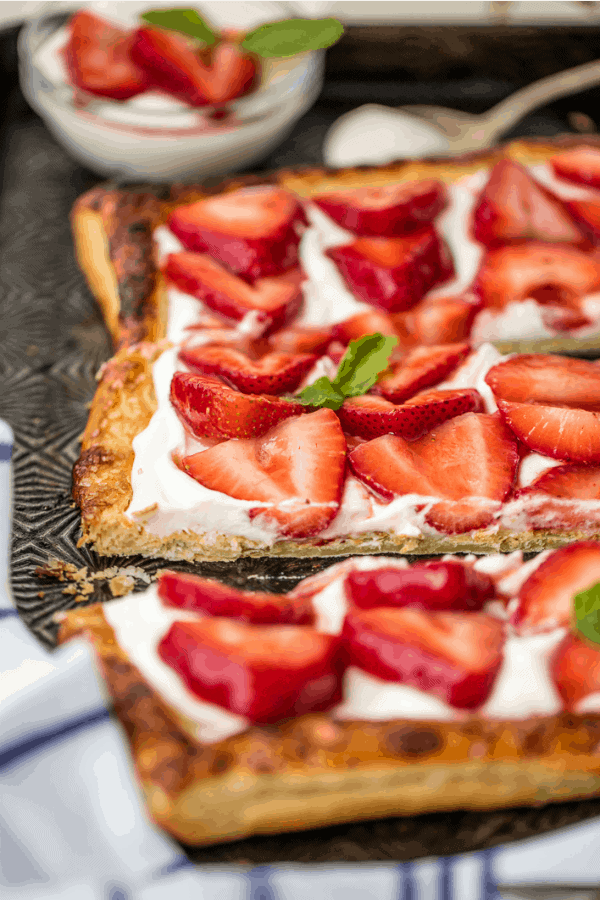 Then, pierce the inside with a fork. Piercing the inside will keep this section from rising, while the outer border can still rise.
Voila! You just made an easy puff pastry tart base!
You can try this trick with smaller pieces of puff pastry to make individual-sized tartlets if you like. You could even fill them with savory fillings instead of sweet!
Your friends and family will thank you for bringing this beautiful, EASY, and delicious dessert. You can keep the fact that it's so easy to yourself!
Eat it on its own straight out of the fridge, or heat it up and top it with vanilla ice cream. There's no wrong way. Only tastiness awaits!!
Enjoy!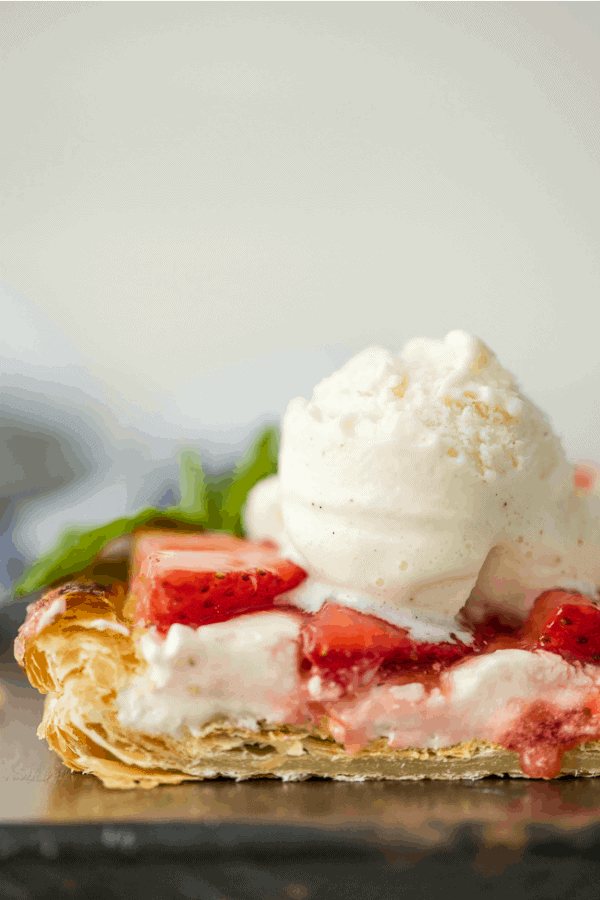 Puff Pastry Strawberry Tart was contributed by Becky of The Cookie Rookie.