Light and refreshing, these Citrus Rosemary Vodka Spritzers fit perfectly at both casual get togethers and elegant dinner parties.
Let's talk citrus. During the long, seemingly endless snowy Ohio winters, one of my favorite ingredients to shop for are citrus fruits. Wandering through the supermarket, I love seeing the towering displays of oranges, lemons, limes and grapefruits. It's these bright, colorful and vibrant fruit that inspired my Citrus Rosemary Vodka Spritzers.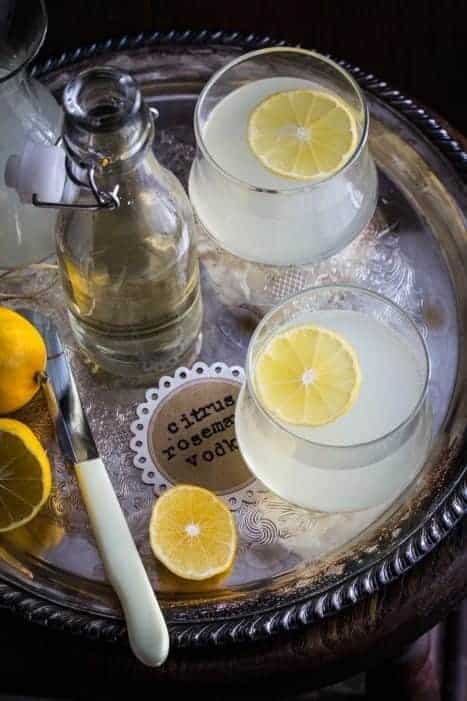 Over the holidays, I had fun making infused vodka with candy canes, citrus and cranberries. Since then, I've been devising cocktail recipes that showcase these flavorful homemade vodkas. This Citrus Rosemary Vodka Spritzer is an easy 3 ingredient cocktail that you can mix ahead of time, then top with some seltzer water and serve.
I love simple cocktails. It's not that I don't enjoy trying unique techniques and playing around with various liquor and flavor combinations, because there are times that I love that! There is, however, something about having simple cocktails with only a few ingredients that I love having in my repertoire, too.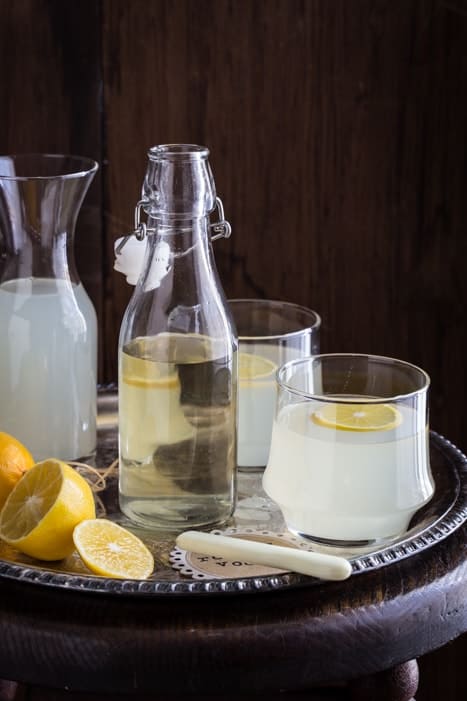 My Spiked Caramel Apple Cider is a great example this simple, uncomplicated style of drink. So are these Citrus Rosemary Vodka Spritzers. It's just good quality lemonade (homemade if you're feeling extra fancy) citrus rosemary infused vodka and seltzer water – that's it.
Mix a batch of lemonade and vodka together ahead of time and simply top it with seltzer water before serving for a completely fuss free drink. Serve it at a casual get together, fancy dinner party or sip on them during your Downton Abbey marathon. Either way, they're fabulous.
For more infused vodka cocktail recipes, try out my Candy Cane Martini!
Citrus Rosemary Vodka Spritzer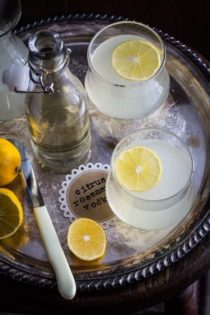 Ingredients:
Directions:
Fill a cocktail shaker with ice and add vodka and lemonade. Cover and shake until cold.
Strain into cocktail glass and top with seltzer water. Serve with lemon slice, if using.
Enjoy!
Source: Emily Caruso of Jelly Toast
All images and text ©
Follow Jamie on Instagram. We love to see what you're baking from MBA! Be sure to tag @jamiemba and use the hashtag #mbarecipes!