I've had this post in my drafts for over a year and I'm finally getting around to sharing it with you just in time for the holidays.
As you know, I have a pretty major thing for cupcakes. From Mint Chocolate Chip Cupcakes to Chocolate Chip Cookie Dough Cupcakes – I enjoy making them almost as much as I enjoy eating them.
Whenever we have potlucks at work, I'm always the first person to sign up in the dessert category. And my go-to crowd pleaser is always cupcakes.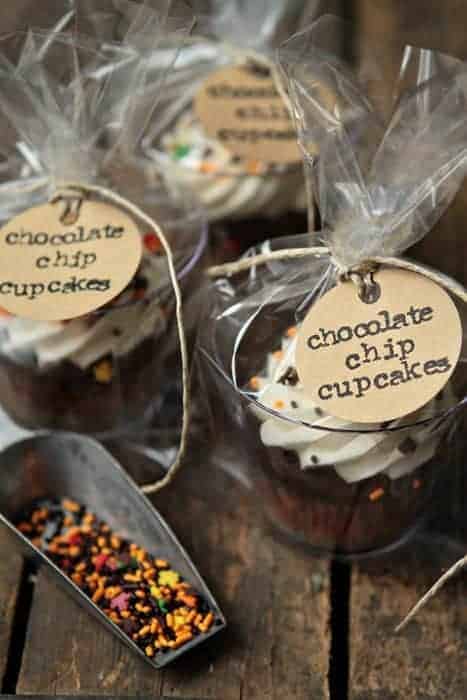 Even though I find cupcakes to be incredibly simple, I also find them to quite elegant and perfect for just about any occasion. Add a festive liner, a swirl of buttercream, and a dash of sprinkles and you pretty much have my version of party perfection.
As much as I like the grab-and-go portability of cupcakes, sometimes certain occasions call for a little more packaging – for example, bake sales.
My favorite way to package cupcakes couldn't be easier and all the materials you'll need are readily available at your local craft store.
Holiday Cupcake Inspiration
Pumpkin Mocha Cupcakes
Sugar and Spice Cupcakes
Pumpkin Spice Cupcakes
How To Package Cupcakes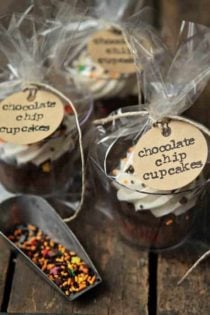 Ingredients:
Directions:
1. Place cooked and cooled cupcakes into plastic cups. If your liners happened to fade during the baking process, add another liner to each cupcake to make the design brighter and more visible.
2. Pipe frosting onto cupcakes and top with sprinkles.
3. Gently place cups into cellophane bags. Add your tags to the twine or ribbon and tie the top of the bag.
Notes:
- If you are using a soft frosting such as cream cheese, meringue, or Italian buttercream, I would recommend attaching a spoon to your cup.
All images and text ©
Follow Jamie on Instagram. We love to see what you're baking from MBA! Be sure to tag @jamiemba and use the hashtag #mbarecipes!