Mini Cherry Almond Cheesecakes are a simple and delicious sweet treat for just about any occasion. They're fun to make, and even more fun to eat!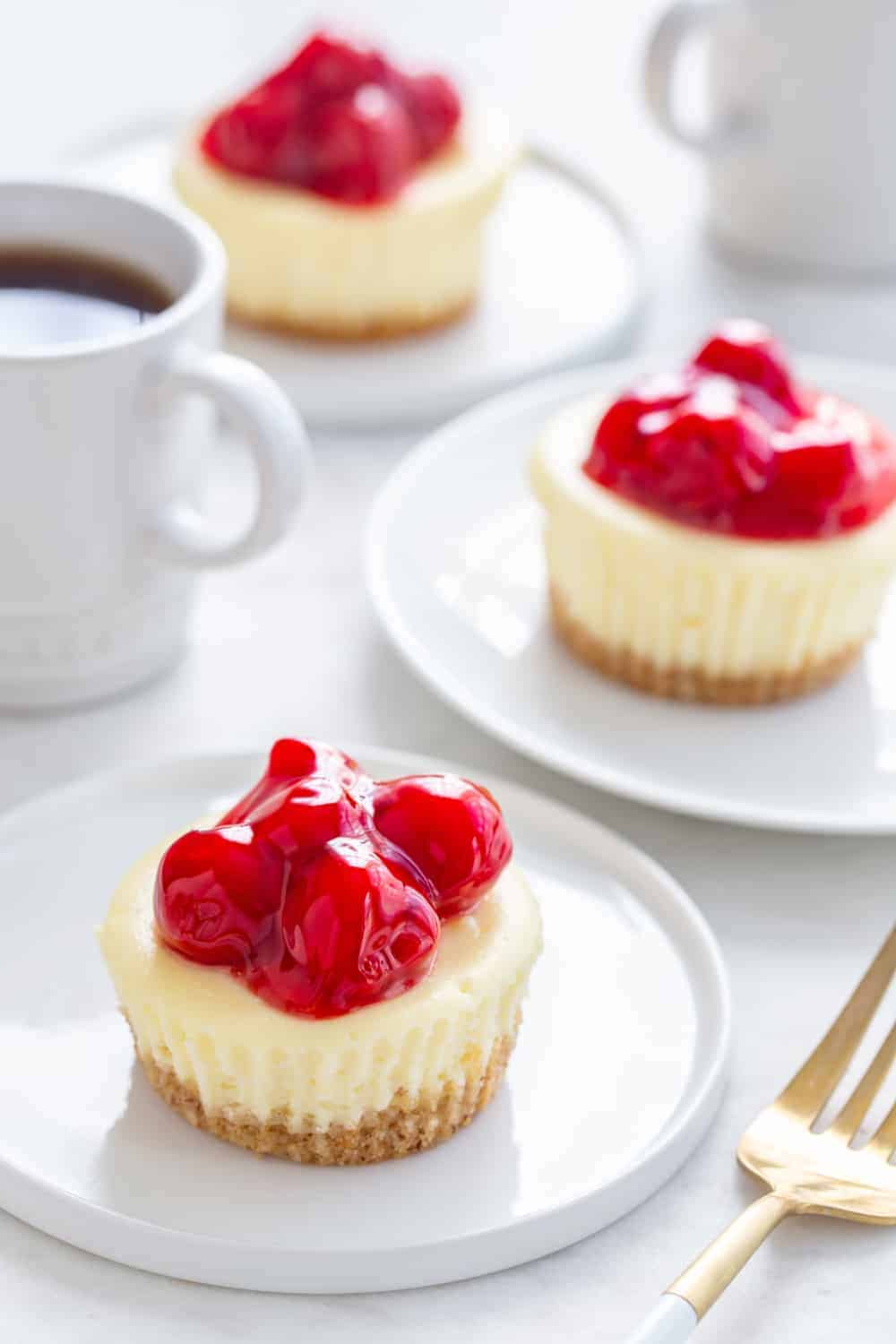 I honestly can't believe that it's already mid-June. I feel like I am going to blink my eyes and it'll be back to early mornings, packing backpacks, and preschool wardrobe compromises.
Not that we haven't had numerous wardrobe compromises already this summer.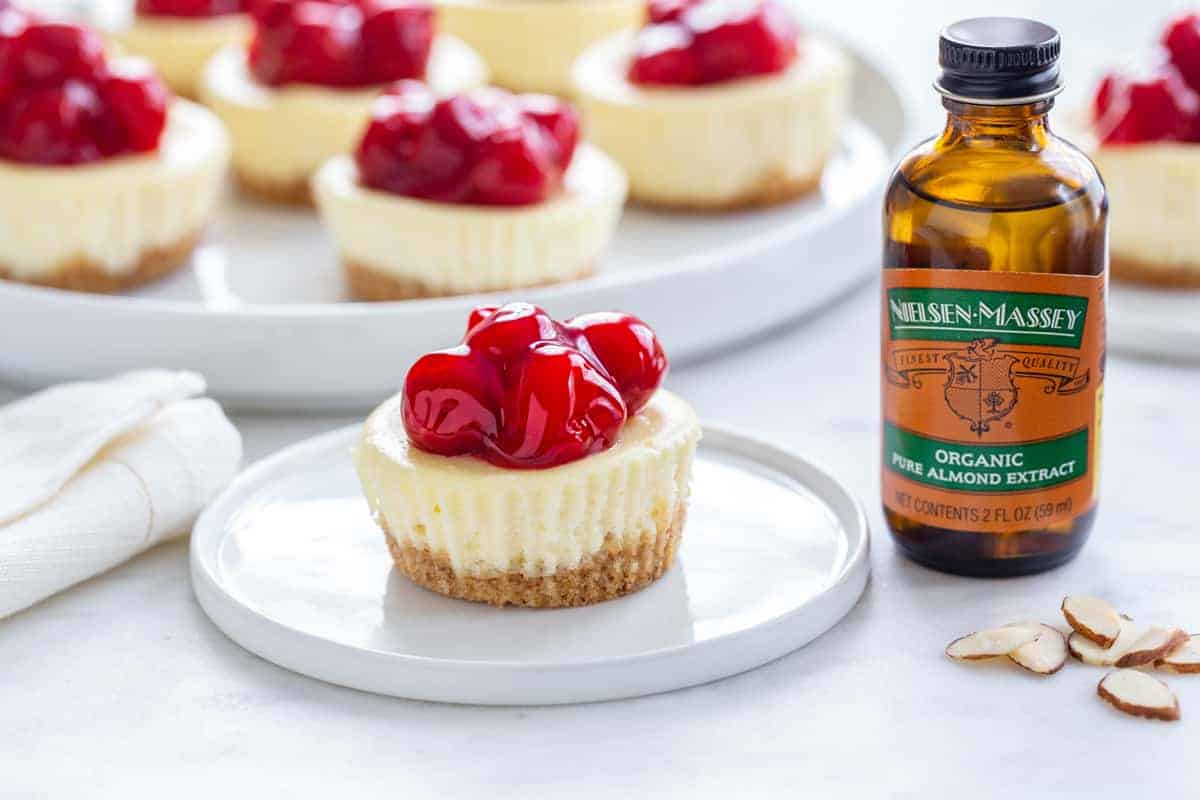 You see, Elle has a serious thing for dresses and has for over a year. Which is all kinds of adorable until she comes downstairs donning one of her favorite maxi dresses and a pair of oversized sunglasses for gymnastics class.
But as silly as this sounds and looks, my girl always has a plan and in this case, it was a pair of shorts under her dress. I mean, you can't say she didn't try.
To be honest, there have been a lot of compromises so far this summer, from dresses and screen time to swimming in tutus and deciding how many popsicles are acceptable to consume in one day, my little babe is definitely keeping me on my toes.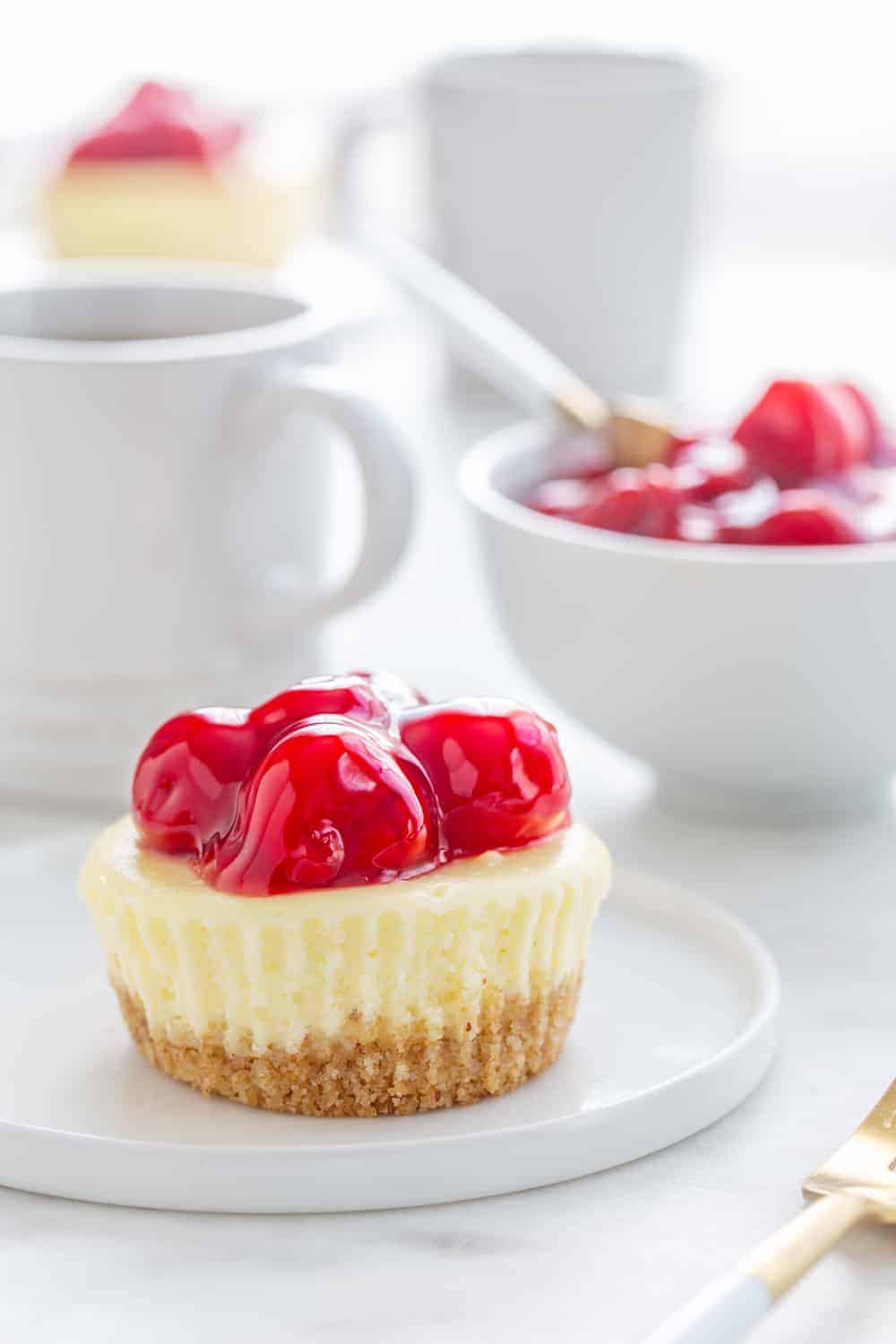 Since we have so much time on our hands, we've been baking quite a bit – just for fun.
No photos to take or blog posts to write, just me and Elle perched on her little step stool, whipping up countless loaves of banana bread, cupcakes and her favorite chocolate chip pancakes.
One of the things I've learned while baking with Elle is that I just need to relax a bit.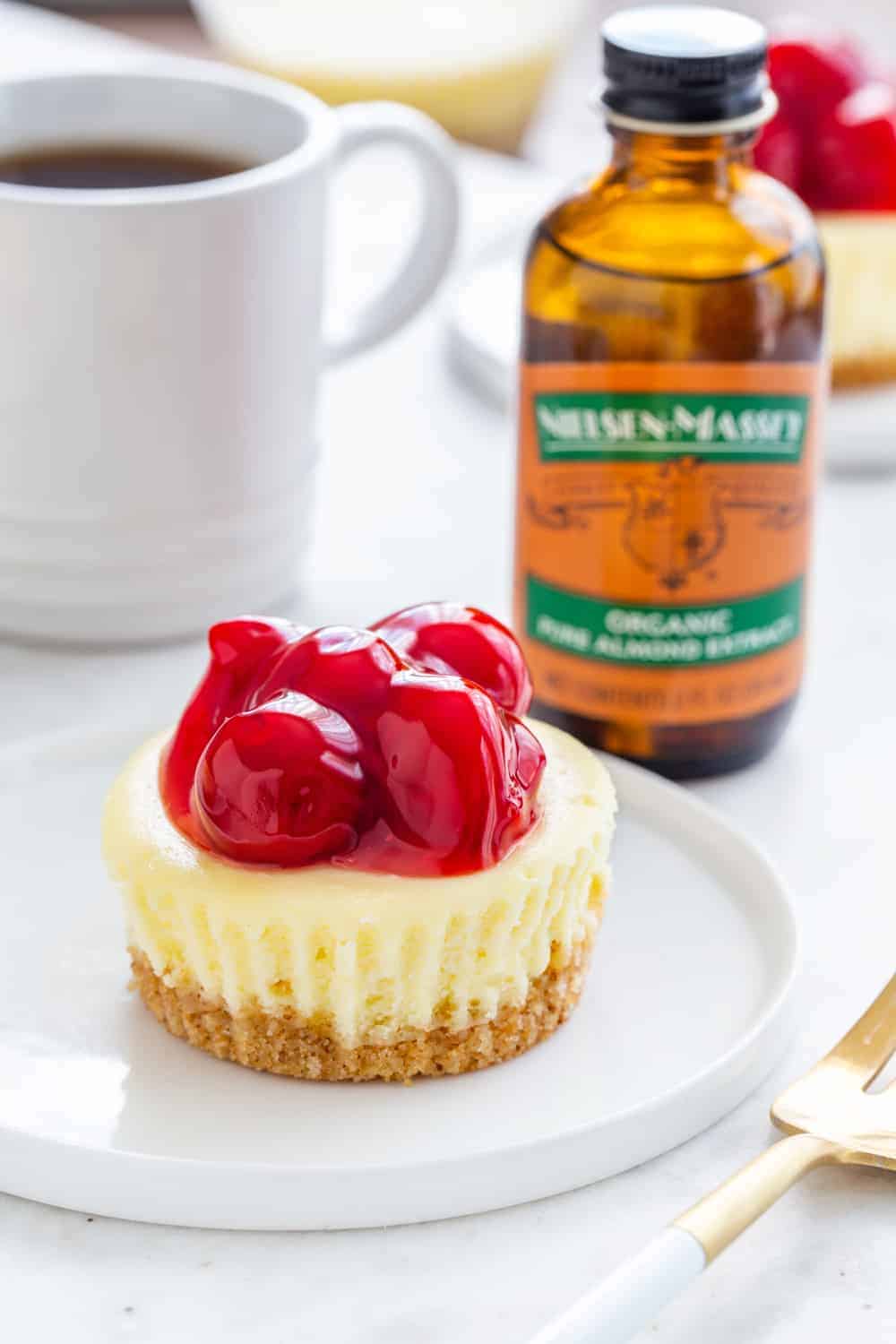 Worrying about a little flour or an entire raw egg falling onto my bare toes (yep, this actually happened last week) seriously sucks all the fun out of being together in the kitchen.
I let her do as much as she wants and if we end up with eggshells in the batter, we fish them out. And if we end up with a little sugar all over the counter, she licks her fingers and pretends she's eating a Fun Dip.
When I started testing these Mini Cherry Almond Cheesecakes for Nielsen-Massey, I was by myself in the kitchen. But as soon as Elle saw me pull out the cookie scoop to divide the cheesecake batter into the cupcake pan, she pulled up her stool and asked if she could make the cupcakes.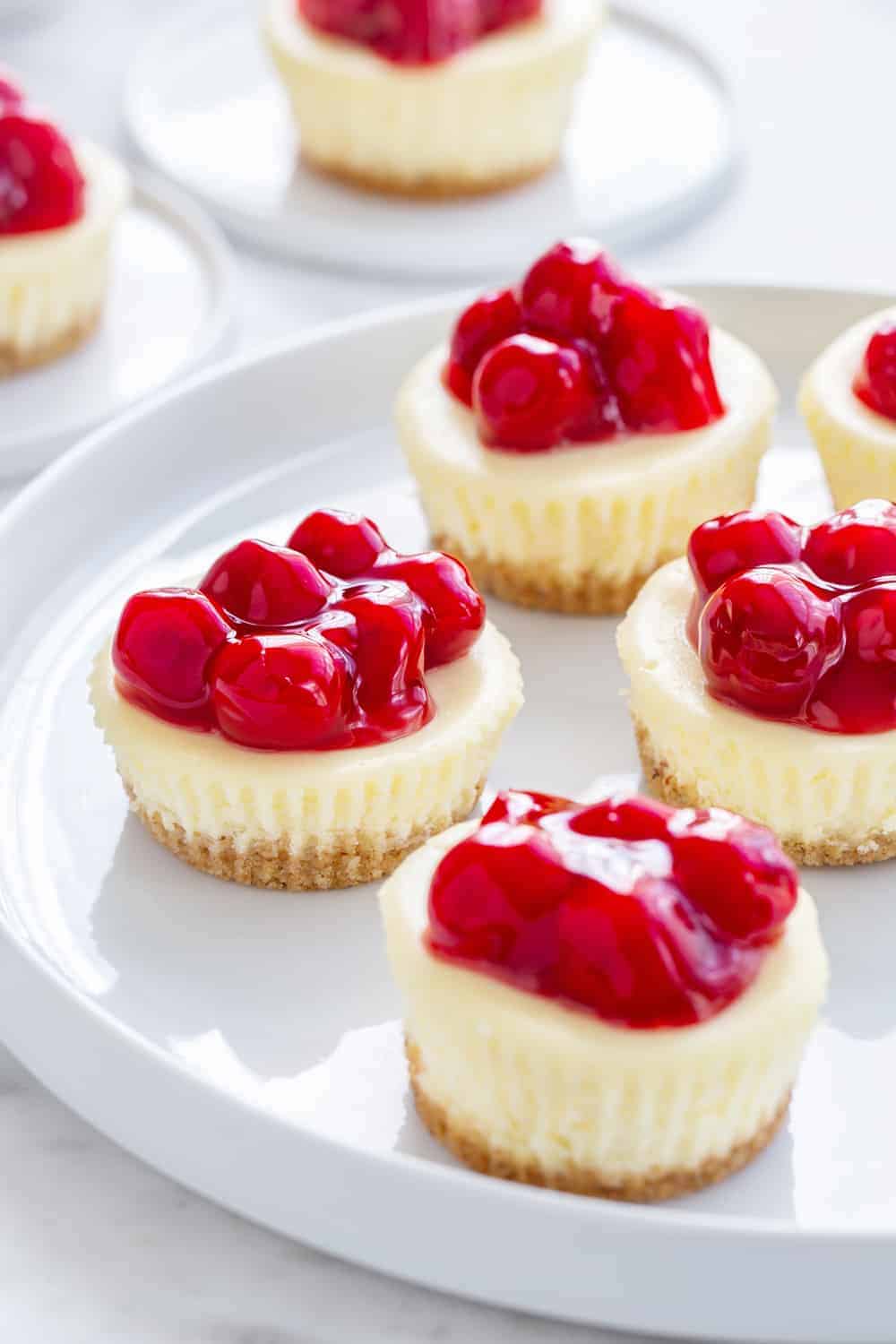 After listening to her explain to me for several minutes that cheese does not belong in cake, we dished out the batter and popped our mini cheesecakes into the oven.
A few hours later, it was discovered that my sweet little girl does NOT like cheesecake, which to most people would not be a big a deal.
But you guys know my obsession with everything cheesecake, so this felt kinda personal. Okay, that may be just a tad dramatic, but I did keep begging her to just take one more bite.
Nope, she wasn't having it.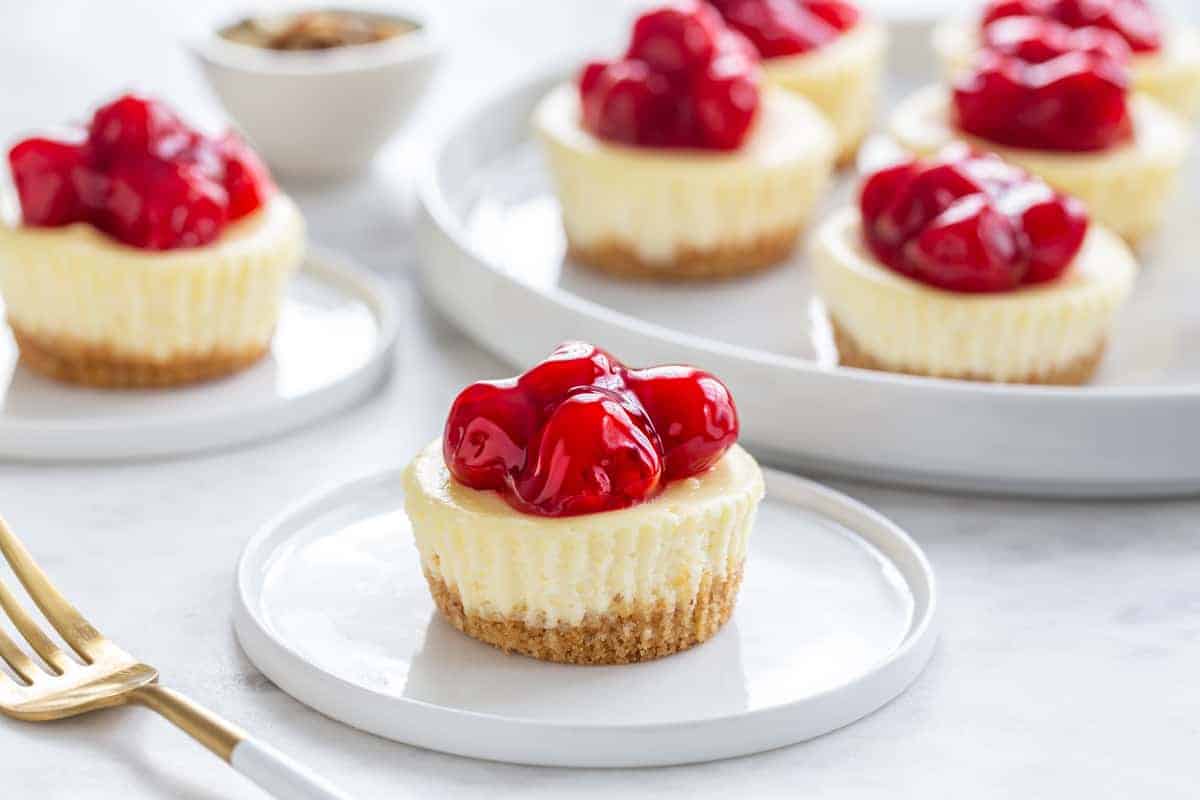 I had a moment, you guys. Of course, I want my baby girl to be herself in all that she does.
BUT NOT LIKE CHEESECAKE? WHAT?
I mean, who could possibly resist these adorable, perfectly portioned Mini Cherry Almond Cheesecakes? My kid. That's who.
I may have drowned myself in the rest of these cheesecakes, because eating my feelings seemed like the appropriate response to this particular betrayal.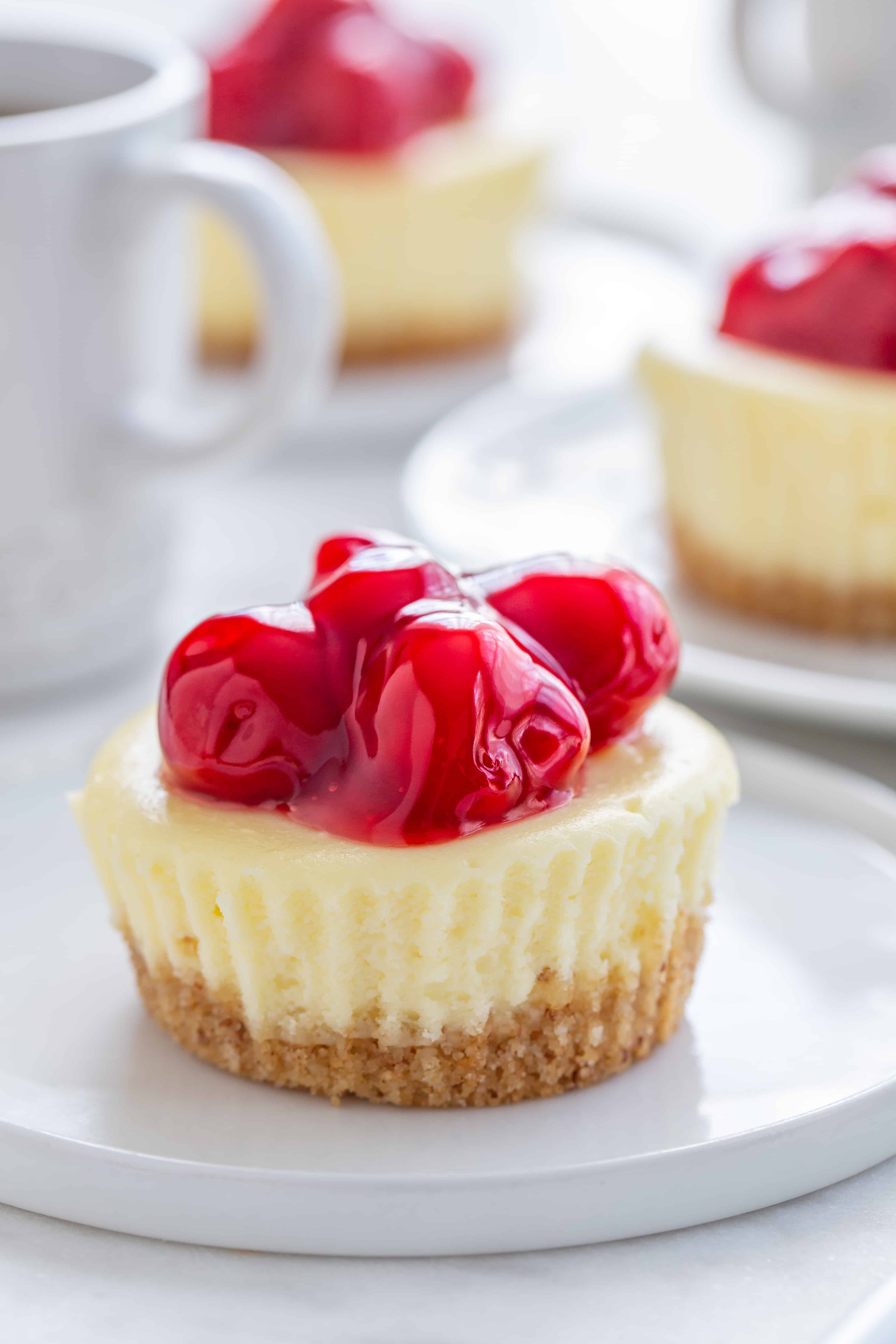 If I'm going to eat my feelings, at least I'm doing it with top-notch ingredients. The Nielsen-Massey Organic Pure Almond Extract in these mini cheesecakes brings out every molecule of cherry flavor.
If you don't know, almonds and cherries go hand in hand, kind of like coffee and chocolate. The two work together to bring out each other's best flavor.
To create their Organic Pure Almond Extract, Nielsen-Massey starts with premium ingredients sourced from around the world.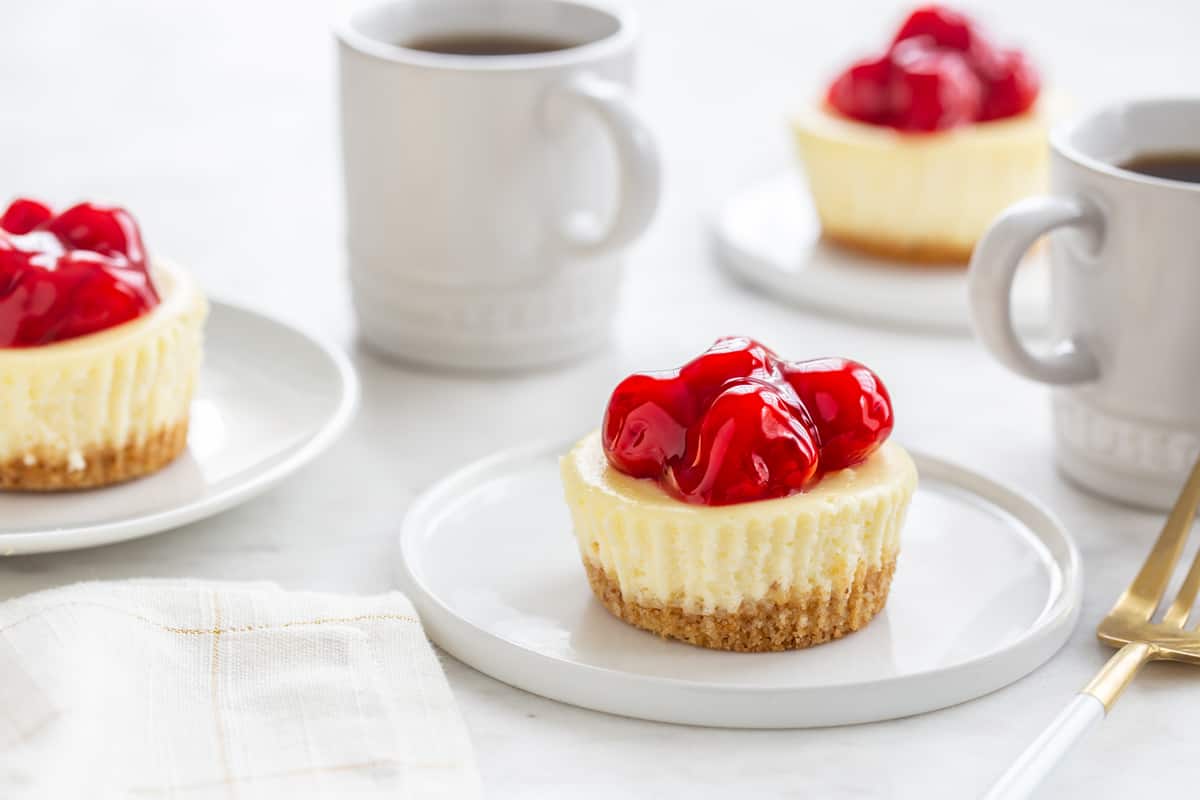 They use a proprietary process to gently extract the delicate flavor without losing any of the sweetness or richness of the original ingredient, which is extremely clear when you taste these cheesecakes and get a beautiful hit of almond deliciousness.
It's no wonder this Pure Almond Extract is one of their most popular flavors.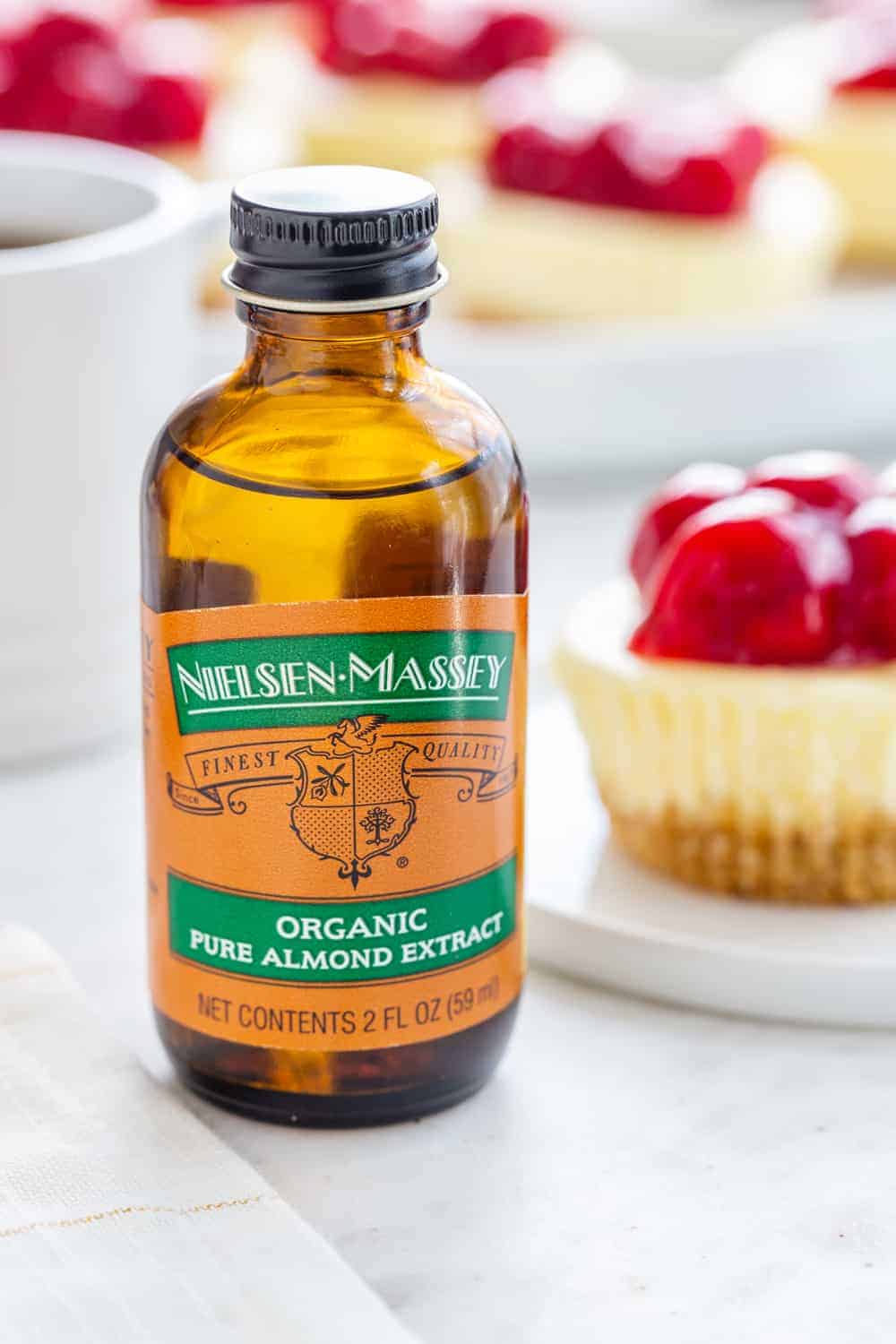 What is almond extract?
Pure Almond Extract is made from three ingredients: water, alcohol and bitter almond oil. Nielsen-Massey's Organic Pure Almond Extract contains the purest oil of bitter almond, extracted from California, South Carolina and Georgia stone fruit. It's all United States sourced!
And did you know that their Organic Pure Almond Extract is actually completely allergen-free? That's right, it's a perfect way to enjoy the flavor of almonds even if there's an allergy in the family. It's also USDA Organic, Kosher Certified, Gluten-Free Certified, All-Natural and GMO-Free!
To make these cheesecakes super quick and easy to whip up before company comes over, I topped these Mini Cherry Almond Cheesecakes with my favorite store-bought cherry pie filling, but they're just as delicious when topped with my homemade cherry pie filling recipe!
Whether you're whipping up these Mini Cherry Almond Cheesecakes for a quick weeknight dessert or your next summer brunch, I hope you love them as much as I did!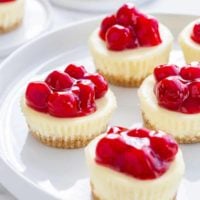 Mini Cherry Almond Cheesecakes
Mini Cherry Almond Cheesecakes are a simple and delicious sweet treat for just about any occasion. They're fun to make, and even more fun to eat!
Print
Pin
Servings: 12 servings
Ingredients
For the Crust:
3 whole graham crackers (rectangles made of 2 squares)
¼ cup sliced almonds
2 tablespoons granulated sugar
2 tablespoons unsalted butter melted
For the Filling:
16 ounces cream cheese room temperature
½ cup sugar
2 eggs
1 teaspoon Nielsen-Massey Organic Pure Almond Extract
For the Topping:
1 cup cherry pie filling 8 ounces
Instructions
Preheat oven to 350˚F. Line a standard cupcake pan with paper cupcake liners.

Place graham cracker pieces and almonds into the bowl of a food processor fit with metal blade. Pulse until they form a fine crumb. Add 2 tablespoons sugar and melted butter and pulse until all the ingredients are evenly distributed.

Place a heaping tablespoon of the crumb mixture in the bottom of each baking cup. Press gently to form an even crust.

Bake crusts in preheated oven for 5 minutes. Place pan on wire rack to cool while you prepare the filling.

Beat cream cheese and sugar in a large bowl of with an electric mixer until well mixed. Add eggs in one at a time and mix until incorporated.

Scrape the sides of the mixing bowl and add in almond extract. Beat until just blended. Use a large cookie scoop to evenly distribute the filling into baking cups.

Bake for 15-17 minutes or until just set.

Place pan on a cooling rack to cool completely.

Chill in refrigerator for at least 2 hours.

Once your cheesecakes are completely chilled, top with cherry pie filling before serving.
Nutrition
Serving: 1mini cheesecake | Calories: 234kcal | Carbohydrates: 18g | Protein: 4g | Fat: 17g | Saturated Fat: 9g | Polyunsaturated Fat: 1g | Monounsaturated Fat: 5g | Trans Fat: 0.1g | Cholesterol: 70mg | Sodium: 133mg | Potassium: 96mg | Fiber: 0.4g | Sugar: 12g | Vitamin A: 646IU | Vitamin C: 1mg | Calcium: 49mg | Iron: 0.3mg
The default measuring system on My Baking Addiction is US Customary. Unit conversions are provided as a courtesy; please be aware that there may be some discrepancies.
Card may contain affiliate links. As an Amazon Associate and member of other affiliate programs, I earn from qualifying purchases.