If you happen to read MBA on a regular basis, you may remember me discussing my fear of yeast and my attempt to conquer that fear with the help of Amber from Bluebonnets and Brownies. Well since that post a couple of months back, I have been a bread baking fool and no longer doubt myself in the yeast department. In fact, I probably have more bread baking supplies and tools than some bakeries and with that came a serious addiction to the King Arthur Flour website.
Since I'm no longer a yeast novice, you can imagine how excited I am to flaunt my newly developed skills for this week's Holiday Recipe Exchange sponsored by Red Star Yeast.
As soon as we gained Red Star Yeast as a sponsor, I knew exactly what I was going to make – Pumpkin Cinnamon Rolls. These three words alone are enough to get any pumpkin lover jonesing – smother the Pumpkin Cinnamon Rolls with a Maple Cream Cheese Frosting and you'll pretty much be in sugar-coma heaven.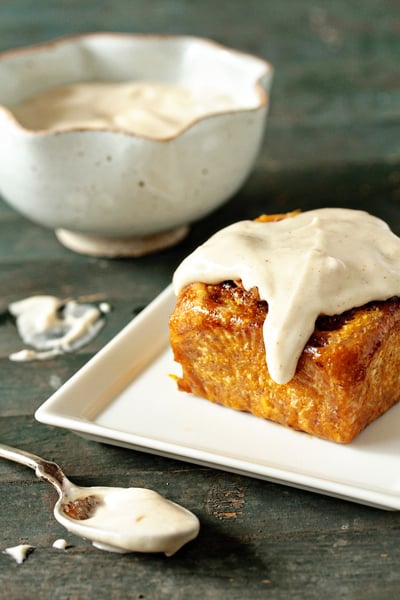 The pumpkin puree in the roll base creates a slightly denser dough, so these definitely are not as pillowy as a traditional Cinnamon Rolls – but they are just as delicious. I generously spiced these gorgeous rolls with homemade pumpkin pie spice and tossed in chopped pecans for a pleasant textural crunch.
As with most yeast based recipes, these Pumpkin Cinnamon Rolls definitely take a little time and effort, but I promise you the results will be well worth it.
Remember – the longer you let yeast develop in a recipe, the more flavor it will have. Red Star Yeast pride themselves on providing the freshest, best yeast around, so let the little yeasties do their job and add tremendous flavor to your baked good. Once you've done it once, I swear you'll never look back. Be sure to check out Red Star Yeast on Facebook and Twitter for delicious recipes, great information on yeast and much more!
Now , we want you to share your favorite recipe using yeast and be sure to head over to Good Life Eats, because Katie has a wonderful recipe for Sweet Potato Rolls waiting for you!

How To Participate
For a chance to win a Yeast Baking Gift Set (details of prize specifics below):

Write and post a recipe on your blog featuring YEAST.
Include "Come join the fun at the My Baking Addiction and GoodLife Eats Holiday Recipe Swap sponsored by Red Star Yeast." in your blog post.
No blog? Just leave your recipe in the comments section.
Add your link to the widget on either GoodLife Eats or My Baking Addiction (we have the same widget code, so only add it on one site).
Submit your post before November 7th, 11:59 PM.
Anyone can participate in the link up, but the prizes will ship to US addresses only.
More detailed info are available here.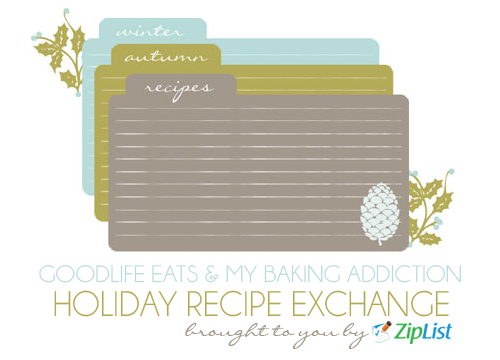 Link Up Your Recipes:
Love any of the recipes featured in today's Holiday Recipe Exchange? If so, be sure to to use the Ziplist Web Recipe Clipper to add your holiday favorites to your online recipe box.

'); // ]]>

This Week's Prize:
$159.79 Value. Prizes provided by Red Star Yeast.
3 hard cover cookbooks:
Red Star Yeast Products: apron, bread pan, cutting board, pizza cutter, dough whisk, oven mitts.
A carton of Red Star Yeast (eighteen 3-strips)
Recipe Theme Schedule: