From the moment I spotted these mini donuts on Bakers Royale, I was absolutely smitten with their adorableness. For some reason I find miniaturized things to be irresistible and come on, who doesn't love a donut? So when I found myself with an Amazon gift card, I just had to snag the mini donut pan.
I'm not really one to purchase a ton of novelty pans, because they end up sitting unused and taking up space in already ridiculously full cabinets. However, I knew this Wilton Mini Donut Pan would give me the perfect bite-size treats for Valentine's Day, so I couldn't resist it. Conveniently, the pan came with a basic baked donut recipe that I used as a base and then added some of my own Valentine flair!
Although this novelty did not taste like your typical fried "donut", they were very tasty and virtually hassle-free due to the absence of the oily mess that comes with frying. The mini donuts had a fluffy, cake-like texture that left everyone begging for more. The infusion of the lemon zest and vanilla, they had the perfect hint of sweetness that was not overwhelming with the addition of the candy melt glaze. I simply piped the batter into the pan, baked and dipped these adorable minis into pink and white candy melts for the topping. Adding the Valentine décor just added to their appeal.
This is the perfect one-bite, guilty pleasure and as you can see, were soooo adorable that I had to share them with you all. I highly recommend using these for something like a school Valentine's Day celebration, or just to give to that special someone as a sweet treat. I guarantee they will be a big hit!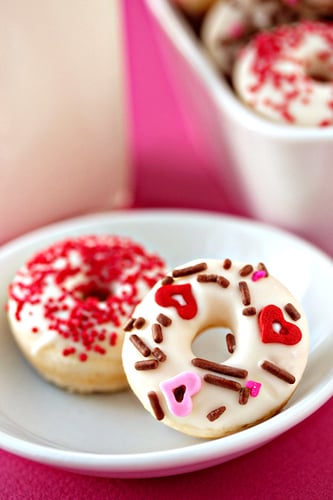 Mini Baked Lemon Donuts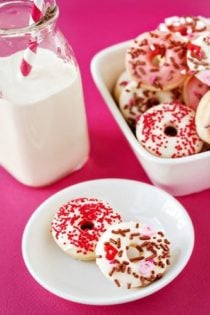 Ingredients:
½ cup granulated sugar
Zest of 1 lemon
1¼ cups cake flour, sifted
1¼ tsp. baking powder
¾ tsp. salt
½ cup buttermilk
1 egg, lightly beaten
1½ tbsp. butter, melted
½ teaspoon of vanilla
Directions:
Prepare pan with baking spray.
1. Heat oven to 425 degrees F.
2. In a small bowl combine sugar and lemon zest until the sugar is moistened and fragrant.
3. In a large mixing bowl, sift together cake flour, baking powder, and salt. Stir in sugar mixture.
4. Add buttermilk, egg, butter, and vanilla and stir until just combined.
5. Add batter to a piping bag and fill each donut cup approximately one-half full.
6. Bake 4–6 minutes or until the top of the donuts spring back when touched.
7. Let cool in pan for 4–5 minutes before removing. Finish the donuts with glaze, sprinkles, or cinnamon sugar.
Notes:
- To decorate the mini donuts, I dipped them in candy melts and adorned them with cute Valentine's Day sprinkles from Wilton. Simply melt according to package directions, invert the top of the donuts into the melted candy melts and immediately top with sprinkles.
- adapted from Wilton
All images and text ©
Follow Jamie on Instagram. We love to see what you're baking from MBA! Be sure to tag @jamiemba and use the hashtag #mbarecipes!