Being a food blogger, my inbox is pretty much in a constant state of ridiculousness. Many of the emails are from companies that want to send me their latest and greatest in return for potential coverage here on My Baking Addiction. And as appealing as that may seem, I try to limit the products that I accept to brands that I know, love, and use every day – either in my kitchen or daily life. However, last Winter, I took a bit of a gamble and accepted a bakeware set from a company that I had never heard of – 360 Bakeware.
I simply agreed to accept the product – no strings attached. Days later, several pans arrived at my doorstep. From the moment I opened the box, I knew I was going to fall in love, and fall hard. 360 Bakeware is incredibly solid. Its multi-ply construction allows for consistent, even heating and better heat conductivity than any other bakeware that I have ever used. And trust me, I've used every kind of bakeware you can imagine.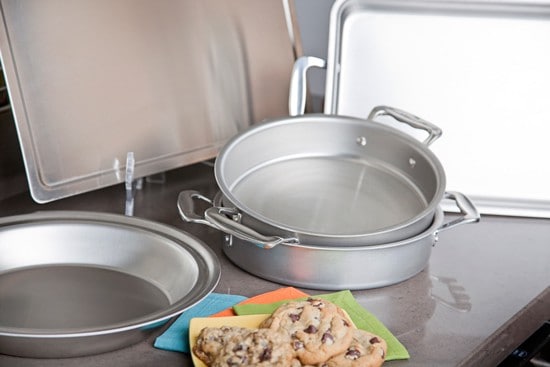 "My heart literally goes pitter-patter when I pull them out of the cupboard."
Aside from being solid, the pans have a sleek design with ergonomic handles that allow you to maneuver hot pans with ease. I've been using the 360 Bakeware line in my kitchen for six months, and my heart literally goes pitter-patter when I pull them out of the cupboard.
You know how it is when you find a tool for something you do all the time, something that makes your job easier and your results better? Everything just clicks into place, and you get even more joy out of the results of your project. That's what this 360 Bakeware does for me. True love, I tell ya.
Disclosure: My Baking Addiction has teamed up with 360 Bakeware because we personally believe this is the best bakeware on the market. This is a sponsored post written as part of that program. All opinions about 360 Bakeware are my own.