Kitchen PLAY: Red Onion Chutney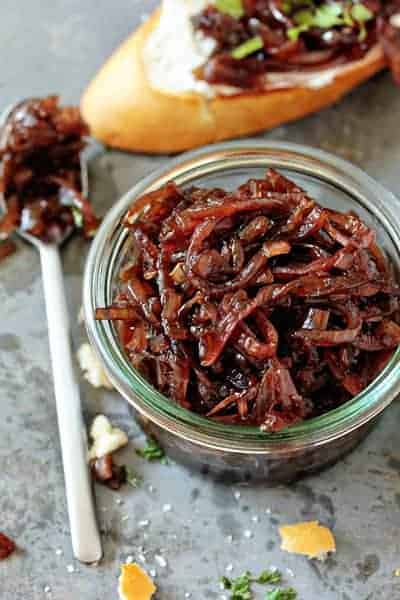 Not long ago, I attended a swanky dinner party full of tiny courses. I don't know about you, but there's something about small plates of food that just makes me feel more sophisticated.
At the end of a very fabulous night, the dessert course was being served. One of the tiny bites that surprised me was a crostini with goat cheese and a chutney I just couldn't quite figure out.
I had to track down a waiter to find out just what it was I couldn't stop eating (so much for small plates, huh?). Turns out it was Red Onion Chutney.
My pal Amber tells me this stuff is quite common in the U.K., where her husband hails from. Well, I just couldn't get enough of it!
I've had onions on the brain for months, having been asked to participate in this month's Kitchen PLAY, whose featured ingredient is – you guessed it – onions. I just knew I had to recreate this delectable dessert crostini for you.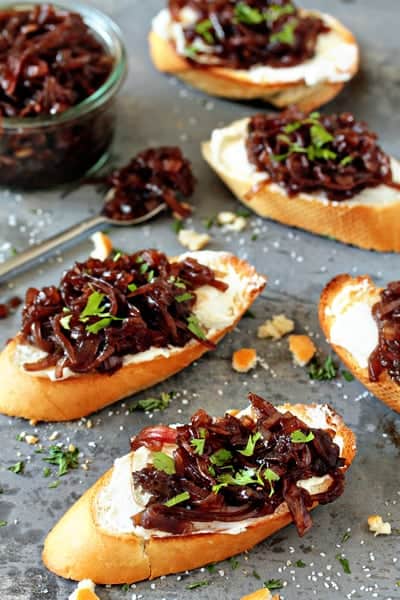 Think of the finest dessert cheese plate you've ever had – on one crostini. The goat cheese provides sweetness, as does the red onion. The addition of balsamic and red wine vinegar adds just the right amount of acid to make you want more and more.
Chutney is the perfect vehicle for Storage Onions – yellow, red, and white onions bred to be at their best during our Autumn and Winter – which are at their peak starting now.
Most chutneys you find are made in large batches – sometimes 20 jars at a time. You may have noticed before that I'm intimidated by canning, so I decided to start small, and created a small batch recipe that you can keep in one or two jars easily, depending on what you have handy.
My canning friends tell me that the secret to good jams, jellies and chutneys is to give them time to simmer in the pan, so be prepared that this recipe needs time to develop on the stove. Your time will be worth it, I promise!
This red onion chutney keeps in the fridge for up to 6 months, or if you know how to water-bath can, you can do that. I'm no expert, so I simply kept mine in the fridge. The flavors will develop more deeply the longer the chutney is allowed to mature. That is, if it lasts that long!
We found ourselves dumping little spoonfuls on eggs, grilled chicken, even cold cut sandwiches.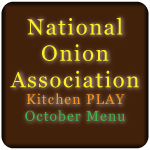 The National Onion Association is also sponsoring a wonderful giveaway at Kitchen PLAY. Simply recreate any one recipe from this month's Progressive Party, post about the experience on your blog and provide a link to your post on Kitchen PLAY to enter. All qualifying bloggers in each course will be entered to win $100 (6 prizes total). The deadline is October 31, 2011. Please review the complete contest rules before entering. Good luck!
Red Onion Chutney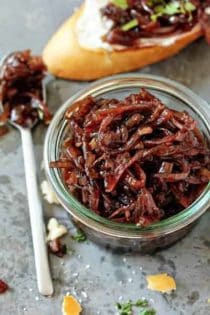 Ingredients:
1 tablespoon olive oil
2 medium Red Onions, sliced finely
1 large Yellow Onion, chopped fine
2 Shallots, diced
1/4 teaspoon Kosher Salt
pinch of freshly ground Black Pepper
1 Jalapeno, deseeded, deribbed and diced
1/4 cup Balsamic Vinegar
3 tablespoons Red Wine Vinegar
1/4 cup packed Brown Sugar
1/8 teaspoon Cinnamon
1 Bay Leaf
Directions:
1. In a large sauté pan, heat the olive oil on low heat. Slice the red onions finely. Chop and dice the yellow onion and shallot into small pieces. Add the different onions to the heated oil, and add salt and pepper. Cover with a lid.
2. De-seed, de-rib, and dice the jalapeno finely. Add it to the pan of onions. Replace the lid and cook for about 30 minutes, until the onions have softened, but not browned.
3. Add the balsamic and red wine vinegars, brown sugar, cinnamon, and bay leaf. Stir well to mix in completely, and do not replace the lid. Cook on low for another hour to hour and a half, until no liquid remains and the onions are dark and rich in color.
4. Stir often during the last half an hour of cooking to prevent the onions from burning.
5. Allow to cool slightly, then place in jars or any airtight container. Seal jars with lids, then refrigerate as soon as jars are cool enough to handle.
6. Serve on freshly toasted crostini spread with your favorite goat cheese.
Notes:
- Chutney flavors will deepen and become more complex the longer it is allowed to develop in the fridge. Some recipes suggest leaving chutney alone in the fridge for up to 6 weeks before re-opening, though this chutney is good straight out of the pot. It will just get better with time.
- Store in the refrigerator in a tightly sealed glass jar
All images and text ©
Follow Jamie on Instagram. We love to see what you're baking from MBA! Be sure to tag @jamiemba and use the hashtag #mbarecipes!
This post may contain affiliate links. We are a participant in the Amazon Services LLC Associates Program, an affiliate advertising program designed to provide a means for us to earn fees by linking to Amazon.com and affiliated sites.