Spicy Salsa…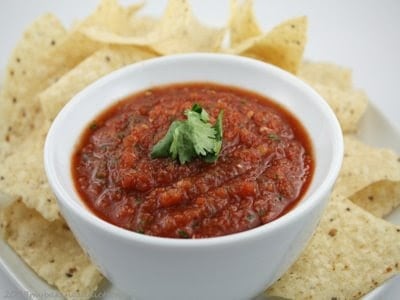 Let me start by saying that I hate tomatoes in their fresh state, even the smell of them gets to me; however, I love ketchup, tomato soup, tomato sauce and salsa…weird I know! So when making homemade salsa, I cannot utilize fresh tomatoes, because I will not eat it nor will I chop the maters because they gross me out! Let me also tell you that we like things spicy, so this recipe it not for someone that likes things on the mild side. However, the recipe can be adapted by decreasing the amount of spicy ingredients you add.
In my opinion this is one of the best salsas I have tasted and reminds of the salsa you get at really great Mexican restaurants…not to mention it is definitely far better than the bottled versions at the grocery store! You can also kick this up a notch by adding sweet corn kernels and black beans. I love this recipe because it is so easy to adapt to your own personal taste buds…it is also super fast, easy and delicious! Oh and don't forget to enter my giveaway!!! Click here for details!
Spicy Salsa
Ingredients
2 (14.5 ounce) cans stewed tomatoes
1/2 onion, finely diced
2 cloves of garlic
1/2 lime, juiced
1 teaspoon salt
fresh cracked pepper to taste
3/4 teaspoon crushed red pepper flakes
3/4 teaspoon cumin
1/2 teaspoon cayenne pepper
3/4 teaspoon chili powder
1 tablespoon Sriracha (or other hot chili sauce)
2 fresh jalapeños; chopped and seeded
3 tablespoons chopped fresh cilantro
Method
Place all ingredients into the food processor and pulse until you reach the desired consistency. (I am sure this works just as well in a blender!)
This post may contain affiliate links. We are a participant in the Amazon Services LLC Associates Program, an affiliate advertising program designed to provide a means for us to earn fees by linking to Amazon.com and affiliated sites.