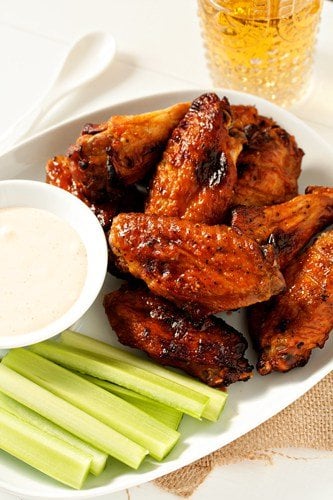 Ever since I was a very young kid I enjoyed spicy food. I remember sitting at the table with my dad and brother over a Styrofoam container of wicked hot wings from the local pub. With our faces bright red, our noses running and sweat accumulating on our foreheads, we chowed until our lips burned like a wildfire.
Many years later, my love for all things spicy has not been tamed one bit. In fact, my condiment of choice is Sriracha, I'll pretty much squirt it on anything that doesn't contain sugar.
Since it's Super Bowl week, I thought this would be the perfect time to share my favorite recipe for sweet and spicy chicken wings. You can definitely control the level of heat by simply backing off a bit of the cayenne and Sriracha. The honey adds amazing glaze factor that sends these wings over the edge! Serve these Sweet and Spice Chicken Wings with some homemade blue cheese or ranch dressing and a side of celery sticks and you'll be all set for game night!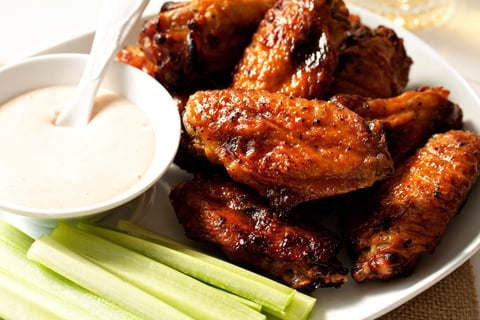 Sweet and Spicy Chicken Wings
January 31st, 2011
Yield: about 6 servings
Ingredients:
3 pounds chicken wings and drums
1 teaspoon freshly ground pepper
1 cup honey, divided
1/2 cup butter, melted
1/2 cup Frank's Red Hot
2 teaspoons Sriracha
1/2 teaspoon cayenne pepper
1/2 teaspoon garlic powder
Directions:
1. Preheat oven to 350 degrees F. Line a large jellyroll or broiler pan with foil and place a metal rack on top of the foil. Spray rack with nonstick cooking spray.
2. Rinse the wings in cold water and pat dry with paper towels.
3. Arrange wings on metal rack and season with pepper.
4. Place wings in oven and set timer for 15 minutes. When the timer goes off, remove the wings from the oven and brush the wings with ½ cup honey. Be sure to glaze both side of the wings, using metal tongs to turn.
5. Place wings back into the oven, set the timer for 30 minutes, and prepare the sauce.
6. In a medium bowl, combine melted butter, remaining 1/2 cup of honey, Frank's Red Hot, Sriracha, cayenne, and garlic powder; whisk to combine.
7. While the wings are baking, periodically baste both sides of the wings with the sauce (about every ten minutes). Once the timer goes off, crank the heat up to 400 degrees F and bake for an additional 15 minutes.
Notes:
- Lining your pan with foil will save you a lot of work, trust me, you don't want to skip this step. Baked honey and a pan equals a hot mess!
- Control the level of heat by increasing or decreasing the amount of amount of cayenne and Sriracha.
- Things may get a little smoky during the last 15 minutes of cooking, so be sure to turn your ventilation system on.
- Sriracha is typically found in the ethnic aisle of the grocery store.
If you enjoyed this recipe, you may like...