I hope everyone had a great Valentine's Day! Although most of you are probably still on a sugar buzz from all the sweet treats from your Valentine, I thought I would add another recipe that is sure to make you swoon. If you follow me on twitter, you may remember me asking for brownie recipe recommendations; I had quite a few responses, but I was drawn to one particular recipe. Maggy from the awesome blog, Three Many Cooks sent me a link to a recipe that was developed by her fabulous mother, Pam Anderson. Through a tweet, Maggy explained the recipe was featured in the Washington Post and dubbed them, "simply the best." Well, the word "best" is always a selling point for me, so I headed into the kitchen and got my bake on!
I asked Maggy if she was interested in contributing to this post, she happily agreed and sent me over some info about the brownies. Maggy thought her mom, Pam best described these fabulous brownies in her cookbook, The Perfect Recipe: Getting it Right Every Time by Pam Anderson and sent me over this excerpt:
"Of all the recipes in this book, brownies was one of the most difficult. With so many excellent published recipes out there – complete books have been written on the subject, for heaven's sake – why all the struggle? There are three different brownie camps – those who like them chewy and gooey, those who prefer them dense and fudgy and a third crowd who like them frosty and cakey. I gave myself the seemingly impossible task of trying to please everyone. After making a batch of each – chewy, fudgy and cakey – I observed that each brownie style had assets. Cakey brownies offered structure and crumb but lacked the intense chocolatey hit of the other two styles. Fudgy brownies packed a lot of chocolate flavor, but their heavy, dense, candylike structure needed a lift. Chewy brownies exhibited an irresistible gooey quality but needed a little crumb definition. I had my marching orders: to develop an intense, rich, chocolatey brownie, with just enough structure and definition."
The recipe below is what Pam created and let me tell you, I totally agree with Maggy…these are in fact the BEST brownies I have ever made. If you are a regular reader of my blog, you know that I rarely make the same dessert recipe twice. There are simply too many recipes that I want to try, BUT I made these brownies TWICE in one weekend! Yep, ya heard me right…twice in 24 hours, first for Valentine's Day and then again for a work pot-luck! I made them exactly according to Pam's recipe the first time and the second time I added in 3/4 cup of bittersweet chocolate chunks. These brownies are rich, decadent and amazingly delicious. I am betting they may just become your new fave as well.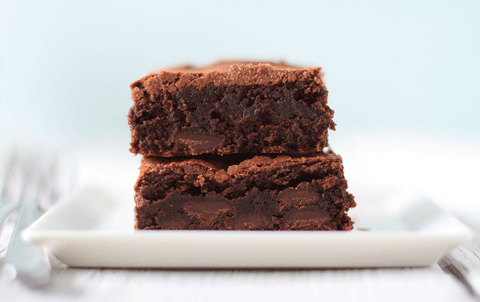 I am so smittten with Pam's recipe, I am going to give away a copy of her book, The Perfect Recipe: Getting it Right Every Time to one lucky reader.
Here is how you can enter to win:
Simply head over to Three Many Cooks, browse their fantastic recipe index, come back here and tell me what recipe makes you drool!
Want more chances to win??? Sure ya do!
Tweet about this giveaway. Make sure you include @bakingaddiction in your tweet, then come back here and leave another comment telling me that you tweeted.
For one more chance to win, follow @threemanycooks on twitter, then come back here and leave another comment telling me you are following them!
How easy is that?? Now for the details!
1.) Open to U.S.A. & Canada residents only.
2.) One winner will be chosen on 2/19/10 by using random.org.
3.) Make sure that I have a way to contact you when you leave a comment; either through your blog or an email.
4.) I will contact the winner via email or commenting on their winner's site.
5.) You have until 2/22/10 to claim the prize, or I will have to choose another winner.
6.) Book will be sent directly from Amazon.

Fudgy, Chewy, Cakey Brownies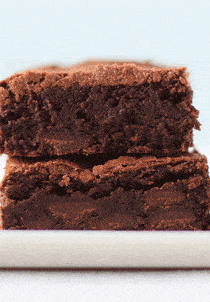 Ingredients:
2/3 cup all-purpose flour
1/2 teaspoon salt
1/2 teaspoon baking powder
veg cooking spray
2 ounces unsweetened chocolate
4 ounces bittersweet or semisweet chocolate
10 tablespoons (1 stick plus 2 tablespoons) unsalted butter
1 1/4 cups sugar
2 teaspoons vanilla extract
3 large eggs
optional: 3/4 cup toasted walnuts, pecans, macadamia nuts, peanuts
Directions:
1. Adjust oven rack to lower-middle position and preheat oven to 325 degrees.
2. Whisk flour, salt and baking powder in a small bowl; set aside. Spray an 8-inch baking pan with cooking spray. Fit a sheet of foil in pan and up two sides, so you can use it as a handle to pull cooked brownies from pan (I used parchment paper). Spray sheet with cooking spray.
3. Melt chocolates and butter in a medium bowl over a pan of simmering water. Remove from heat; whisk in sugar and vanilla. Whisk in eggs, one at a time, fully incorporating each one before adding the next. Continue to whisk until mixture is completely smooth and glossy. Add dry ingredients, whisk until just incorporated. Stir in nuts, if using.
4. Pour batter into prepared pan; bake until a toothpick or cake tester inserted in center comes out with wet crumbs, 35-45 minutes.
5. Cool brownies in pan on a wire rack for five minutes. Use handles to pull brownies from pan. Completely cool brownies on rack, at least three hours. Cut into squares and serve. If not serving immediately, do not cut brownies. Whole brownie cake can be wrapped in plastic wrap, then foil, and refrigerated for up to five days.
Notes:
Note: If you wait until toothpick inserted comes out clean, they're overcooked. You want fudgy crumbs.
from "The Perfect Recipe" by Pamela Anderson
All images and text ©
Follow Jamie on Instagram. We love to see what you're baking from MBA! Be sure to tag @jamiemba and use the hashtag #mbarecipes!
[pinit]