Apple and Peach Tartlets…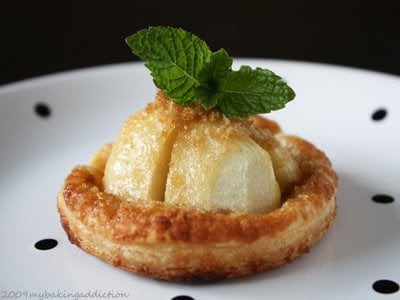 This week's Tuesdays with Dorie recipe for Parisian Apple Tartlets was chosen by Jessica of My Baking Heart. I am going to keep this post short and sweet because I am in a bit of a rush. This recipe was super easy…but that is where my excitement for these tartlets ended. Although it's simple and seemed to have a lot of potential, I was not a fan of this recipe at all! I made one small peach tartlet and one apple the pastry puffed up nicely, but the brown sugar became way too dark and fell off the tartlets. Once the sugar melted in the 400 degree oven, it burnt and made the bottoms of my tartlets very dark and not so tasty. I tried one bite of each and chucked them into the trash…I am glad I did not buy the fancy schmancy pastry dough. They did look really pretty, but next time I will leave the sugar off until the last few minutes. I am sure many people had success with this recipe…so, if you are interested in more Parisian Tartlets, head over to the Tuesdays with Dorie site! If ya want the recipe, check out Jessica's blog. Have a great day and thanks so much stopping by!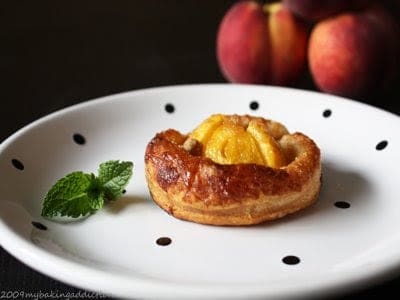 This post may contain affiliate links. We are a participant in the Amazon Services LLC Associates Program, an affiliate advertising program designed to provide a means for us to earn fees by linking to Amazon.com and affiliated sites.