If you frequent my blog, you may know that I am smitten with Autumn: the aromas, the clothing and most importantly the crisp, cool air. When it comes to Fall baking I am all about apples, Honey Crisp apples to be precise. If you have never experienced the deliciousness of this type of apple, pick some up asap!
Here is a little 411 on Honey Crisp Apples. According to Wikipedia, they were developed at the University of Minnesota in 1974 and are a hybrid of Macoun and Honeygold apples. These apples are only available for a limited time in my area, so plan on seeing more recipes using them in coming weeks!
For this dessert, I slightly adapted a recipe for apple squares from allrecipes. I used this base for my Caramel Apple Squares from last Fall and the results were stellar! This time instead of the caramel topping, I drizzled them with a cream cheese glaze. However, they are positively scrumptious served as-is!
Have a delectable day and thanks so much for stopping by!

Apple Bars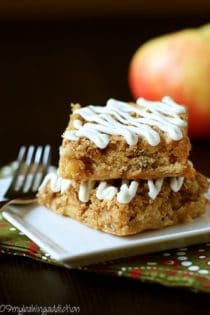 Ingredients:
For the Bars
1 cup sifted all-purpose flour
1 teaspoon baking powder
1/4 teaspoon salt
1/4 teaspoon ground cinnamon
1/4 cup butter or margarine, melted
1/2 cup packed brown sugar
1/2 cup white sugar
1 egg
1 teaspoon vanilla extract
1/2 cup chopped apple
1/2 cup finely chopped pecans
2 tablespoons white sugar
2 teaspoons ground cinnamon
For the Cream Cheese Glaze
1 (4 ounce) package cream cheese, softened
1 tablespoon butter, softened
2 cups confectioners' sugar
1/2 teaspoon vanilla extract
1 tablespoon milk
Directions:
For the Bars
1. Preheat oven to 350°F (175°C). Grease a 9"x9" inch pan. Sift together flour, baking powder, salt, and 1/4 teaspoon of cinnamon; set aside.
2. In a large bowl, mix together melted butter, brown sugar, and 1/2 cup of white sugar with a wooden spoon until smooth. Stir in the egg and vanilla. Blend in the flour mixture until just combined, stir in the apples and pecans. Spread the mixture evenly into the prepared pan. In a cup or small bowl, stir together the remaining cinnamon and sugar; sprinkle over the top of the bars.
3. Bake for 25 to 30 minutes in preheated oven; finished bars should spring back when lightly touched. Cool in the pan, and cut into squares.
For the Cream Cheese Glaze
1. Mix the cream cheese with the butter, confectioners' sugar, vanilla extract, and milk in a bowl.
2. Heat in a microwave for 15 seconds.
3. Drizzle spoonfuls over the cooled bars. Note: I cut my bars before drizzling them with glaze.
Follow Jamie on Instagram. We love to see what you're baking from MBA! Be sure to tag @jamiemba and use the hashtag #mbarecipes!
[pinit]