I bought some gorgeous Granny Smith apples last week and after eating several of them, I knew I wanted to bake a delicious dessert with these scrumptious, tart apples. I was also fairly certain my new obsession with cinnamon chips would pair perfectly with this fall fruit. I found a recipe on Martha Stewart's website and thought it sounded amazing. I like the fact that the apples are not chopped for this cake; instead they are sliced 1/4 inch thick leaving a lot of texture and apple-y goodness in every bite!
For this recipe I used Hershey's Cinnamon Chips as opposed to the ones that I purchased from The Prepared Pantry. Honestly, the ones from The Prepared Pantry are by far my favorite. The Prepared Pantry brand chips are smaller, lighter in color and impart a more natural cinnamon flavor. I would definitely use the Hershey's chips in a pinch, but I am glad I stocked up on the minis for my holiday baking.
This cake baked up really well and in my opinion was one attractive bundt, I loved the sugary glaze that was poured on top, it gave a nice balance to the tart apples and spiced cake. On a humorous baking tragedy note…after cutting a couple of pieces of this cake for photos, Brian dropped the whole thing on floor while attempting to transport it to his co-workers. Needless to say the whole thing was chucked into the trash and his co-workers went without their usual Tuesday treat! This was a tragedy indeed!
If you are looking for a great fall cake, give this one a try, just be careful not to drop it on the floor! Be sure to check out my other Fall favorites!
Don't want to miss a delectable post? Subscribe to my feed!
Have a great day and thanks for stopping by!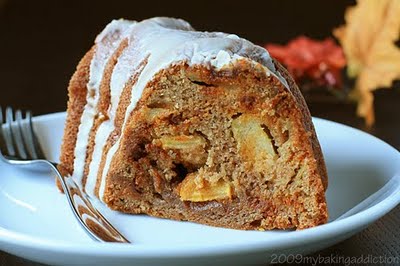 Apple Cinnamon Chip Bundt Cake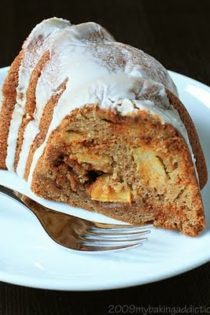 Ingredients:
For the Cake
2 1/2 cups all-purpose flour
1 tablespoon ground cinnamon
2 teaspoons baking powder
1 teaspoon salt
1/2 teaspoon baking soda
1 cup (2 sticks) unsalted butter, melted
1 1/2 cups packed light-brown sugar
4 large eggs
2 tsp vanilla extract
6 Granny Smith apples, peeled, cored, and sliced 1/4 inch thick
1 cup Hershey's Cinnamon Chips
For the Glaze
1 cup confectioners' sugar
1 to 2 tablespoons water
Directions:
For the Cake
1. Preheat oven to 350°F.
2. In a medium bowl, whisk together flour, cinnamon, baking powder, salt, and baking soda.
3. In a large bowl, combine butter, brown sugar, vanilla and eggs. Whisk until smooth.
4. Gradually whisk in dry ingredients just until combined (do not overmix). Using a rubber spatula, fold in apples and cinnamon chips.
5. Spoon batter into a 12-cup nonstick Bundt pan, and smooth top. Bake until a tester inserted in cake comes out clean, 50 to 60 minutes.
6. Cool in pan on rack 15 minutes; invert onto rack to cool completely.
For the Glaze
1. Whisk together confectioners' sugar and enough water to form a thick yet pourable glaze.
2. Set rack with cake over a piece of wax paper (for easy cleanup); drizzle cake with glaze, and let set before serving.
Follow Jamie on Instagram. We love to see what you're baking from MBA! Be sure to tag @jamiemba and use the hashtag #mbarecipes!
[pinit]